There have been untold articles since the Trayvon decision came down that essentially say the following:
1. I am not a racist - blacks commit more crime because of the history of slavery.
2. But because they commit more crime than whites I am justified in being more scared of them. Huddies should scare me.
3. I am not a racist.
4. When is the President going to address the real issue that is causing crime to explode (ie family breakdown dependency)
See the horrible Cohen article in the Op ED of the Washington Post for the most representative, and racist of these (no I am not going to link to it).
So I am going to try and set out as clearly as possible the actual data around black murders against whites. It must be stated at the outset that is is pretty deeply held fear among whites. Mostly this is about the fear of the young African American.
So should you be scared of the African American youth with a huddie? The answer is only unless ladders really scare you.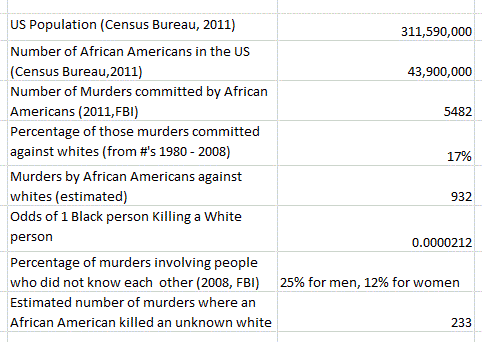 So let me explain this table. It starts with the 2011 data on murders (the most recent that are available). There were 5,482 murders committed by African Americans. The first thing to understand is the African American murder rate is down 51.6% since 1991. (These numbers are from the excellent 2008 study of murder trends from 1980 to 2008 by the FBI). The second thing to understand is the vast majority of murders are intra-racial. 93% of murders committed by Whites are against other Whites, and 83% of all murders committed by African Americans are committed against other African Americans.
The second thing to understand about murder is that the overwhelming number of murders are committed against people who know each other. Perhaps no crime statistic is less well understood than this one.
Many of the pundit garbage written since the Trayvon verdict expresses this great feat of the African American they don't know. But by my estimate, only about 250 murders a year are committed by African Americans against whites they did not know.
So in fact the fear that so underpins much of the commentary about race and crime in this country is based on ignorance. You really have far more reason to be scared of say, getting on a ladder, than you do of getting murdered by the huddie wearing teenager you see on the street. The fear is irrational.
One final note - this is from the 2008 FBI report. Note the percentage of murders of women that are either by a boyfriend of a family member. About 60% of woman who are murdered are murdered by a family member, a telling and very sad statistic.