The Dane left us yesterday. Craftsman, hacker, good neighbor, gonzo cowboy and proud American, he was one of a kind.
His motto was "We can build anything out of wood, steel or Legos." He pretty much could, too, though his specialty was fine, primitive-style furniture crafted from exotic woods and reclaimed timber. You can find his pieces all around New Orleans, with his trademark square plugs he used to cover fasteners, just because they were harder to cut.
Here's a hutch he made for us in antediluvian days (cypress and purple heart):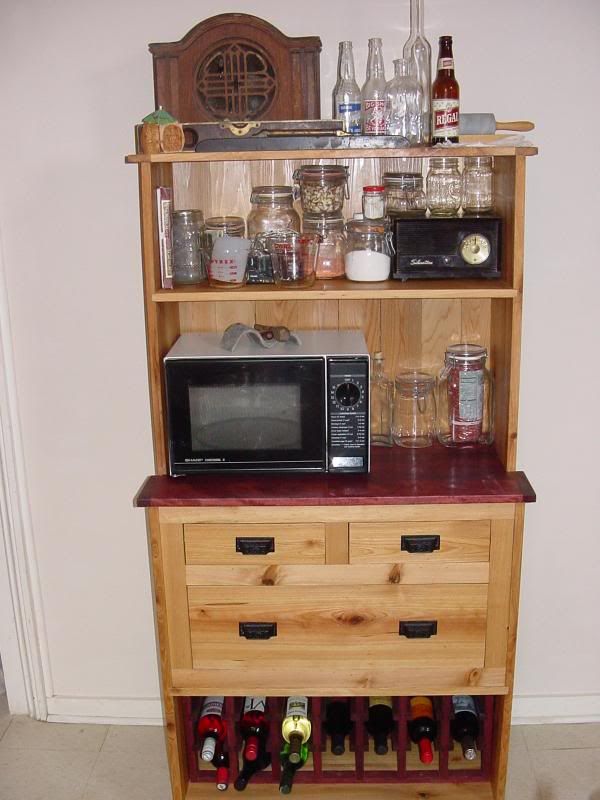 Perhaps his finest gift in the wood butcher's art was his hand at the lathe. He turned expertly, even on the hardest, gnarliest woods. He loved nothing as much as the compound cuts and turns of a fine cabriole leg.
He was also a hacker of no small skill, a white hat who relished chasing down some creep who'd jacked a friend's accounts. He wasn't the sort to brag about his mad skillz, though, and considered hacking mostly a matter of following the bright trails left by the lazy and ignorant.
After September 11, he was one of a great number of hackers approached by the government to assist in the War on Terror flim flam. "One guy asked me if I could break PGP," he told me. "I said, 'Sure, if you spend a billion dollars to bust one message and find out a guy's wife wanted him to bring home milk. It's a one-off key.' Idiots."
"Idiots" is how he described not only government cryptanalysts, but government anything, which brings us to the subject of politics. The Dane was probably the closest friend I had who was also a dyed in the wool, Rush-listening, FOX-watching proud "conservative," though his leave-me-the-f-alone libertarianism was likely a bit much for most who label themselves with the c-word.
He was, in fact, a jack move cowboy, dedicated to his personal freedom and gonzo adventure, a quality which served him well in the days after Katrina, which he spent looking after friends and their properties, ranging the streets of the abandoned city with his dog beside him on the seat of his truck, easing through checkpoints with the help of supplies sorely needed by the Guardsmen on duty, principally cigarettes and bourbon. The tips he gave us returnees proved invaluable in negotiating life in a missing city in the months that followed.
Back to politics, then. The Dane was unshakable in his convictions about liberals, social moochers, tyrannical government and that damned Kenyan socialist, but never allowed those beliefs to sour relations with those he liked. Many's the time he'd call me a soft-headed, knee-jerk liberal and I'd respond that he was nothing more than a FOX-addled, loony Rushbot, then we'd crack a couple of beers and get back to making sawdust.
And that's why I'll miss him so: he was a loyal friend and good neighbor, who'd go to bat for you with no questions asked, whether he agreed with you or not, and, despite our very great philosophical differences, it would be a matter of high pride should anyone who ever knew him say to me, "You really remind me of the Dane."