Well my dear Prophets and assorted passers by-- I see it as a failure of democracy. I was kind and thoughtful, magnanimous and benevolent, I granted you, in my gallant generosity, a poll in my last diary and you fools-- (oh, sweet, innocent fools!) chose for this week's Fuzzy Friday open thread: PIE.
And you shall have it.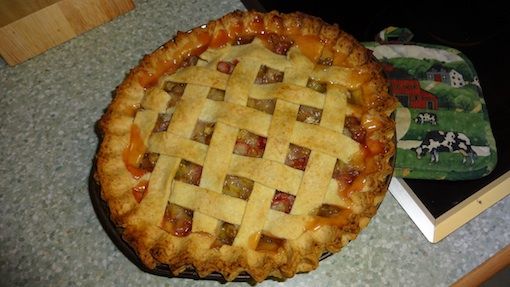 Some PIE splattered blithering is smeared under the hairball. Stepping over the mess will find you in a the mythical land of "Open Thread" where people's heads are so open that new ideas can get in and all the knots are loose and easily untangled.
PIE
I almost had a strange exchange on the wires that carry PIE and the sad, wretched mobile PIE photographs of lonely politicians and purveyors of television PIE. I posted an outraged PIE regarding casual censorship. A favorite author's PIEs sliced into baby-sized portions. The problem with slicing juicy PIE is that half the filling always falls out. You can't slice PIE with the dull, rusty carving knife of censorship without losing some filling. So I flung a PIE at the casual mention of desecration and thought to check on my PIE hours later. The target of my outrage had chosen to ignore my PIE and instead, some other bystander took it upon themselves to join the PIE fight. Does one PIE make a PIE fight? Hardly, but it is a proper start. Now, I love PIE. I don't mind a bit of confrontation as long as I've got some tasty PIE at the end of the exchange to lick out of my fur. Sweet or savory PIE-- it makes no difference as long as I come out of the exchange with some food for thought.
I'd thought I had baked a pretty good PIE for my initial assault. I was barging into a world where the defacing of great works of art is chatted about behind perky smiles over weak tea and stale scones. I needed a PIE that would make an impact. I put lots of thought under the crust and sweetened it with calls for understanding. I baked to impress with all the bloviating bluster a bloke can blove.
And cardamon. You can put that stuff in anything I swear ...
But my treat fell short of its mark. I'll never know even if it was noticed by my intended target. The someone else must have been just as upset to see my PIE wasted and thoughtfully flung a PIE playfully back at me. I rejoiced to finally be having a tasty exchange of PIE. Then I got a better look at their PIE and I was not impressed. Imagine that my flaky outrage PIE was had an apple filling with a hefty dose of cinnamon. I'd hoped for something similar in kind. Even a steak and kidney, a Gilligan's Island coconut cream would have been welcome. What I got all over my fur wasn't anything I'd want to lick.
I was left a bit bewildered. I'd thought the rules of PIE exchanges were fairly straight forward. If you jump into a PIE fight you at least bring your own PIE. I'm not sure to this day what was flung at me.
I'd even included a blockquote, like the fortune in a fortune cookie, to make sure my PIEwas properly addressed and that the filling -- well, the filling matched the packaging shall we say ...
You know, if a good cook had jumped in where I had jumped in and surprised me with a lemon merangue in the moosh I would have been delighted. I would have at least learned that I still hate merangue after all these years. I would have learned something, anything! But alas, I replied to my attacker with a salvo of PIE with a gritty crust. I asked them if they thought that thing they had flung was PIE and then showed them what real PIE looks like, close up, SPLAT! What a waste of beautiful PIE. Their missile had my name on it, even started things right off as I had: quoting. But the filling, the horrible, fettid, filling-- where did that come from. Like something dredged out of a cesspool orbiting around Alpha Centauri-- it's oddly familiar yet entirely foreign.
Yeah, once again dippy ol' Marko goes looking for an argument, hoping for a dialogue that will open hearts and minds and make the world a better place. Winged puppies and rainbow unicorns. Elephants that fit in pockets and pockets big enough to hold elephants. Alfie Nobel sets aside his chemistry set to award me prizes of various sizes for my wonderful PIE that finally brought peace to the masses served piping hot in a flaky crust.
And that's what you get when you don't take democracy seriously.