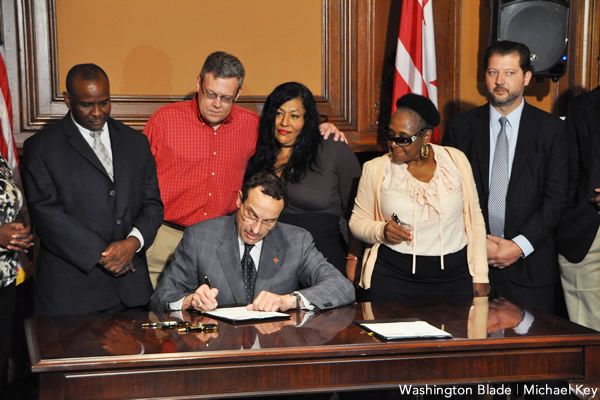 District of Columbia Mayor Vincent Gray signed the JaParker Deoni Jones Birth Certificate Equality Amendment Act on Tuesday, as well as the Marriage Officiant Amendment Act.
The birth certificate measure is a reform bill aimed at removing obstacles to transgender people changing their birth certificates to reflect their new gender.

By signing the birth certificate equality amendment into law, my administration continues to meet the needs of all of our residents so that they may work, live and thrive in safe communities free from stigma and discrimination, which is a goal shared by all of us.

We know that something such as a birth certificate not only validates the gender identity or expression of transgender individuals but it also provides them the opportunity they should have been guaranteed in the first place – especially around such issues of employment and housing.

--Mayor Gray
The bill removes the requirement that transpeople undergo gender reassignment surgery before a new birth certificate is issued.
The new requirement requires the D.C. Registrar to issue a new birth certificate…

…for any individual who provides a written request and a signed statement from a licensed healthcare provider that the individual has undergone a gender transition.
Deoni had a family that loved her and tried to understand and did understand.
And so this is as much a designation for the Jones family as anything,. They had a child taken from them. No parents should ever have to endure that. And that they could take that pain and turn it into such constructive advocacy is really a sign of remarkable people.

--Council member David Catania
Kaprice Williams has been waiting four years
for a new birth certificate. Kaprice, who is 50, transitioned from male to female when she was 15. But she has been unable to obtained changes to some of her legal documents, which still do not recognize her as a woman.
That had not been an issue until a job interview went sour when her paperwork revealed she is transgender. Efforts to change her birth certificate had stalled because Williams, a native of Washington, has not had sexual reassignment surgery and cannot afford thousands of dollars in lawyer's fees.
Now we have momentum at our back, and we really need to use this time effectively to gain as many protections as possible for transgender people.

--Fred Sainz, Human Rights Campaign
Now, now. Stop that snickering right now!
I'm glad to finally get this so I can move on with the rest of my life. These are basic needs, and you can't do too much without proper credentials.

--Kaprice Williams
Nationwide only 24% of transgender people can get their gender changed on their birth certificates because of restrictive laws, according to the National Gay and Lesbian Task Force.
[Washington's new policy] means that people can go about their lives and have their gender recognized, instead of having government documents that say you're not who you say you are.

--Lisa Mottet, NGLTF, who advised on the language of the act
The act also eliminates the requirement that transpeople advertise a concurrent name change for three weeks in a newspaper.
Of the 47 states that allow a change in birth certificate, all but four require gender reassignment surgery. Half of them issue a new birth certificate and half only amend the original birth certificate.
Masen Davis of the Transgender Law Center in San Francisco says that California is poised to follow the District. Assemblywoman Toni Atkins (D-San Diego) is sponsoring a bill similar to the Washington bill. Her office expects passage by the end of the year.

Transgender people are entitled to have their official documents and their legal name reflect their true identity without a burdensome and expensive process that endangers their personal safety.

--Assemblwoman Atkins
Activists believe that this is the start of a national movement.
We're at the very beginning of a snowball starting to be created here.

--Mottet
The Marriage Officiant Amendment Act expands the class of people authorized to perform a marriage ceremony in the city. Previously marriages could only be performed by judges, licensed clergy, and court appointed officiants. The new law allows the couple getting married to select any adult to perform their marriage on a one-time basis as a "temporary officiant". The bill also allows couples to perform their own marriage ceremony and authorizes the Mayor and members of the City Council to perform marriages.
The new bills will become law after the standard 30-day congressional review required under the city's limited Home Rule Charter.