Nearly everyone 'frets about' the price of the gallon of gas. Isn't about time we became equally 'engaged' about the price of a kilowatt-hour of electricity?
Especially if you're at all interested in the affordability of those Solar-generated kilowatts ...
Alternative energy will no longer be alternative
by Geoffrey Carr, science editor, The Economist -- Nov 21, 2012

[...] The word "alternative", with its connotations of hand-wringing greenery and a need for taxpayer subsidy, has to go. And in 2013 it will. "Renewable" power will start to be seen as normal.
[...]

The underlying cause of this disruption is a phenomenon that solar's supporters call Swanson's law, in imitation of Moore's law of transistor cost. Moore's law suggests that the size of transistors (and also their cost) halves every 18 months or so. Swanson's law, named after Richard Swanson, the founder of SunPower, a big American solar-cell manufacturer, suggests that the cost of the photovoltaic cells needed to generate solar power falls by 20% with each doubling of global manufacturing capacity. The upshot (see chart) is that the modules used to make solar-power plants now cost less than a dollar per watt of capacity. Power-station construction costs can add $4 to that, but these, too, are falling as builders work out how to do the job better. And running a solar power station is cheap because the fuel is free.

Coal-fired plants, for comparison, cost about $3 a watt to build in the United States, and natural-gas plants cost $1. But that is before the fuel to run them is bought. In sunny regions such as California, then, photovoltaic power could already compete without subsidy with the more expensive parts of the traditional power market, such as the natural-gas-fired "peaker" plants kept on stand-by to meet surges in demand. Moreover, technological developments that have been proved in the laboratory but have not yet moved into the factory mean Swanson's law still has many years to run.


larger image

[...]
Fossil-fuel-powered electricity will not be pushed aside quickly. Fracking, a technological breakthrough which enables natural gas to be extracted cheaply from shale, means that gas-fired power stations, which already produce a fifth of the world's electricity, will keep the pressure on wind and solar to get better still. But even if natural gas were free, no Swanson's law-like process applies to the plant required to turn it into electricity. [...]
Sooner or later the world will shift to renewables --
sooner would be better
. Given the predictions of
Climate Science
(pdf).
And given the on-going cheaper trends in the Price of Solar-generated Electricity -- sooner it may well be ...



You've heard about "Price at the Pump" wars (one we usually lose, by the way) -- well get ready for the inevitable "Price for the best Net Metering deal" competition. Soon to hit a neighborhood near you.
Soon you may become your own Mini-Power-Supplier, if these Swanson price trends continue. And if you read into the specifics, that downward trend still has a long ways to run before solar panels find their ultimate "bottom".

Forecast: Cost Of PV Panels To Drop To $0.36 Per Watt By 2017
by Nicholas Brown, Clean Technica, thinkprogress.com -- June 23, 2013

The cost of photovoltaic solar panels is expected to drop to 36 cents per watt by 2017, according to new research by cleantech market research firm GTM Research.

While this drop in solar panel prices will help to make solar affordable to more people, which will increase the size of the solar market, this ongoing cost reduction means much more than that.

Currently, solar panels are backed up by natural gas and various other types of power plants on the electricity grid. However, solar panel costs of $0.36 per watt make it more feasible to install additional solar panels to back each other up instead of using any other type of power plant (for off-grid setups), reducing the need for batteries.

For example: If you need 1,000 watts of power, and your 1,000 watt solar panel generates only generates 50 percent of its capacity (500 watts) due to cloudy weather, that can be compensated for by using two of those 1,000 watt panels instead of one, so you could still draw 1,000 watts from that 2,000 watt (nameplate capacity) array.
[...]
Just doubling your cloudy-day collecting capacity, for those rainy days, doubles the output, back to your target level --
who knew?

And it's cheaper than you may think to go Solar GREEN -- especially if you use the existing Grid as your "back up" storage gear -- instead of the old-school battery assemblies. Better yet most Electric Utilities will pay you for your excess electric power. Who knew that, either. Talk about your "cottage industries" ...
Last Updated: 08/10/2013

We list ONLY NEW "A GRADE" SOLAR PANELS WHICH ARE DELIVERABLE WITHIN 15 DAYS, if a retailer says it will take longer, please REPORT (please add written proof which includes detailed information of the exact solar panel type in your communication). Compare shipping costs as well! Shipping costs usually are not included in these prices. We prefer not to include any cheaper Chinese brands at this time due to quality, environmental, after-sale service and product warranty concerns. As of Jan 8, 2013 we are starting to include Suntech as first purely Chinese brand, their environmental efforts are satisfying. Please note that some solar modules may be manufactured in China by companies not headquartered in China.
Currently their "best price" is
$0.75 per Watt
from a brand called
Canadian Solar
(see above link).

Given the spot prices Electricity Utilities are willing to pay for "supply" of their product
-- there may never have been a better time to plan on going Solar GREEN:

Electric Power Markets: California (CAISO)
Federal Energy Regulatory Commission (FERC)
Prices (CAISO only) [California]

Annual Average Price (ISO Real-time)

NP-15:
2004: $38.35/MWh
2005: $54.35/MWh
2006: $43.40/MWh
2007: $54.91/MWh
2007: $71.01/MWh
2007: $34.57/MWh (Post MRTU 4/1/09 – 12/31/09)

SP-15:
2004: $39.47/MWh
2005: $55.52/MWh
2006: $46.89/MWh
2007: $54.91/MWh
2008: $69.56/MWh
2009: $34.35/MWh (Post MRTU 4/1/09 – 12/31/09)
Electricity
is very much an "inelastic" Commodity you know -- very much in
constant demand
. It trades like cotton and coffee, on its own localized "spot price" markets: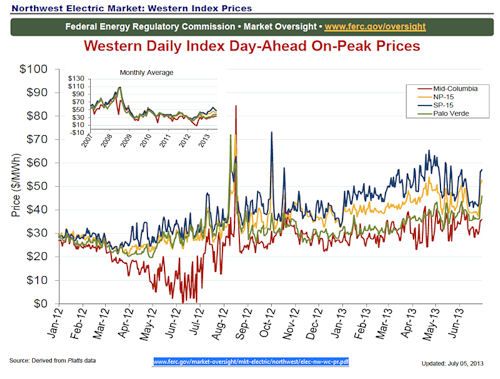 much larger image

The opportunities to make a real Carbon-Footprint difference, have never been more affordable, nor more approachable either. All that's lacking is the will, and some old fashion American ingenuity -- to bring these grand "renewable" dreams to life.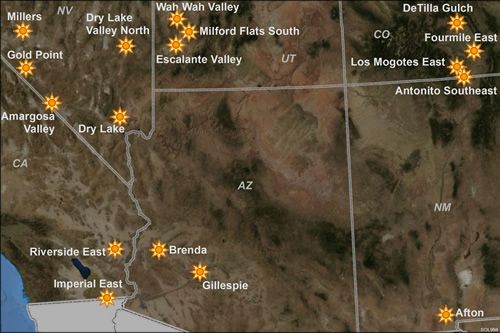 [Fast-tracked "priority development areas for utility-scale solar energy facilities" being offered by the BLM.]
Feds take one step closer to establishing 17 new "Solar Energy Zones" on Public Lands
by jamess -- Aug 05, 2013

Maybe the world actually will one day be -- what WE decide to make it ...
Here's to making it -- our future -- renewably so.