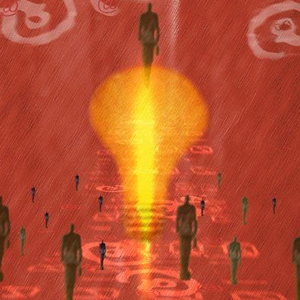 Commentary: African American Scientists and Inventors
by Black Kos Editor, Sephius1


Thomas Mensah was born in Kumasi, Ghana in 1950. His father, J.K. Mensah, was a businessman who shipped cocoa products to chocolate manufacturers in France. Thomas was an exceptionally bright child, learning to read newspapers at an early age and becoming fluent in French. As a child, he often conversed in French with his father's business associates. He went on to twice win the National Competition in France in 1968 and 1970.
(con't.)
Thomas received his early education at the exclusive Adisadel College boys school in Cape Coast. An excellent student, particularly in science and math, he received a scholarship to study chemical engineering at the University of Science and Technology Kumasi, Ghana. An honors student, he graduated in 1974 and was awarded a fellowship from the French government to study Chemical Engineering at the University of Science and Technology in Montpelier, France (USTL). While enrolled at USTL, he took part in a program at the Massachusetts Institute of Technology (MIT) and received a certificate in Modeling and Simulation of Chemical Processes from the university in 1977. A year later, he graduated from USTL with a PhD.
In 1980, Thomas travelled to the United States where he took a job with Air Product and Chemicals in Allentown, Pennsylvania. He was a research engineer in the chemical group division. One of his projects was to observe the mixing process in the Polyvinyl Alcohol Process Improvement Division. The process included injecting PVAC ( a polymer having a high resistance to to flow) with a catalyst. Inside of a thin film reactor which used a moving blade system. The resulting mixture would end up on a moving belt where it would cure into a white slab of Polyvinyl Alcohol, later cut into smaller pieces. A problem occurred when the mixture was of poor quality, as the resulting polyvinyl acetate did not cure properly, resulting in an usable product (and often causing a shutdown of the manufacturing process.
Mensah, after long research and an innovative use of high-tech video equipment was able to determine that when the centers of the vortices during the mixture process often trapped poorly mixed reactants , allowing them to proceed onto the moving belt. Thomas solved this by altering the blade configuration in the mixing process (as well as altering the notch depth). This redesign of the high speed thin film industrial mixers produced a much purer blend, thus improving the efficiency of the process and diminishing the delays which often shut down the manufacturing plant. He was rewarded by winning second prize in a prestigious research competition.....Read More
~~~~~~~~~~~~~~~~~~~~~~~~~~~~~~~~~~~~~~~~~~~~~~~~~~~
News by dopper0189, Black Kos Managing Editor
~~~~~~~~~~~~~~~~~~~~~~~~~~~~~~~~~~~~~~~~~~~~~~~~~~~

~~~~~~~~~~~~~~~~~~~~~~~~~~~~~~~~~~~~~~~~~~~~~~~~~~~
Sometimes to talk about race in America, you have to use the back door. NPR: 'Orange' Creator Jenji Kohan: 'Piper Was My Trojan Horse'
~~~~~~~~~~~~~~~~~~~~~~~~~~~~~~~~~~~~~~~~~~~~~~~~~
On what drew her to Orange when she read it:

"I'm always looking for those places where you can slam really disparate people up against one another, and they have to deal with each other. There are very few crossroads anymore. We talk about this country as this big melting pot, but it's a mosaic. There's all these pieces, they're next to each other, they're not necessarily mixing. And I'm looking for those spaces where people actually do mix — and prison just happens to be a terrific one."
On stories about privileged white women and criminality:
"In a lot of ways Piper was my Trojan Horse. You're not going to go into a network and sell a show on really fascinating tales of black women, and Latina women, and old women and criminals. But if you take this white girl, this sort of fish out of water, and you follow her in, you can then expand your world and tell all of those other stories. But it's a hard sell to just go in and try to sell those stories initially. The girl next door, the cool blonde, is a very easy access point, and it's relatable for a lot of audiences and a lot of networks looking for a certain demographic. It's useful."
Janae Watson (Vicky Jeudy), Piper Chapman (Taylor Schilling) and Dayanara Diaz (Dascha Polanco) arrive in prison in the first episode of Orange Is the New Black.
~~~~~~~~~~~~~~~~~~~~~~~~~~~~~~~~~~~~~~~~~~~~~~~
Casting black actresses still appears to be a stretch for producers. Slate: Will Black Actresses Ever Catch Up to Their Peers?
~~~~~~~~~~~~~~~~~~~~~~~~~~~~~~~~~~~~~~~~~~~~~~~
It was a big deal when Kerry Washington was revealed as the cover girl for Vanity Fair's August issue. An actress who's been around for more than a decade and who has finally hit big as the star of the hit ABC political drama Scandal, she is the first black woman who's not Beyoncé to pose solo on the front of the mag since 1993.* And since this is the publication whose annual Hollywood issues tout the "next big things" and the A-list elite, the significance of this (along with her Elle cover in June) cannot be overstated.
Washington isn't the only black woman in Hollywood who's currently experiencing a high point in her career. This summer has brought forth more welcome news, with the election of Cheryl Boone Isaacs as the first black female president of the Academy of Motion Picture Arts and Sciences, and Internet star Issa Rae's deal with HBO to co-write and star in her own comedy series based on themes from her popular Web series, The Misadventures of an Awkward Black Girl.* (This comes after last year's equally promising news that Rae is developing another sitcom under Scandal creator Shonda Rhimes' company, though that project has yet to be sold.) Combined with the Oscar talk swirling around the performances of Oprah Winfrey and Octavia Spencer for Lee Daniels' The Butler and Fruitvale Station, respectively, this seems to be a pretty great year for black women in film and television. Perhaps, even, this is evidence of "the Obama effect" on Hollywood, as Sharon Waxman wrote for the Wrap a couple of weeks ago?
Not even close. The "Obama effect," for those new to the term, is a tidy phrase that implies that our black president has inspired the country to do better in all walks of life, from improving test scores for black students to moves toward greater diversity and inclusion of nonwhites. Waxman cites as her evidence of Hollywood's improved stance toward blacks a meeting where names of the "hottest" current celebrities were bandied about. Washington and Parks and Recreation star Rashida Jones, she with the "piercing blue eyes and mixed race parentage," were the first names mentioned, she writes proudly.
As easy as it may be for Waxman to measure equality in perceived hotness, it's even easier for actresses of color to tell you that Hollywood still has a long way to go when it comes to black representation, and especially black female representation. Viola Davis made the case very clear when she deemed the current state of black actresses as being in a "crisis mode" during a discussion on Oprah's Next Chapter. "We're in the same category," she told Winfrey and fellow guests Alfre Woodard and Phylicia Rashad. "Whereas if you take a Caucasian actress, you have the ones who are the teens, in their 20s, 30s, 40s, 50s, and they're all different. There's roles for each of them." But when you see a black woman in a movie, she's usually playing a "sassy" character in a service job (nurse, receptionist, housekeeper) or a bland girlfriend, wife, or best friend to a white lead. (Or if she's really made it, she gets to take starring roles in creative cesspools made by Tyler Perry.) With little exception, that was essentially Kerry Washington's career prior to Scandal, which became the first network TV drama in nearly 40 years to star a black woman.


Kerry Washington in Scandal
Photo courtesy of Eric McCandless/ABC
~~~~~~~~~~~~~~~~~~~~~~~~~~~~~~~~~~~~~~~~~~~~~~~~~~~

~~~~~~~~~~~~~~~~~~~~~~~~~~~~~~~~~~~~~~~~~~~~~~~~~~~
Jackson, Miss., native Kiese Laymon is the first-time author of two books: "How to Slowly Kill Yourself and Others in America," an essay collection released this week, and a satirical time-travel novel, "Long Division," which came out in June. Color Lines: Kiese Laymon On Race and Writing.
~~~~~~~~~~~~~~~~~~~~~~~~~~~~~~~~~~~~~~~~~~~~~~~~~~~
In the introduction to "How to Slowly Kill Yourself and Others in America" you talk about your struggle to get your novel, "Long Division" out. What happened there?

I sold the novel to a large New York publisher and they had it for three or four years but they wanted me to take out the racial politics. We had a publication date and they kept pushing it back. After awhile I started to get angry. So at some point—and major publishing companies don't expect you to do this—I pulled the book. This is seen as kind of career suicide, but I had a job and I didn't have kids so I was able to do it. …[Overall] it took a really long time to get the books out. I don't think they thought there was an audience.
In "Long Division" you have characters moving between 2013, 1985 and 1964. Why time travel?
Because I'm obsessed with Octavia Butler and I'm particularly obsessed with "Kindred." Instead of writing an essay about all of the wonderful things she's written I decided to do a meta fiction. [The central question] is, "What happens if we allow young black characters to go from 2013 to '85 to right before Freedom Summer?" Also, because I'm a teacher, there's something pedagogical about what I do. I wanted young people and newer readers to know that the act of writing can be a form of time travel.
The acclaimed first-time author, professor and Gawker editor has both a novel and essay collection on shelves this summer Photo courtesy of Kiese Laymon
~~~~~~~~~~~~~~~~~~~~~~~~~~~~~~~~~~~~~~~~~~~~~~~~~~~


~~~~~~~~~~~~~~~~~~~~~~~~~~~~~~~~~~~~~~~~~~~~~~~~~~~
A shameful prosecutorial act. Slate: Using Rap Lyrics Against Young Black Male Defendants.
~~~~~~~~~~~~~~~~~~~~~~~~~~~~~~~~~~~~~~~~~~~~~~~~~~~
In 2008 a New Jersey drug dealer and aspiring rapper named Vonte Skinner was tried in the attempted murder of Lamont Peterson, a fellow dealer who had fallen out of favor with Skinner's boss. When he was arrested, police found drafts of graphic rap lyrics in the back seat of Skinner's girlfriend's car. At trial, prosecutors read 13 pages' worth of those lyrics to the jury, to help establish Skinner as a violent dude who had the "motive and intent" to attempt to kill Peterson. (Sample lyric: "I'm the dude to shoot at ya' neck, shatter your life like a bottle of Becks. One and only to slice a dude like bologna, you don't know me. I'll watch you pricks die slowly, lay you stiff like a trophy.") The tactic worked, or at least it didn't hurt: Skinner was convicted and sentenced to 30 years in prison.
In 2012 Skinner's conviction was overturned by an appellate court, which found that the rap lyrics—all of which had been written long before the Skinner affair, and none of which mentioned Peterson or any desire on Skinner's part to kill him—should never have been admitted into evidence. Now, with the New Jersey Supreme Court set to review the case, attorneys working on behalf of the American Civil Liberties Union of New Jersey have written an amicus brief asking the state Supreme Court to affirm the reversal of Skinner's conviction, and to "adopt a more stringent set of standards to guide courts in admitting into evidence a criminal defendant's fictional, artistic expressions."
I hope they do. It makes me very uncomfortable that prosecutors are using fictional writings as evidence against defendants in criminal cases. And it makes me even more uncomfortable that they seem to be doing so disproprtionately in cases involving young black men.
The amicus brief cites 18 separate cases in which prosecutors attempted to use a defendant's rap lyrics as evidence against him. In some of these cases, the lyrics adhere closely to the facts of the alleged crime. (A man named Dennis Greene, on trial for killing his wife, perhaps unwisely recorded a song asserting that his wife "made me mad, and I had to take her life. My name is Dennis Greene and I ain't got no f---king wife.") In others, though, prosecutors presented irrelevant lyrics and encouraged the jury to infer that the defendant had criminal intent. Among others, the brief cites the case of United States v. Foster, in which the 7th Circuit upheld "the admission of rap lyrics in [a] drug distribution case to show defendant's knowledge of the 'reality' around 'urban life.' "


Vonte Skinner
New Jersey Department of Corrections
~~~~~~~~~~~~~~~~~~~~~~~~~~~~~~~~~~~~~~~~~~~~~~~~~~~~~
Removing segregationist language from Alabama constitution Anniston Star: Commission approves replacement for racist wording in Alabama Constitution.
~~~~~~~~~~~~~~~~~~~~~~~~~~~~~~~~~~~~~~~~~~~~~~~~~~~~~
A statewide panel has come up with a new proposal to replace segregationist wording in Alabama's 1901 Constitution, but their solution may have voters feeling a little deja vu.
The Alabama Constitutional Revision Commission voted 9-7 Thursday to propose a new version of the Constitution's Section 256 – the section that mandates separate schools for "white and colored children."
If approved by the Legislature and the voters, the commission's proposal would change Section 256 to state that Alabama will "maintain a system of public schools," without any reference to segregation. The proposed wording also states that "nothing in this section shall create any judicially enforceable right."
That last phrase is a nod to a long-running debate about school funding – a debate that has already scuttled two past amendments intended to erase segregation from the Constitution.
"It's disappointing that, 50 years later, we're still not able to agree on this," said Carolyn McKinstry, a member of the commission.
State lawmakers appointed the Constitutional Revision Commission in 2011 to conduct an article-by-article revision of the Constitution of 1901, which is by far the longest state constitution in the country.


Carolyn McKinstry, a member of the Alabama Constitution Revision Commission (Frederick M. Brown/Getty Images)
~~~~~~~~~~~~~~~~~~~~~~~~~~~~~~~~~~~~~~~~~~~~~~~~~~~


~~~~~~~~~~~~~~~~~~~~~~~~~~~~~~~~~~~~~~~~~~~~~~~~~~~
There's no good way to paraphrase or blurb this article you really need to look at the link. Segregation, diversity, and clustering become very clear when every human becomes a dot. Slate: This Amazing Map Shows Every Person in America.
~~~~~~~~~~~~~~~~~~~~~~~~~~~~~~~~~~~~~~~~~~~~~~~~~~~
How diverse is your neighborhood really? This map by Dustin Cable at the University of Virginia's Weldon Cooper Center for Public Service displays the population distribution of every person in America (as of the 2010 census) along racial and ethnic lines. The map features 308,745,538 dots, each smaller than a single pixel and each representing one person: Caucasians are blue, blacks are green, Hispanics are orange, Asians are red, and other races are brown.
The vast swaths of purple appear to show the racial diversity of some of America's biggest cities. But if you zoom into the map and break these cities down at the neighborhood level, patterns of segregation become much clearer.


Courtesy of Dustin Cable/Weldon Cooper Center for Public Service/University of Virginia
~~~~~~~~~~~~~~~~~~~~~~~~~~~~~~~~~~~~~~~~~~~~~~~~~~~~~~~~~~
Welcome to the Black Kos Community Front Porch!
Pull up a chair and sit down a while in the cool shade.