Good Morning All. I am James, also known as exlrrp

this is the Saturday Morning Home Repair Blog where the Dailykos community gets together to talk about all things construction and repair. Our genial and expert staff stand ready to aid you on your every problem
OK OK OK settle down now we're going to start
So I had a big month--family came up from Chile, Went to the Ranger Rendezvous, came back to finish the family vacation, then drive home from Marin County, CA
Long story short: didn't get much done
So aaaaaaanywaaaaaay. I'm in the Atlanta Airport, just walking on to the airplane and get a call from my wife, to wit: Water is Pouring Out Of Our Ceiling!!!!! And I'm like: I'M JUST GETTING ON THE FUCKING PLANE NOW!!!!
Well, Holy Moly, whats a guy to do 3000 miles away?. I splained to her how to turn the water off, which she did.
Sooo, a few days later I get home and I'm all: so WTF?
She turns the water on and sure nuff, water flows out of the ceiling but dribbling, not "pouring." (Mrs exlrrp gets creative in her descriptions) I know there's a bathtub above there---whys this thing leaking now? What to do, what to do?
So I bring out the ladder, I bring out the Dewalt battery sawzall and I hack into the ceiling and what do I find? (you're looking up at it in the ceiling)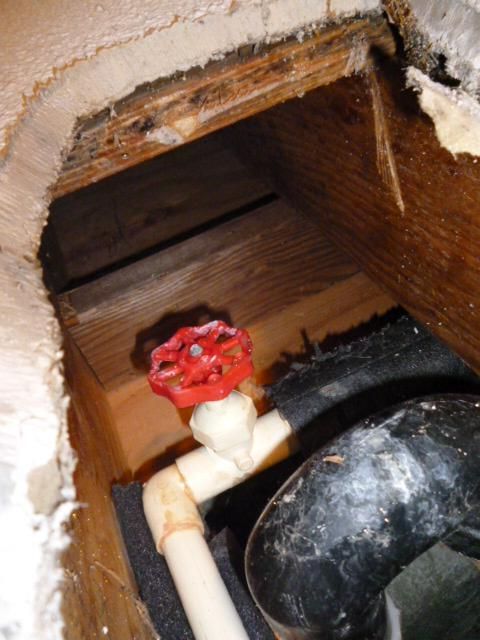 Now Ive said before that the guy that built my house was stupid but this is SO fucking megastupid---and SO fucking senseless--- that this must be noted and marveled at. I know the plumbers here are ROTFL already---this is Stupid A Go Go
OK, that valve, which is in the hot water line, should not be there. There's no logical reason, or any other reason, for that valve to be there, none whatsoever. AND its buried!! If you have a valve, you HAVE to provide access to it!! So they installed a valve for no reason at all, buried it in the ceiling and after about 20 years the valve started to leak out the packing.
Nice to know there's these ticking time bombs in my house.
So I fixed it, just cut it out and put in a 90. That's it. Now all I have to do is patch and paint the ceiling, and its in a large room.
And people wonder why it takes me so long to remodel my house!! First I have to fix whats there before I can remodel it.
Teh Stupid....it never quits!!


So that's my latest tale of woe----whats yours?