China has been gripped like a vice by a unrelenting heat wave that has lasted for several weeks now. The city of Shanghai has hit it's all time record high of 40.8 Celsius or 105.4 F and large portions of China are baking as well.
The heat wave has left dozens of people dead and 104 F in at least 40 cities and counties, mostly in the south and east. Authorities for the first time have declared the heat a "level 2" weather emergency which is usually activated for major flooding or a typhoon according to the Xinhua News Service.
This image comes from the Thermal Infrared Sensor instrument on the new Landsat 8 satellite. It shows the city of Shanghai in infrared light. By observing land in these light wavelengths, different temperatures stand out. Brighter yellow colors are hotspots up to 40°C, darker red or maroon colors are cooler but still mostly above 30°C, and the blue dots are clouds. The Yangtze River also stands out.

Also in this image you can recognize the "Urban heat island effect", where cities tend to be warmer than the surrounding countryside because structures, roofs, and roads tend to absorb sunlight and do not cool off as much during the night as open spaces or vegetated areas. Even individual structures or complexes stand out in heat compared to the areas around them, particularly downtown and near the river.
usually caution that they can't attribute a single weather event like the Chinese heat wave to man-made global warming. But "human-caused warming sure ups the odds of heat waves like this one," said Jonathan Overpeck of the University of Arizona. The Chinese heat wave "gives a very real face to what global warming is all about," he wrote in an email.

"This is the future. Get used to it," Andrew Dressler of Texas A&M University told The Associated Press by email. "You often hear people say, 'Oh, we'll just adapt to the changing climate.' It turns out that that's a lot harder than it sounds, as the people in China are finding out now."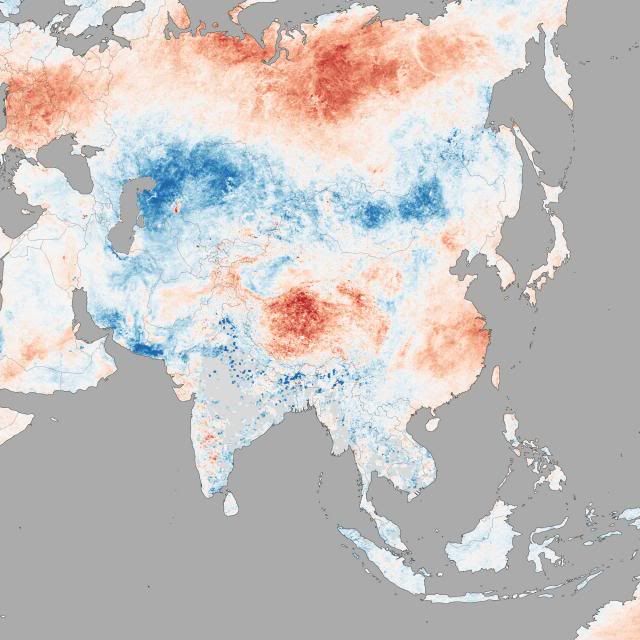 The image above shows temperature anomalies across China between August 5 and August 12, 2013, as observed by the Moderate Resolution Imaging Spectroradiometer (MODIS) on NASA's Terra satellite. Red areas are warmer than the long-term average for the week, while cooler-than-average temperatures are blue. While much of China was warm during this period, the worst of the heat wave was concentrated near the coast and in Tibet. This weather pattern is tied to a subtropical high-pressure system parked over southern China, according to the China Meteorological Administration
Xinhua reports that:
The mosquito population has been decimated from the heat and lack of rainfall in Chongqing Municipality. Not a bad thing, but certainly interesting.
In southern Chinese rural areas, the heat is worsening a drought taking
heavy toll on agriculture.
Hunan provincial government said 3.06 million people have suffered from drinking water shortages, with the drought affecting 85.6 percent of the province's villages.
Drinking water scarcity is also affecting 1.17 million people in the neighboring province of Hubei, where authorities said they do not expect significant rainfall until August 22.
The heat has also caused damage to the vast bamboo forests of Hunan's Taojiang County, as high temperatures have increased the appetites of locusts and therefore hastened their reproduction.
In the port city of Ningbo in Zhejiang province, glass has cracked in the heat, vehicles have self-combusted, and a highway billboard caught fire by itself, sending up black smoke in the air, according to China Central Television.
Some Chinese in heat-stricken cities have been cooking shrimps, eggs and bacon in skillets placed directly on manhole covers or on road pavement that has in some cases heated up to 60 degrees C (140 F).

Jinan, Shandong province.