Science News

Wolves howl because they care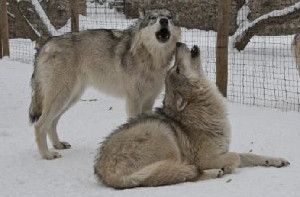 Psychology & Sociology

When a member of the wolf pack leaves the group, the howling by those left behind isn't a reflection of stress but of the quality of their relationships. So say researchers based on a study of nine wolves from two packs living at Austria's Wolf Science Center that appears in Current Biology, a Cell Press publication, on August 22. The findings shed important light on the degree to which animal vocal production can be considered as voluntary, the researchers say.

"Our results suggest the social relationship can explain more of the variation we see in howling behavior than the emotional state of the wolf," says Friederike Range of the Messerli Research Institute at the University of Veterinary Medicine Vienna. "This suggests that wolves, to a certain extent, may be able to use their vocalizations in a flexible way."


Fossil Insects Tweak Date of Deadly "Atlantis" Eruption
Bean weevils are key to figuring out mystery of event that destroyed a civilization.
Ker Than

A new study of insect pests found in an ancient storage jar on the Greek island of Santorini suggests the major volcanic eruption that took place there around 1600 B.C.—and which may have inspired the legend of Atlantis—happened in early summer.

The "Atlantis" eruption was one of the most significant volcanic eruptions in human history. The blast is credited for not only ending the Minoan civilization, but also for affecting ancient Egypt and other communities around the eastern Mediterranean, explained Eva Panagiotakopulu, a palaeoecologist and fossil-insect expert at the University of Edinburgh in Scotland.

Based on previous evidence, scientists had concluded that the eruption happened sometime between 1627 to 1600 B.C. But there has been one important and unresolved question about the event: What season did it take place in?

In a new study, published in a recent issue of the journal Naturwissenschaften, Panagiotakopulu and her team now say that based on insect remains found in a jar containing seeds of sweet peas discovered at the Bronze Age settlement of Akrotiri, they think the eruption occurred sometime between June to early July.

Technology News

Nasdaq Stock Exchange Goes Dark After Tech Glitch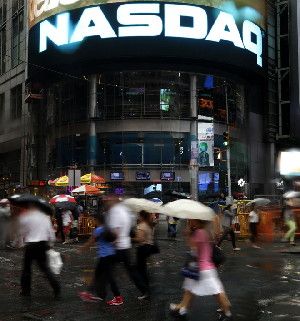 By Kim Zetter

A technical glitch has been cited as the cause of an unprecedented halt of trading on the Nasdaq stock exchange today.

Trading was halted around noon East Coast time after Nasdaq announced that it was experiencing problems with a system for disseminating price quotes, and the exchange didn't resume full operations until nearly 4 p.m.

In response to the outage, the New York Stock Exchange also stopped further trading and canceled some orders.

The outage follows several other high-profile network outages that have occurred in the last week. These included outages at Amazon and The New York Times that made their websites inaccessible. New York Times employees also indicated that they had problems accessing their email accounts.

The first indication of a problem at Nasdaq occurred at 11:45 a.m. when the exchange announced that it was experiencing "momentary interruptions" in the system.


Google Search beefs up its online dictionary
When typing "define ..." into the Web giant's search engine, users now get the word definition, sample sentences, synonyms, origins, translations, spoken response, and more.
by Dara Kerr

When I was growing up and didn't know what a word meant, my parents would send me to the bookshelf to look up the word up in a hardbound dictionary. The youth of today would laugh at this notion.

Online dictionaries now seem to be the go-to for finding word definitions. And, Google announced Thursday that it's making this process even easier.

In Google Search's revamped dictionary, besides the good old-fashioned word definition, people can now get sample sentences, synonyms, translations, spoken responses for words, and more.

For example, when a user types in "define artful," they get the definition, which is "clever or skillful, typically in a crafty or cunning way." They also get a sentence, "her artful wiles," along with synonyms (sly), and antonyms (ingenious). Users can also see the origin and use of the word over time, and also translate it into more than 60 languages.

Environmental News

More Renewable Power Coming, Thanks to State Initiatives
Installations of wind and solar projects is expected to increase
By Henry Gass and ClimateWire

U.S. investment in clean energy was down in 2012 after breaking records all through 2011, but rapidly declining installment costs mean deployments are likely to continue to rise, according to new analysis from Ernst & Young LLP, a multinational accounting firm.

The report ranked the renewable energy "attractiveness indices" for all 50 states, and those numbers remained similar -- California and Texas continue to dominate the market, with Hawaii making the strongest jump last year through significant solar and wind gains.

But the broader national picture seems to be changing dramatically. Renewable energy accounted for a record 49 percent of added capacity in 2012, and deployment is expected to continue to rise as costs continue to fall. And while inconsistent policies from state to state have often hampered renewable energy development, technological improvements mean that if a state isn't amenable to large-scale utility installations, it's probably more hospitable to residential-scale distributed installations.


Latest Radioactive Leak at Fukushima: How Is It Different?
Patrick J. Kiger

In the latest crisis to strike the Fukushima-Daiichi nuclear power plant in Japan, operator Tokyo Electric Power (TEPCO) has discovered that 300 tons (nearly 72,000 gallons) of highly radioactive water has leaked from a holding tank into the ground over the past month.

The development comes on top of TEPCO's admission last month that an estimated 300 tons of radioactive groundwater, which picks up small amounts of contamination when it flows through the damaged reactor buildings, has been leaking into the Pacific Ocean every day. (See related story: "Fukushima's Radioactive Water Leak: What You Should Know.")

The new storage tank leak presents a different and potentially more serious problem than the ongoing groundwater flow leaks. The water from the leaking tank is so heavily contaminated with strontium-90, cesium-137, and other radioactive substances that a person standing less than two feet away would receive, in an hour's time, a radiation dose equivalent to five times the acceptable exposure for nuclear workers, Reuters reported. Within ten hours, the exposed person would develop radiation sickness, with symptoms such as nausea and a drop in white blood cells.

Medical News

Bacteria can cause pain on their own
Microbes caused discomfort in mice by activating nervous system, not immune response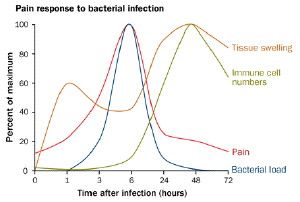 By Cristy Gelling

Bacteria can directly trigger the nerves that sense pain, suggesting that the body's own immune reaction is not always to blame for the extra tenderness of an infected wound. In fact, mice with staph-infected paws showed signs of pain even before immune cells had time to arrive at the site, researchers report online August 21 in Nature.

"Most people think that when they get pain during infection it's due to the immune system," says coauthor Isaac Chiu of Boston Children's Hospital and Harvard Medical School. Indeed, immune cells do release pain-causing molecules while fighting off invading microbes. But in recent years scientists have started uncovering evidence that bacteria can also cause pain.

Chiu and his colleagues stumbled on this idea when they grew immune cells and pain-sensing cells together in a dish. The researchers were trying to activate the immune cells by adding bacteria to the mix but were surprised to see an immediate response in the nerve cells instead. This made them suspect that nerve cells were sensing the bacteria directly.


Does Israel's New Polio Outbreak Threaten Global Eradication Efforts?
An expert sheds light on what polio virus found in the nation's sewers means for the world
By Dina Fine Maron

Public health advocates have long set their sights on wiping out polio worldwide, but recent resurgences of the pernicious disease raise questions about its future eradication.

Several months ago a wild strain of the virus surfaced in a sewer system in Rahat in southern Israel, and now it has reportedly been detected throughout the country. Israel's government this week launched a nationwide vaccination campaign, attempting to inoculate all children under nine years of age with oral polio vaccine (OPV), a form of the vaccine containing a live, weakened form of the virus. Most of these children were already vaccinated as babies with inactivated polio vaccine (IPV), otherwise known as the dead-virus vaccine. But people who were injected with IPV can still be healthy carriers of the disease and shed the virus in feces.

Space News

'Space beads' push back origins of iron working
Ancient Egyptians heated and hammered meteorite metal into ornaments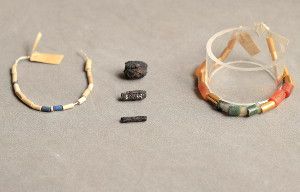 By Bruce Bower

Iron beads from a necklace discovered a century ago in an ancient Egyptian grave came from pieces of meteorites that were hammered and heated into ornaments, two new studies find.

Researchers say that techniques employed by Egyptian artisans around 5,200 years ago eventually proved essential for making objects out of iron extracted from ore, a practice that started roughly 1,500 years later in or near modern-day Turkey and 3,000 years later in Egypt.

Hammering relatively soft metals such as copper and gold into thin sheets, which were rolled up to form cylindrical beads, began about 9,000 years ago in Turkey. To do the same with iron lumps from meteorites required impressive blacksmithing skills, says archaeomettalurgist Thilo Rehren, who directs a campus of University College London, based in Doha, Qatar.


A Supergiant Star Goes Missing, and a Supernova Mystery Is Solved
What once appeared to be an unremarkable star among billions in the Whirlpool galaxy has vanished in a brilliant supernova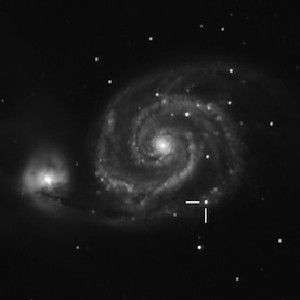 By John Matson

Every so often in the vast cosmos something exciting happens in one of the relatively few places that humans happen to watch closely. Like a rare bird touching down for a bath in the Trevi Fountain, such serendipitously placed exotica produces a wealth of witnesses and plenty of photographic documentation.

So it was with a recent supernova in the spiral galaxy M51—better known to casual stargazers as the Whirlpool galaxy, a photogenic swirl some 25 million light-years away. Shortly after the light from an exploding star there reached Earth at the end of May 2011, amateur reports of the cataclysm began pouring in to the Central Bureau for Astronomical Telegrams, a clearinghouse for new telescope data. Soon the explosion was assigned the official designation supernova 2011dh.

Odd News

News in Brief: Natural antifreeze prevents frogsicles
Sugar and other chemicals keep Alaskan frogs from freezing completely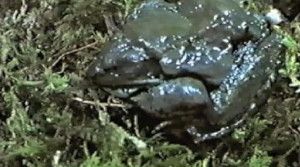 By Meghan Rosen

A body full of natural antifreeze helps Alaskan wood frogs weather winter's chill, biologists report August 21 in the Journal of Experimental Biology.

Less ice formed in the skin and muscles of Rana sylvatica frogs living in Alaska compared with those of the same species from Ohio, the researchers found. The Alaskan frogs' ability to fend off the cold may stem from having more freeze-preventing chemicals in their blood and tissues.

Wood frogs' range spans a broad swath of North America, from Georgia up through Canada and into Alaska's Arctic forests. The average January low for the Alaskan frogs' home is —28° Celsius. In Ohio, lows typically reach only —5°.

Scientists knew the frogs could withstand the cold, but no one understood how the animals living farther north had adapted so well to frigid temperatures. To find out, Jon Costanzo and his colleagues at Miami University in Oxford, Ohio collected wood frogs from the two regions and examined their bodies after freezing and thawing them in the lab.