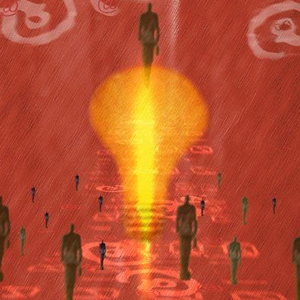 Commentary: African American Scientists and Inventors
by Black Kos Editor, Sephius1


George Washington Carver was born in 1860 in Diamond Grove, Missouri and despite early difficulties would rise to become one of the most celebrated and respected scientists in United States history. His important discoveries and methods enabled farmers through the south and midwest to become profitable and prosperous.
(con't.)
George was born the sickly child of two slaves and would remain frail for most of his childhood. One night a band of raiders attacked his family and stole George and his mother. Days later, George was found unharmed by neighbors and was traded back to his owners in exchange for a racehorse. Because of his frailty, George was not suited for work in the fields but he did possess a great interest in plants and was very eager to learn more about them.
His master sent him to Neosho, Missouri for an early education and graduated from Minneapolis High School in Kansas. He eventually mailed an application to Highland University in Kansas and was not only accepted but also offered a scholarship. Happily, George traveled to the school to accept the scholarship but upon meeting George, the University president asked "why didn't you tell me you were a Negro?" and promptly withdrew the scholarship and the acceptance.
In 1887 Carver was accepted into Simpson College in Indianola, Iowa where he became well respected for his artistic talent (in later days his art would be included in the spectacular World's Columbian Exposition Art Exhibit.) Carver's interests, however, lay more in science and he transferred from Simpson to Iowa Agricultural College (which is now known as Iowa State University.) He distinguished himself so much that upon graduation he was offered a position on the school's faculty, the first Black accorded the honor. Carver was allowed great freedom in working in agriculture and botany in the University's greenhouses. In 1895, Carver co-authored a series of papers on the prevention and cures for fungus diseases affecting cherry plants.
In 1896 he received his master's degree in agriculture and in 1897 discovered two funguses that would be named after him. At this point, the most pivotal moment of his life arose - he was summoned by Booker T. Washington to teach at Tuskegee Normal and Industrial Institute. He was appointed director of agriculture and quickly set out to completely correct its wretched state.....Read More
~~~~~~~~~~~~~~~~~~~~~~~~~~~~~~~~~~~~~~~~~~~~~~~~~~~~~~~~~~
News by dopper0189, Black Kos Managing Editor
~~~~~~~~~~~~~~~~~~~~~~~~~~~~~~~~~~~~~~~~~~~~~~~~~~~


~~~~~~~~~~~~~~~~~~~~~~~~~~~~~~~~~~~~~~~~~~~~~~~~~~~
President Obama stepped into the space where the Rev. Dr. Martin Luther King Jr. once stood and summoned his iconic dream of a colorblind society in a celebration of a half-century of progress and a call to arms for the next generation. New York Times: Where King Stood, Obama Reframes a Dream for a New Era.
~~~~~~~~~~~~~~~~~~~~~~~~~~~~~~~~~~~~~~~~~~~~~~~~~~~
"To dismiss the magnitude of this progress, to suggest as some sometimes do that little has changed, that dishonors the courage and the sacrifice of those who paid the price to march in those years," Mr. Obama said as Dr. King's relatives, compatriots and admirers watched. "But we would dishonor those heroes as well to suggest that the work of this nation is somehow complete.
"The arc of the moral universe may bend toward justice," the president added, adopting a line from Dr. King, "but it doesn't bend on its own. To secure the gains this country has made requires constant vigilance, not complacency."
The symbolic journey from Dr. King to Mr. Obama on display on the steps of the Lincoln Memorial animated the 50th anniversary of the March on Washington for Jobs and Freedom more than any particular oratory. In his own speech, Mr. Obama made only oblique reference to his unique place in history, when he said "and yes, eventually the White House changed," but the power of his presence was lost on no one.
Mr. Obama hit on the theme that progress was made because of those who were there 50 years ago.
"And because they kept marching, America changed," the president said. "Because they marched, the civil rights law was passed. Because they marched, the voting rights law was signed. Because they marched, doors of opportunity and education swung open so their daughters and sons could finally imagine a life for themselves beyond washing somebody else's laundry or shining somebody else's shoes."


~~~~~~~~~~~~~~~~~~~~~~~~~~~~~~~~~~~~~~~~~~~~~~~~~~~~~
Progress on some fronts, stagnation in others. Slate: The Black-White High School Graduation Gap Has Nearly Closed. The Income Gap Is as Big as Ever.
~~~~~~~~~~~~~~~~~~~~~~~~~~~~~~~~~~~~~~~~~~~~~~~~~~~~~
To state the obvious, race relations in America are dramatically different today than they were 50 years ago. And this manifests itself in any number of concrete ways. One particularly dramatic way is the closing of the once-enormous gap in high school graduation rates (data via Pew), which have risen for both whites and blacks while growing more equal:

Unfortunately, the racial gap in median household income remains about as large as ever:
~~~~~~~~~~~~~~~~~~~~~~~~~~~~~~~~~~~~~~~~~~~~~~~~~~~


~~~~~~~~~~~~~~~~~~~~~~~~~~~~~~~~~~~~~~~~~~~~~~~~~~~
In New York City, city lawyers report a sharp decrease in the number of stop-and-frisk encounters in the second quarter of 2013, according to the New York Times. The numbers are the lowest they have been since Mayor Michael Bloomberg started implementing the program 11 years ago. New York Times: Stop-and-Frisk Incidents Decreased in 2nd Quarter.
~~~~~~~~~~~~~~~~~~~~~~~~~~~~~~~~~~~~~~~~~~~~~~~~~~~
From April through June, police officers conducted 58,088 involuntary stops. That was a steep decline from the 99,788 stops performed during the first quarter of 2013. And it was well below the 203,500 stops the police conducted in the first quarter of 2012, a high-water mark for the number of stops since Mayor Michael R. Bloomberg took office in 2002.
On Aug. 12, Judge Shira A. Scheindlin ruled that stop and frisk was unconstititutional in federal court on the grounds that the New York City Police Department routinely singled out blacks and Hispanics. City lawyers are currently appealing the ruling and are using the numbers from April to June as proof that the police have policed themselves when it comes to the controversial procedure. Stop and frisk allows police officers to stop, question and search an individual they believe has committed a crime, even without probable cause.
City lawyers cited the new stop numbers in a letter they sent on Tuesday to a federal judge who ruled earlier this month that the Police Department had over the last decade expanded its use of stop-and-frisk tactics in ways that the Constitution did not permit. They requested that the judge, Shira A. Scheindlin, delay ordering any changes until the city's appeal was heard.
The rapid decline in stops suggests that the Police Department is de-emphasizing the confrontational policing tactics that Mr. Bloomberg continues to defend as necessary to maintain the impressive drop in violent crime that occurred during his tenure. This year is expected to be the safest year on record in recent history, in terms of the number of murders.


The NYPD reports low numbers of stop-and-frisk incidents. (Spencer Platt/Getty Images)
~~~~~~~~~~~~~~~~~~~~~~~~~~~~~~~~~~~~~~~~~~~~~~~~~~~


~~~~~~~~~~~~~~~~~~~~~~~~~~~~~~~~~~~~~~~~~~~~~~~~~~~
Israeli authorities have completed what they say is the final large airlift of Ethiopian immigrants, ending decades of efforts to bring the remnants of an ancient community to the Jewish state.
Tali Aronsky, spokeswoman for the semi-official Jewish Agency, says 450 people arrived Wednesday. They are Falash Mura, a community whose ancestors converted from Judaism to Christianity under duress about 100 years ago, but managed to keep some Jewish customs.
Aronsky said the airlift caps a three-year operation that brought in 7,000 Falash Mura.
Thousands of Ethiopian Jews live in Israel. Many arrived in secret airlifts in 1984 and 1990.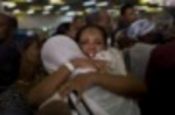 (AP)


~~~~~~~~~~~~~~~~~~~~~~~~~~~~~~~~~~~~~~~~~~~~~~~~~~~~~~~~~~
Welcome to the Black Kos Community Front Porch!
Pull up a chair and sit down a while in the cool shade.