Interesting word, hoosegow. Etymology Online says it is probably a mispronunciation of the Spanish juzgado: tribunal, court…past participle of juzgar: to judge, from Latin, judicare: to judge.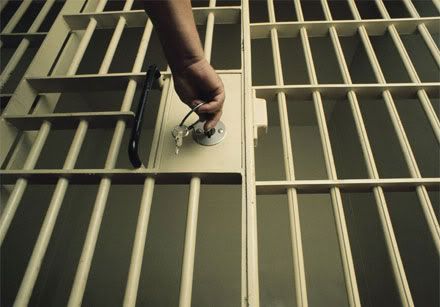 Gene Dickerson, 39, is a transgender state inmate in Dallas, Pennsylvania state prison. Because of Pennsylvania prison rules, she is housed, of course, with a male population.
Dickerson has filed a lawsuit in federal court, alleging unsafe living conditions because of her transgender status. She also alleges that she has suffered harassment and discrimination at the hands of Department of Corrections officials because of her gender.
Dickerson says that DOC officials have failed to screen her cellmates for transphobia and homophobia, thereby exposing her to dangerous situations.

Dickerson was originally arrested for petty crimes. She is currently incarcerated because of a parole violation. She is eligible to be paroled again in April of 2015.
She has had five different cellmates who have either assaulted her, sexually harassed her, or threatened bodily harm.
One cellmate said, "I'm in the cell with a faggot" before trying to commit suicide.

I was still forced to live with this inmate an additional three days.

--Dickerson
A Muslim cellmate told her he disapproved of her gender identity before telling staff , "If you don't move me, I'm going to fuck this dude up."
A DOC official threatened to disclose her private medical information to the entire prison population if she continued to file complaints.
Officials also threatened to perform invasive cavity searches, including an enema, if she didn't cease filing grievances.
Dickerson has requested to be housed with her cousin, Deon Stafford, who is also an inmate at the prison. Officials refused that request without explanation.

All I have is my cousin, to make sure no one bothers me due to my [transgender status].

--Dickerson
Her lawsuit claims that DOC staffers have "intentionally and maliciously placed me in dangerous situations."
She is seeking a temporary restraining order to stop the harassment and intimidation by the DOC staff.
She filed the lawsuit pro se last month. The case has been referred to Us Magistrate Judge Martin C. Carlson.
The DOC spokesperson,Susan McNaughton, has declined to comment both on the case in particular and whether or not the DOC screens inmates for transphobia before placing them in cells with transgender inmates.
Asked about the possibility that transgender inmates be housed in individual cells for safety purposes, the McNaughton again had no comment.