In the something other than Syria Dept, our Secretary of State is addressing another "security" issue -- to scant fanfare or hoopla:

Kerry: Climate Science 'Alarming', 'Irrefutable'
by Naharnet Newsdesk -- 02 September 2013
[...]
"The science is clear. It is irrefutable and it is alarming," [Secretary of State John] Kerry told a climate conference in Majuro in the Marshall Islands in a video address from Washington.

"If we continue down our current path, the impacts of climate change will only get worse."

Kerry said without strong, immediate action, the world would experience threats to critical infrastructure, regional stability, public health, economic vitality, and the long-term viability of some states.

Washington's top diplomat was addressing climate experts meeting on the eve of the Pacific Islands Forum (PIF) in the Marshall Islands, a low-lying nation where rising seas threaten to swamp many atolls.
[...]
It's not as if John Kerry's support for Environmental issues should be a surprise:

John Kerry Secretary of State Nomination: What it Means for America
by Tom McKay, policymic.com -- Jan 2012
[...]
1. Climate Change: Secretary Kerry would likely make climate change a primary focus of the next four years in international relations. He has already made a reputation as one of the Senate's biggest climate hawks, and supports comprehensive international action to reverse global warming. [...]

— Kerry would push China to join the U.S. in taking a long-term leadership role on Climate Change.

— Co-sponsored, with Sen. Joe Lieberman, cap-and-trade legislation.

— Believes climate change is "biggest long term threat" to security.

— Reportedly one of the most knowledgeable senators on the science and diplomacy of climate change.

— Prioritized action on the Law of the Sea treaty that addresses melting polar ice caps.
[...]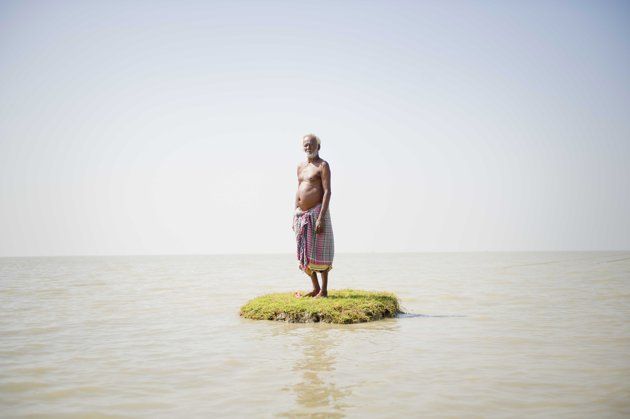 [Image Source: Drowning Islands -- brookmeakins.wordpress.com]

Here's a bit more from the Kerry Climate resume:

A Secretary John Kerry Would Elevate Climate Issues
by Coral Davenport, NationalJournal.com -- Updated: May 30, 2013

[...]
Kerry has been engaged with climate policy since he attended the first major U.N. climate summit in Rio de Janeiro in 1992. He was coauthor, along with Sens. Lindsey Graham, R-S.C., and Joe Lieberman, ID-Conn., of sweeping legislation that would have capped U.S. emissions of greenhouse gases, although the bill fell apart before making it to the Senate floor. In 2007 he and his wife, Teresa Heinz Kerry, coauthored a book, This Moment on Earth: Today's New Environmentalists and Their Vision for the Future.

And in an impassioned Senate floor speech in August, Kerry compared the threat of climate change to the threat of war. "I believe that the situation we face [with climate change] is as dangerous as any of the sort of real crises that we talk about" in Iran, Syria, and other world trouble spots, he said.

He was the only U.S. senator to attend key U.N. climate-change negotiations in Bali, Indonesia, in 2007, and Poznan, Poland, in 2008. At a major climate summit in Copenhagen, Denmark, in 2009, Kerry arrived before President Obama and Secretary Clinton and spent time in back-room meetings with ministers from China, India, and several European countries to help pave the way for final negotiations.
[...]
If only other "security events" would stop intruding on the one that will eventually "get us all" ... then maybe John Kerry (et. al.) would have "the luxury" of focusing on
our real
long run "global security threats" ...

John Kerry: Climate Change Is Our Greatest Long-Term Security Threat
by John Kerry, Guest Blogger, thinkprogress.org -- June 21, 2009
[...]
If myself, Al Gore, and thousands of scientists and security experts and leaders around the world are wrong, we still have global development, clean air, vibrant new industries, healthier citizens, and no more addiction to the foreign oil that funds despots and terrorists. But if the deniers and delayers are wrong, we face not only a ravaged environment, but also a much more dangerous world. Folks, is there even a choice here?
But then again there are commercial, multi-national, and well-paid
right-wing think tanks
that no doubt would oppose Kerry's Environmental leanings,
no matter how much "free time"
he had to pursue them:

Reasons to Reject the Law of the Sea Treaty
National Center for Policy Analysis -- April 24, 2013
Oceans cover 71 percent of Earth's surface. As the new focal point of the environmental agenda, oceans are the subject of the United Nations Convention on the Law of the Sea Treaty, called LOST. With Secretary of State John Kerry recently outlining the importance of oceanic conservation, a new attempt to ratify LOST should not be surprising, though its ratification would be a disaster, say Iain Murray, an adjunct fellow, and H. Sterling Burnett, a senior fellow, at the National Center for Policy Analysis.


— LOST intends to socialize/internationalize the ocean by declaring the world's oceans "the common heritage of mankind."

— Under LOST, any development of ocean resources on the seabed outside the 200-nautical-mile Exclusive Economic Zone off the coast of every sovereign state would require a permit from the treaty's new governing organization called the International Seabed Authority.

— The Authority would require payments or contributions from states or their sponsored contractors to support developing countries.

LOST is essentially a new world government of the sea that redistributes wealth and seeks to control supply and demand of oceanic resources.
[...]
Afterall those commercial, multi-national, "profit is king" interests -- have a lot to lose in a democratically-determined, environmental-concerned, conserve-our-dwindling-resources, ever-warming world ...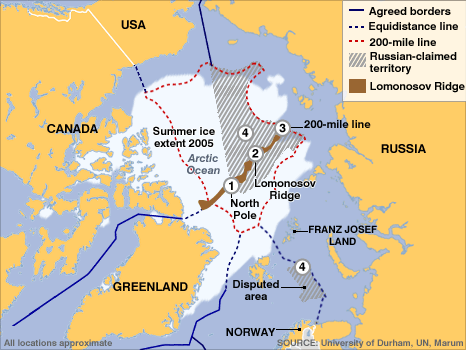 [Image Source: BBC NEWS -- Special Reports: Trying to head off an Arctic 'gold rush' -- news.bbc.co.uk]

Don't they? ... The "security vs profits" stakes have rarely been higher -- for them.
And for us mere natives, who still value our "common heritage" of the once pristine Seas...




[All emphasis in blockquotes was added by poster, to facilitate scan-readers, with the heavy lift of so much TEXT.]