(Note: This is the final diary in the Hummingbird Blogathon. Acknowledgements and thanks are down below.)

Getting to know migrant farmworkers from Mexico to Watsonville.
Orgulloso
(proud) I am to have friends and members of my extended
family
who have been farmworkers. My son's uncle worked for years as a migrant worker in California, as did both that uncle's father and grandfather. They travelled great distances, endured both threats and hardships, did back-breaking work, but supported their families. Yet I hope my son never has to inherit that part of his family tradition. Bending over in a field under a hot sun for most of the day was always a hard life, and now it is much worse.
Climate change is brutally impacting farmworker families (most of whom are speakers of Spanish, but not all). That's not surprising as negative changes to our living environment tend to hit the most vulnerable amongst us first - those with both the least legal and financial resources, and those who literally have their bodies on the line out in the blazing sun. Heat stress and increased droughts add a deadly mix on top of the exploitation and racism that has always accompanied undocumented farm laborers in this country.
Almost two years ago, a group of us kossacks (Meteor Blades, navajo, remembrance, Glen The Plumber, citisven, BentLiberal, Norm & myself) traveled down to Watsonville (where the population is 95% Hispanic), California. There, under the guidance of Ann Lopez of Center for Farmworker Families, we met with families of farmworkers. MB said at the time, that these farmworkers permanently live entre una piedra y un lugar muy duro (between a rock & a hard place). That space in-between is getting smaller and smaller each year as the effects of climate change first aggregate on the backs of those workers like canaries in a coal mine.
Twenty years ago I had hundreds of friends and acquaintences that regularly migrated up to the states (sometimes staying for years at a time) to work as farm laborers. Today I have none. Those I knew that used to do it are either dead or too bent with disease or age to do it any longer. None of their children do it now either.
Small towns in Mexico do as small towns the world over have always done, relying on word of mouth for much of their understanding of life and work in distant lands. Different geographical areas of the U.S. are judged by neighbors who've worked there in terms of work availibility, pay and associated risks. In the towns I personally know in Mexico farm labor work in the U.S. has now a very bad rep. People have seen the effects on their neighbors who've done it. Folks from many other towns in Mexico (and elsewhere) still migrate here to work in the fields, but their children and grandchildren won't. Climate change is aggravating an already too deadly and dangerous path to/in/and from the U.S. fields.
In Guest Voz: Climate Change is Impacting Migrant Farm Workers Osvaldo Lopez, a young farmworker himself, explains the harrowing effects of climate change on farm laborers:

I have felt the panic when trying to help a co-worker whose body no longer withstood the heat. The fields sometimes seemed like a battlefield where at times two people fainted around the same time.
------
According to the Bureau of Labor Statistics, field labor is ranked among the top three most dangerous occupations. The factors that make field labor dangerous are pesticides, pollen, cancer, and now intolerable heat.
------
Climate change fueled by carbon pollution and other gasses is what causes heat temperatures to rise according to NASA. Now with bodies dropping and others dying from heat, what awaits in the future?"
----
Rising temperatures also diminish the amount of produce farmers are able to harvest. With droughts, the dry soil isn't fertile enough to sustain sufficient crops. The prices for agricultural produce doubled from 2005 to 2007 due to droughts, according to the Organization for Economic Co-Operation and Development.
The CDC has established nearly a
tripling
since the 1990s of heat-related deaths among crop workers here.
That danger does not end. When the long day in the fields is done, the sun having long since set, it is time to go home ("home" may be a barracks with 20-40 others crammed in). Not all of those who have survived the day will survive the night. Leaving the fields while it is dark is no guarantee of being able to escape the heat.
Most farmworkers feel the heat even when they leave the fields
More than half of the workers, 55 percent, reported no air conditioning in the dwelling; 7 percent reported central AC, and 38 percent reported window AC. Use of electric fans in sleeping rooms was reported by almost 80 percent of workers. Most heat index measures in the common and sleeping rooms exceeded the danger threshold, according to the study results.
Truly, for farmworkers the "danger threshold" of climate change is the reality of yesterday. Today is about the consequences. The immediate future must be about change. If we do not change...well, then we'll all share in an inheritance that has been hinted at before historically.
Hummingbirds have been around a long time. The ancient ancestors of many of those who come to work our fields knew and respected them. They can be seen in the art of countless ancient societies. The Aztecs celebrated them. A thousand years before the Aztecs, the Maya incorporated hummingbirds into both their creation myths and symbols of government power.

Hummingbird (Tzunu'un) used in ancient headdress.
Catastrophic changes in the climate, drought, warfare, and immigration crippled Maya cities in the 8th and 9th Centures. They were forced to abandon nearly all of their farmlands/cities and migrate elsewhere. They thus survived.
Where will we migrate to? The answer is we won't because they'll be no place to migrate to. The only choice we have is to migrate away from our current habits and practices. We will do that. One hummingbird at a time....

LINKS leading to further involvement
-
THANK YOU!
One hummingbird at a time this blogathon was dreamt up, organized, promoted and published.
Orgulloso
(proud) I am to be a part of it, doing what I can.
Agredecido
(thankful) I am to all of the following...
-Organizers: Patriot Daily News Clearinghouse, boatsie, rb137, JekyllnHyde, citisven, peregrine kate, John Crapper, Aji, and Kitsap River.
-Group Advisor: Meteor Blades
-Diarists: A Siegel, Kelly Rigg, citisven, remembrance, Dont Just Sit There DO SOMETHING, JaxDem, swidnikk, James Wells, boatsie, Bill McKibben, rb137, John Crapper, VL Baker, TheLittleOne, WarrenS, Susan Gardner, Aji, peregrine kate, and catilinus (yo). All prior Hummingbird Blogathon diaries are here
-Readers, commentaters and takers of action.
"Hummingbirds" Blogathon: September 9-September 13, 2013
---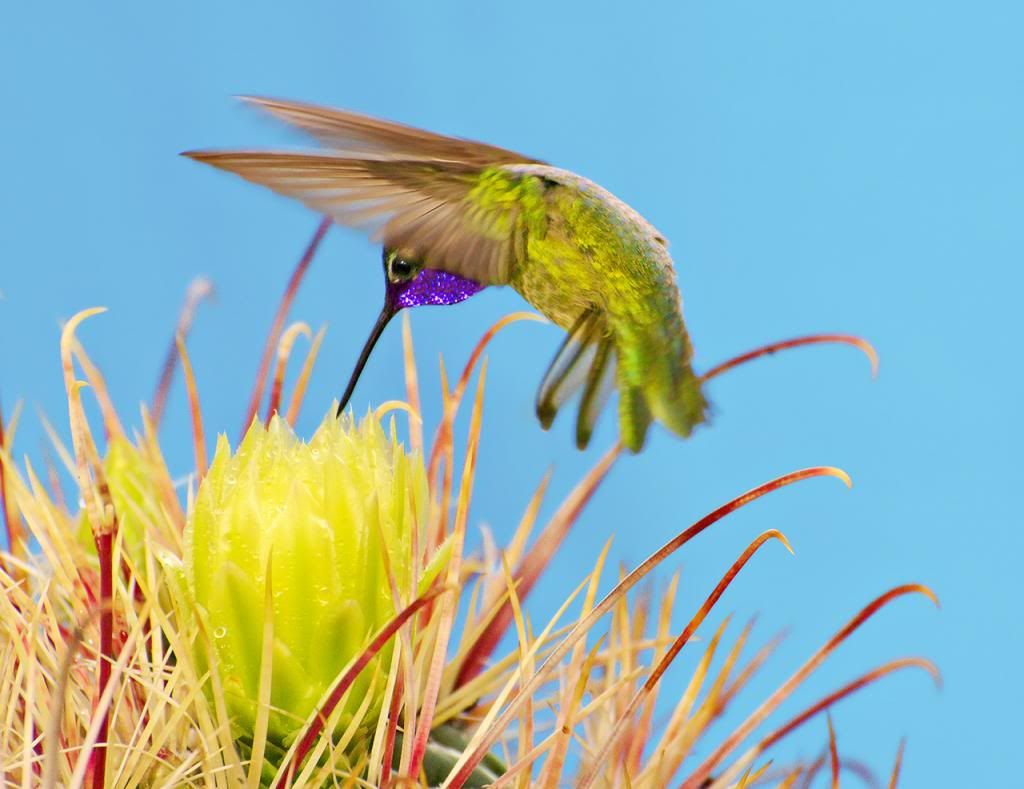 ---
In May 2006, the late environmental activist and Nobel Peace Prize winner Wangari Maathai addressed 7,000 international educators who had gathered in Montreal for the 58th annual conference of the National Association of Foreign Student Advisers (NAFSA). Here is the story she shared with them.

One day a terrible fire broke out in a forest - a huge woodlands was suddenly engulfed by a raging wild fire. Frightened, all the animals fled their homes and ran out of the forest. As they came to the edge of a stream they stopped to watch the fire and they were feeling very discouraged and powerless. They were all bemoaning the destruction of their homes. Every one of them thought there was nothing they could do about the fire, except for one little hummingbird.

This particular hummingbird decided it would do something. It swooped into the stream and picked up a few drops of water and went into the forest and put them on the fire. Then it went back to the stream and did it again, and it kept going back, again and again and again. All the other animals watched in disbelief; some tried to discourage the hummingbird with comments like, "Don't bother, it is too much, you are too little, your wings will burn, your beak is too tiny, it's only a drop, you can't put out this fire."

And as the animals stood around disparaging the little bird's efforts, the bird noticed how hopeless and forlorn they looked. Then one of the animals shouted out and challenged the hummingbird in a mocking voice, "What do you think you are doing?" And the hummingbird, without wasting time or losing a beat, looked back and said:

"I am doing what I can."
In this time of escalating climate change, this is our challenge.

To refuse to surrender to the apathy of denialism and fatalism.
To be fierce in our defense of the Earth.
To continue to fight in the face of overwhelming odds.
And always, always, to do what we can.

Because it is only by each of us doing what we can, every day, that we will save the Earth – for ourselves, and for the generations to come. Like the hummingbird.
---
Our Daily Kos community organizers are Patriot Daily News Clearinghouse, boatsie, rb137, JekyllnHyde, citisven, peregrine kate, John Crapper, Aji, and Kitsap River. Photo credit and copyright: Kossack desertguy and Luma Photography. All rights reserved. Used with permission.