Undoubtedly, most people know Florida for its abundant sunshine, endless beaches, and assorted theme parks, not to mention right wing politics and stupid laws such as SYG, but how many know about the hundreds of freshwater springs that dot Florida's landscape?
First, what is a spring? I'll just quote Florida Department of Environmental Protection because it doesn't get any simpler than that:
A spring is a point where groundwater flows out of the ground, and is thus where the aquifer surface meets the surface of the earth.
According to the
FDEP
, there are over 700 freshwater springs in the state, one of the largest concentrations of springs in the world. Most are located in the central and northern parts of the state, and eighteen of those springs are self-named state parks, i.e. Blue Spring State Park, Fanning Springs State Park, etc. Photo below is Fanning Springs (source: © User:Ebyabe / Wikimedia Commons / CC-BY-SA-3.0)
Springs are measured by their water flow at the source in cubic feet per second, gallons per day, or pints per minute and they are classified by magnitudes from Zero to Eighths. First-magnitude springs discharge hundreds of gallons per second, or millions of gallons per day and eighths may just be a trickle, less than a pint per minute. Zero-magnitude springs are former springs that are no longer flowing. Florida has 33 first-magnitude springs, including Fanning Springs above (at #31, 109 cubic feet per second, or cfs). As you may imagine, the more water that is discharged, the stronger the force is.
I currently live near San Antonio, but I'm originally from Volusia County, in Central Florida. My folks still live there. There are about ten freshwater springs within a hours drive from where my folks live, and that's only counting the ones that are accessible and open to swiming. There are a handful that are only minutes away that are closed to swimming.
The one I used to go to most often, and I still go there when I go home for a visit, is at Blue Spring State Park. The water temperature at Blue Spring stays pretty constant throughout the year, at around 72° and it flows out to the St. Johns River, the longest river in the state, and one of the few in the country that flow north. The picture below shows the end of the spring run where it meets the St. Johns River.

Because of the constant temperature, manatees seek refuge there, both when the river gets too cold, or, in rare instances, when it gets too warm, and I suspect, just because. The park is a designated manatee sanctuary and is their wintering home, and as such it's closed to swimming during the winter. But, that doesn't mean they don't wander into the spring and the run at other times of the year. I've often seen them in the summer, too, and because they are protected, whenever they enter the human swimming area, it's "everybody out of the pool."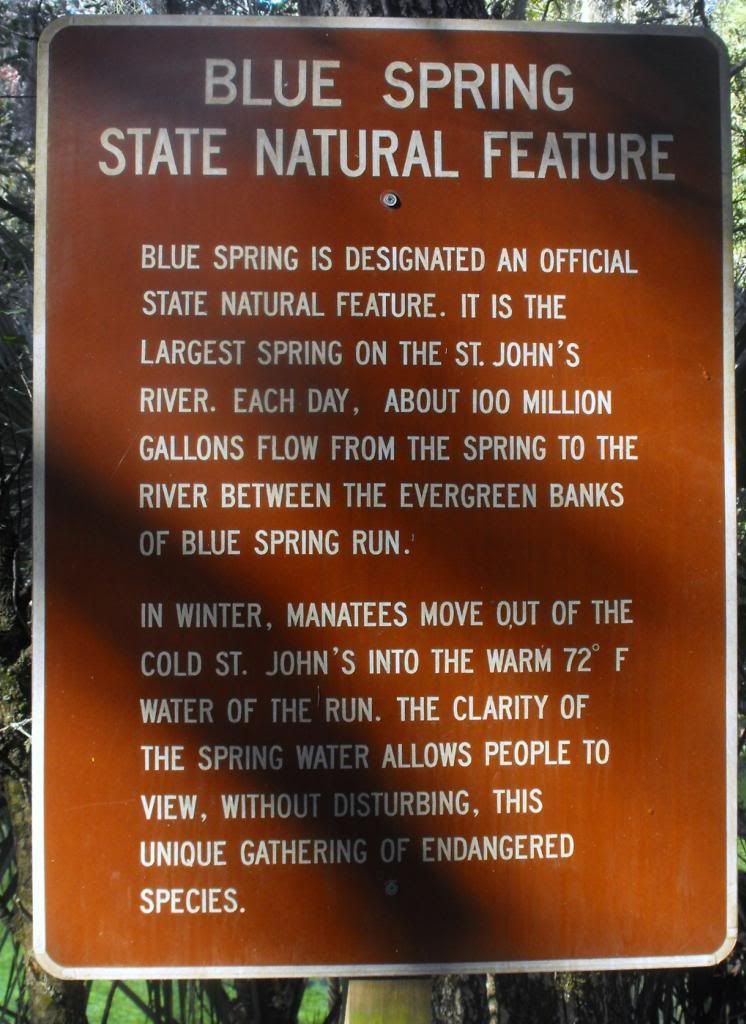 Yes, that's a manatee.
The spring flow at the spring boil, so named because it looks like it's boiling at the surface, I imagine- is measured at 162 cubic feet per second, and ranks at #21 of Florida's 33 first- magnitude springs. In other words, if you want to dive down to where the boil is, and where the caves are, you are swimming against such immense pressure. Personally, I'm contended just to float around the boil, with a mask and snorkel, but even so, the water pressure coming out of the spring pushes you away from the boil, so you have to keep struggling to stay there. Photo below is of the boil at Blue Spring, and if you look closely you can see bubbles at the surface where the dark circle is on the bottom right corner. (source: State of FL at wikipedia, no copyright)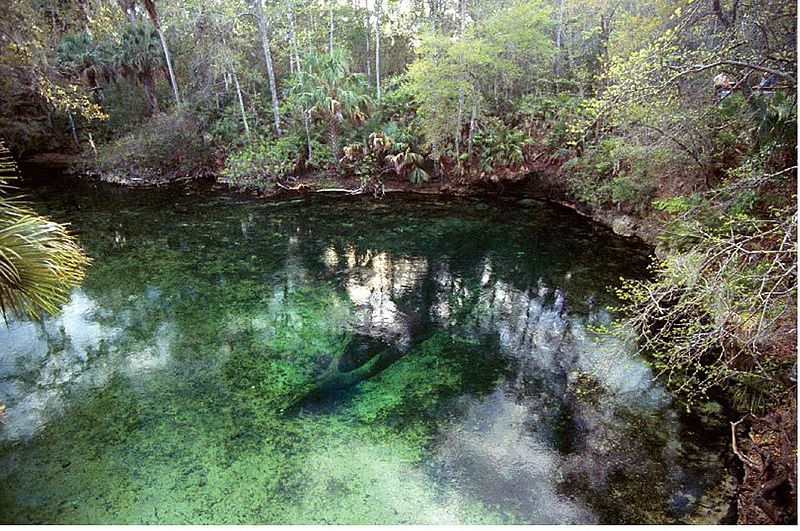 That dark circle, by the way, is where the caves are, and they extend below the soil surface.
Years ago, people would walk to where the boil was, then dive off the banks. These days, to preserve the landscape, the only way to access the boil now is by swimming there, or when the water level is low enough, to wade there. The boil can also be accessed by a boardwalk, but only to enjoy the view.
Did I mention the water is crystal clear? That's true of most of the springs in Florida. By contrast, nearly all of the lakes and rivers in Florida, including St. Johns, is some shade of brown, from a sort of see-through brown all the way to an almost black where light hardly penetrates it. The brown coloring comes from a combination of two factors: tannic acid leeching from decaying trees, leaves, and roots, and the slow movement of the river. Remember Florida is mostly flat, so naturally the rivers move at a much slower pace. Tannic acid, by the way, is the same substance in iced tea.
Here's an old picture- dated early '90s- of me and my daughter, who is shown in the photo mostly underwater, so you can see how clear the water is. This was at Blue Spring.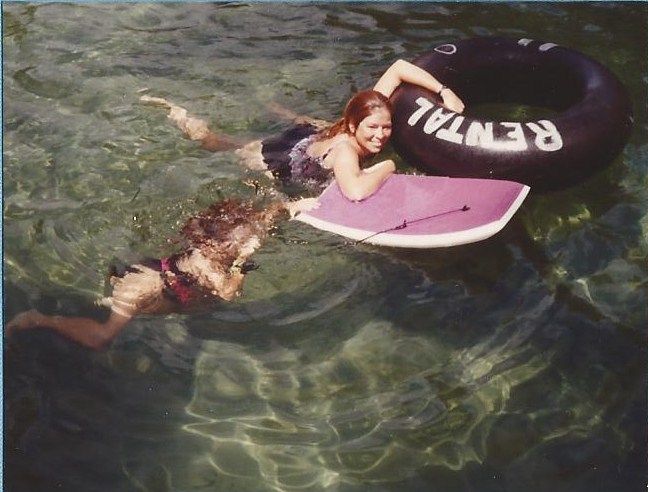 When it gets into the triple digits here in Texas, as it often does in summer, Blue Spring is one of the things I really miss most about Florida.
Another one of my favorite springs is Ichetuknee Springs, or to be more precise Ichetucknee River. Pronounced ish-tuck-nee, according to a couple of sources, the river that flows from the head spring, Ichetucknee Springs, is 6 miles long, compared to only 2,336 feet for the Blue Spring run, less than a half mile. Ichetucknee Springs comes in at #14 of the 33 first-magnitude springs, at 361 cfs, more than twice the flow of Blue Spring. There are several other springs along Ichetucknee River, by the way. Photo below is of the Ichetucknee Springs- source: State of FL, no copyright at wikipedia.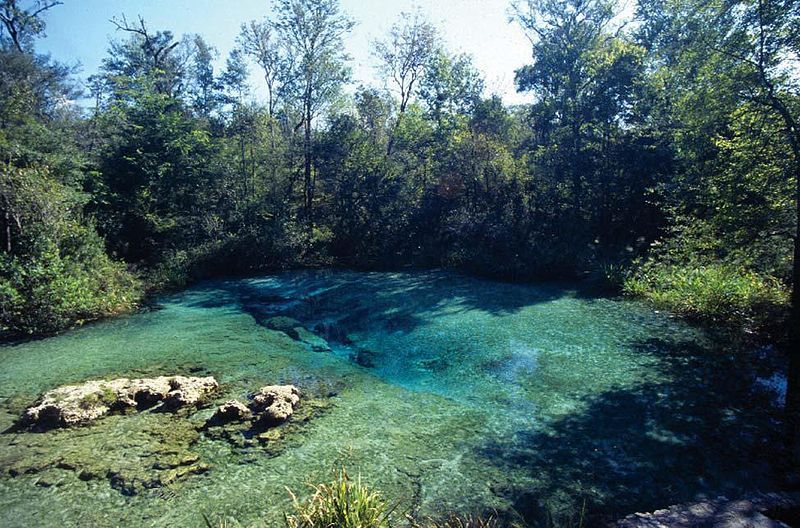 There is nothing more relaxing than floating down Ichetucknee River on an inner tube, enjoying the very cool water on a hot, humid day, and taking in the pristine beauty of the natural landscape. It takes about 3 hours to go the whole six miles, but nowadays, one can opt for the 20 minute or one hour trips, disembark, and get on the trolleys that will take you back to the head spring area. Well, at least that was true in the mid '90s, the last time I was there.
A bit of trivia: The ASL sign deaf Floridians use for Ichetucknee is the motion of a hand scratching a knee. Do I need to explain?
In recent news, it's been announced that Silver Springs Nature Park, of glass-bottom boats and Tarzan fame, has been closed temporarily, and will reopen as a state park beginning October 1st. For the record, Silver Springs is #3 at 811 cfs, five times that of Blue Spring. If Blue Spring is immense, then that is ginormous!
I hope y'all enjoyed the springs with me. All unattributed photos above are my own.
List of major springs in Florida at Wikipedia.
All about Florida's springs at floridasprings.org
Live manatee cam at Blue Spring State Park. They ask for your email to view it. I tried, but they are not allowing a video embed here. On edit, according to the live cam website, they are currently showing previous recordings and will go live when the manatees return in the winter.
---
Kitchen Table Kibitzing is a community series for those who wish to share part of their evening around a virtual kitchen table with kossacks who are caring and supportive of one another. So bring your stories, jokes, photos, funny pics, music, interesting videos, and so forth. We would also appreciate links—including quotations—to diaries, news stories, and books that you think this community would appreciate.

Please note that pie fights will be unwelcome in this community, just as in most other series at DKos.

Finally, readers may notice that most who are posting diaries and comments in this series already know one another to some degree, but that definitely does not mean that newcomers will be excluded or unwelcome. We're happy to welcome guests to our kitchen table, and hope to make some new friends as well.

KTK posts nightly at 5:00 Pacific, 6:00 Mountain, 7:00 Central, 8:00 Eastern.