(Republished from August 2009 to wash away some of the nonsense said lately about the First Lady. Enjoy!)
No deep thoughts, tonight. No paeans to Teddy, no aggressive plans to march on Washington. No complicated research.
I'm tired and convalescing. I need something calming, something that will bring a smile to my face, something on the sunny side of life.
I bring you a diary of our beautiful and intelligent First Lady.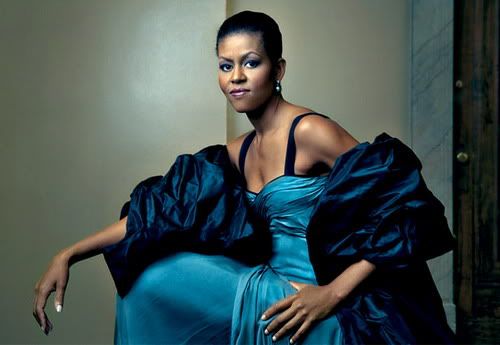 If you'd like more, join me over the fold (picture intensive).(and in reply to those who asked about the source of the picture above, it was part of her Vogue article.
How many First Ladies have looked so natural and graceful on covers?




The photoshoot for that second Ebony cover by the way also produced these two:
An intimate close-up


And the full shot!!

She looks happy and energized with her daughters and other children:





And with Barack of course she radiates at him, and he radiates back:







She has been graceful for a long time:


But she can stand alone with grace and poise and an intelligent energy all her own:






Indeed, she is