The 2006 film "Glory Road" told the story of a pivotal moment in the civil rights movement of the 1960's … now, a look at its antecedents after the jump …

But first: Top Comments appears nightly, as a round-up of the best comments on Daily Kos. Surely you come across comments daily that are perceptive, apropos and .. well, perhaps even humorous. But they are more meaningful if they're well-known ... which is where you come in (especially in diaries/stories receiving little attention).

Send your nominations to TopComments at gmail dot com by 9:30 PM Eastern Time nightly, or by our KosMail message board. Please indicate (a) why you liked the comment, and (b) your Dkos user name (to properly credit you) as well as a link to the comment itself.
Like any achievement, the 1966 title match for the NCAA basketball championship was a watershed moment – chronicled in the Jerry Bruckheimer-produced film
Glory Road
in 2006 – and which also stood on the shoulders of other advances in civil rights (via athletics). In a real sense, it completed a change – at least in college basketball – that had begun a decade earlier. The late author David Halberstam – in his wonderful book
The Fifties
– frequently made the point that momentous changes in the 1960's actually had their inception in the 1950's (with the development of the birth-control pill as only one example).
And so it might do well to look at two college basketball NCAA championship teams – the University of San Francisco (in 1955 and 1956) plus Loyola of Chicago (in 1963) that helped 'pave the way' for the 1966 Texas Western team profiled in "Glory Road". All three teams were led by head coaches who insisted they were not racial pioneers, but simply wanted to win: which meant using the best players they could recruit, regardless of the aggravation that resulted.
------------------------------------------------------------------------------------------
I have written before about one of the members of that University of San Francisco (USF) championship team, its center Bill Russell - and thus will not focus on him, nor his teammate K.C. Jones who became Russell's teammate on the Boston Celtics, and was also inducted into the Basketball Hall of Fame - in his case, not only as a player, but who also coached two NBA championship teams. Both men are still alive (at age 79 and 81, respectively).
Instead, it was the addition of a third African-American player in 1955 to that starting line-up named Hal Perry - that made the USF Dons team complete, on their way to back-to-back NCAA championships as well as being trend-setters. One was the team's style of play - changing the emphasis from offense to defense and scoring points off turnovers. But also for another reason:

Russell and Jones were starters and Perry a reserve. But after the Dons lost to UCLA 47-40, a white player who was a starter selflessly suggested they'd be a better team with Perry as a starter. An unspoken rule was that college teams should have at most only two blacks out of five starters.
Hal Perry later became an Oakland civil rights attorney, who once defended people connected with the Black Panthers. He died in April, 2009 at the age of 75.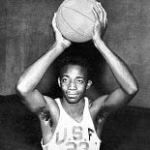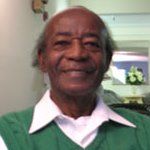 The team's head coach was Phil Woolpert - who never revealed (until years later) the hate mail he received. The public scorn was enough, as he was referred to as Saperstein - after Abe Saperstein, the owner of the Harlem Globetrotters. As for his players: at a Christmastime game in Oklahoma, besides being told to stay in separate hotels (the team refused; staying at the University of Oklahoma dorms), fans threw nickels and quarters at the players, calling them 'Globetrotters'. But after Hal Perry was made a starter: the Dons never lost another game for two years on a record-breaking 55 game winning streak.
Phil Woolpert was inducted into the Basketball Hall of Fame and died in May, 1987 at age 71.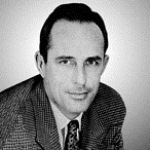 Our on-ramp next takes us to the Windy City, where in 1963 a team made the next leap-of-faith: four African-American starters. Like USF, Loyola of Chicago was an unlikely racial pioneer: both were Jesuit schools with a nearly all-white student body. Its head coach was George Ireland - a gruff man (partly due to having lost most of his stomach to an operation due to a bleeding ulcer). Ireland was a star guard at Notre Dame in the mid-30's and was the senior captain when Ray Meyer (the future Hall of Fame coach at DePaul in Chicago) was a sophomore.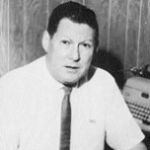 Unlike Phil Woolpert, Ireland took more delight in breaking racial lines, often running up the score against teams from the South. The Ramblers, who finished 29-2, had to keep their emotions in check when they heard chants at Southern road venues such as: "Our team is red-hot, yours is all black." "Ireland liked the publicity," said starter Jerry Harkness, who played briefly in the NBA and ABA and later owned an athletic shoe store in Indianapolis. "He liked the spotlight of bringing the racial thing to the forefront." George Ireland himself once noted:

''A lot of these coaches hated the way I used so many blacks. They used to stand up at banquets and say, 'George Ireland isn't with us tonight because he's in Africa: recruiting.'''
Also unlike Phil Woolpert - whose three black starters' families had settled in the Bay Area - George Ireland had only one local player:
John Egan
... who was the lone white starter. Instead, Ireland had to recruit Vic Rouse and Les Hunter from a segregated high school in Nashville, and Jerry Harkness and Ron Miller from the Bronx.
Loyola won the NCAA championship match against an integrated University of Cincinnati - who were trying for a third straight national title in a row - in a 60-58 overtime thriller (as Vic Rouse put-in a rebound as time expired). They had come back from a fifteen point deficit, and many at Cincinnati faulted poor officiating in part for their loss.
But unlike the Texas Western championship match thee years hence, the key match-up came earlier in the tournament: the Midwest regional Game of Change semi-final against Mississippi State (MSU) that was held in East Lansing, Michigan (on the campus of Michigan State).
Just five months earlier, with U.S. marshals and federal troops on hand to quell the rioting, James Meredith (photo left, below) enrolled at the University of Mississippi, integrating the school only 90 miles from MSU's campus (who would not enroll their first black student until 1965).
By this time, avowed segregationist Mississippi governor Ross Barnett (photo right, below) was fed-up, asking if "the other team's Negroes want to dance with our girls?" Then a chancery court judge judge was persuaded to issue a temporary injunction for the team not to leave campus. And then .... something else happened.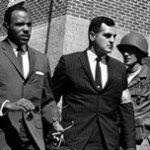 Mississippi State had won the SEC championship in 1959, 1961 and 1962, but each year: the Maroons watched Kentucky represent the league in the postseason, victimized by an unwritten (but enforced) Mississippi rule that prohibited state schools from playing against integrated teams. Kentucky was also a segregated team (as "Glory Road" showed) but had no restrictions (against playing integrated squads) they had to follow.
Yet buoyed by an angry fan base that was tired of seeing its team stay home while Kentucky competed, and an equally fed-up coach in James "Babe" McCarthy, Mississippi State president Dean Colvard vowed to let his team play.
MSU player Leland Mitchell - who died earlier this year at age 72 - spoke up at a team meeting: "We need to head out tonight - who else has a car?" And through secretive means - its head coach driven to Nashville (while lying down in a car) ... then sending decoy players to the local airport (to see if anyone would stop them) - eventually, the team flew to Michigan to play the match.
Here is perhaps the most everlasting memory of the match: Loyola's Jerry Harkness shaking hands pre-game with MSU's Joe Dan Gold.
Forty-eight years later, Joe Dan Gold died - and one of those who attended his funeral was ... Jerry Harkness.

"I went over to the casket and to the left was the picture of me and Dan Gold shaking hands. I just lost it right there at the head of his casket. I went back to the family and we all cried. I wouldn't have missed it. He would have made it to my funeral."
George Ireland was impressed with the MSU team's fortitude, and did not run-up the score in the contest (winning only 61-51) on their way to that 1963 championship. George Ireland
died
in 2001 at the age of 88. Judy Van Dyck, Ireland's daughter, still has the hate mail her father received, stored in her closet. And his championship ring. After the release of "Glory Road", she said
"Dad never got the credit for what he did, and I don't know why."
Meanwhile, the MSU players weren't quite sure what kind of reception they'd receive when they got back home. "When we landed," forward Bobby Shows later said, "there were cars for 20 miles waiting to meet us, and people cheering. That said something about what people were thinking. There was a movement toward change."
The five Loyola starters from that championship team not only all graduated, but collectively earned 11 university degrees. One player (Ron Miller) completed a master's in business administration and one (Vic Rouse) earned three master's degrees and a doctorate (before his death in 1999).
Jerry Harkness (photo left, below) had some success in pro basketball and today serves as director of the Indianapolis Chapter of 100 Black Men - a national organization dedicated to supporting and training young African American males. John Egan (photo right, below) is still a practicing attorney - and both were invited by President Obama (photo center) to the White House this past July to commemorate that game (with surviving teammates Ron Miller and Les Hunter).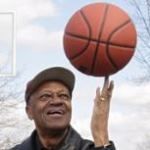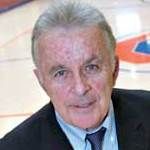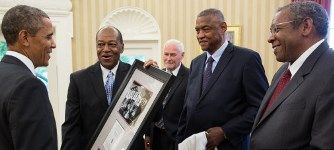 The story of "Glory Road" is well-known, and I will not dwell upon it. But the on-ramp to the Texas Western Miners' championship had some additional construction in 1962 (the year before Loyola of Chicago's triumph). A white El Paso city councilman named Bert Williams was upset that his black friend Nolan Richardson - who three decades later coached Arkansas to the NCAA title in 1994 (with President Bill Clinton cheering on) - could not be served in an El Paso restaurant.
Quite improbably, Bert Williams helped pass an anti-discrimination ordinance in the city, over the mayor's objection. As it turned out, ending Jim Crow helped convince athletes that El Paso was a good place for black athletes ..... which helped Texas Western coach Don Haskins recruit the very African-American players who helped lead the team to that 1966 title.
Some other notes about that game/era:
* By 1966, most college basketball teams had been integrated - it was only Southern teams that still had not, leading to the decision by Don Haskins to start five black players in the championship match against Kentucky (won by Texas Western 72-65).
* I do recall watching that game (as a nine year-old) but had no clue of its importance. Neither did many people, at the time.
* Two players of note on that Kentucky squad played in the backcourt: Louie Dampier was one of just two players to play all nine ABA seasons with the same team (the Kentucky Colonels).
And his fellow guard was the only non-southerner on the team, Pat Riley - who went on to a standout NBA coaching career, had a short narration at the end of "Glory Road" ... and the film's producer Jerry Bruckheimer once noted, "Pat Riley told me this great story that Magic Johnson came into his office when he was coach of the Lakers and said, 'Had not David Lattin dunked that ball over you (early in the game) I wouldn't be in here.'"
* Texas Western changed its name in 1967 to the University of Texas-El Paso (UTEP) - and many believe it was done (at least in part) due to the fact that - after that game - people looked at its name as meaning a historically all-black school (like Texas Southern).
* The Miners' coach Don Haskins died in September, 2008 at the age of 78. He was portrayed in "Glory Road" by the actor Josh Lucas - who said that meeting Don Haskins was so meaningful, "I actually sometimes will sit, going through something in my life and saying, 'What would Haskins do?'"
* College football took a bit longer to integrate - the 1969 Texas Longhorns were the last all-white team to win the NCAA football championship.
In the book One Night, Two Teams: Alabama vs USC and the Game That Changed a Nation the authors claim that in 1970, Alabama football coach Paul "Bear" Bryant took advantage of the NCAA allowing an extra game for teams to invite USC to travel to Alabama ... knowing that an integrated USC team would crush his Crimson Tide (42-21), thus allowing him to recruit black players without much negative reaction. That theory never been verified, but the book does show how pivotal the contest was (especially for USC's star running back Sam "The Bam" Cunningham).
* And finally, the 1966 NCAA championship match was played at the Cole Field House - on the campus of the University of Maryland in College Park (shown below). The sportswriter John Feinstein believes that is (arguably) the most important college basketball game of all time.
He also believes that (arguably) the most famous high school basketball game of all time took place there only fifteen months earlier.
On January 30, 1965 ... in the return leg of a home-and-away series ... St. John DeMatha High School - located only two miles away from the University of Maryland - defeated a fellow Catholic high school, Power Memorial (which no longer exists) of New York City, 46-43. It ended a 71-game winning streak for Power Memorial .... and was the only loss of his high school career (116-1) for the Power Memorial center, Lew Alcindor ... later to become Kareem Abdul-Jabbar.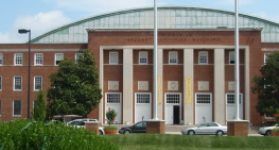 Now, on to Top Comments:
-------------------------------------
From brillig:

RubenBolling's comic sparked this brilliant analogy by ontheleftcoast in response to someone asking whether the same held true for DWI fatalities.
From
bronte17
:
jrooth links to an excellent analogy of the "data" versus "metadata" controversy in the ongoing obfuscation over NSA Peeping Tom behavior by the US government. From the diary, NSA Senate Hearing: DiFi Not Amused, by Richard Lyon.

~~~

And for some silliness... if y'all haven't heard this little ditty of a song... it's great. What does the Fox say?... and check out the dkos diary on the subject of The Cascades Fox: studying an ice age phantom in a land of fire and snow by Username4242. Wired even wrote up an article titled, What Does the Fox Say? They put up actual fox sounds from an Arctic Fox, an Ontario Red Fox and the common Gray Fox (which is in the southern US).

Okay... so that's more than most of you even cared to know about the ancient mysteries of foxes. (And, yes, you can be assured that Faux TV tried to spin this song in their favor).
From
gizmo59
:
In the front-page story about the new trial being granted to Marissa Alexander - Samer has a two-part request worthy of a Top Comment.
And from
Ed Tracey
, your faithful correspondent this evening ........
In the diary by ericlewis0 about how your-friend-and-mine Alan West was fired by the conservative Pajamas Media for an anti-Semitic insult aimed at a fellow employee: a perplexed TarantinoDork wonders how - with West's volatile background - something like this could have taken place?

And in the diary by Lollardfish about the ant-gay remarks by the CEO of the Italian pasta giant Barilla - Gentle Giant adds a cautionary tale about the firm's US employees and Bender Rodriguez suggests some alternate brands.
TOP PHOTOS
September 25, 2013
Next - enjoy jotter's wonderful PictureQuilt™ below. Just click on the picture and it will magically take you to the comment that features that photo.



(NOTE: Any missing images in the Quilt were removed because (a) they were from an unapproved source that somehow snuck through in the comments, or (b) it was an image from the DailyKos Image Library which didn't have permissions set to allow others to use it.)
And lastly: yesterday's Top Mojo - mega-mojo to the intrepid mik ...... who rescued this feature from oblivion:

1) I Can't Comment Now, Watching a Movie by JekyllnHyde — 147
2) Yes... "Jaws" by JekyllnHyde — 115
3) Don't worry, I will by MoDem — 96
4) If premiums are less than expected that means by jpmassar — 82
5) This might be a bit more appropriate... by bobswern — 77
6) I am so sorry. This has to be fixed ASAP by War on Error — 76
7) American politics about personalities, not issues by Don midwest — 71
8) So far our rates have not gone up by Out There — 70
9) This is why I love Jon Tester by Matt Z — 69
10) Prison by Puddytat — 69
11) I don't care for football and by indycam — 68
12) I just helped a friend by smileycreek — 65
13) This is a very comprehensive diary by gjohnsit — 61
14) And he knows something about the subject. by Chas 981 — 60
15) Terrorists will win if TPP negotiation details are by RFK Lives — 58
16) shud ai reedz cujo? by Debbie in ME — 56
17) ai wudn't by Debbie in ME — 56
18) Fantastic and fascinating read. by badscience — 55
19) Just in the Dem/Repub frame, by Jim P — 53
20) Guardian Editor on Snowden by josephk — 53
21) Michael Froman, the recently-appointed US Trade... by bobswern — 53
22) Hatriot is a great term. by Phoebe Loosinhouse — 51
23) Carnival Cruz sticks to his guns and rolls over by annieli — 51
24) History by gulfgal98 — 51
25) This treaty is a piece of shit. by SouthernLiberalinMD — 51
26) To reform the NSA, fire officials who lie by DRo — 51
27) Dems need to be ready for this frame... by Jacoby Jonze — 49
28) Clearly Ted Cruz is very persuasive by blue aardvark — 48
29) Isn't there anything else on? by mbayrob — 48
30) Repeal the Patriot Act. by SouthernLiberalinMD — 48