I Got The News Today (IGTNT) is one of the oldest continuous series on Daily Kos. It is a way for our community to pay respect to those who have died as a result of war.
The beautiful logo was created by Timroff
Another sad time presents itself tonight as we gather to mourn five of our nation's finest who were lost while serving in the armed forces overseas. The first three are Special Forces soldiers who died during an apparent "insider attack" in the Paktia Province of Afghanistan on September 21st. The two sailors were lost in the Red Sea on September 22nd, when their MH-60S Knighthawk helicopter crashed shortly after landing on the guided-missile destroyer USS William P. Lawrence.
Staff Sergeant Liam J. Nevins who was from Colorado
Staff Sergeant Timothy R. McGill who was from New Jersey
Specialist Joshua J. Strickland who was from Georgia
Lieutenant Commander Landon L. Jones who was from California
Chief Warrant Officer Jonathan S. Gibson who was from Oregon
Staff Sergeant Liam J. Nevins - tribute by JaxDem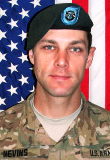 Liam Nevins was born in Middlebury, Vermont, moved to Bennington, New Hampshire and then again to Pennsylvania where he graduated from Bristol Borough High School in 2000. A defining moment in his life came when he traveled to Colorado at age 14 and fell in love at first sight. On that visit to his sister he vowed to move there one day to be a cowboy. Instead he enlisted in the Army and became a cowboy of another sort, one of the youngest soldiers in the Army's elite Ranger unit.
Staff Sgt. Nevin's sister, Maeve Nevins said her brother was a hard-charging soldier who moved quickly through the ranks and racked up a series of notable accomplishments.

He was enthralled with the adventure and the mountaineering stuff. He just loved it and wanted to go all the way with it. I'd say he went pretty damn far.
Liam's father, Bill Nevins said his son was deeply intellectual, calling him a "classic warrior poet" and an avid reader especially fond of history and world events.
He always pushed his efforts to the max in whatever area he found an interest, both physically and intellectually.

Liam was very concerned about the welfare of Afghanistan and educating people, particularly the education of young women. He expressed it as a pure concern.
While on active duty with the Army, SSgt Nevins deployed three times to Iraq and Afghanistan in 2003, 2004 and 2005.
After leaving active service, Nevins moved to Denver in the state he considered home. While in the Mile High City, Nevins worked security jobs for University of Denver and the Denver Broncos as well as attending Metropolitan State College from 2006-2009.
In May, 2009 Liam joined the Colorado Army National Guard as a Special Forces Communications Sergeant and attended the Special Forces Qualification Course at Fort Bragg from which he graduated in August 2011.
Major General H. Michael Edwards of the Colorado National Guard said Staff Sgt Liam J. Nevins was respected and admired.

This is a tragedy that affects the entire Colorado National Guard family. We mourn not only for Staff Sgt. Liam Nevins, but for all these brave men and their families, whose grief is unimaginable. This loss will be felt throughout the ranks of the Colorado National Guard.
Colorado Governor John Hickenlooper said in a written statement:
We are eternally indebted to Staff Sgt. Liam Nevins for his service and commitment to our country and to the Colorado Army National Guard. His life was cut short, along with two of his fellow soldiers, during his fourth deployment in the defense of our nation. He was a true American hero. Sgt. Nevins' family and friends are in our thoughts and prayers as we join the nation in mourning his death.
At the time of the attack, Nevins was recovering from a wound he recently suffered in combat, something for which he received a Purple Heart. He was exactly one month from discharging from the military.
Staff Sgt Liam J. Nevins is survived by his mother, Victoria Nevins; his father, William Nevins; his fiancée Julie Huynh; sister, Maeve Nevins; sister, Raven Henin; brother-in-laws Karl Lavtar and Rafael Henin; and nephews Lyric Nagy and Keegan Henin.

~&~&~&~&~&~&~&~&~&~&~&~&~
Staff Sergeant Timothy R. McGill - tribute by Blue Jersey Mom


Army Staff Sgt. Timothy McGill was a 30-year-old "gentle giant" from Bergen County, New Jersey. The 6-foot 6-inch tall, 280 pound Green Beret was a football and hockey player in high school. McGill graduated from Ramsey High School in northern New Jersey in 2001. He enlisted in the Marines two months after his high school graduation, and he was in basic training at the time of the 9/11 attacks on the World Trade Center and the Pentagon. McGill served a tour of duty in Iraq in 2005, and returned home the the US when he had completed his service in the Marine Corps.

"We had talked about it while he was in high school. He wasn't really interested in going to college, he really wanted to go into the military, the Marine Corps especially. He really wanted infantry," Raymond McGill said of his son. "I supported him 100 percent. He didn't want to sit behind a desk, he wanted to be in the thick of it, and he was." ~source
S Sgt. McGill enlisted in the Rhode Island Army National Guard in 2008, and he became a member of the Special forces three years later. He was
assigned as an anti-armor specialist with Charlie Company, 1st Battalion 200th Infantry. At times he was stationed in Hawaii and Washington, and worked in Singapore, Japan and the Philippines.~source
McGill was also a member of the Ramsey Volunteer Fire Department, and he would respond to calls when he was on leave from the military. His tour of duty in Afghanistan was scheduled to end next month, and he was looking forward to spending some time with his family.
SSgt. McGill lost his life on September 21st, when his unit was attacked with small arms fire while conducting a training exercise. Timothy McGill is survived by his parents, Raymond and Carol McGill, and his two sisters, Megan McGill and Lindsay Vanderbeek. His body is scheduled to be returned to Dover AFB on Monday, and it will be escorted up I-95 by members of his National Guard Unit.
Rest in peace, Staff Sgt. Timothy McGill. Thank you for your selfless service to our nation.

~&~&~&~&~&~&~&~&~&~&~&~&~
Specialist Joshua J. Strickland - tribute by Sandy on Signal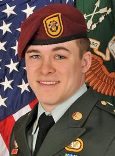 Spc. Joshua Strickland was a dedicated soldier, husband and father of three children. Strickland joined the Army in 2008 after he graduated from Etowah High School in Georgia. He was assigned to the 1st Special Forces Group as a wheeled vehicle mechanic. Spc. Strickland was on his first deployment, when he was killed by an Afghan security force member.
Close friends in Woodstock, Georgia remember Strickland as a leader and a devoted family man. J.D. Hendricks told the Marietta Daily Journal:
"I saw him as a leader," Hendrix said. "He may not have struck many at that age or that time as someone with leadership potential, but he was. He was, and in my mind still is, one of the hardest working people I know. He was always working harder than anyone else."
and
"I never met any of his kids or his wife, but he always talked about them with such love and you could always tell everything he did was for them," said Hendrix,
Funeral arrangements are pending. Nick Maddox, a classmate of Strickland's, told the
Marietta Daily Journal
:
"Wherever it's being done, there's a big group of us that's flying out to meet the family," said Maddox, who attended Etowah High School with Strickland.
Strickland was just 23 years of age when he was killed and he is survived by his wife, his son and two daughters.
Rest in peace, Spc. Joshua Strickland.

~&~&~&~&~&~&~&~&~&~&~&~&~
Lieutenant Commander Landon L. Jones - tribute by SisTwo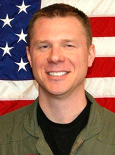 Landon Jones attended the U.S. Naval Academy in Maryland, beginning in July 1997. While there, he played ice hockey and slow-pitch softball and lifted weights. Jones was a company squad leader in the 2nd Company, and graduated from Annapolis with merit in 2001. An article on utsandiego.com talks about Jones:
Jones attended the U.S. Naval Academy, graduating in 2001. He was married with two young boys, one born only in July.

In addition to several years in San Diego, Jones served in helicopter units in Atsugi, Japan, and Jacksonville, Florida. The Pentagon listed his hometown as Lompoc, a small city in central California.
Jones was commissioned as an officer May 24, 2001. He attended flight training in Pensacola, Fla., and Corpus Christi, Texas. Later assignments took him to San Diego and Japan before he returned to Florida to serve with a helicopter-training unit last year. He was assigned to Helicopter Sea Combat Squadron Six at Naval Air Station North Island in San Diego.
On September 22nd, Jones was in a MH-60S Knighthawk which crashed after a landing on the USS William P. Lawrence and fell into the Red Sea. Another sailor was also lost in the incident, but the remaining three crewmembers had made it aboard before the crash. Aircraft and other vessels took part in a search for the missing men, but after an entire day and night of searching, it was determined that their survival was extremely unlikely.
According to his hometown paper, the
Lompoc Record
, the reaction to the news was was hopeful at first:
Aircraft and vessels took part in the search, according to the Bahrain-based 5th Fleet. It said the crash was under investigation, but no hostile action was involved.

As word of the missing crew members spread, friends remained hopeful until Navy officials announced suspension of the search.

"You will never be forgotten my friend, and always loved," Conrad Maszka said in a Facebook post.
The search efforts were called off, but the cause of the crash is still under investigation. One theory is that a large wave made the deck of the ship pitch up, causing the helicopter to plunge into the sea.
Among the medals Jones received during his time of service were a Navy and Marine Corps Commendation Medal, three Navy and Marine Corps Achievement Medals, Navy "E" Reward, National Defense Medal, Global War on Terror Expeditionary Medal, Global War on Terror Medal, Sea Service Deployment Ribbon and Oversea Service Ribbon.
Lieutenant Commander Jones was 35 years old when he was lost at sea. He has family in the Lompoc Valley of California, including his wife, his two sons, and his younger brother, Nolan Jones.

~&~&~&~&~&~&~&~&~&~&~&~&~
Chief Warrant Officer Jonathan S. Gibson - tribute by SisTwo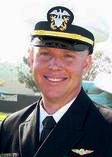 Jonathan S. Gibson was in the Navy and worked as an aviation operations technician. He was assigned to the Helicopter Sea Combat Squadron Six at Naval Air Station North Island in San Diego, California and had been with the unit since September 2012.

The utsandiego.com news site says that Gibson held a fairly rare rank, that of a Navy chief warrant officer pilot. He started in the enlisted ranks:
The sandy-haired man joined the Navy in 1999 and less than 10 years later received his commission as an officer.

According to his Facebook page, Gibson attended Central Hardin High School in Cecilia, Ky., and graduated with a bachelor's degree from the University of Oklahoma. He listed his hometown as Aurora, Ore.

He married in 2006, and he and his wife, Chrissy, have a little boy and girl. A Facebook photo shows the couple walking along the beach, swinging their children by the hand.
Chief Warrant Officer Jonathon S. Gibson, and Lieutenant Commander Landon L. Jones were reported missing after a MH-60S Knighthawk helicopter crashed in the central Red Sea after landing on the deck of a guided-missile destroyer, the USS William P. Lawrence. The three other sailors with them had disembarked onto the Lawrence. An
ABC News
article states:
Three of the helicopter's five crew members were "accounted for and stable" following the crash, according to the Navy.

Searchers combed the area in boats and aircraft to no avail. The search was called off Monday when it became apparent that the odds of survivability were low, according to the Navy.

The aircraft carrier USS Nimitz and the William P. Lawrence, along with USS Princeton, USS Shoup, USS Stockdale and USNS Rainier, were involved in the search efforts, as were Navy and U.S. Air Force aircraft, according to the Navy.
The Navy said officials searched an "extensive area" around the site for about 26 hours after the helicopter crash without turning up anything. The cause of the crash is still under investigation, although the Navy did say that the crash was not due to any sort of hostile activity.
Gibson was commissioned in December 2008. He previously served as a naval air crewman first class (NAC/AW). His awards and decorations include two Navy and Marine Corps Achievement Medals; the Navy "E" Ribbon; three Good Conduct Medals and the Pistol Marksmanship Ribbon.
Among those left behind by the passing of Chief Warrant Officer Gibson are his wife and two children. A Facebook page called "Prayers for the Gibson Family" has been created and has several thousand "Likes."
**********************
Helping our troops:
If you wish to assist our military and their families, consider contributing to Fisher House. Donating to Netroots for the Troops provides care packages that make a real difference in a military person's life. To assist the animal companions of our deployed military, information is available here. Also, you could visit:

When our veterans come back home, they need jobs. Look at the programs of Hire Heroes USA and Welcome Back Veterans to see if you can help out.
About the IGTNT series:
"I Got the News Today" is a diary series intended to honor, respect, and remember the fallen, and to remind us that each casualty has family and friends who received the terrible news that their loved one has died. US service members whose names have been released by the US Department of Defense will usually be diarized two days after the official announcement on the DoD website. This allows the IGTNT team to cover each person more fully, but still in a timely manner. Click the IGTNT tags below to see previous diaries in the series, which was begun by i dunno, and is maintained by i dunno, Sandy on Signal, Monkeybiz, Noweasels, Blue Jersey Mom, Chacounne, twilight falling, SisTwo, Spam Nunn, True Blue Majority, CalNM, Wide Awake in Kentucky, maggiejean, JaxDem, The Fat Lady Sings, Ekaterin, & Joy of Fishes. These diaries are heartbreaking to write, but show our community's respect for those who have died.
Please bear in mind that these diaries are read by friends and family of the service members mentioned here. May all of our remembrances be full of compassion rather than politics.