(Hat tip Thomas Paine for the quotation.)
This is the quotation running through my mind in this bizarre time, where a major political party has suffered a meltdown in their ongoing abdication of their responsibilities in our world. I think of it for two audiences. First, of course, for those who have proven themselves time and again to be PATHOLOGICALLY incapable of leadership. For those whose abysmal ideas about 'governing' have resulted in this shutdown. And second, for those who are 'represented' by them, in the various districts across the nation.
More below! But, first, a word from our sponsor ...
Top Comments recognizes the previous day's Top Mojo and strives to promote each day's outstanding comments through nominations made by Kossacks like you. Please send comments (before 9:30pm ET) by email to topcomments@gmail.com or by our KosMail message board. Just click on the Spinning Top to make a submission. Look for the Spinning Top to pop up in diaries around Daily Kos.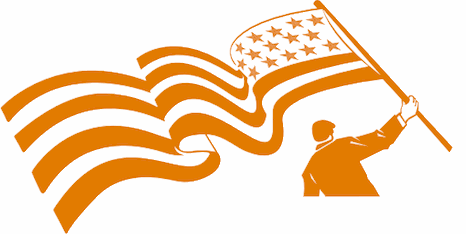 Make sure that you include the direct link to the comment (the URL), which is available by clicking on that comment's date/time. Please let us know your Daily Kos user name if you use email so we can credit you properly. If you send a writeup with the link, we can include that as well. The diarist reserves the right to edit all content.
Please come in. You're invited to make yourself at home! Join us beneath the fleur de kos...
For those of you who have shut down our government, either actively or through timid enabling, it is time and PAST time for you to get the fuck out of the way. You have no ability to lead. You set an example even your children should shun. We have a very good country. You could play a role in making it better. That would take effort on your part. Intent. A CONCEPT of productive contribution, instead of obstructive. In your history, you have never shown any interest in growing, in stretching, in becoming more than you are, in making our country more than it is, and in helping our citizens become more in their own lives.
I will concede that, in an ad absurdem kind of way, you have some facility at following. But you don't exercise good judgment in those you follow. We have fine role models out there. President Obama is one. Elizabeth Warren, Wendy Davis, Rachel Maddow ... there are lots of them. They have good ideas and constructive intent, and they care about making this a better country, a better world, about HELPING our people, not persistently throwing obstacles in their path, not in discriminating against them. Not in treating them with different standards of justice and fairness.
It's a better way to live, a better way to relate. I'm not guessing about this.
So, you cannot lead, you should not follow (those you have been following). That's right. It is time and past time for you to GET OUT OF THE WAY. Do it now. Let our country move again. We need it. You need it, too, believe it or not.
Now. For those of you who live in the districts of the irresponsible representatives referenced above, whether you voted for them or not. It is time for you to LEAD. You have to show your representative that even if he or she does not have a clue about how to be a responsible member of our society, YOU DO. And, they were elected to represent YOUR interests, not a selfish, small-minded agenda. They are failing to do that. They are not working to solve ANY problems. They are obstructing, pure and simple. They don't have to follow your directives. Still, the next step is to convey that to them, and to let them know that electoral consequences await if they refuse to get out of the way. If that happens, you have to make them face those consequences.
Holding our country hostage is not their job. It is not anyone's job. Should never be.
One final note: Please read Laurence Lewis's fine diary today!
On to tonight's comments, once again perfectly managed by brillig, my personal Top Comments hero!
brillig here: and dayyum!!! Ben said the F-word! No wonder I agree absolutely totally with this diary! :)
---
Brillig's ObDisclaimer:
The decision to publish each nomination lies with the evening's Diarist and/or Comment Formatter. My evenings at the helm, I try reeeeallllyy hard to publish everything
without
regard to content. I really do, even when I disagree personally with any given nomination. "TopCommentness" lies in the eyes of the nominator and of you, the reader - I leave the decision to you. I do
not
publish self-nominations (ie your own comments) and if I ruled the world, we'd all build community, supporting and uplifting instead of tearing our fellow Kossacks down.
From Cedwyn:

We have a winnah in this comment by political junquie!
From brillig:

Seven minutes before last night's TC was published, GreenMother published this excellent comment on what true pro-life policies might look like. From AdamB's heartbreaking You won't believe this new abortion decision, or who decided it.
From BeninSC:


Not a flagged comment from me for once!

This comment by annielli is out of recommendability, and it got tons of mojo (and, I'm sure, Top Mojo attention), but I liked it so much I'm submitting it tonight anyway.

This comment by Tayya (Another rare find of my own), a self-described 19 yo Swedish wonk, was so striking I HAD to include it. In a terrific thread begun by psychicpanda, Tayya chronicles all prior representatives! A remarkable list! I wish I could do half so well!

Finally, this comment by Ed Tracey honoring our TC leader, brillig! From last night's TC diary!
Top Mojo for yesterday October 4th, first comments and tip jars excluded. Thank you mik for the mojo magic! For those of you interested in How Top Mojo Works, please see his diary FAQing Top Mojo.

1) :(((((( by lunachickie — 174
2) He was a real advocate and by Vetwife — 150
3) Our condolences to all his family and friends. by Kitsap River — 134
4) Send Varney to Somalia. by pistolSO — 104
5) I am so sorry to hear of his passing by Ekaterin — 101
6) That shiny thing over the sink in your bathroom? by aoeu — 99
7) Now that is cool. Thanks for catching this while by confitesprit — 98
8) Cruz IS petty and stupid. by Mike Kahlow — 96
9) So let me get this straight by jhecht — 94
10) It is very clear why by gchaucer2 — 93
11) man, we need more democrats in Congress by leu2500 — 92
12) 6 white men. by Blazehawkins — 93
13) This picture by SilverWillow — 91
14) Yes. Mr Varney . . . by NeverThere — 90
15) I am sorry my diary is short but by Vetwife — 88
16) My condolences... by MrHinkyDink — 88
17) Didn't ever meet Mike by jimstaro — 88
18) Oh, no! I'm so sorry to read this. by translatorpro — 87
19) Bless his heart he was a fighter by glitterscale — 86
20) Make sure elfling knows about it. by aoeu — 83
21) Somebody has to tell llbear so by Vetwife — 81
22) You can see why he said it in your diary. by Mike S — 80
23) The lack of empathy and ability to by Onomastic — 80
24) My sincere condolences to his family and friends by ericlewis0 — 79
25) A tear here for Mike. by Joieau — 79
26) Brilliant! by gchaucer2 — 79
27) Thank you Mike by ActivistGuy — 78
28) I've written here on this site by Ian Reifowitz — 78
29) "The next extinction event" by Cassiodorus — 78
30) Also, thank you by gchaucer2 — 73
Top Pictures for yesterday, October 4th. Click any image to be taken to the full comment. Thank you jotter for the image magic!