The Picts are commonly described today as a group of tribes and/or independent kingdoms who lived in the eastern and northeastern regions of Scotland during the ancient and early medieval period (from 600 BCE through 900 CE). Much of the information about the history of the Picts comes from the writings of their enemy: the Romans. The first written mention of the Picts comes in 297 CE when the Roman orator Eumenius reports that the Picts had attacked Hadrian's wall.
We don't know what the Picts called themselves: their name seems to have been derived from the Latin picti, which means "painted." Their name may reflect a practice of painting and/or tattooing their bodies. Some Roman writers suggested that the Pict warriors came into battle naked, with their bodies blue from paint or tattoos. Modern writer Alistair Moffat, in his book Before Scotland, puts it this way:

"Celtic warriors almost certainly stripped off their tunics and leggings so that their gods, their enemies and their comrades could see their tattooed bodies—because the tattoos were powerful magical weapons in themselves, what a modern tattooist has described as 'psychic armour'."
When dressed, Pict men generally wore a cloak over a belted tunic. There is some indication that a woven woolen hood may have also been worn. Women wore long skirts and cloaks.
Language:
The Pictish language died centuries ago and our knowledge of it is fragmentary at best. Place names and personal names found on monuments provide some clues that Pictish was a Celtic language. With regard to place names, the prefixes "Aber", Lhan", and "Pit" (sometimes "Peth") provide evidence of the areas inhabited by the Picts. Thus Aberdeen, Lhanbryde, and Pitmedden are probably Pict names.
Linguists have suggested that Pictish is a part of the Brittonic (Brythonic) branch of Celtic and is thus related to Cumbric, Welsh, Cornish, and Breton. While there have been some who speculated that Pictish was actually a non-Indo-European language, nearly all modern linguists disagree with this hypothesis.
Archaeology:
Since the Picts did not leave very many written records, our knowledge of them comes from two primary types of sources: (1) written records by outsiders who often had an unfavorable view of the Picts, and (2) the archaeological record.
Part of the archaeological record related to the Picts in Scotland is the Pictish stones which have been found throughout the region. These stones, which are inscribed with symbols which seem to have been inspired by Celtic, Anglo-Saxon, and Christian iconography, are the most tangible and distinctive evidence of Pictish society. Some of them have ogham inscriptions. About 350 of these stones have survived, primarily in the northern and eastern regions of Scotland.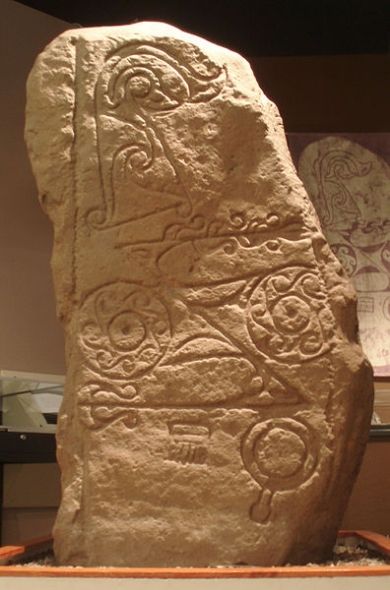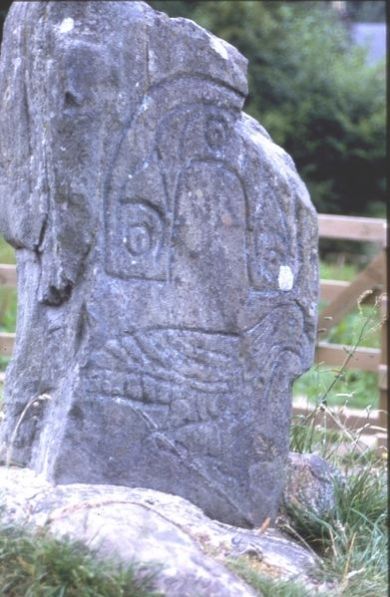 The earliest of the Pictish stones have symbols inscribed on un-worked stone—that is, stone which has not been shaped or worked. Called Class 1 Pictish stones by some scholars, many of these date to the sixth through eighth centuries CE. These stones predate the spread of Christianity into the region. These stones may have served as personal memorials or as territorial markers.
While the characteristic of the Pictish stones are the symbols which are inscribed on them, there is some disagreement as to what constitutes symbols which are unique to Pictish art. Discussions of these symbols estimate that there may be as many as 60-65 unique symbols to as few as 30. Most Pictish scholars seem to feel that there are about 50.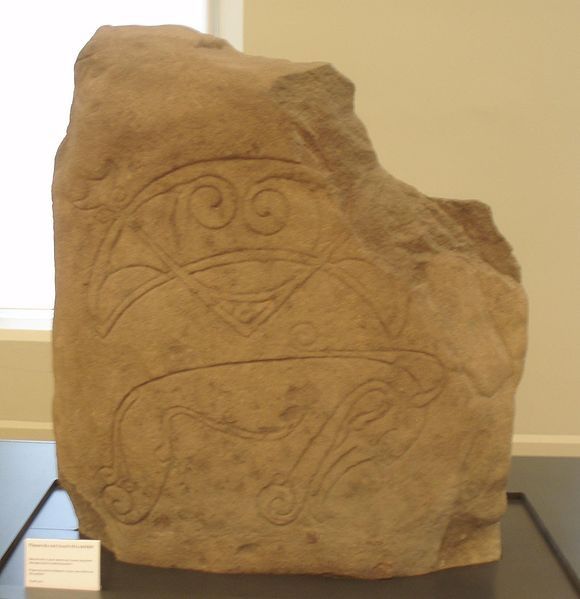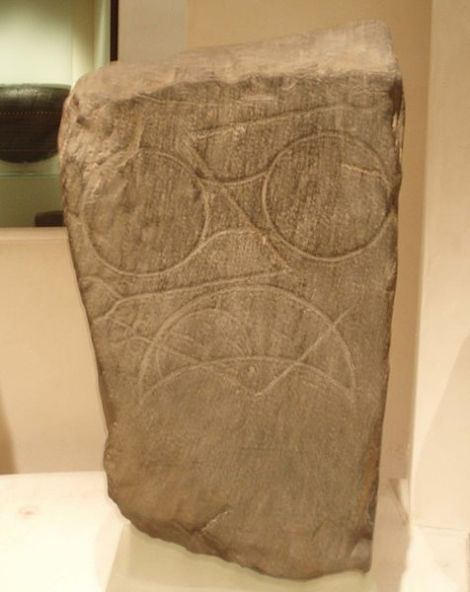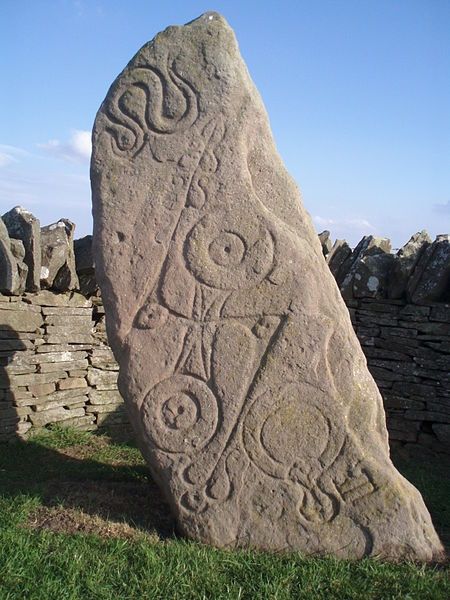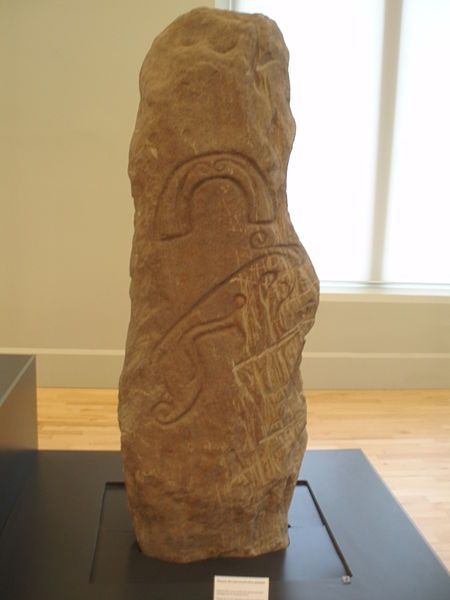 Some of the Pictish symbols are abstract geometric designs while others are representations of animals, including wolf, stag, eagle, adder, and salmon. The apparently mythical Pictish Beast, which has a pointed snout, curling antennae, and curved limbs, may be intended to represent a sea-monster. Geometric symbols are more common than animal representations. The animal symbols usually appear only in connection with abstract symbols.
A third group of symbols includes recognizable objects such as combs and mirrors, tongs and shears, hammers and anvils. These are most commonly shown in pairs.
While it is common to assume that the symbols represent ideas, there are some scholars who feel that the symbols might represent language in a manner similar to the ogham system.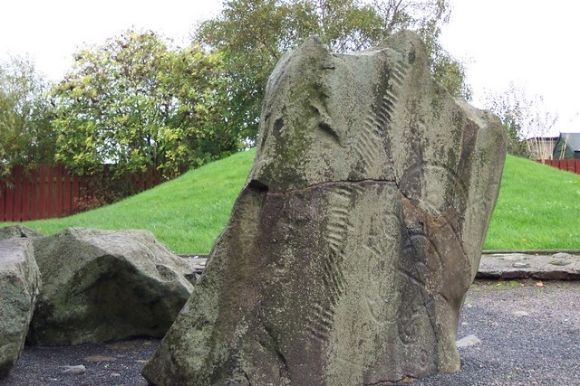 A Pictish stone with ogham markings is shown above.
Noting that the Pictish symbol system seemed to work quite well, Katherine Forsyth writes:

"Whatever it was intended to convey, it performed its function sufficiently well that people all over northern Britain found it useful and continued to use it, generation after generation, for perhaps as long as four centuries (from the fifth or sixth century to the ninth or early tenth). This fact is all the more striking when we realise that throughout that period the roman and ogham alphabets were also in use in Pictland."
Shown above is a Christian Pictish stone.
At Rhynie, eight Pictish stones have been found. Archaeological excavations have uncovered a substantial fortified settlement which may have been a royal site occupied by Pictish kings.
Graves and the bodies buried in them are often used by archaeologists in understanding the ancient past. Unfortunately, relatively few Pict burials have been uncovered. It appears that only a few selected individuals, both men and women, were given "formal" burials. Most frequently the body was placed in a pit and then covered with a small mound of earth or stones.