I love it when Scientists try to break down the data, to make it more understandable to us more "average humans." Here is very good example of that:

By 2047, Coldest Years May Be Warmer Than Hottest in Past, Scientists Say
by Justin Gillis, NYTimes.com -- Oct 9, 2013
[...]
The Mora paper is a rarity: a class project that turned into a high-profile article in one of the world's most prestigious scientific journals.

Dr. Mora is not a climate scientist; rather he is a specialist in using large sets of data to illuminate environmental issues. He assigned a class of graduate students to analyze forecasts produced by 39 of the world's foremost climate models. The models, whose results are publicly available, are operated by 21 research centers in 12 countries, and financed largely by governments.

Thousands of scientific papers have been published about the model results, but the students identified one area of analysis that was missing. The results are usually reported as average temperature changes across the planet. But that gives little sense of how the temperature changes in specific places might compare with historical norms. "We wanted to give people a really relatable way to understand climate," said Abby G. Frazier, a doctoral candidate in geography.
[...]
So the idea here is, that a non-climate scientist is crunching the data, to show what Climate Change will mean for individual locations across the globe, and also across local historical norms. In other words, what Climate Change will mean
in your backyard.
Since many of us tend to reside in individual locations, over time, this could be interesting.



Here's the main 'techie concept' that Dr. Mora uses, which is as colorful in its imagery, as it is useful in its diagnosis ...
"Place your individual grid locations into their upright positions, and prepare for their inevitable 'climate departures.'"
[...]
So Dr. Mora and his students divided the earth into a grid, with each cell representing 386 square miles. Averaging the results from the 39 climate models, they calculated a date they called "climate departure" for each location — the date after which all future years were predicted to be warmer than any year in the historical record for that spot on the globe.
[...]

To put it another way, for a given geographic area, "the coldest year in the future will be warmer than the hottest year in the past," said Camilo Mora, the lead scientist on a paper published in the journal Nature.
So your individual "climate departure" is kind of reminiscence to "a point of no return" -- you know like when a plane is "open throttle" down the runway,
with wheels about to leave the ground
. That kind of departure -- except it's with respect to
your local temperature norms,
instead of our normal "grounded" state.
The New York Times article is very good. It gives the "expected departure times" for various cities across the globe. Dr. Mora and company seem to imply humans may "adapt well" to these "new flight conditions" (some humans); but the Ecosystem critters without A/C -- not so much, since most of them haven't seen these kind of local Climate Liftoff conditions, often in millions of years.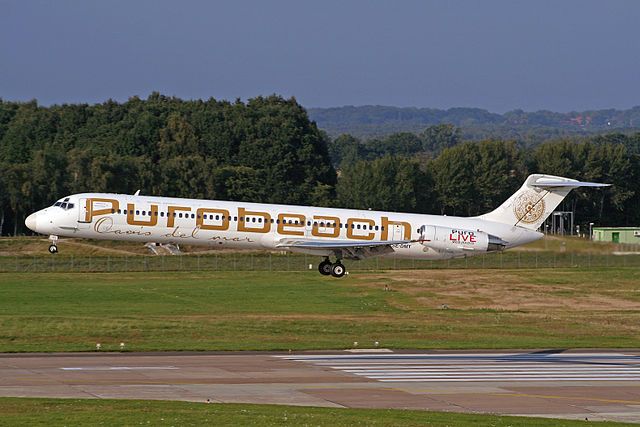 File: Purobeach plane takeoff.jpg -- From Wikimedia Commons

"This is the Captain speaking, multivariate species. On behalf of all of us at 'Head in Sand' Airways -- We hope you enjoy your flight!"