---
One more diary about country water systems.
In my Kitchen Table diary about fixing the broken pipe down in a canyon ,on September 8, I mentioned that due to a winter storm the electric wires down to the pump had broken. My son and I made a temporary repair but the wires were on the ground.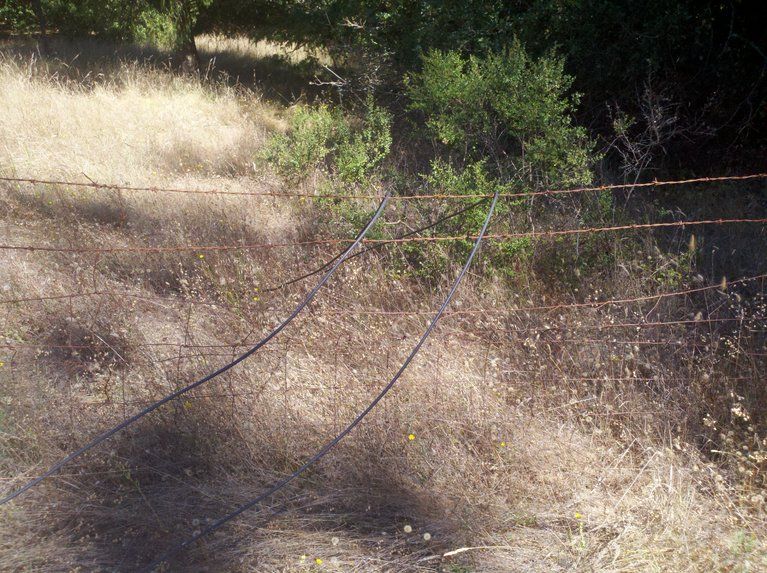 The original poles were 4x4 redwood and simply standing in holes in the soil. This worked for years but from time to time I had to add side braces to keep them more or less vertical, not esthetic and crude besides. The storm knocked several down as well as breaking the wires. Time for an upgrade. I had to wait all summer because my son Eric the genius construction guy was busy (a good thing) but we finally got to it last week.
An open field confronted us. We figured on seven poles. We bought 16 foot 4x6 treated poles (very heavy) and dug holes at appropriate intervals. Some were easy but some hit rock and took an hour or more. Then we dropped each pole in a hole and tamped in 180 pounds of concrete. This is far from a spigot so water in buckets was carried to the wheelbarrow in which we did the mixing.
We made each pole perfectly vertical with a level and held it in place with braces. My son knows how to do all this stuff; I just followed directions. We had screwed in the insulators while the poles were on the ground so they were positioned correctly and then we had to wait a few days till the concrete was dry.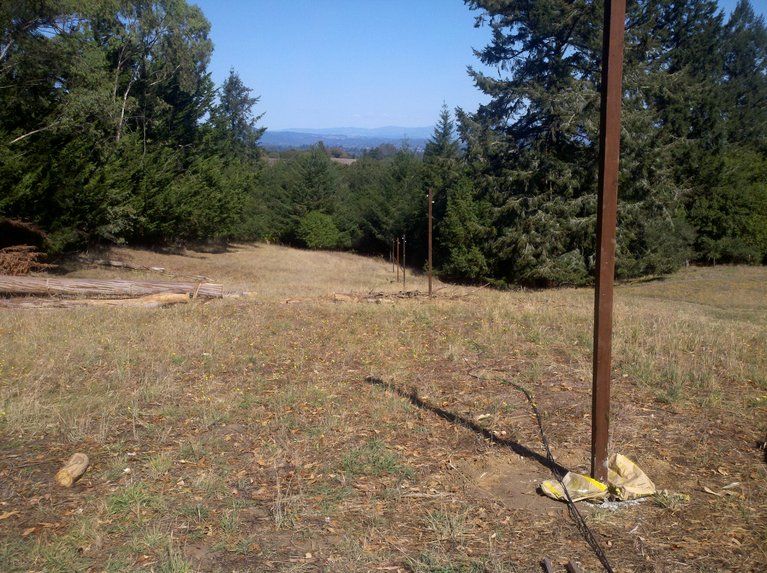 Finally the poles were in place and we began the task of threading the wires through the insulators. A piece of wire doesn't weigh much but an 800 foot section certainly does. We dragged and threaded for hours; locked in at each insulator with zip ties. The most difficult part was holding the four ends to connect while one of us tightened a kearney (electrical connector). We had to use a ladder plus the upraised bucket of the tractor to accomplish this.
Finally done. The final test was to turn on the switch. Ahhh. The lovely sound of water splashing into my 8000 gallon tank. Music to our ears.
One more photo, taken today, one of the most beautiful days ever in history. I wanted to show Mt. St. Helena in the background.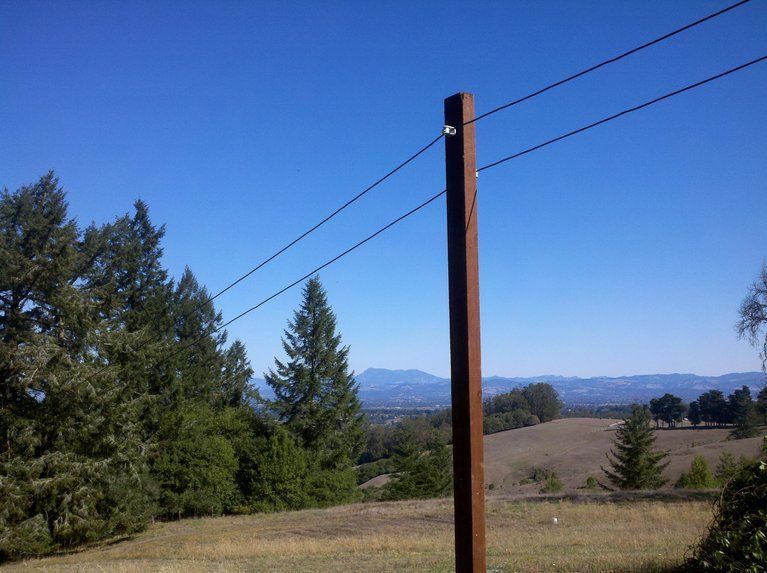 Kitchen Table Kibitzing is a community series for those who wish to share part of the evening around a virtual kitchen table with kossacks who are caring and supportive of one another. So bring your stories, jokes, photos, funny pics, music, and interesting videos, as well as links—including quotations—to diaries, news stories, and books that you think this community would appreciate.

Finally, readers may notice that most who post diaries and comments in this series already know one another to some degree, but newcomers should not feel excluded. We welcome guests at our kitchen table, and hope to make some new friends as well.