"The truth is that when one is still a child-or even if one is grown up- and has been well fed, and has slept long and softly and warm; when one has gone to sleep in the midst of a fairy story, and has wakened to find it real, one cannot be unhappy or even look as if one were; and one could not, if one tried, keep a glow of joy out of one's eyes."
― Frances Hodgson Burnett, A Little Princess
And this applies to pooties... especially those once homeless, like Princess Jenny.

Loved and home
My Princess first arrived on a cold day right around Valentines day in 2009. I found her on Petfinder. There was something about her and I wrote an email to her foster mom, asking more about her. She had already been fostered for a year, but the rescue org was looking for the best home for her. She was FIV+. I was lucky enough to fit all qualifications. A tiny girl, she was four years old with a sweet and docile nature, but it took several years before I gained her full trust. And finally this year she now lets me reach out to pet her and she no longer flinches and runs away.
The org that rescued the Princess primarily works with feral cats and adopting them out as barn cats. The Princess was found with a feral colony. She was so docile, even though extremely hand shy, that they were certain she was once someone's cat, either dumped or loss, and had made her way to the colony which was regularly fed by volunteers.
the Princess when she first arrived...
Most everyone knows Sula's story. I was asked to take her in when the rescue org that I'd helped out in the past was overrun with cats and kittens, and Sula was stressed being in the shelter with all these active 1/2 grown kits.
Sula and her brother apparently had a very loving human mom for many many years. But when she passed away, her daughter came by, put food out for the cats and cleaned the box once a week. Sula and her brother Henry were otherwise left alone, by themselves, for five months. The rescue org was contacted by the daughter who said she didn't want the cats and didn't know what to do with them, so they took them both in. Henry needed extensive dental work, and his ears at one time had very bad mites. Sula was eight years old when she arrived.
After several perspective adopters applications were ultimately rejected by the rescue org for various reasons, by then, Sula had grown in my heart. Sula's original name was Leah - which means "weary". I had renamed her to give her a fresh start. Sula means "peace".
When Sula first arrived...
And then came Mei Ling.
Mei's journey began with a silly young woman, who conned wanted her boyfriend to buy her a kitten. Contract signed with a breeder, Sandy hit the Northeast coast. The woman became homeless and had to stay with friends where their apartment did not allow animals.
Mei started out as a cat (kitten) sitting deal - and yes, free boarding provided by yours truly! With Sandy, everyone really was doing anything for those in need - and I was just one of those people who miraculously had little impact from the storm where every town surrounding had major damage. And then one month passed... and then into the second month, it appeared this young woman wasn't returning to the NY. Mei suddenly became a permanent resident in our home!
By then, KoKo, Mushu and Kitten had already adopted her as their little sister, and Mei Mei became one of the pack. Cute and sweet and always cheerful, but she also has moxie! And definitely is learning to stand up to her brothers. She's our princess in training. :-)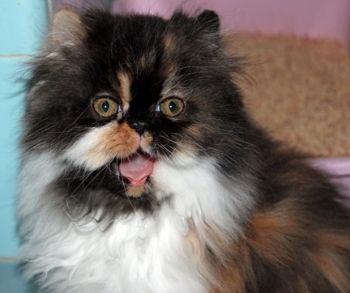 Mei's first day
Here are the three girls. They do seem to tend to hang out in the same room with one another during the day for naps.

The Princess ~ Grrl powwrr!
We are blessed with the time we have with our furred and feathered family. It seems their lives are so short, no matter how long or brief they may be with us.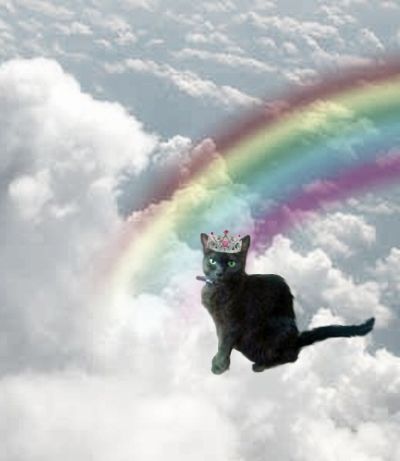 Princess Jenny
May this day be one of happy peace with you and yours. This has been such a hard year for many who join us at the PWB Peeps diaries.
Thinking of the sweet Jenny and the joy that she brought to Tricia and Joey. As some have already said, there's another Princess or Prince out there for you Trish... and like mine, suddenly they'll just be there! I always like to quote my vet:
Cats always seem to find a way to find the right home.
Many hugs to you, Pootie Queen.