When Victor Halperin's indie Horror film WHITE ZOMBIE was released in August of 1932 it was a great success. Considered the first feature-length zombie movie, WHTIE ZOMBIE cast a shadow over virtually every zombie film to come after. Indeed, no film did more to set our conventions on what a zombie should be until NIGHT OF THE LIVING DEAD came along. One would think that given this, WHITE ZOMBIE would be a cherished part of our cinematic cultural legacy. Yet a few years later, it just sort of vanished. Re-releases ceased and memory of the film faded. It was considered a lost film for decades until a copy was discovered in 1960, but for some reason, the owners of the copyright refused access to the original print. Consequently, modern viewers have to watch WHITE ZOMBIE with scenes cut in the middle, missing lines of dialogue, and a dull, grainy picture. It is certainly unfair to judge it on the basis of the copies we are currently subjected to. Yet somehow, this movie overcomes its many disadvantages and ends up being a satisfying experience of the macabre.
More below the jump!
The primary asset of WHITE ZOMBIE is, of course, the great Bela Lugosi - who turns in a typically creepy, yet nuanced performance. Another notable actor is Joseph Cawthorn, who delivers a comic-relief performance that succeeds in being both funny and important to the story. The other actors don't fare quite as well. In order to save money, the rest of the main cast were silent-film veterans who had seen their fame diminish with the advent of sound. Unsurprisingly, the acting suffers overall in WHITE ZOMBIE. Contemporary critics, who were used to showy acting on film, almost unanimously cited the acting as the weakest aspect of the movie.
While WHITE ZOMBIE is indeed a clunky, messy film, there are a lot of things that it does right. Victor Halperin sets a nice eerie mood. He wisely rented space at Universal Studios and re-dressed the still-standing sets from previous Universal Horror films. The great hall from DRACULA, the corridors from FRANKENSTEIN and the balcony from THE HUNCHBACK OF NOTRE DAME all make appearances here, and it lends an air of legitimacy to the film it might not have otherwise enjoyed. Another great aspect of WHITE ZOMBIE is its creative and effective use of sound. Ritual chanting, chirping frogs, and squawking birds unsettle the viewer at all the right moments. Even the relentless droning of a sugar mill is used to amazing affect in our introduction to Murder Legendre's zombie empire.
Is WHITE ZOMBIE a great film? It is one of those rare films where it is easy to agree with the films detractors and supporters both. Rock star and film director Rob Zombie is a fan and named his Metal band after the film. He said about it; "It amazes me that a film that is so readily available can be so lost." He has a good point. At a running time of only 65 minutes, there really is no good reason for any Horror aficionado or general film buff to not give WHTIE ZOMBIE a spin.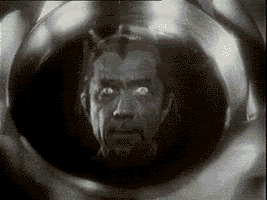 WHITE ZOMBIE fun facts - Bela Lugosi was paid an obscenely little amount for his work. Most reports put his salary at $800, while his co-star Madge Bellamy was reported to have been paid $5,000.
Shot in only 11 days.
The make-up for Murder Legendre was created by Jack Pierce; the artist behind the iconic Universal monsters.
Murder Legendre - "It is unfortunate you are no longer able to speak. I should be interested to hear you describe your symptoms. You see, you are the first man to know what is happening. None of the others did…"

Murder Legendre - "Not in a month, not even a year, monsieur. I have looked into her eyes. She is deep in love - but not with you."
Charles Beaumont - "They're to be married within an hour. There must be a way!"
Murder Legendre - "There… IS a way"

Dr. Bruner - (Recurring line) "Have you got a match?"