In the earliest part of the 21st century, Japan was a hot-bed of Horror film. Movie after scary movie crossed the Pacific ocean to find eager audiences in the Americas. We watched them enthusiastically in our 'art' theaters (since mainstream cinemas still shamefully eschew foreign films) and we remade them in our own image with our own stars. There are dozens of films that chilled us to the bone from our friends in Japan, and one of the very best of the bunch was Takashi Shimizu's 2002 haunted house chiller JU-ON: THE GRUDGE.
More downstairs...
Told in six segments which jump around in time, yet ultimately interconnect, JU-ON: THE GRUDGE tells the story of 6 characters' experiences in the same house. A terrible evil occurred there which has placed a curse on the home. People who come into contact with the entities that reside there are then doomed to play out the curse themselves. If this sounds simple (or spoiler-ish) you couldn't be more wrong. The non-linear telling of the story serves to keep the viewer as utterly off-balance and unprepared as the characters themselves. Even after multiple viewings, it is not easy to construct the 'real' timeline. This gives us the real impression that the curse itself is timeless and without end.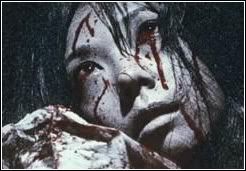 This gives writer/director Takashi Shimizu plenty of room to play, and play he does. Shimizu reaches into Japanese folklore to tell us the story of a house haunted by Yurei. Literally translating to "faint soul", the Yurei in Japanese tradition is characterized by white clothing, long, disheveled hair, and dangling, lifeless hands and feet. Though we can easily recognize a ghost when we see one, it is the subtle differences between the western ghost and the Japanese yurei that helps make JU-ON: THE GRUDGE what it is. Add a few touches like a slithering body bag and a bone-chilling death rattle and you've got yourself a haunted-house movie that will scare the pants off any audience.
Intelligently written, expertly directed, and very frightening, JU-ON: THE GRUDGE is a deliciously diabolical piece of Horror filmmaking from across the Pacific that will satisfy the need for a good scare.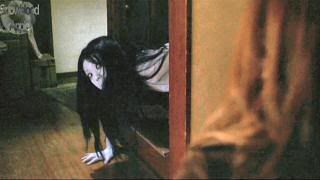 JU-ON: THE GRUDGE fun facts - Though this was the movie that established the JU-ON franchise, it is actually the third film in the series. The first two being JU-ON: THE CURSE and JU-ON: THE CURSE 2.
Writer/director Takashi Shimizu directed the American remake as well as the original.
Takashi Shimizu eschews CG effects wherever possible. His reasoning is that once the audience sees CG, they know what they are seeing can not be real - and therefore not frighteneing.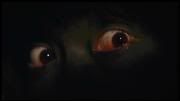 Hirohashi - "Thanks for the effort… "

Hitomi - "Brother, stop playing this weird joke on me."

Sachie - "Again and again I told her… Just the way you said to… Please stop tormenting me."