There are 50 million people hungry in the U.S., and that includes 17 million children. Nikki Henderson (one of our special guests for our Butterfly Woman Food Justice Blogathon, and Executive Director of People's Grocery in West Oakland) talks about the importance of food justice and cultural appropriateness:
Food justice is the belief that healthy food is a human right, so everyone has an inherent right to access healthy, fresh food. Access is a mixture between location, affordability, and cultural appropriateness. Food justice is important for everyone because food is culture. Food is your family. Food is part of how we communicate with one another; it's a way we share our love. Being able to enjoy and prepare food that actually nourishes the body and keeps us healthy is connected to our ability to stay sane as human beings.

…There are some cultures that get sick if they eat unfermented vegetables, or other cultures where the majority of folks are lactose intolerant. Even beyond looking at cultures, food intolerances are a much bigger issue than they were fifty years ago because of the way we treat our food supply. People being able to choose foods that create health for them is super, super important.

We call that "cultural appropriateness" because our focus is people of color and low-income people, and we know that different ethnic communities, because of their cultural backgrounds, eat different foods. So for us, it's more than just health. Being able to maintain your grandmother's special dish, or being able to cook your husband that food that your dad always made for you that you really loved, are things that are not to be trifled with, and that need to be protected.
This year we are focusing on three food justice projects. Please help us spread the word with sharing with your networks, and if you can, donating to these projects:
In his book, The Green Collar Economy, Van Jones discusses the origins of the food justice movement and the need to reform our food system, which includes consumers, producers, workers and environment:

It is clear that the [food] system has to be reformed. There needs to be a shift to local food that is organic, free of pesticides, fertilizers, and preservatives; that is produced in ways that do not harm consumers, food workers, animals, or our soil and water; and that provides dignity to those who produce as well as consume it.
One of the people involved in this shift that started back in the 1990s is LaDonna Redmond. In 1999, Redmond's infant son was diagnosed with "severe food allergies to a range of items from peanuts and shellfish to eggs, cheese, and milk as well as a host of additives." Redmond researched allergies, finding that the chemicals in standard food production included "GMOs (generically modified organisms), preservatives, additives, growth hormones, pesticides and fertilizers (including toxic sewage sludge)."
For some communities, there is easier access to guns than to fresh tomatoes. Redmond's search for "organic food took her out of her Westside neighborhood and through the city of Chicago; her search for affordable organic food was entirely in vain. "You could buy two-hundred-dollar sneakers, semiautomatic weapons, and heroin, by you couldn't get an organic tomato," she said. The idea that her community did not desire high-quality organic food was one of the many myths she wound up shattering."
Redmond and her husband started an urban farm in their backyard. Neighbors joined them to garden and enjoy the harvest of lettuce, tomatoes, peas, squash, greens, cabbage, onions and herbs. Their backyard garden project then grew into projects of "getting vacant lots to developing urban farm sites and selling food at farmers markets. That was the beginning of my work of rebuilding local food systems, first around my neighborhood and now around the country." Redmond is now the founder of Campaign for Food Justice Now.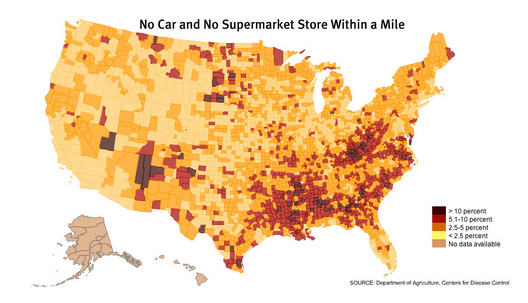 There are 23.5 million Americans (including 6.5 million children) who live in food deserts, as shown on the map, or places where there are no grocery stores or the stores are inaccessible to low-income shoppers due to high prices or require some distance to travel by public transit. Yet, right-wingers claim that food deserts are myths that don't exist. The US Department of Agriculture defines food deserts as established facts of "urban neighborhoods and rural towns without ready access to fresh, healthy, and affordable food. Instead of supermarkets and grocery stores, these communities may have no food access or are served only by fast food restaurants and convenience stores that offer few healthy, affordable food options. The lack of access contributes to a poor diet and can lead to higher levels of obesity and other diet-related diseases, such as diabetes and heart disease."
However, the federal definition of food desert does not include everyone who lacks ready access to fresh, healthy, affordable food due to the mileage qualifier:

Americans in low-income rural areas have to travel at least 10 miles to get to their nearest supermarket. While city dwellers from low-income neighborhoods have to travel a mile or more.

In America, where the car is king, a 15-minute, one-mile drive doesn't seem unreasonable. But if you live in a dense city like Washington D.C., that may mean having to take two hour-long bus rides in each direction to get to a supermarket, with shopping bags in tow.
So, mothers and fathers walk two hours to buy food for their family, but their neighborhood might not be deemed a food desert. Federal funding is available for community projects in food deserts. First Lady Michelle Obama's "Let's Move" campaign is designed to "eliminate food deserts by providing financial help and incentives to get more supermarkets set up in these neighborhoods."
A Hidalgo County Youth Demonstration Garden was established in Hidalgo County in New Mexico as a partial solution to their food desert problem to educate and motivate people to garden. It's needed - There is one small grocery store in the entire county and the closest Walmart is an hour away:
Government policies that don't consider interconnected issues end up making things worse. Santoni's Supermarket existed since the 1930s in Baltimore, but will now close by the end of this month due to a city bottled-beverage tax. Last April, Santoni "launched a 13-seat shuttle to provide free rides to and from the supermarket, an action hailed by the city health department" to help this food desert area. But, now another store closes while the GOP continue with attacks on federal programs like Women, Infants and Children (WIC) and food stamps.
Some vacant lots in cities have been transformed into community gardens, but there are so many vacant lots that could be used. A 2011 report by the U.S. Government Accountability Office found that the number of vacant properties increased 51% from 7 million in 2000 to 10 million in 2010. Local governments spend millions of dollars to maintain or demolish vacant properties. The vacant properties lower the tax revenues in the communities due to decreasing the value of surrounding properties. Cities and states are looking for solutions. The answer is community farms and gardens.
Philadelphia has 40,000 vacant lots and now 753 are being used as community gardens. Urban farms promote health, community self-sufficiency and fresh food while "ameliorating the impact that vacant lots have on community growth and development."
In New York City, 596 Acres projects include community gardens in the vacant lots: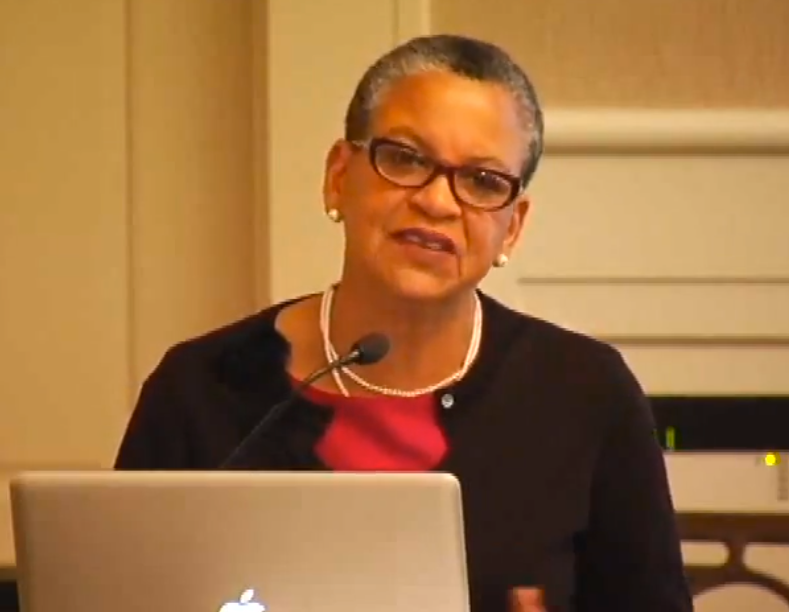 In Chicago, 80,000 vacant lots of several square miles and thousands of flat rooftops and backyards could provide 40-50% of the city's food and 42,000 jobs. Jobs that could also be provided to former offenders, including those who might have received horticultural training while in prison. For example, Cathrine Sneed founded The Garden Project in San Francisco that provides "employment and support to former offenders" by teaching former criminal offenders horticultural skills and they grow organic vegetables that feed seniors and families in the community.
The Garden Project model is a community-based response to crime, unemployment and underemployment, that links the stewardship of the environment and to the stewardship of the community. The United States Department of Agriculture hailed The Garden Project as "one of the most innovative and successful community-based crime prevention programs in the country."
The idea of
The Garden Project
spread to Minnesota
where the "Minnesota House fairly gushed over a provision establishing a gardening program for inmates at each correctional facility in the state. The goal is to grow enough food to feed the inmates, with excess produce going to food shelves and charities."
Food justice is about reforming our food system that is based on corporate ag-business profiting from unhealthy food that's processed, full of preservatives, artificial colorings and shifting to local, sustainable healthy food. It's about our food economy and workers in the food system who are exploited and treated unfairly – including farm workers and restaurant workers. And it's about the environmental consequences of corporate farming practices that are polluting our soil and waters. Food justice is interconnected with social, economic, political, labor and environmental issues.
Hope and change is happening because the food justice advocates and activists in our blogathon (and many more across our country) are creating innovative models to reform our food system, and these models are spreading to other communities.
Butterfly Woman: A Blogathon for Food Justice


On October 23-24, we're focusing our blogging specifically on underserved populations, including those in communities of color, and on local community programs designed to help provide nutritious food raised in sustainable ways.

Our effort this year is named in honor of Aji's late sister:

The causes that mattered to her were the essential things, even if they were not the things that garnered headlines: causes like making sure that no child goes hungry.


We are FUNDRAISING for these projects:

For more detail and guest biographies, see Aji's opening diary. To stream all blogathon diaries, follow the Hunger in America group. Your diary recs, republishes, and social media shares help us, whether you have cash to spare or not! Twitter hashtags: #foodjustice and #hunger.

Schedule (all times Pacific)

Wednesday, October 23rd:
8 am: Will Allen (Growing Power) of Growing Power, Inc.
11 am: Phaedra Ellis-Lampkins of Green For All
1 pm: Nikki Henderson of People's Grocery
3 pm: Mrs. side pocket
5 pm: Patriot Daily News Clearinghouse

Thursday, October 24th:
9 am: Rep. Barbara Lee
11 am: Denise Oliver Velez
1 pm: Aji
5 pm: rb137
7 pm: Avila