Light matter atomic fundamentals leading to the shapes of some molecules involving the organic elements.
In Part 1 of this series, I described why I think a model of matter made of light is worth thinking about.
Here I'll describe the basics of a light model of matter and how it manifests in the structure and function of some molecules involving the most basic elements that enable life. This description includes a few other aspects of the light model necessary to set the theoretical stage that light matter exists in. I'll touch on the nature of Einstein's space time fabric and its role in effecting the forces of inertia and gravity.
Here is a link to Part 3

To illustrate this model of light matter, I'll provide pictures of models I built to understand and demonstrate how the model operates. And how the model leads to the structural properties science has revealed about the particular molecules I'll discuss. Most of these models will be of molecules involving the primary organic elements: Hydrogen; Carbon; Nitrogen; and Oxygen.
Here's a model of water (H2O), for example.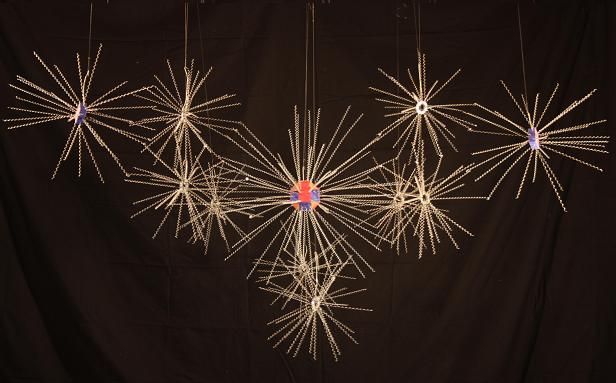 I'll show 3-D images for some of these models. Those of you who know how to view 3-D cross eyed images, or don't want to try, can skip this section. But if you haven't learned this technique, the results are worth a little effort. Once you learn to see these images, you get a pretty good 3-D view of the object you're looking at. This method of presenting 3-D images is commonly used to display molecular structure. For example, the simple ball and stick image below reveals the 3-D structure of DNA very nicely.
DNA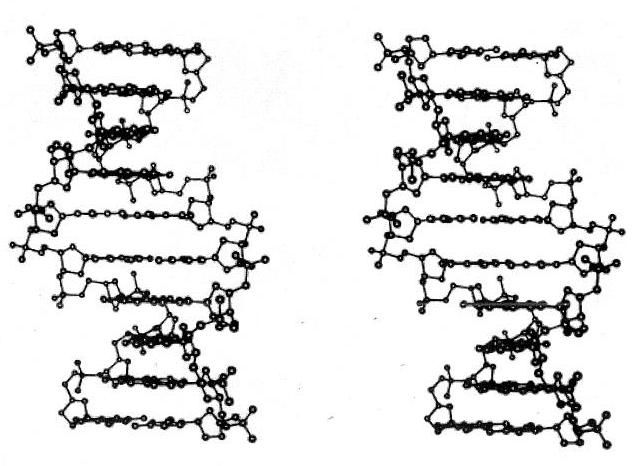 This method of presenting two coordinated images -- one to each (crossed) eye -- works with ordinary photographic images too. You take 2 pictures of the same scene from roughly an eye separation distance apart and put them side by side. And when you look at the images in the right way, you see a single image that appears much like it would if you were in front of the scene, looking at it with your normal binocular vision.
The best way to learn how to bring cross eyed 3-D images into focus is to take something with a fine point, like a pencil. Put the tip of the pencil in the middle of the 2 images and slowly move it toward a point in between your eyes. Keep your eyes level, and focus directly on the tip as you do this. And try to be aware of the 2 background images as you focus on the tip. Hopefully, as the tip gets about 2/3 of the way to your eyes, the two images will start to merge. Now, you have the right amount of cross-eyed angle. Your right eye is looking at the left image, and your left eye is looking at the right image. Try to maintain that, and then shift your focus from the tip onto the images. Take your time and try to see the two images as one. If you get it. You'll know it. If it doesn't work, start over. And if it starts to hurt, take a break. With some practice, you can learn to maintain the 3-D view comfortably.
The images I'll present below are better if you can see them in 3-D. But you you'll be able to see what's happening well enough in the flat images too.
Here is the water model in 3-D

Let's start with a brief explanation of the mechanical nature of light (under this model) and how it expresses its energy when it comes into contact with other light. What allows light to move, if it's a photon (free/unattached light)? Or to be part of a light system that generates mass, if it's matter (bound light)?
The simplest, best way to imagine free light (here) is like a stretched out slinky, continually moving in a spiral. With something like spinning mechanical gears running along its spiral spine. Anywhere its gears come into contact with other light, there can be an interaction of energy -- like the spinning gears in a transmission that push against each other when they touch -- applying mechanical forces that affect each of the participants in the interaction.
To imagine how a photon moves, we have to understand the medium it moves in. Similarly to the way we understand how a fish pushes against water to swim, or a bird pushes against air to fly. What is it that a photon pushes against to move so fast? In other words, what is Einstein's space time fabric made of? Let's suppose that the space time fabric is not just a theoretical concept, but is real and made of a form of light that we haven't yet understood.
The spectrum of light that we recognize is differentiated by the energy content of individual photons. At the high energy end of the light spectrum, we start with gamma rays. Then work our way down through lower energy photons to the background microwave radiation, which is composed of the lowest energy photons we can measure in terms of their frequency and wavelength.
In all its forms, light is exactly the same stuff. It just contains varying amounts of energy. But what if there is an abundant form of light with an energy content lower than what we have been able to measure? What if there is flat light -- light with no frequency, and infinite wavelength? And what if "empty space" (that is, what if Einstein's fabric) is literally filled with flat light?
Behaviorily, if we could observe it, flat light would hardly be different from any other form of light. It would still move at C. But it would travel in a straight line, instead of propogating in the shape of a polarized sine wave. And a flat light medium could be the reason the relatively high energy light that we CAN measure, moves in the sinusoidal wave pattern that it does. Because high energy light has to have a way to equalize its energy output with the lower energy output of the (mostly) flat light medium it exchanges energy with to move in. So, it alters its path through the fabric in a polarized pattern that allows it to expend its energy over a larger area (thus interacting with a relatively larger number photons than it would have contact with, in its forward motion, if it propogated in a flat line). A sine wave pattern seems like a very natural way for a "high energy" photon to interact with a "lower energy" flat light medium.
The preponderance of flat light in the fabric is what allows all photons to move at 186,000 miles/second. As a high energy photon weaves it's way through the fabric, it comes into contact with countless other photons in its path. All of these photons apply their gears against each other with the effect that each pushes against another to propel itself in the direction it is travelling. And the cummulative interactions among these photons, generate the forces that move all of the photons in the fabric in concert at their uniform forward speed. With the miniscule interactions between individual photons adding up to the overall behavior of all the photons in the medium.
If we suppose that empty space -- which we know is not really empty, because as Einstein predicted, the "empty space" surrounding a massive body (like the sun) does in fact, bend light -- is filled with flat light, then we would have a powerfully energetic theoretical space time fabric medium that would provide a mechanical basis for a photon's behavior. A medium that would explain how a photon is able to move (mechanically) through the light fabric at C. And how a massive body like the sun affects the fabric's behavior in a way that causes it to bend light's path in the sun's vicinity. Even how the light fabric interacts with light matter to generate the forces of inertia and gravity. In this light model of nature, photons and matter exist in, and interact with, a light fabric that is composed primarily of flat light. Further, in this model there is nothing other than light (and space) in the universe. That is, matter, photons AND the space-time fabric are all composed of the same light energy, in differing forms.
A photon propels itself through the light fabric by applying its energy (gears) against the other photons it moves among. Light matter also exists in the same fabric and is likewise energetically connected to it. Although, unlike photons, matter can be still, it too is made of light, and likewise, interacts with the light fabric constantly. One result of this matter-fabric interaction is that the light fabric supplies energy to matter.
Consider that matter emits light all the time. That is, matter continually loses energy. But matter doesn't suffer a loss of mass from these emmissions. There must be something keeping atoms energized at a base level, to compensate for the loss of the energy they continually emit. Something that prevents matter from cooling below the 3 degree Kelvin temperature that a piece of matter acquires in outer space. There must be an energy-feeding mechanism that keeps matter alive -- able to continually emit light while maintaining its mass.
Let's assume that the source of this energy feed is an interaction between matter and the light fabric. And see how that interaction leads to mechanical explanations for inertia and gravity. Imagine that the light fabric surrounding a massive body generates a pattern of energy flow toward the body. The body draws energy from the fabric, and the fabric naturally feeds that need. The flow of energy in the fabric adjusts itself to feed the demanded amount of energy to a body, according to the body's mass. Once established, this fabric-to-matter energy flow is self-maintaining. That is, the fabric always "wants" to stay in its current pattern. If that pattern is to hold a piece of matter still, the fabric wants to keep it that way. If on the other hand, a body is moving (it has momentum), the fabric wants to maintain that too. The light fabric naturally accommodates itself to the movement and corresponding energy demands of the massive bodies within it. Something like the way a body of water accommodates itself to a boat resting or moving on its surface.
To change the movement of a body, you have to force the fabric surrounding the body into a new pattern of energy flow. Whether a body is moving or still, the fabric/matter interaction generates inertia -- a tendancy for matter to maintain its trajectory within the fabric. To change a body's inertia, you apply a force to it. You push on the body. But you don't really change the body itself. What you change is, the pattern of energy flow in the surrounding fabric. The inertial force expresses itself in how a body of matter moves within it's surrounding fabric. But inertia doesn't happen in a true vacuum. Inertia is effected as much in the light fabric surrounding matter, as it is in matter itself.
This same way of imagining an inertia-generating interaction between the light fabric and matter, also leads to a similar mechanical basis for gravity. If you placed two objects in deep space, a foot (or any distance) apart, they would both draw energy from the surrounding fabric. They would both be effectively pulling on the energy in the fabric between them. And the fabric surrounding them both would naturally draw them together as it reacts to their mutual attraction to the energy in their shared space.
This connection between matter and the light fabric is relatively unimportant to understanding how this light-matter model operates. After all, matter's inertial and gravitational connections to the fabric are pretty weak compared to the forces between directly interacting atoms. So, going forward we'll mostly ignore them. I only included the last few paragraphs to point out that this light model isn't limited to what I'll focus on in this diary. Which is how the "matter" aspect of the light model plays out in some basic chemistry.
Now that we've superficially examined the theoretical flat light fabric medium this model operates in, we can begin to address what light matter is under the model. What are matter's (light-constucted) parts? How do they fit together? And how do they generate the structural properties matter exhibits?
First, we need to understand one more aspect of the spiral light model. Which is key to how light matter generates its opposing (positive and negative -- pushing and pulling) effects. Imagine two kinds of photon light. Identical in their composition. Differing only in the orientation of their spiral motion. Normal light, making a right-handed (clockwise) spiral as it moves. Magnetic light making a left handed (counter-clockwise) spiral. Most of the light composing the space time fabric, is normal light. But the fabric also contains some magnetic light.
Magnetic light is what carries the magnetic fields surrounding the Sun, the Earth and a magnet you hold in your hand. Because normal and magnetic light operate with different orientations, they behave differently in the predominantly normal flat light medium. Whereas normal photons move through the medium at C, magnetic photons interact with the fabric with the effect that they spread themselves out into a coordinated field surrounding a magnetic source. As if they were trying to make space for each other as they simultaneously maintain their communal magnetic orientation. The normal light in the fabric accomodates and coordinates the alignment and distribution of magnetic fields generated by the magnetic sources it contains.
Like photons, the base components of light matter have either normal or magnetic orientation. And when these oppositely oriented forms of light energy are bound together in atoms, they generate the positive and negative electrical forces that attract and repel the other atoms they interact with.
Before going into the details of how protons, neutrons and the elements are constructed. Let's look again at the model of water. With the intention of gaining a forest-level understanding of how light matter operates as a system at the molecular level. So that we have an idea of how light matter functions, when we examine the basis and formation of its structure, in detail.

As we examine this model, you'll notice that it differs in some important ways from our current model of the atom. The most obvious difference is that here the energy in an atom is distributed throughout the space of the atomic system, rather than being concentrated solely in the nucleus and electron centers. Also, the nucleus has a definite structure here. And each element has a unique structure. These structures interact directly with electrons, holding them in specific locations, through physical contact with the light energy shared among the atomic system's components. Both models are based on the same sub-atomic components. But their interactions here are much more concrete and mechanistic than our current atomic model imagines them to be. Under the light matter model, nothing happens at a distance. All interactions between atoms work through light particles touching and energetically engaging with other light particles.
At the center of the water molecule is an Oxygen nucleus with 8 protons and 8 neutrons. The proton "faces" are colored blue, the neutron faces are red. The electrons surrounding the Oxyen nucleus are roughly tangent to the proton faces they are bound to. To get a better understanding of how the locations of the electrons comes about, let's look at a simplfied representation of a single Oxygen nucleus with its 8 bound electrons in their natural positions.
Below is a model of an oxygen nucleus with an imaginary ray extending out tangent to each of its proton faces. This represents the "electron footprint" of Oxygen's nuclear configuration which we'll see in more detail later.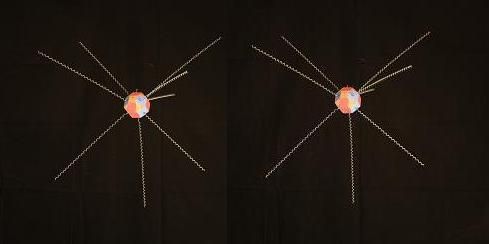 And here is a more complete model of the Oxygen nucleus with the electrons in nearly the same positions. The top of this model is tilted slightly toward you, compared to the one above.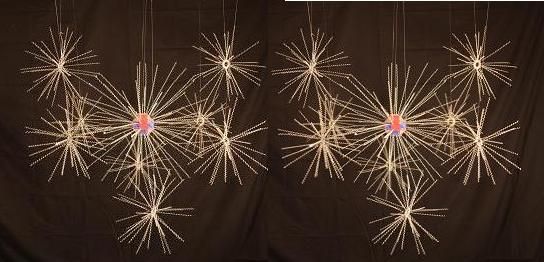 A single Oxygen atom like this doesn't occur for long in nature, of course. Pure Oxygen is most often found in the form of O(2). But the idealized form of a single Oxygen atom above, allows us to visualize how the structure of Oxygen's nucleus leads to a condition that determines where Oxygen's negative electrons "want to be". That is, where they can express their light energy most forcefully. And that is, tangent to the positive proton faces. As we'll see, this idea of electron location, relative to the faces of the protons in the atomic nuclei which bind them, will play an important role in generating the various properties of the different types of bonds between atoms in molecules.
Generally, in covalently bonded molecules like water, the bound electrons are nearly tangent to a proton face in each of the interacting atoms. And this determines the relative positions of the nuclei in a molecule. Most often in a single covalent bond, 2 atoms will have 2 proton faces, each directly facing an electron shared between the 2 atoms. But, in the case of water, because Hydrogen has only 1 proton face, it must split its electron attracting energy between two separated electrons. We can see this in the model of water above, where the Hydrogen protons face a point in between the two electrons each of them is bound to. Below is a close up picture of the same model showing the bond in more detail.

This makes the covalent bond between Hydrogen and Oxygen in water, more dispersed and therefore, inherently weaker than many other covalent bonds. But this relatively loose connection also allows the Hydrogen nuclei in water more flexibility to share their energy with electrons surrounding other water molecules in their vicinity. And this is a key factor in water's composition that makes water molecules so attracted to each other.
Let's look in more detail at how this model of water operates.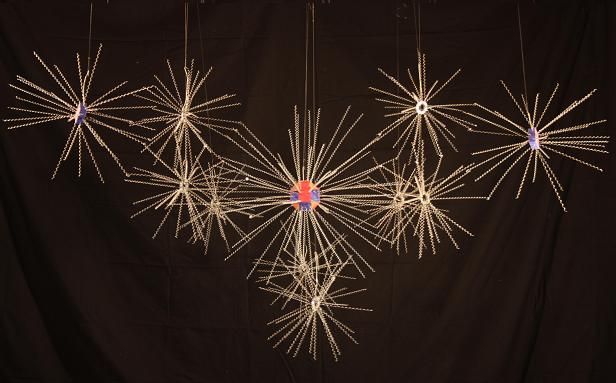 Emanating from the Oxygen and Hydrogen nuclei are a number of strands of light -- of both types: normal and magnetic. Each light strand is bound to one of the two primary components of the protons and neutrons in the nuclei. I call these components Hawkrings -- electrings and positrongs. Electrings are also what is at the center of electrons. That is, an electring is a ring of normal light. A normal photon that has joined to itself end to end, head to tail if you will. And both types of Hawkrings bind light of their own orientation. Likewise, positrongs are at the center of positrons. And they bind light with magnetic orientation. Neutrons and protons are constructed of these same Hawkring components that are bound together into simple 8 and 9 membered (neutron and proton) Hawkring structures which combine to form more complex structures in the elements. Like other forms of normal and magnetic light, electrings and positrongs are identical, except in their normal or magnetic orientation.
The strands of normal and magnetic light attached to their Hawkring components in a nucleus are what repel and attract the normal light emanating from electrons. As we know from electrical effects, likes repel and opposites attract. As we'll see in more detail later, a proton contains 4 electrings and 5 positrongs. Whereas a neutron contains 4 of each type of Hawkring. So a proton binds a relative surplus of magnetic light strands. This magnetic light surplus allows a positive proton to interact with and hold (or bind) a negative electron. The interaction between the magnetic light attached to a proton and the normal light attached to an electron creates more than just an attraction. These oppositely oriented forms of light touch and become energetically connected. They transfer energy between a nucleus and an electron. Creating a system of shared (circulating) energy among all the participating components in a molecule.
An atom or molecule can be seen to operate through a network of light strands that connect the components of an atomic system energetically. With their mechanical gears turning together as a system. Something like an old time woodworking shop where power is transferred from a river to machines through a system of spinning shafts and belts. The light components of matter can be imagined to interact in a somewhat analagous way, to share energy between the components of atoms and molecules.
To construct a water molecule, we start with an Oxygen nucleus surrounded by its 8 natural electrons, and we add 2 Hydrogen nuclei. The Hydrogens always attach to the Oxygen in a way that forms a precise angle from Hydrogen to Oxygen to Hydrogen, of 104.5 degrees. That angle is not hard to find in the structure of the Oxygen nucleus. Let's assume the 4 proton faces that "want" to bind the energy of the Hydrogen nuclei is the combination pictured below.
If we took the natural angles determined by the proton faces in an Oxygen nucleus that are involved in the bonds to Hydogen in water, drawing lines that emanate tangent to the Oxygen proton faces, they would be these.

Which form angles of 90 degrees and 108 degrees.
In some of these models, I've removed the 4 Oxygen electrons that don't participate in bonds to Hydrogen. So you can see the involved electrons more clearly. Above they are in their natural positions. Below, when we add the Hydrogen nuclei, we get this.


Here, the two sets of electrons in each bond to Hydrogen are drawn away from their natural positions. The electrons tend toward the position where the whole system can share energy most efficiently. As the 2 sets of bound electrons are squeezed toward their electron partners, their positions are shifted to locations where the angle between the Hydrogen nuclei are between the natural 90 and 108 degree angles generated by the Oxygen nucleus' involved protons. As the system seeks the most energetically productive postion for its components, the angle between the Hydrogen atoms balances at about 104.5 degrees.
How any molecule chooses the particular bonding angles it prefers (or demands) is a matter of energetic balance. As if the molecule is trying to answer the question: How will the whole system operate most efficiently under its current conditions? The liquid water molecule seems to favor the arrangement described above where 2 sets of Oxygen proton faces bind through 4 electons to hold 2 Hydrogen nuclei at 104.5 degreees. But, when we lower the temperature of H20 -- that is, reduce the energy of this system -- water becomes ice. A solid crystalline structure where the bonding angles between atoms are quite different from those in liquid water. We'll go into the angles that ice molecules demand later. For now, let's just say that the change in energy as H2O transitions from above 0 degrees Celsius to below it, causes a restucturing of the bonds between Oxygen and Hydrogen, so that these elements form a crystaline pattern that reflects Oxyen's nuclear structure more directly than warm water does. The larger point here is that, in general, the particular arrangements of positions between atoms in any molecule, are driven by a tendancy to balance the available energy among the nuclear components each system contains.
Let's take a final look at the water model and consider how this particular molecular system operates as a whole.

4 of the Oxygen's electrons are engaged in bonding to 2 Hydrogen nuclei, and the other 4 electrons are in their natural positions. The 4 binding electrons act as an energy bridge, connecting the 3 elements in the system. The whole system is constantly exchanging (circulating) its energy. All 3 of the elements, including their electrons, are turning their energy gears together as a system. The nuclei bind strands of both normal and magnetic light. Some of that magnetic light is engaged with the normal light emanating from the electrons. Some extends to the spherical border of light strands surrounding each nucleus. Both types of light extend to this border. While some of the magnetic light at this border binds and pulls on the electrons, some of the normal light repels them, keeping them out of the nuclear space.So the bound electrons are simultaneously pulled and pushed at the spherical border of light surrounding the nuclei. The electrons are thus held at a specific position and distance from the nuclei, where the energy of the system balances.
When other water molecules are close by, they all share energy with each other in much the same way energy is shared within a single molecule. When an electron rich side of a water molecule gets close to another water molecule's Hydrogen nucleus some of the magnetic light bound to the Hydrogen nucleus engages with the electrons' normal light. Thus water molecules cling to each other. The exposed Hydrogen ends of the molecules are particularly electro-positive. But there are also several other spaces around the Oxygen nucleus in water that are relatively electron free.
And these too are areas of electo-positivity in the water molecule that interact energetically with electro-negative (electron-rich) areas of water molecules in close proximity.
The forces generated by this structure allow water molecules to attract each other like very few substances. Some insects can walk on water because of the surface tension water generates in its energy-balancing act. And water droplets in a moist atmosphere form such perfect spheres that billions of them act in concert as lenses, reflecting and refracting sunlight's visible components so consistently that we see perfectly formed rainbows all the time.
This model of water we've examined so far is the only one that I'll show at this level of detail. None of the models to follow will show the many strands of normal and magnetic light surrounding the nuclei, nor the strands of normal light surrounding the electrons. Instead, the rest of the models will simplify the effects of those many strands of light into one or a few strands binding a proton and an electron, representing the effect of all the light energy that makes nuclei/electron bonds work. We'll focus on how the shapes of the nuclear structures of particular elements lead to their natural electron footprints, which determine how those elements arrange themselves with other elements when they are bound into molecules through electron bonds.
Another point I'll make here is that the relative size of the nuclei in these models is obviously much larger than science determines them to be. Otherwise, you wouldn't be able to see them. Whatever size a nucleus has in reality is relatively unimportant here. What IS important in this light model is the structure of an element's nucleus, and its resulting electron footprint.
Hawkrings
To create a form of light that can bind other light. That is, to transform free light into Hawkrings that can bind together to form matter, we start with the spiral model of a photon and reduce its energy content, to the point where the number of its spiral rings is reduced to a single ring. And then it joins to itself, head to tail, becoming a bound ring of light -- a Hawkring.
The conditions that allow this transformation from free light to bound light seem likely to occur in black holes. Spaces where the concentration of matter is extremely dense, and surplus energy is relatively low. When a photon enters such a space and its energy content is gradually (or perhaps, abruptly) reduced, it can transmute into a different form of light (a contained ring) that is able to survive in its dense matter/low energy environment.
Without the opposing head and tail that allow a normal photon to align the expression of its energy in a way that causes it to move with direction in the light fabric, the self-circulating energetic pattern of expression in a Hawkring generates a more stationary behavior. Unlike a photon, a Hawkring can be still. But Hawkrings are still light. And they still operate with the same mechanisms and power that photons do.
When nuclei are constructed from their Hawkring components, electrings and positrongs are bound together into a system of light energy. The thing that binds Hawkrings together to form protons, neutrons and their composite form of atoms, is much like the light strands that connect a positrong to an electron in an atom or molecule. It is a light energy bridge (or glue) that energetically connects two oppositely oriented Hawkrings. Science calls this a gluon. That name fits well with its function under the light model as well.
When the base elements of light matter -- Hawkrings -- form the nuclear components of atoms, they become energetically connected by gluons. These gluons engage the mechanistic light gears of two oppositely oriented rings, and bind these rings closely together.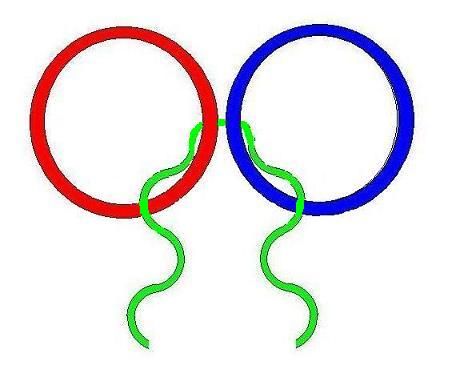 When neutrons and protons are formed from their base components, these Hawkrings and gluons form chains: positrong - gluon - electring - gluon - positrong etc.
Until the chain grows long enough to bind to itself, end to end, forming a circle of Hawkrings. This apears to occur and become stable with a circle of 8 Hawkrings -- a neutron. And then, roughly half of these 8 Hawkring/gluon chains gain an additional positrong in the center, joining to all 4 electrings in the outer ring -- a proton. This structure gives a proton an inherenty square shape, while a neutron is more flexible, and can assume a wide variety of shapes, when bound to protons and other neutrons in the elements.
The electrings bind normal light. The positrongs bind magnetic light. A neutron, with 4 electrings and 4 positrongs, binds a balanced combination of light. But a proton, with 4 electrings and 5 positrongs binds a surplus of magnetic light. Generating it's electro-positivity, compared to a neutron. And these proton-neutron building blocks of matter join together in the same way (with gluons) to bind oppositely oriented Hawkrings in protons and neutrons to form the more complex structures of the elements.
This simple model of 8 and 9 membered Hawkring/gluon structures joining with an obvious and simple set of rules, can be seen to reflect very closely, the eightfold way theory of matter constitution that Gellman described. Gellman's theory is the one that invented the idea quarks -- subcomponents of protons and neutrons that result in their positive and neutral electrical characteristics. One can easily see 2 up and 1 down quarks in the model of a proton above -- 2 trongs (positive) 1 tring (negative) comprising an up quark. With 1 trong 2 trings composing a down quark.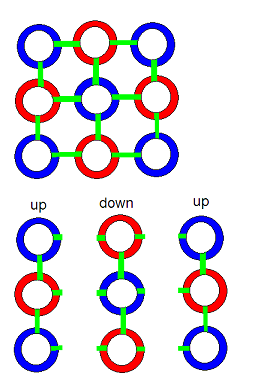 The neutron doesn't fit quite so perfectly with Gellman's model as the proton does. In the light model, the neutron has an up and a down quark, and a neutral 2/3 (1 tring, 1 trong) of a quark. But under both models, the neutron is electrically neutral.
But the fit between these models is pretty close. And the close fit that can be seen between Gellman's theory and the structure of light matter, at the quark and proton/neutron level, gets even better as we extend the light model to dictate the scientifically observed 3-dimensional structures of the molecules involving the organic elements we'll examine below.
So let's build a few light matter models of some of the simplest elements to see how this works.
Hydrogen needs no building. It's just a proton.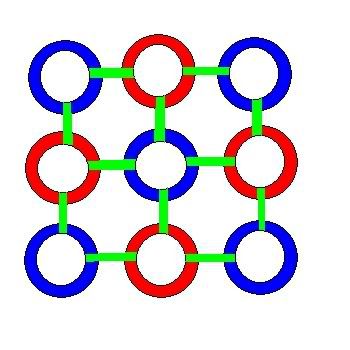 Helium is a simple chain: proton-neutron-proton-neutron that joins end to end, forming something like a hollow cube. I'll call this a Helium cube.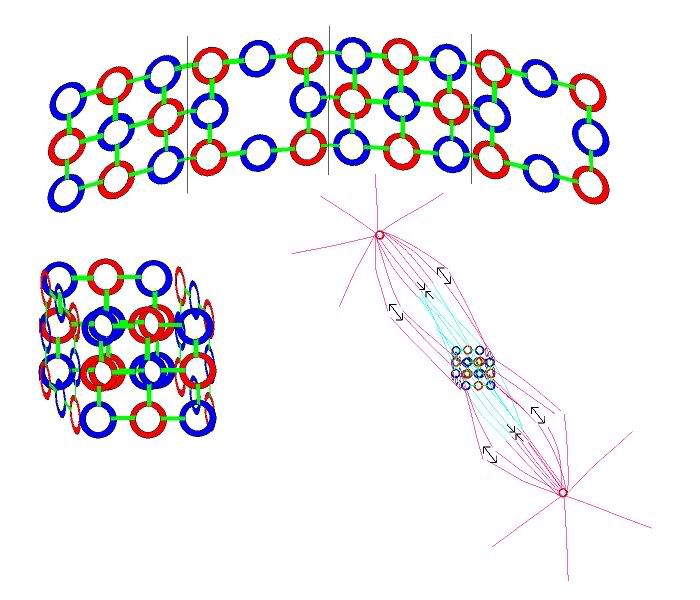 I'll skip ahead to Carbon. The most important structural element among those that make life possible. Similar to the 4 membered neutron-proton chain that forms Helium, Carbon begins with a 6 membered neutron-proton chain that forms a hexagonal ring.
Then gains 1 proton and 2 neutrons on top of this chain, like this:
And 2 protons and 1 neutron underneath the central chain like this: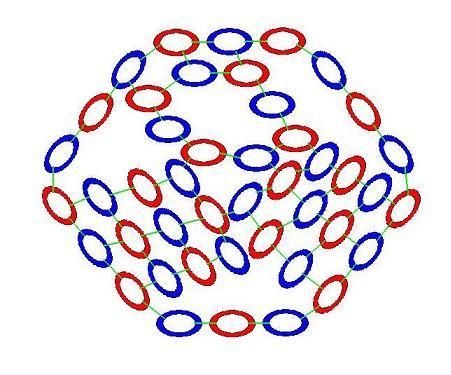 Here is a model of the nucleus with rays tangent to the the proton faces, representing where carbon's electrons naturally want to be. This model is tilted about 50 degrees from the position I described above. The 3 central ring protons are in a plane at 120 degrees from each other. Pointing up, away from you and to the left is the single proton on top of the central chain. Pointing down and to the right are the the 2 protons underneath the central chain.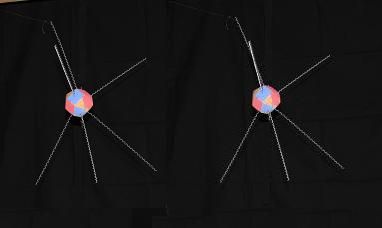 This particular formation for Carbon is the one that seems to be the best way to theoretically fit together 6 protons and 6 neutrons under the light model. That is, this formation seems most likely to form and is the most energetically balanced of those that could be imagined. Other formations are possible though. Different arrangements would certainly occur in the isotopes Carbon 13 and 14. But as we'll see when looking at some molecules involving Carbon, the electron footprint generated by this particular formation fits with the scientifically determined shapes and angles that Carbon structures exhibit, very well.
Nitrogen
Next is Nitrogen which begins with an 8 membered neutron-proton ring.
On top of this ring is a proton-neutron-proton chain.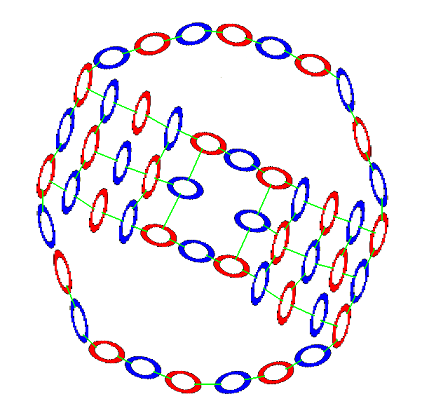 And on bottom a neutron-proton-neutron chain.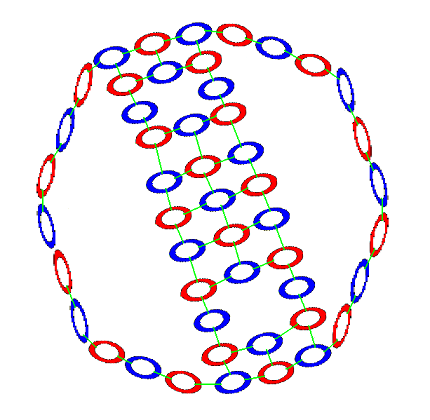 Nitrogen's electron footprint
Nitrogen's electron footprint is nearly identical to the one we saw earlier in Oxygen. But the bottom of Nitrogen's footprint is significantly different. In Nitrogen, a single electron engaged with the bottom proton has nearly the whole bottom half of the atom's electron space to itself. This allows Nitrogen to bind through a single proton face to Hydrogen and other elements with a particularly "soft" bond, compared to a typical covalent bond. The combination of Nitrogen's Oxygen-like structure and it's "soft end", allows it to be a key mechanism in many of the Carbon-Oxygen-Nitrogen structures that enable many important life functions. Like the bonds connecting the 2 sides of the DNA chain that detach from each other, then reform with such regularity. Or like the bonds holding a single Iron atom at the center of a heme complex in hemoglobin.
Oxygen
Oxygen also begins with an 8 membered neutron-proton ring. But unlike Nitrogen's differing top and bottom formations, Oxygen's opposing formations are identical.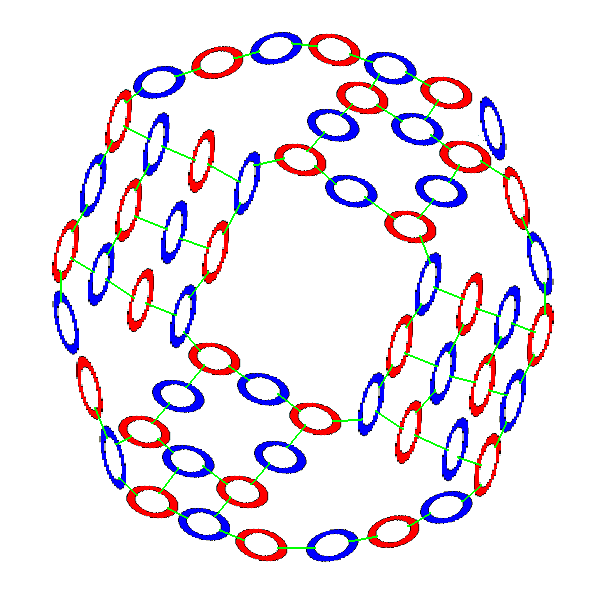 Two protons join to opposing center ring neutrons. And 2 neutrons join the center ring between those protons, but slightly askew. That is, the neutrons attach closer to one proton than the other. At the top and bottom of the formation, the 2 protons and 2 neutrons join to each other with a gluon bond between each of them and their closest neighbors. And the two sets of top and bottom protons are oriented at 90 degrees to each other.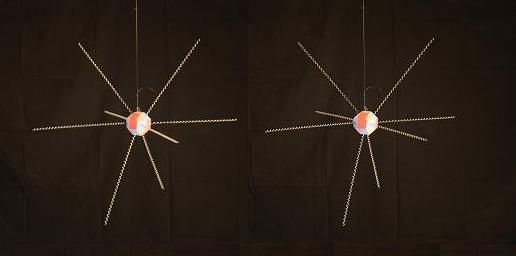 The nuclear structure of Oxygen, and its resulting electron footprint is perhaps the most perfectly symmetrical and well balanced of all the elements. And this structure allows Oxygen to share energy with other atoms like no other element.
So, those are the light model nuclear structures of the primary elements of life. Next we'll see how some well known molecules formed by these elements fit together. In part 3 of this series we'll do some more nuclear construction of some heavier light model elements: Aluminum, Silicon, Titanium, Iron, and Phosphorous. And discuss how their nuclear structures lead to some of the properties those elements exhibit.
For now, let's examine some molecules constructed from the elements we just built.
cyclo alkanes
This next comparison of scientifically determined molecular structure with the structures that the light model leads to, is the most perfect one I've found. The bonds between Carbon atoms in the cyclo alkanes are ideal covalent bonds (as opposed to the more common hybrid bonds in many molecules). And the directness of this condition leads to situation where we can see how an element's underlying physical structure is reflected in a molecular structure more pricisely than with other types of bonds. And the electron footprint generated by the model for the Carbon nucleus derived above fits into these structures perfectly.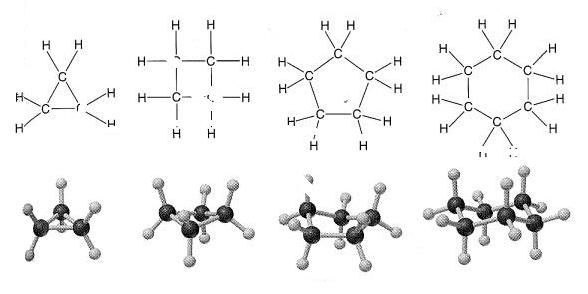 This textbook diagram models the shapes of the molecules formed when Carbon and Hydrogen combine to become a few variations of the cyclo alkanes -- in these cases, 3 to 6 membered rings of covalently bonded carbon atoms. With each Carbon attached to 2 Hydrogen atoms around the outside of the rings. In all 4 cases here, between the joined carbon atoms in the ring, there is an ideal covalent bond. With each nucleus sharing exactly 2 electrons with each of its 2 nearest Carbon neighbors.
In all these rings except the first, the Carbon nuclei don't join in a plane, as one might naturally guess they would. They're all offset in different ways. Symetrically in the even numbered forms. More awkwardly, in the 5 membered form. The crookedness of all these formations is obvious. With just 3 Carbons, why are the bottom Hydrogens closer than the top Hydrogens? Why do the even numbered formations stagger with different angles? Why don't all the nuclei just get as far away from each other as they can, as electron theory, generally, would suggest? These shapes scream out that there is a carbon-based electron footprint dictating these awkward structures. And I'll try to show that the footprint derived above, fits perfectly with the way we observe these particular molecules to arrange themselves. Here is the carbon footprint again.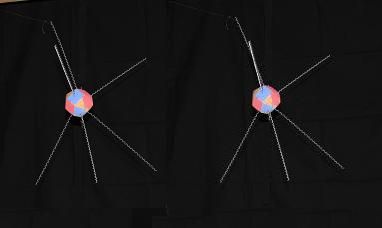 To discuss the Carbon footprint and its resulting molecular structures, we need to name (or number) the proton faces and the resulting natural locations of their bound electrons. I visualize the Carbon structure with 2 hands, 2 feet, a head and a tail. Notice that the feet are closer together than the hands. We could number and name them like this:
1-head; 2-left hand; 3-right hand; 4-tail; 5-left foot; 6-right foot.
In each of the cyclo-alkanes, the Carbons have one Hydrogen atom bound to their head and one to their tail. And in each of these 4 cyclo alkane formations, we'll see how the heads and tails flip up or down as the atoms join with their hands and feet, to their neighboring atoms.
With just 3 Carbons, they all join heads up or heads down. So the space demanded by the bonds between the 3 sets of hands (which are farther apart than the feet), opens up the top of the heads up formation. The heads are tilted back and away from the center. While the tails are tilted toward the center.
With 4 Carbons in the ring, the Carbon atoms alternate from heads up to heads down as we move around the ring. Here the heads are all closer to the center of the ring than the tails.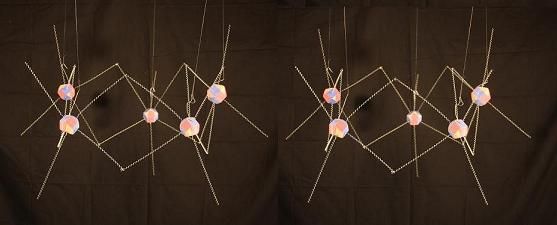 With 5 Carbons, the atoms can't consistently alternate their heads up and down as they do in an even numbered formation. In this model the atom farthest away from you is head down, joining to 2 heads up atoms. The closest 2 atoms are both heads down. So they're bonding to each other hand to hand and foot to foot instead of hands to feet like the others. This throws the symmetry of this molecule out of kilter compared to the others.
With 6 Carbons, we get what is called the chair formation -- the most stable of the cyclo-alkanes. Here the tilting of the heads and tails is most prominent. With the heads pointing close to vertical and the tails close to horizontal.
In forming and maintaining all of these structures, the system of Carbon atoms is striving to be in the most energetically balanced condition it can achieve. And because all these molecules are well balanced (stable), single covalently bonded structures, each Carbon atom should be close to its most relaxed, or natural position. So, in these structures, the angles of the bonds and the positions of the nuclei, should strongly reflect Carbon's natural electron footprint. And the light model Carbon footprint derived above fits perfectly with the scientifically determined shapes these molecules assume.
Aromatic hydrocarbons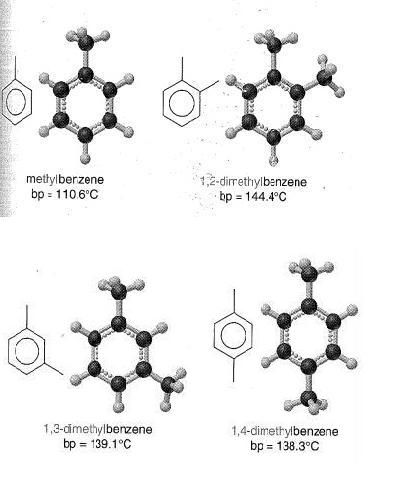 In each of these molecules, 6 Carbon atoms form a planar ring with either a Hydrogen atom or a hydrocarbon complex joined to each Carbon on the outside of the ring. The bond between Carbon atoms is a hybrid bond. Somewhere between a single and a double covalent bond. To demonstrate how the Carbon footprint is manifested in this bond, we'll start with our model of the Carbon nucleus and its resulting electron footprint, and manipultate the model.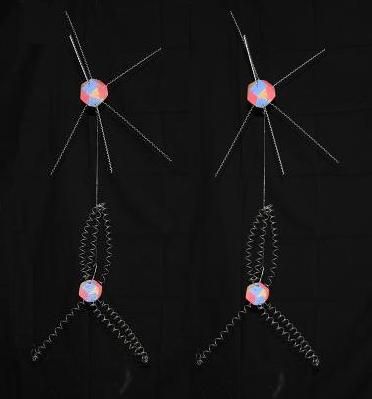 Instead of leaving the electron ends in their natural positions. We'll bend the ends of the light strands representing the cummulative effect of a proton bond to a single electron, toward the other strands involved in a shared bond. We'll join together a set of 2 and a set of 3 proton strands. They join together in the direction where the bond takes place. In the model above we join the left foot and right foot, and also head, left hand and right hand. The tail is alone in its natural position.
So how does this hybrid bond work out mechanically under the light model? In the model below we have 2 protons facing the bond from the right carbon, that is going to connect to three electrons from the carbon on the left. The atom on the right does something similar to what we saw the hydrogen atoms do in water. The energy of the atom becomes more dispersed. The presence of a third electron allows the atom on the right to shift the expression of its electopositivity from its natural 2 electrons to join to 3 electrons, incorporating some of the magnetic light emanating from the neutrons close by the 2 bonding protons. Below are two carbon atoms before the bond occurs.

When they join with 3 electrons between them, the bond might look something like this.
When we join 6 of the hybrid model carbons in a ring we get this.

The obvious idea here is that when multiple proton faces interact in a hybrid bond, they generate a cummulative effective bond at a point centered around a location between the natural electron footprint of the involved proton faces. And representing hybrid bonds this way, makes it easier to visualize how a neucleus' electron footprint accommodates a complex bond. And how a nucleus involved in hybrid bonds fits in to a complex structure.
We can use same this method of gathering the cummulative effect of several proton faces into a single bond, to model a couple pure Carbon structures -- graphite and diamond. For graphite, we'll draw 3 sets of 2 electrons together. Head-right hand; right foot-tail; left foot-left hand. The result is a fairly perfect planar 120 degree electron footprint. Which fits well with the structure of graphite.
For diamond, we'll draw together right hand-right foot; left hand-left foot; and leave the head and tail in their natural positions. That forms a fairly perfect tetrahedral electron footprint that fits well with diamond's structure.
Here is a textbook diagram of graphite, which contains planar layers of hexagonal rings.
With strong bonds between atoms in the interconnected rings in a layer. And loose bonds between layers. When we join 6 of our bent Carbons together in a graphite ring, it looks like this.
In the case of graphite, not all of the Carbon nucleus' light strands are focused on the 3 cummulative bonds they participate in. At least some of their light interacts with the normal light bound to the electrons in the layers of rings above and below them. Generating a soft bond between layers. Science calls the bond between layers in graphite a "delocalized" bond. Similar to a metallic bond, which we'll explore in more detail in part 3 of this series. We can think of this as an indirect or partial bond, compared to a typical covalent bond.
Here is a diagram of diamond's structure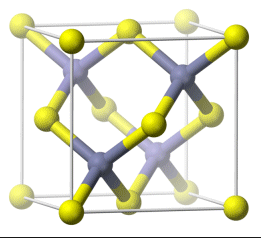 If we imagine rotating that model counter-clockwise a bit, and then pushing the end facing towards us up a bit, it would look something like the model below.
The tetrahedral hybrid footprint in Carbon as it manifests in diamond's crystal structure is one of the keys to diamond's strength. Here is how our bent (tetrahedral) Carbon footprint fits into that structure.
I've arranged the orientation of the nuclei here, so that each hybrid bond is between one nucleus with 2 protons facing the bond, and the partnered nucleus with 1 proton facing the bond. This would be the ideal (most balanced) structure. But it is probably not always arranged this way. For example, when there are flaws in a diamond (where the crystalline structure is imperfect) there are likely instances where Carbon atoms bind with 2 proton faces in one atom joining to 2 proton faces in an adjoining atom. Or with 1 proton face joining to another that has only 1 proton face involved. But in general, crystal structures that nucleate and result in nearly perfectly regular formations over (lets say) many thousands of layers of crystal units, are likely able to adjust the orientation of the nuclei in the structure as they form, to tend toward the ideally balanced solidified structure. In the case of diamond above, having all the bonds being 2 protons to 1 proton (between Carbons) seems like the ideal structure that nucleating diamond would naturally tend to assume.
As we did with Carbon, let's number the proton faces for Nitrogen and Oxygen. We'll point Nitrogen's lone proton face down and start numbering from the top face on the left, going clockwise and moving down.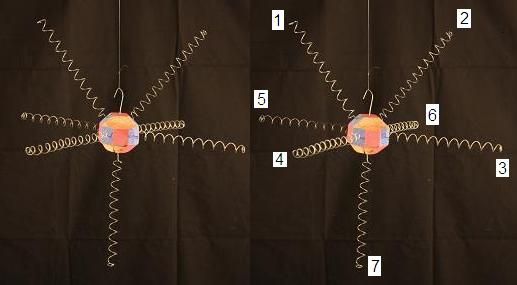 1 and 2 are on top. 3, 4, 5, and 6 form the central ring. And 7 is fairly isolated at the bottom.
Following the same numbering scheme with Oxygen, we get this.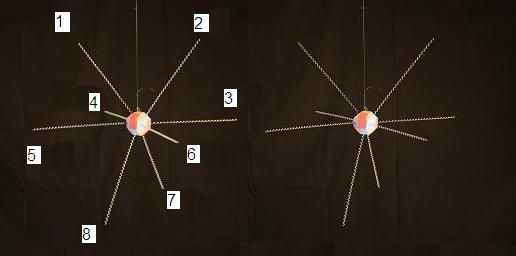 It' hard to tell these two results apart until you get past face 6. That is, Nitrogen and Oxygen have nearly identical electron footprints over most of their structure. And these 2 elements bond with similar angles in many organic molecules. Although the underlying nuclear structures leading to these two footprints are fairly different, a majority of their footprints are nearly the same. Below we'll see how Nitrogen's "soft spot" affects the ways it binds with itself and with Oxygen.
First, we'll examine the triple covalent bond in N2, which makes up roughly 80% of the air we breath in our atmosphere. I see the most likely arrangement of this molecule with the proton faces and electrons like this.

The isolated #7 protons are facing each other (assume we removed their natural electrons) and their magnetic light is spreading out at a fairly severe angle and binding to the 4 electrons attached to the 4 protons in the center ring of the partnered Nitrogen nucleus. The 3 through 6 electrons of each atom, are drawn from their natural positions, closer to the center of the formation, forming an 8 membered ring of electrons encircling the space between the two atoms. So, in this light model view of N2, we have each Nitrogen atom contibuting the energy of 5 proton faces, expressed among 8 shared electrons and maintaining the 2 nuclei at an unusually close distance. That would technically make the "triple covalent" bond in N2 at least a quadruple covalent bond.
The positrong based magnetic light emanating from the nuceli isn't limited to the simplified way I've shown it. What I've modeled above is meant to represent the primary (proton) sources of the electron bonds. But neutrons contain positrongs and therefore also bind magnetic light, and that light can also participate in bonds to electrons. Especially in bonds other than single covalent ones. Below, I've filled in a section of the N2 model with the neutrons contributing to a few electron bonds, to demonstrate this.

Now we'll look at the Nitrogen Oxides and see how Nitrogen's soft spot affects the strength of the bonds between atoms in these molecules. Below is a textbook diagram, showing the shapes of the nitrogen oxides.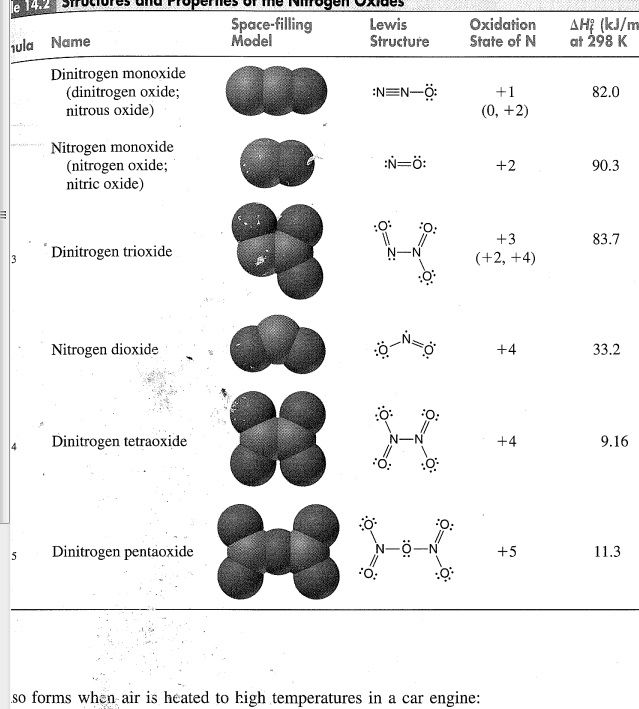 In N2O the triple bond between Nitrogens is maintained and Oxygen bonds to the end of one Nitrogen with a single covalent bond, as in the model below.

In NO Nitrogen's soft spot is available to bond with Oxygen and here these elements join with a double covalent bond. The bond is closer and stronger than the Oxygen/Nitrogen bond in N2O.
In the other 5 Nitrogen Oxides where Nitrogen atoms bind to 2 Oxygens, this bond takes place on the end of the Nitrogen atom that is opposite to the soft spot. This is a hybrid bond with 3 Nitrogen proton faces bonding to 2 Oxygen proton faces. It would look like this in NO2.

In N2O4 we have 2 Nitrogen atoms binding at the soft spot that produced a triple bond in N2. But because much of the energy surrounding the outer ring of the atom is engaged in the bonds to Oxygen, the adjoining Nitrogen atoms can't engage in the same way they do in N2. The Nitrogen bonds are single bonds here. The model below includes the 2 Oxygen atoms closest to you. The 2 that would be farthest away from you are missing. But you can tell where they would be.

In N2O5 we see a something similar. Although the bonds between the central Oxygen and the Nitrogens is at the Nitrogen soft spot, like it is in NO (where they bind with a double bond), the Nitrogen atoms cannot contribute enough energy maintain that same bond when that energy is engaged in bonding to the outer Oxygen atoms. Again, those are single covalent bonds. This model skips the 4 Oxygen atoms attaching to the Nitrogen atoms on the right and left sides.

Ice
We began looking at a model of a liquid water molecule. Now lets look at how this same molecule changes its bonding characteristics when water freezes. Many forms of ice can be manufactured by varying the temperature and pressure at which liquid water nucleates into ice. As far as I have examined these structures, they can all be generated naturally from the electron footprint of Oxygen I've shown here. But I'll focus primarily on 2 of these formations. Hexagonal ice: I(h), by far the most common natural form, and cubic ice: I(c). Both are very similar in bond angles and lengths, and in their basis of the hexagonal puckered rings that make up the parallel layers in both forms. They differ only in how these layers attach to each other.
Above is a single layer of puckered hexagonal rings, which is common to I(h) and I(c). There is a pattern of nearly vertical electron rays, alternating between pointing up and down as you move around a ring. These rays are longer than the others in this model to highlight them. These are the places where the layers bind to each other in both forms. The layers of puckered hexagonal rings join to each other like this in hexagonal ice.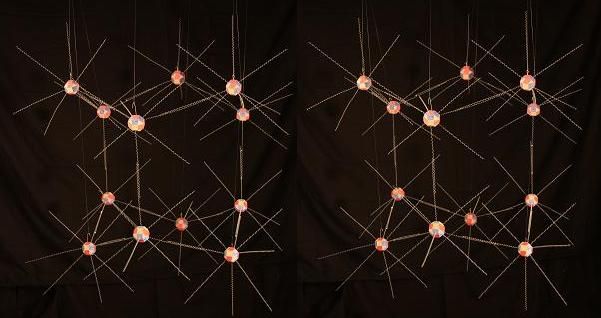 And like this, with a diamond-like crystal structure, in cubic ice.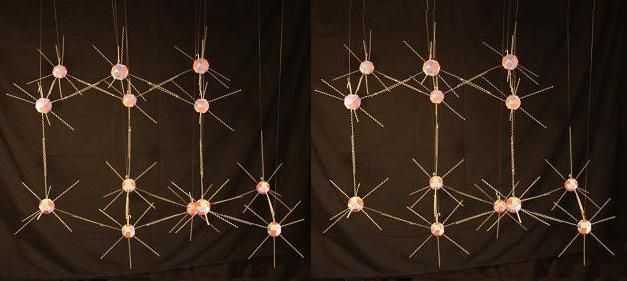 I'm not showing Hydrogen in any of these ice models. You can imagine those atoms at the center of the bonds between Oxygen atoms. I'm just binding the electron footprint rays of each Oxygen atom to its joined neighbor as if it were a perfect uni-valent bond. With all the bonds being tangent to the Oxygen proton faces involved in each bond. That is, each O-H-O bond consists of: single Oxygen proton face - single electron - Hydrogen - single electron - single Oxygen proton face, bonding in a straight line between the Oxygen proton faces. Under the light model, the natural formation of frozen water is dictated by a bond that reflects Oxygen's nuclear structure and natural electron footprint more directly than in liquid water.
I'll qualify what I just proposed by noting that this is NOT what scientific theory concludes. Science tells us the conversion from liquid to solid water, is not a matter of becoming a network solid (like a rock) where electrons are directly shared between nuclei, forming a crystal that is really a single giant molecule. Rather, science says that the water molecules in ice retain their electrical individuality. With hydrogen bonds (similar to those at the center of the DNA chain) connecting each H-O-H unit in the ice crystal to its neighbor. And in their semi-independent state, the 104.5 degree angle in the H-O-H bonds is maintained between the covalently bonded nuclei of each water molecule. So, according to scientifc theory, Oxygen's bonds to its electrons connecting it to Hydrogen don't change their structure or angles of engagement in ice. The 104.5 degree H-O-H angle theoretically remains intact. Instead the O-H-O angles become bent to accomodate the Hexagonal ice structural angles of 110 and 108 degrees.
I don't find that explanation very satisfying. It doesn't explain WHY ice alters it's bonding angles to create a more spacious (less dense) structure when water freezes. And it doesn't seem like ice would be as hard and strong as it is, if it's held together by a bond similar to the one that allows the 2 sides of the DNA chain to split so easily. From the light matter point of view, it is more likely that the change in bond angles from 104.5 to 108/110 is due to a more fundamental change in how Oxygen binds to Hydrogen when water molecules have less energy. That is, each Oxygen nucleus becomes bound to 4 hydrogen atoms with a single electron between each Oxygen-Hydrogen bond. And the 4 bonds each Oxygen nucleus participates in are tangent to a single proton face in each of the Oxygen nuclei.
All the proton faces involved in the bonds in these models of hexagonal and cubic ice are the 1; 2; 7; and 8 protons. So, looking at the Oxygen nucleus as a whole and which protons it chooses to share its limited energy in the most common ice structures, we see that it chooses the the 4 protons that are bound on top or bottom, to the central ring in the nucleus. The hadrons in the central ring are the most interconnected and likely the most steadily energetic part of the nucleus. The top and bottom hadrons are more loosely connected. This could make it easier for them to adapt their expression of energy to bind and unbind with other proximal matter. So the tendancy of Oxygen to bond in ice through the top and bottom protons seems natural.
In some of the higher forms of ice, Oxygen atoms form more planar hexagonal rings, with bond angles closer to 120 degrees. And these likely have a bond with one of the central ring protons. For example the natural footprint angle between the 1 and 3 protons is very close to 120 degrees. As are several other combinations between the top/bottom protons and center ring protons. So the structures in the higher forms of ice, that are created under unnatural conditions, could also be generated by the same Oxygen electron footprint, with the same type of uni-valent bond I'm proposing occurs in hexagonal and cubic ice.
The light model nuclear structures and resulting electron footprints of the organic elements are obvious and simple. And in the few sample molecules we've examined here, they fit well with the shapes our science tells us these elements assume. They also fit well with the shapes that many organic molecules assume. Such as proteins, DNA and RNA.
In the next part of this series, I'll describe a few guesses at the nuclear structures of some heavier elements and show how those fit into some molecular structures that those elements assume. We'll examine how some metallic nuclei lead to their crystal structures and conductive properties. We'll examine the light model basis for ferro-magnetism, and how iron's structure leads to an obvious solution as to how iron atoms act in hemoglobin to attach to and detach from Oxygen and Carbon Dioxide molecules in our bodies through a magnetic bond, rather than the covalent one that science supposes. And finally, we'll touch on how an element's nuclear structure would determine its spectographic signature. Why a piece of light matter is released from a nucleus as it balances the system of circulating light energy that makes up an atom. And how each different structure would accomplish this funtion in a unique way.