By the 1850s, the idea of slavery in the United States was being increasingly challenged. In response, those who supported slavery, both slave owners and non-owners, vigorously defended this institution. Traditionally, those who had argued in favor of the ethical and moral basis of slavery had turned to religion, usually claiming that God had created certain groups of people to be slaves. By the 1850s, the supporters of slavery were turning to science to show that some groups of people, particularly those from Africa, were inferior and thus it was to their benefit to be slaves of superior groups, such as the southern plantation owners.
One of the scientists in the United States whose work seemed to support the Southern position that slavery was natural was Samuel Morton. Morton graduated from the University of Pennsylvania and had an advanced degree from Edinburgh University in Scotland. He practiced medicine in Philadelphia and served as professor of anatomy at the University of Pennsylvania.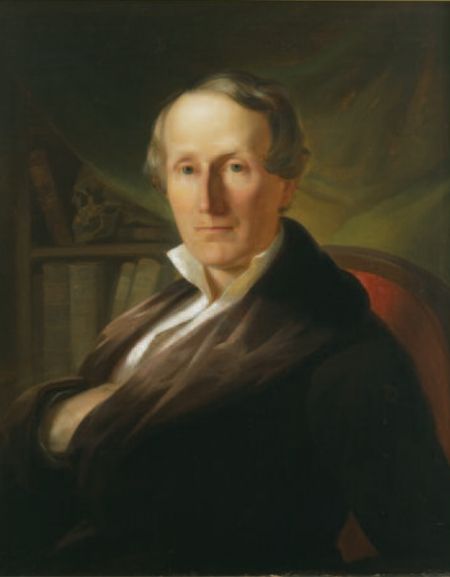 Morton developed a hypothesis of polygenism regarding human diversity: that the observed differences among humans around the world were not due to variety, but rather species. In other words, there was more than one species of humans and that these had been created separately. Each of these species had specific, irrevocable characteristics.
Using the bible as an infallible guide to human history, and his observations of three ancient Egyptian mummies, Morton had concluded that Caucasians and Negroes were already three distinct species 3,000 years ago. Since the Bible indicated that Noah's ark had landed on Mount Ararat about 4,000 years ago, this meant that there had not been enough time for Noah's descendents to account for other races. Therefore, Morton reasoned, the different races—species—had been originally created that way.
According to Morton, the intellectual capacity of each race was determined by the skull capacity. Basically, a brain with a large volume indicated a large intellectual capacity and a brain with a small volume indicated a lesser intellectual capacity. To test his hypothesis, Morton set about obtaining skulls from around the world and measuring their cranial capacity.
Correspondents from around the world sent skulls to Morton so that he could measure and classify them. From Egypt, Morton obtained hundreds of skulls from Egyptologist George Gliddon. These Egyptian skulls convinced Morton that the ancient Egyptians were not African Negros but Caucasian. This, of course, explained why they had been able to build the pyramids and their other great works.
Morton interpreted his data as proving that white people were biologically and intellectually superior to all others while African Negros had the least intellectual capacity. Other races fell in between. He found that Caucasians had the biggest brains (1,426 cc) and Negros had the smallest (1,278 cc). He published his findings in Crania Americana , An Inquiry into the Distinctive Characteristics of the Aboriginal Race of America and Crania Aegyptiaca.
With regard to Caucasians, Morton wrote:

"This race is distinguished for the facility with which it attains the highest intellectual endowments. ... The spontaneous fertility of [the Caucasus] has rendered it the hive of many nations, which extending their migrations in every direction, have peopled the finest portions of the earth, and given birth to its fairest inhabitants."
With regard to Asians, Morton wrote:
"So versatile are their feelings and actions, that they have been compared to the monkey race, whose attention is perpetually changing from one object to another."
With regard to American Indians, Morton wrote:
"Their mental faculties, from infancy to old age, present a continued childhood. ... [Indians] are not only averse to the restraints of education, but for the most part are incapable of a continued process of reasoning on abstract subjects."
With regard to African Negros, Morton wrote:
"The Negroes have little invention, but strong powers of imitation, so that they readily acquire mechanic arts. They have a great talent for music, and all their external senses are remarkably acute."
Morton died in 1851 and the Charleston Medical Journal noted:
"We of the South should consider him as our benefactor for aiding most materially in giving to the negro his true position as an inferior race."
Morton's ideas continued to be developed by his disciples Josiah Nott and George Gliddon in New Orleans. After being
laughed out of Boston
in 1850, Egyptologist George Gliddon had gone to New Orleans where he stayed with physician Josiah Nott.
A strong supporter of slavery, Gliddon was welcomed in New Orleans. According to Gliddon, God had deliberately created a superior white race separated from the inferior black race. As an Egyptologist, he argued that slavery had always existed and that his research in Egypt proved it. This research included the study of mummies as well as art work in the ancient tombs. For southerners, Gliddon's message provided both a divine and scientific sanction for slavery.
While his lectures in New Orleans were popular, Gliddon also wanted to salvage his scientific reputation which had been damaged in Boston. Teaming up with Nott, he wrote Types of Mankind: Or Ethnological Researches, Based upon the Ancient Monuments, Paintings, Sculptures, and Crania of Races and upon Their Natural, Geographical, Philological and Biblical History. In 738 pages of almost unreadable prose set in tiny type, Gliddon and Nott explained their concepts of polygenism and white racial superiority. The reviews, however, were not favorable. With Charles Darwin's new theory of natural selection, polygenism became discredited. While some of today's creationists and intelligent design supporters continue to promote some of these old ideas, science has moved on.
George Gliddon died in 1857 in Panama.
Josiah Nott, who had been a slave owner prior to Emancipation, died in 1873. He served in the Civil War as a Confederate surgeon. Following the war, he continued to promote scientific racism by promoting the ideas of Arthur de Gobineau.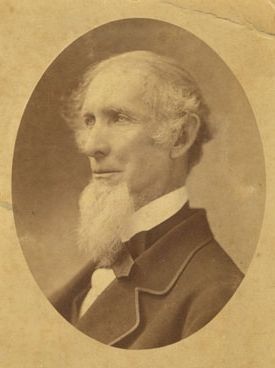 Nott is shown above.