It's Election Night in many states across the country, and we're liveblogging the results of races large and small. The biggest contests are for governor in New Jersey and Virginia and mayor in New York City, but there are many other hotly contested elections that are up for grabs, including attorney general and the state House of Delegates in Virginia; a key state Senate seat in Washington; and mayoral races in Boston, Seattle, and many other cities.
Fortunately, you can keep track of all these races with our handy cheat sheet, complete with candidate names, poll closing times, and results links for every contest. You'll also want to keep our Virginia county benchmarks post handy to gauge how well Democrats are doing in the Old Dominion as returns come in.
Results: New Jersey | New York | Virginia | Mayors | Others
---
4:30 PM PT: Feel the excitement at Cuccinelli HQ:

Crowd right at Cuccinelli HQ now to watch Virginia GOP chairman Pat Mullins
http://t.co/...
— @PeterHambyCNN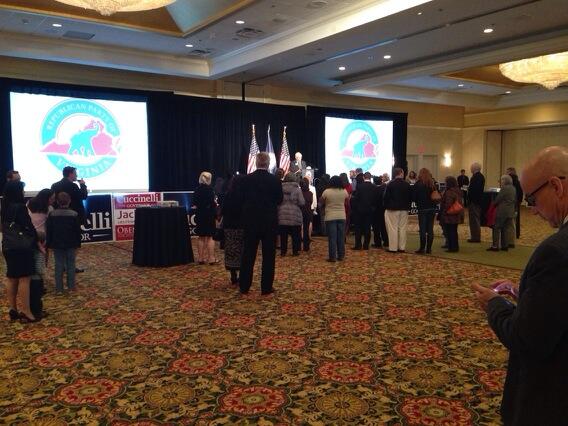 4:31 PM PT: Sadly, there's now a real divergence between the AP's VA results and VPAP's. The AP apppears to be further along, but still only 5% has been counted.
4:32 PM PT (Darth Jeff): 84/92 precincts in and Kriseman still leads 56-44. A win here would give Dems control of all the major cities in the critical Interstate-4 region and give the party some spring in its step ahead of next year's FL-13 special.
4:35 PM PT: Polls have closed in NC and OH. Competitive mayoral races in Cincinnati, Toledo, Greensboro, and Charlotte.
4:40 PM PT (Darth Jeff): We have our first win of the night. With almost everything reporting, Rick Kriseman has ousted Bill Foster in St. Petersburg.
4:42 PM PT (Darth Jeff): Early votes are reporting in Charlotte and they look very good. Democratic Mayor Pro Tem Patrick Cannon leads former Republican Councilor Edwin Peacock 64-36 in North Carolina's largest city.
4:46 PM PT: Right now, around 11% of the vote's been counted in Virginia, and you're undoubtedly seeing Republicans ahead. Don't panic, though. This is mostly red turf reporting so far, and Democrats are doing way better than they were four years ago.
4:46 PM PT (Darth Jeff): In Greensboro, early votes give Democratic Councilor Nancy Vaughan a 54-46 lead over incumbent Republican Robbie Perkins in the city's mayoral election. Perkins is a very moderate Republican but he has been hurt by personal problems over his divorce and bankruptcy.
4:59 PM PT (Darth Jeff): Early votes in Cincinnati's Democrat vs. Democrat mayoral race give former Councilor John Cranley a 62-38 lead over Vice Mayor Roxanne Qualls . The two mostly differed on local transportation issues.
5:01 PM PT (Laura Clawson): The liveblog continues here.