This community has been amazing in its support for those in need - both two- and four-legged.
I want to tell you a story below the fold, and ask for your help for a worthy - and helpless - recipient, saved from death and despair in the nick of time.
Follow me over the squiggle.

I'm always amazed at how little non-rescue people know and understand about what goes on in America's government-run animal shelter system. I encounter these people in my daily life - good people who do wonderful, caring things on a daily basis because it's just how they are. But because they've never spent time doing animal rescue, they just don't know. I'm a big fan of saying that once you know something, you can't un-know it. That's what I'm going to try to provide today: knowledge. And with that knowledge, I hope that you'll find it in your heart (and wallet - even just a little) to give some much-needed help.
First, a few facts. Some will be drawn from linkable sources, and some will be drawn from my own personal experience.
1. 3-4 million animals are killed in our public shelter system each year. Let that sink in. That's just slightly under 11K killed in shelters every day. That number should shock and sadden you.
2. Many of these animals - mostly cats and dogs - were someone's pet. Some of these people fell on hard times, passed away, or are just "those people" who think nothing of surrendering their pet.
3. Cats are rescued from shelters at a lower rate than are dogs.
4. Older cats have almost no chance whatsoever of being rescued from a kill shelter.
There are many more facts that I could provide that would paint the picture. I work with four to five area government-run shelters regularly. Some are great, some less so. But even the great ones can't escape what they are - they are kill shelters. They have X number of cages for the cats they receive. They can't turn away an animal surrendered to their shelter in their jurisdiction. Let's say they have 100 cages for cats, and they have 100 cats on their premises, one for each cage. If they get 20 cats seized from a hoarder situation in on a day, they have to select 20 of the current residents to be killed. Some shelters are able to kill owner surrendered animals on intake, by law. That's how it works. And as a result, a government shelter is pervaded with the smells of two things: the pungent scent of fear and death. It's inescapable, and cats that wind up in this predicament know instantly - through their most acute sense, that of smell - that they are in a Bad Place.
Enter the rescuer. We primarily do two things: we work with shelters to try to find a no-kill rescue for cats that are "urgent" (read: getting ready to be killed) and we try to work with people to avoid having their cats wind up in the shelter altogether.
My area of specialty is senior and special needs cats. We manage urgently against the tide of the "three strikes" rule. Strike One: owner surrendered. Strike Two: senior in age (7 years or older). Strike Three: some kind of special need - blind, has diabetes, is hyperthyroid, etc. and so forth. These cats have very little (if any) time in the shelter before they are killed. They are almost always "urgent".
This is hard, heartbreaking work. I rejoice in the cats I've been able to help - and I find myself, frequently, in tears over the ones that we just couldn't get out. I frequently find myself in a position of just focusing my efforts on the ones I can save, and closing my mind and protecting my heart to the countless others that I'm not going to be able to save. If you rescue, you know this feeling all too well.
So that brings me to the reason for this diary, and my ask for help. Meet Arielle.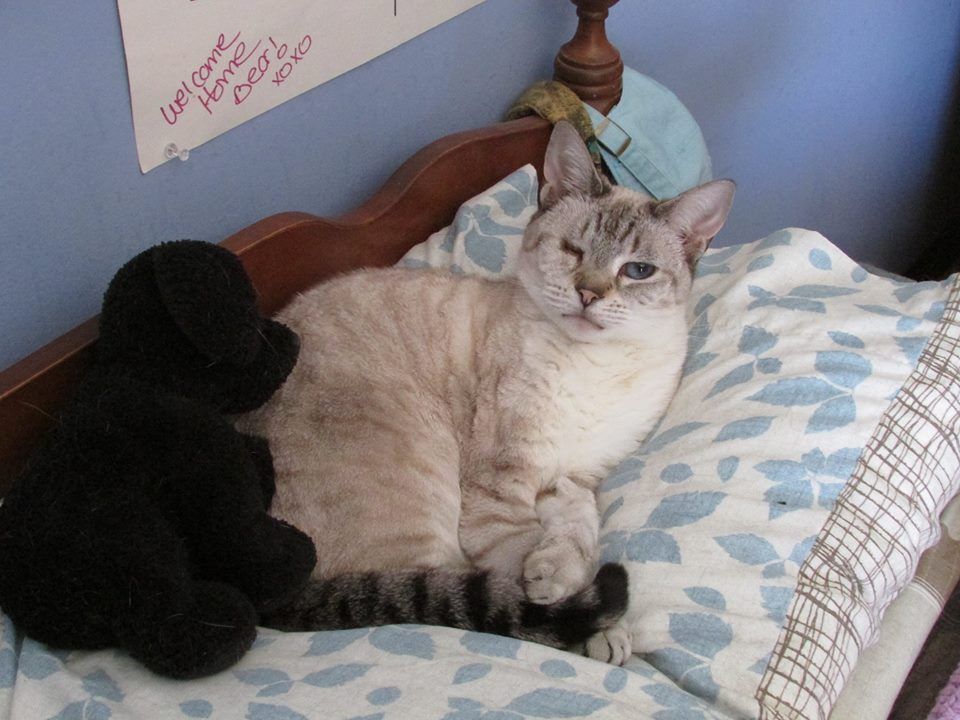 Arielle was rescued from a terrible hoarder situation. Sadly, we see this a LOT in rescue. I don't know the specifics behind Arielle's original hoarder person. But generally speaking, hoarders start out with good intentions and simply take on too many cats. Cats in an over-crowded space are often ill as the crowded environment causes common infections to be passed around and intensified. Further, hoarders rarely have the resources or wherewithal to get proper vetting and treatment to prevent the spread of illness.
Arielle was just under a year old when the hoarder situation came to the attention of local rescue folks. ALL of the cats in this situation were sick. Arielle, in fact, was so sick with an infection that it cost her her right eye. She had a terrible upper respiratory infection, was malnourished, and she was PREGNANT at the time of her rescue.
She was taken in by Kim Fleck and her partner Liz. Kim and Liz foster for several rescues - but Arielle was a private rescue. That means, simply, that Liz and Kim took her in under their own steam and with their own funds to save her. They did a GREAT job. Arielle's kittens were born (6 of them). Two, sadly, didn't make it despite great veterinary care and care from Kim and Liz. The other four thrived. Two have found their forever home together, and two still happily await that home at Kim and Liz's. Arielle improved after losing her eye, put on weight, and her infection cleared up.
Great outcome for Arielle, right?
Well, yes. Obviously. But, because of the abject neglect that Arielle suffered in the hoarder home, her teeth are horrible. I can't even imagine how bad her first "home" was, frankly - because you don't usually see teeth this bad in a cat that is so young. But her teeth are awful. They are painful to her - that's the first thing. But even worse than that, bad teeth in a cat - just like bad teeth in a person - leads to other life-threatening issues like kidney failure and problems with other internal organs. A cat that can't or won't eat normally due to severe mouth pain risks a deadly liver condition called Hepatic Lipidosis. Unlike people or dogs, cats can't go for more than a very short period of time without eating before HL, or fatty liver disease, onsets.
So while Arielle is safe - and cared for - she is not out of the woods. The situation with her teeth must be addressed. Veterinary dental procedures are wildly expensive. They are not covered under virtually any pet insurance plan. The estimate for Arielle's surgery is $2,000. She is the third cat rescued by Kim and Liz in the past months to need this type of work to thrive and get healthy.
Kim and Liz, like most of us, aren't endless fonts of money. They haven't won the lottery, they aren't independently wealthy, and they spend what disposable income they have on the animals they rescue. They selflessly give this money and time to these animals to give them their second chance; to nurture them back to health, to witness their personalities shine through once healthy, and to rejoice (and cry a little!) when they move on to their loving forever homes. They've been really hit, in a small period of time, with enormous veterinary bills to keep these cats healthy and to keep their chances alive.
Arielle's fundraiser sits at $1,214 raised against the $2,000 goal. Her surgery is TUESDAY (it can't wait any longer). Kim and Liz have got to close the $786 gap between now and Tuesday.
I will match the first $100 donated. You can follow Arielle's progress via updates to her fundraising page.
If you want to see a copy of the veterinary estimate or have ANY other questions you need answered before you feel comfortable donating, please email me - renarf (at) comcast (dot) net. I'll put you in touch directly with Kim. You can also use the link on her name to PM her via Facebook. The funds are tied directly to her Paypal account so that they can finally, at last, get Arielle's dental work completed. They have been trying to raise these funds for weeks now - and it's crunch time.
Arielle falls into that second category that special needs rescuers focus on: preventing high risk cats from winding up at a kill shelter. There is zero doubt that had Kim and Liz not stepped in, Arielle would have been killed quickly at a shelter. Her health status alone would have been enough - but the fact that she was pregnant as well would have put her high up on the list of cats to be destroyed. Please support their great work, and thank you for reading.
[UPDATE] I didn't realize when I posted the diary that Arielle's rescuers, Liz and Kim, are both community members!! Liz's nick is lizmugavero and Kim's is Feral20. They both joined when nannyboz and Persiflage posted to help them help their kitties in need, and they've decided that this community, generally, is AWESOME. :)