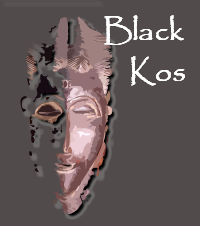 My Hero Has Passed, Long Live His Memory
dopper0189, Black Kos Managing Editor

On July 18th 1918 to the Xhosa people of Southern Africa, once was born a child named Rolihlahla.


Rolihlahla in the Xhosa language means "to pull a branch of a tree", or more colloquially "troublemaker". Rolihlahla's paternal great-grandfather Ngubengcuka (who died in 1832), ruled as the Inkosi Enkhulu, or king, of the Thembu people. However, because he was only the Inkosi's child by a wife of the Ixhiba clan (the so-called "Left-Hand House"), the descendants of his branch of the royal family were not eligible to succeed to the Thembu throne. Rolihlahla's father, Gadla Henry Mphakanyiswa, served as chief of the town of Mvezo. However, upon alienating the colonial authorities, they deprived Mphakanyiswa of his position, and moved his family to Qunu. It seems chief Mphakanyiswa, had a little Rolihlahla or "troublemaker" in him.
You see more often than not in the "adult world", the term "troublemaker" is given a negative connotations. Parents often tell their children to "be quiet", "wait your turn", and "don't cause trouble." "Troublemaking" is often confused with lawlessness, anarchy, and havoc.
"Troublemakers" are called teacher's worse nightmares. Troublemakers are often labeled "problem childs". But all of the greatest champions of social movements around the world have been "troublemakers". Martin Luther King Jr. was a "troublemaker", Susan B. Anthony was a "troublemaker", Harriet Tubman was a "troublemaker", Václav Havel was a "troublemaker", Gandhi was a "troublemaker", Lech Wałęsa was a "troublemaker". O yeah that young Xhosa trouble maker "Rolihlahla"? Well he grew up to make a name for himself in his own right. This young "troublemaker" grew up to be one of the greatest "troublemakers" the world has ever seen. Nelson Rolihlahla Mandela.



So how does this long history of "trouble-making" and social justice fit into contemporary American society? Well as we turn towards the political news of the day we are being told by our party "elders" to "be more quiet", "wait your turn", and "don't cause so much trouble." On issues like combating economic inequality, getting sensible gun laws, getting single payer or a public option for healthcare, addressing climate change, too often the grassroots are advised to not cause so much "trouble" for elected officials. "Don't you know many of these elected officials come from "red states" we are told. As if the red state's residents don't need universal healthcare and climate change to be addressed. "If you cause too much trouble we may lose our majority in the Senate" and "we can't win back the House", we are warned. We are scolded and derided as the leftwing version, of the Tea Party.


But no battle was ever won, no great victory was ever achieved without the help of a few "troublemakers". So as we blast our email, write our letters to the editor, and call our elected reps, one word always should come to mind. If you are ever turned back by the powers that be, told to go slower, to wait, to not cause so much trouble, remember one word.


Rolihlahla. It worked out pretty good many times before.



I wrote much of the first part of this diary, years ago when in the dark days of 2005, I felt I (and we) needed some political inspiration (I updated some of this issues to fit today's politics). Mandela will always be my hero. On Feb. 11, 1990, I watched on TV as Mandela walked out of a prison after 27 years to fulfill his mission: dismantling the country's apartheid regime. By 1994 the Nobel Prize winner had achieved just that by establishing the first democratic elections in South Africa and becoming its first black president. The towering statesman died last night at the ripe old age of 95.
I only skipped school twice in my entire life. One time was to go to Logan airport in Boston, Massachusetts, to watch Nelson Mandela arrive in the US for the first time (that's also a sad commentary on these times, as you can't get anywhere near a gate today unless your flying but that's a story for a different time). I remember the excitement as a group of us young teenagers got to watch our hero arrive. Even being that young, I remember supporting the South African boycott and seeing that it worked, changed my whole attitude to political activism.
I remember watching as Mandela's administration replaced the racist white-minority regime that had enforced segregation of black and white people in a policy known as apartheid. Mr Mandela won admiration around the world when he preached reconciliation after being freed from almost three decades of imprisonment.
FW de Klerk, South Africa's last white president, who ordered Mr Mandela's release from jail, called him a "unifier" and said he had "a remarkable lack of bitterness". After being jailed for so many years, to emerge from prison and still preach racial reconciliation, was such an inspiration to me. I marvel at his ability to overlook anger and focus on the common good. I have always tried to incorporate that message into my daily life.
It is very sad to know that the person I considered my political hero has passed. But it is amazing to look at the throngs of people in South Africa, gathered not for mourining but to celebrate the life.
To get a sense of the man watch this. Mandela's famous address to a rally in Cape Town upon his release from prison on Feb. 11, 1990. He concluded the speech by quoting the statement he had made 26 years earlier during his trial:

"I have fought against white domination and I have fought against black domination. I have cherished the ideal of a democratic and free society in which all persons live together in harmony and with equal opportunities. It is an ideal which I hope to live for and to achieve. But if needs be, it is an ideal for which I am prepared to die."
Thanks you Nelson "Rolihlahla" Mandela. Enjoy your well deserved rest. Thank you for leaving this place we call Earth just a little better than what you found.



~~~~~~~~~~~~~~~~~~~~~~~~~~~~~~~~~~~~~~~~~~~~~~~~~~~

~~~~~~~~~~~~~~~~~~~~~~~~~~~~~~~~~~~~~~~~~~~~~~~~~~~
Class ,money, race, gentrification all in a street name. WRLN: Why Renaming A Street After A Local Black Hero Scares One Fort Lauderdale Neighborhood.
~~~~~~~~~~~~~~~~~~~~~~~~~~~~~~~~~~~~~~~~~~~~~~~~~~~
In every major city, there's at least one street sign that tells black folks they're in the right place, but tells white folks that they probably took a wrong turn.
For decades in Fort Lauderdale, one of those signs has read Sistrunk Boulevard.
The boulevard, which runs through the city's historically black business district, is currently at the center of a contentious debate between two communities. And the dispute is raising questions about what it takes for a neighborhood with a troubled past to rehabilitate its image.
Sistrunk Boulevard currently runs west from Andrews Avenue to the edge of a mostly black neighborhood. East of Andrews, however the boulevard's name is "Northeast 6th Street," and runs through Flagler Village, a neighborhood steadily gentrifying into a predominantly white community.
A proposal to extend the Sistrunk name east through Flagler Village to Federal Highway isn't sitting well with many of the residents. Flagler Village resident Andrew Byer said the perception of a Sistrunk corridor implies a bad neighborhood.
Thanks to a $15 million infusion of city, county and federal funds, the Sistrunk Boulevard Infrastructure Project has led to more on-street parking, wider sidewalks, funky retro-style streetlights, landscape enhancements and new bus shelters.
"There are just certain neighborhoods people don't want to go walk in and don't want to be in," he said. Byer, 51, and his wife have been living in Flagler Village for the last two years. He said they saw the neighborhood as an up-and-coming community with great potential, both in terms of increasing property values and sheer livability. "And those of us of who do live here and are trying to develop our neighborhood and improve it would prefer to not change the name," said Byer.
Sixty-seven-year-old Ed Waterman owns property in Flagler Village and said that the name "Sistrunk" evokes "negative connotations." "It has a history of being a blighted area," said Waterman. "It has a history of being a focal point of crime."
But 43-year-old Tresia Biaggi, who lives further west near the east end of the existing Sistrunk corridor, said she feels safe enough to walk her two small dogs along the strip, alone. "That was then, this is now. It's changed! Come on!," exclaims Biaggi. "They cleaned it up a lot," says Biaggi. "Now it's livable."


Credit African-American Research Library and Cultural Center
During segregation, the boulevard now known as Sistrunk was the vibrant 'Main Street' of Fort Lauderdale's black community.
~~~~~~~~~~~~~~~~~~~~~~~~~~~~~~~~~~~~~~~~~~~~~~~~~~~


~~~~~~~~~~~~~~~~~~~~~~~~~~~~~~~~~~~~~~~~~~~~~~~~~~~
13-year-old Landry Thompson was on a trip with her African-American dance instructor and dance partner when police handcuffed them all and placed Thompson in Child Protective Services. The Root: White Teen, Black Guardians: Something Must Be Wrong.
~~~~~~~~~~~~~~~~~~~~~~~~~~~~~~~~~~~~~~~~~~~~~~~~~~~
landry Thompson has been dancing since she was 7. For the past few years she's been practicing hip-hop routines in Oklahoma and dreaming about one day being able to travel to Houston to dance with Chachi Gonzales at the Plant Funk Academy.
Her parents made that dream come true this past weekend when they allowed her to fly to Texas with her dance instructor, Emanuel Hurd, 29 and dance partner, Josiah Kelly, 22.
The three spent the better part of the day at the dance studio and even took part in a video shoot. The exhausted trio left, ate dinner and stopped at a gas station around 3 a.m. to program their GPS to find their hotel.
"Everything was going amazing. It was a beautiful day .... and then everything went bad," Hurd told ABC News.com.
According to Hurd, he dozed off and awoke to police surrounding the car. Hurd and Kelly were taken out of the car and told not to worry that they weren't be arrested, just detained, Hurd told the news station.
"[The officer] puts the handcuffs on very, very tight [and] throws me in the back and does the same to Josiah," Hurd said. "All the while I'm looking at Landry. She's terrified."
Landry, who was still in the car crying, called her mother on her cellphone. She tried to hand the phone to the officers hoping her mother could clear things up. The cops refused Landry told ABC News.com
The officers began checking for her name on a runaway list and when they couldn't find it they were convinced that Landry was giving them a fake.
A police officer eventually took Landry's phone and spoke to her mother.
"He got on the phone and he said, 'Are you aware your daughter is in Houston, Texas, with two black men?' And I said, 'Yes, I am aware of that,'" Landry's mother, Destiny Thompson, told ABC News.com. "Then he started mumbling stuff about my parenting, why I would let her do that and then he proceeded to tell me the people she was with were intoxicated or on something. There's no possible way these men were intoxicated, that's not how they live," Destiny told ABC News.com. "I knew right then I had some trouble."


Landry Thompson, Emanuel Hurd, Josiah Kelly
~~~~~~~~~~~~~~~~~~~~~~~~~~~~~~~~~~~~~~~~~~~~~~~~~~~


~~~~~~~~~~~~~~~~~~~~~~~~~~~~~~~~~~~~~~~~~~~~~~~~~~~
The U.S. Embassy in Port-au-Prince says the number of Haitians who have tested positive for HIV has declined over the past decade. MiamiHerald: HIV rates in Haiti drop over decade.
~~~~~~~~~~~~~~~~~~~~~~~~~~~~~~~~~~~~~~~~~~~~~~~~~~~
The diplomatic mission says the drop is nearly 10 percent and the country's infection rate is now at 3.67 percent. The figures come from Haiti's Ministry of Public Health. The infection rate in the US is under 1 percent.
The embassy also says more people in Haiti are testing for HIV and AIDS, from 58,433 in 2004 to 839,033 now.
Haiti once had one of the highest AIDS rates outside of Africa but that has dropped in part because of a massive influx of foreign aid that has made treatment and prevention more available.
The U.S. Embassy issued the statement to commemorate World AIDS Day, [was] is Sunday.


~~~~~~~~~~~~~~~~~~~~~~~~~~~~~~~~~~~~~~~~~~~~~~~~~~~

~~~~~~~~~~~~~~~~~~~~~~~~~~~~~~~~~~~~~~~~~~~~~~~~~~~
Hate to break it to you. But we've been here before. BuzzFeed: No, 2013 Was Not The Year Of "The Black Movie".
~~~~~~~~~~~~~~~~~~~~~~~~~~~~~~~~~~~~~~~~~~~~~~~~~~~
It's simple enough to recite the names of many of this year's "black movies" — that is, films directed by black directors and starring black actors. After all, the stories that have declared 2013 the breakout year for black filmmakers always list them.
Fruitvale Station (critical darling). 12 Years a Slave (critical darling). The Butler (huge hit). 42 (huge hit). Oldboy (flop). Tyler Perry's A Madea Christmas (money in the bank for Perry). Baggage Claim (widely panned). Tyler Perry Presents Peeples (flop).
But honoring the achievements of black filmmakers by declaring it "their" year does them a disservice. Lumping together heavy dramas with lighthearted romcoms simply because of the skin color of the actors or director prevents these films from being measured against the whiter counterparts that actually share their genre — inadvertently ghettoizing the former and protecting the latter from scrutiny. It's difficult to imagine pulling, say, Blue Is the Warmest Colour, The Great Gatsby, The Hangover Part III, and The Fifth Estate into a story declaring 2013 the year of the "white movie."
Take The Best Man Holiday, which is this year's "surprise" hit. Declared an over-performer by trade papers and mainstream outlets alike, the film made $30 million on its November opening weekend — even beating Thor on Friday night.
But Holiday writer and director Malcolm D. Lee scoffed at the "over-performance" label. "I certainly thought we could do somewhere north of mid-20s, north of 25," he told BuzzFeed.
"It's not that [Holiday] over-performed, it's that folks weren't tracking this audience," said John Ridley, the screenwriter of 12 Years a Slave, the unflinching American real-life story that itself is likely to see a slow burn of success as awards season approaches. Ridley sees Holiday's success as inevitable, considering its main elements: "Likable stars — a grip of likable stars, eight or nine together — in a romantic comedy reunion that's very funny, playing at a time when all the serious films are coming out." (Its A+ grade from Cinemascore means a "regionally balanced and statistically robust sample of opening night moviegoers" loved it.)


Chris Ritter for BuzzFeed
~~~~~~~~~~~~~~~~~~~~~~~~~~~~~~~~~~~~~~~~~~~~~~~~~~~
Welcome to the Black Kos Community Front Porch!
Pull up a chair and sit down a while and enjoy the company.