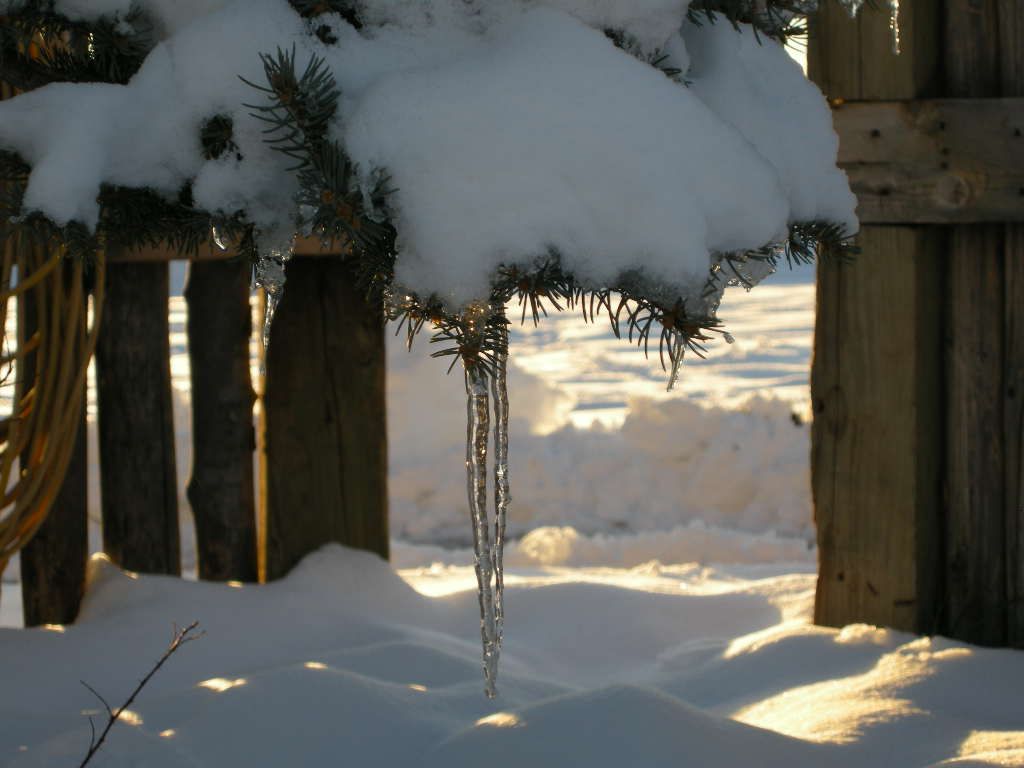 Christmas is a week from today, and we elves are hard at work. Wings has been in the studio most of the last two weeks, creating gorgeous one-of-a-kind pieces to fill holiday orders, while I take care of the rest.
But sometimes, the elves need a little help.
Over the jump, you'll find a lovely selection of items from our gallery: first, Wings's own silverwork, from bracelets to earrings to necklaces and much more; second, a wide array of items, most smaller and/or relatively modestly priced, from a variety of area Native artists whose work we carry. And these are only a small selection; there's much more available at our Web site, plus some items by other artists that are not shown. If you're looking for something specific, let me know.
A couple of caveats:
1) This year, we have no small ornaments such as dreamcatchers or last year's little bow-and-arrow ornaments made by a couple of little local girls. While packing up the gallery for closure, one case was subject to water damage, and those items were in it.
2) We're reaching the breaking point for shipping orders for Christmas. After today, it's unlikely that anything ordered can be guaranteed simply with Priority Mail; most will require Express Mail or FedEx shipping to ensure delivery for December 25th, so if you want the item under the tree for Christmas morning, we'll need to factor in extra shipping costs.
SECRET SANTA ITEMS
We also have three Secret Santa items that are outstanding from way back in late June or early July. Each is only partially funded. We need to get their funding completed so that the pieces can find their way into the bag on Santa's sleigh, and thence to their real owners — none other than Ann (winglion) and Sara R.
For Ann:
Total: $350 + shipping/handling/insurance
Already paid: $170
Balance: $180 + s/h/i
For Sara: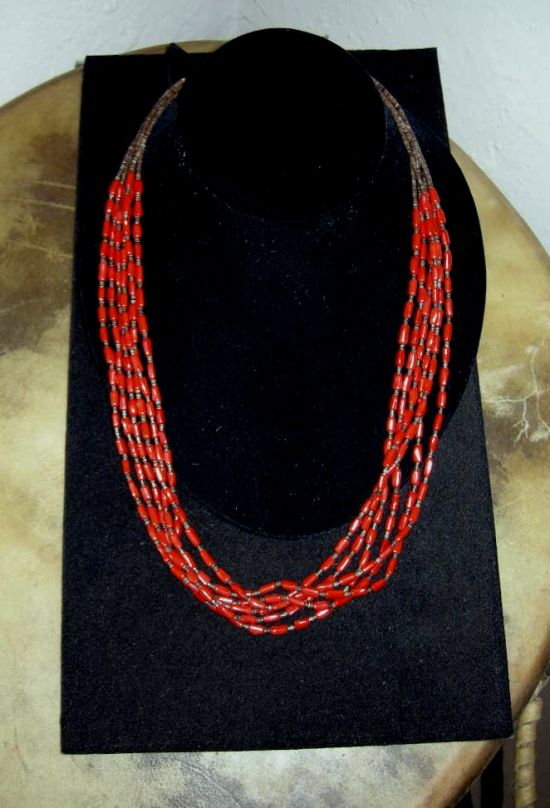 Total: $675 ($350 and $325, respectively) + s/h/i
Already paid: $175
Balance: $500 + s/h/i
If all three items can be shipped together, that will save substantially on shipping and handling costs. In that event, I anticipate that those costs plus insurance will run in the neighborhood of $25; if each goes separately, it'll be more.
SECRET SANTA MATCH!
An anonymous Kossack has offered a total of $100 to be matched by other donors: $50 toward Ann's necklace, and $50 toward Sara's two necklaces. If you want to donate toward these items for Sara and Ann and wish to have it count toward the match, leave me a note in the comments or send me a message.
Over the jump are many, many more options for giving the gift of gorgeous Native art.
SILVERWORK BY WINGS
I know I'm biased, but Wings's work is truly magic. I've lost all count of the number of times that someone has come into the gallery, or commissioned a made-to-order piece, only to try it on and burst into tears because something in it resonates so deeply within that person's own spirit. Sometimes it's a memory of a loved one; sometimes it's a beloved pet; sometimes it recalls a particular place or time; sometimes it's a symbol of a very deep need, whether already fulfilled or still being sought.
But I've seen it. I've hugged countless clients, held them while they cried on my shoulder, worked hand-in-hand with them to find just that special piece for that special someone who needs that amorphous something desperately.
Do you have someone like that on your list? If so, maybe this is another place to look.
And remember, these are only a few of the items available; check out our Web site for other listings, or message me with details of what you need.
BRACELETS
One of Wings's newest, it incorporates a sense of motion and celestial jewel tones. They say that lapis is a stone of leadership, while amethyst is supposed to be healing. Both of them make me think of the desert sky at twilight, especially this time of year, when the air is crystal-clear and the colors are impossible deep.

Blue Winds Cuff. Sterling silver; lapis lazuli, amethyst. $425 + s/h/i.
Then there are the children. Most of the time, Indian jewelry winds up being too expensive for a child — but there are exceptions. I've sold similar items to people with child relatives and loved ones who are celebrating a milestone, like a First Communion; or undergoing something traumatic, like a medical procedure; or who have lost of loved one and need a tangible symbol of that person. If you know a little one in a similar situation, these child bracelets might fulfill a similar function.
Left: Amethyst Blossoms child's cuff; sterling silver, amethyst; $135 + s/h/i. Right: Snowflakes child's cuff; sterling silver, snowflake obsidian, denim lapis; $135 + s/h/i.
Once in a great while, Wings steps outside of his usual medium of sterling silver to work in another form. Last year, he came into possession of some copper, and among other items, made a few cuff bracelets (I wear one; this and two others appear on the Web site). This one features anticlastic shaping and is hammered by hand, hundreds of times, to create the shimmery water-like effect of the surface.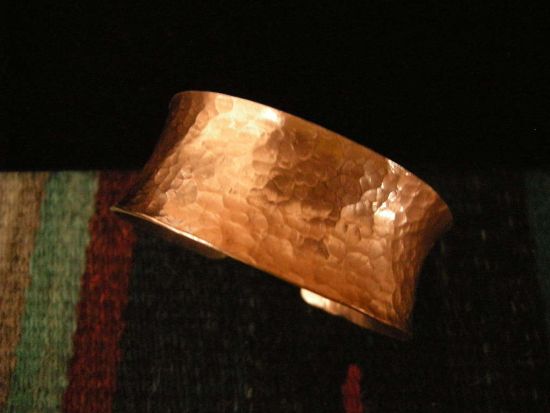 Copper Lake cuff; copper; $175 + s/h/i.
BUCKLES
Belt buckles are very basic accessories here in Northern New Mexico, for everyone. Wings tries to design versions that are versatile and cost-effective: Usually, they can be worn by either men or women (as is the case with all of these), and often are interchangeable between ordinary dress belts, Western-style everyday belts, and traditional concha belts.

Night Lodge belt buckle; sterling silver; $255 + s/h/i.

Sunburst Sky concha-style belt buckle; sterling silver, turquoise; $480 + s/h/i.


The Way of the Sun concha-style belt buckle; sterling silver, turquoise; $525 + s/h/i.
EARRINGS
Earrings are our most difficult item to keep in stock; they sell out almost immediately. Fortunately, they're also some of the easiest items for him to make, so if you like a pair that's been marked "Sold," let me know; subject to availability of stones in our inventory, he can most likely create a version just for you.
These are his newest, and we have two pairs: The ones shown are, if memory serves, about 2.5" long, excluding wires; the other pair is about a half-inch shorter, and $10 less.

Silver Spiral earrings; sterling silver; $115 + s/h/i.
These are shaped like stylized Spirit Beings, bearing the Skystone, a symbol of rain, with dozens (hundreds?) of tiny hand-stamped raindrops down the front of their traditional dresses.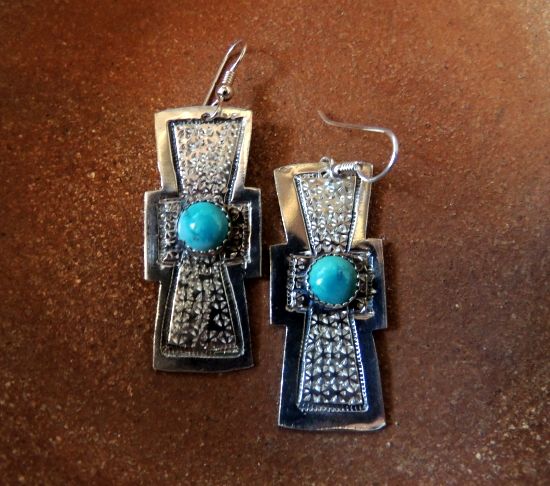 Rain Women earrings; sterling silver, turquoise; $225 + s/h/i.
These are some of my favorites, large and bold. If you (or a woman in your life) is the type of person to pull of big, bold, and beautiful, these are for you (or her): hand-cut, hand-stamped silver conchas with the dome chased by a hand-stamped serpentine pattern.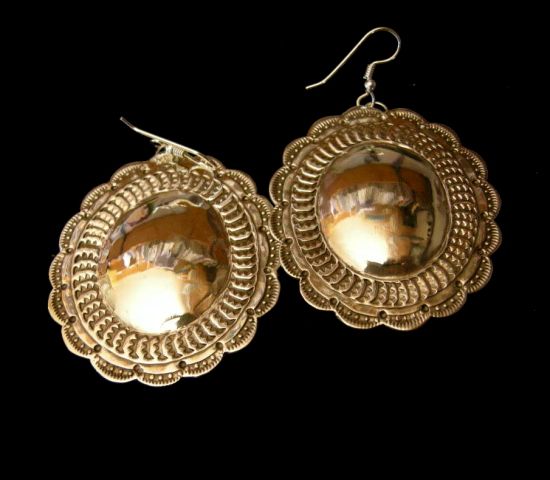 Sun Serpent earrings; sterling silver; $235 + s/h/i.
NECKLACES
Some of his most popular necklaces are those representing the Spirit Messengers - dragonflies and butterflies. We still have two of the dancing personifiers, however, in very different styles.
Do you know a woman who needs to hear that she's a leader? Maybe this is the one for her: sterling silver ingot with a hand-stamped dragonfly overlay, bearing a blossom on one side and a denim lapis cabochon on the other.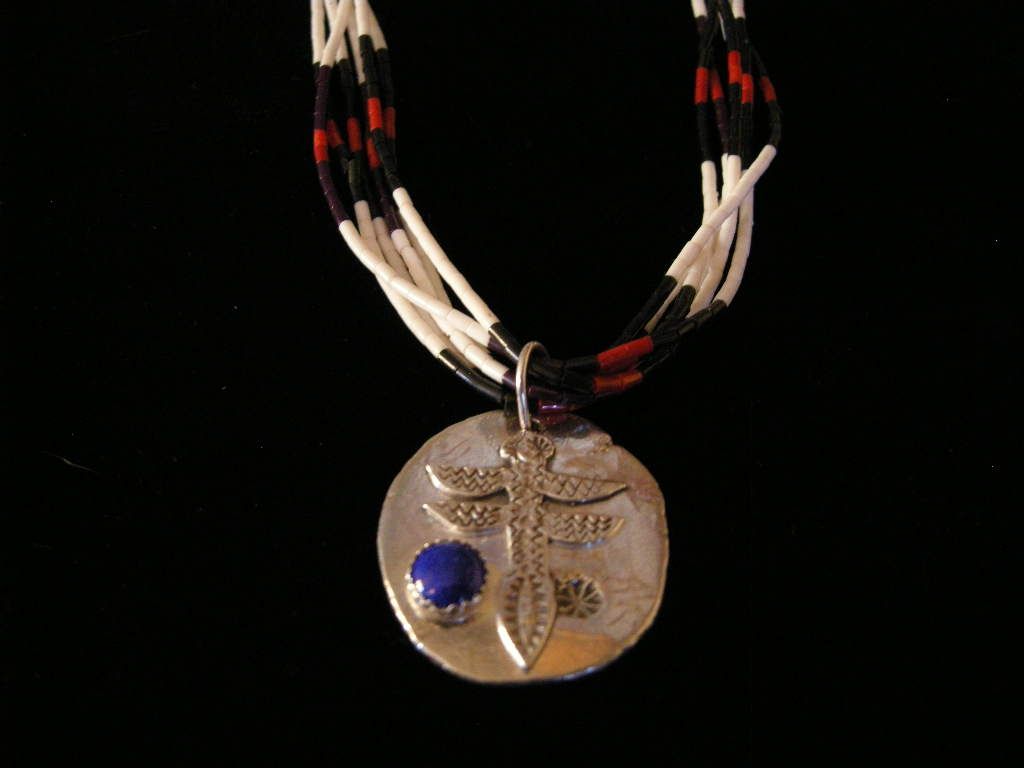 Dragonfly necklace; sterling silver; denim lapis; multicolored tube beads; $295 + s/h/i.
Or maybe the message is one of stability and hope. This messenger, hand-stamped on sterling silver ingot with whimsically curved antennae, hangs from hand-strung beads of onyx and turquoise — onyx for grounding, stability, divination; the turquoise Skystones for abundance, hope, and protection.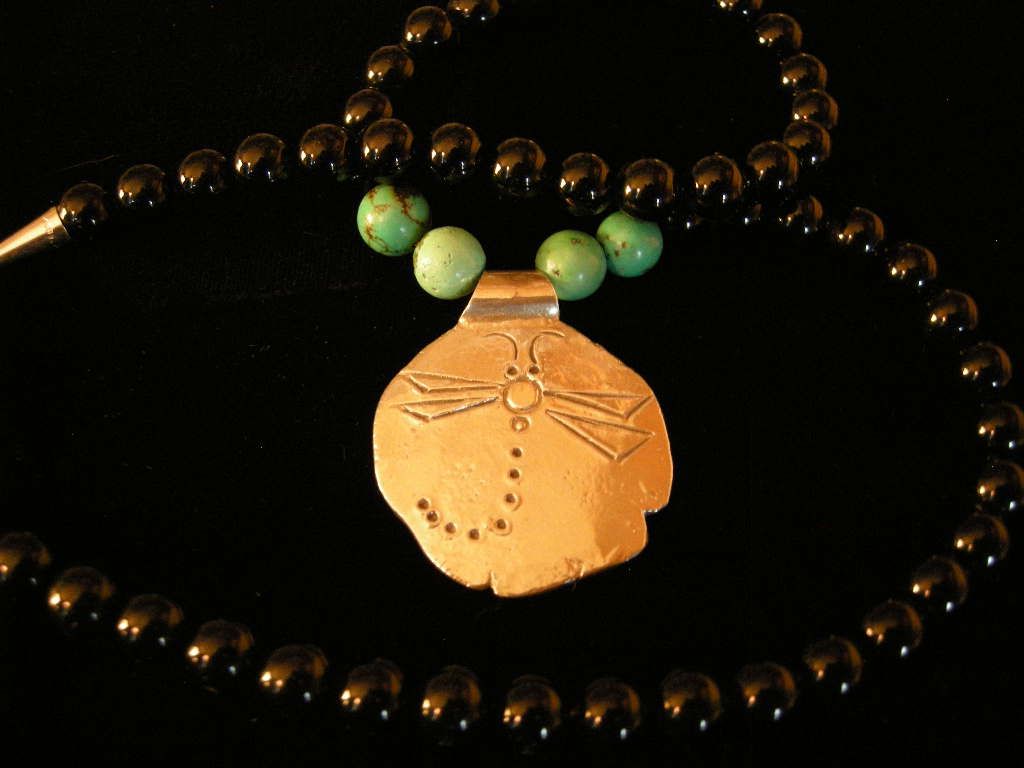 Dragonfly ingot necklace; sterling silver; onyx; turquoise; $295 + s/h/i.
Does the season make you or someone you love SAD (with Seasonal Affective Disorder)? Do the short days and long nights give you (or him or her) the Winter Blues? They say that light is the cure. The light at Taos Pueblo is famous for its magical, otherworldly properties. Now, it's been captured in a simple silver setting so that you can wear it against your skin and keep some extra light with you all winter, wherever you go.

Taos Light necklace; sterling silver; rutilated quartz; $325 + s/h/i.
OTHER ARTISTS
Of course, in addition to Wings's jewelry, we also carry a great deal of other Native art. Only a few categories are represented here, and even then, only a few pieces from each. We also have traditional leatherwork, traditional weapons, and much, much more in every category shown here.
DRUMS
We have two smaller hand drums in stock that are suitable for either children or adults. These are dual-sided, with artwork on one side only, and each comes with a traditional beater. We also have several large upright powwow-style drums in stock (all by Lee Lujan of Taos Pueblo). Because of their size, extra shipping charges apply; if you're interested, message me for photos and prices.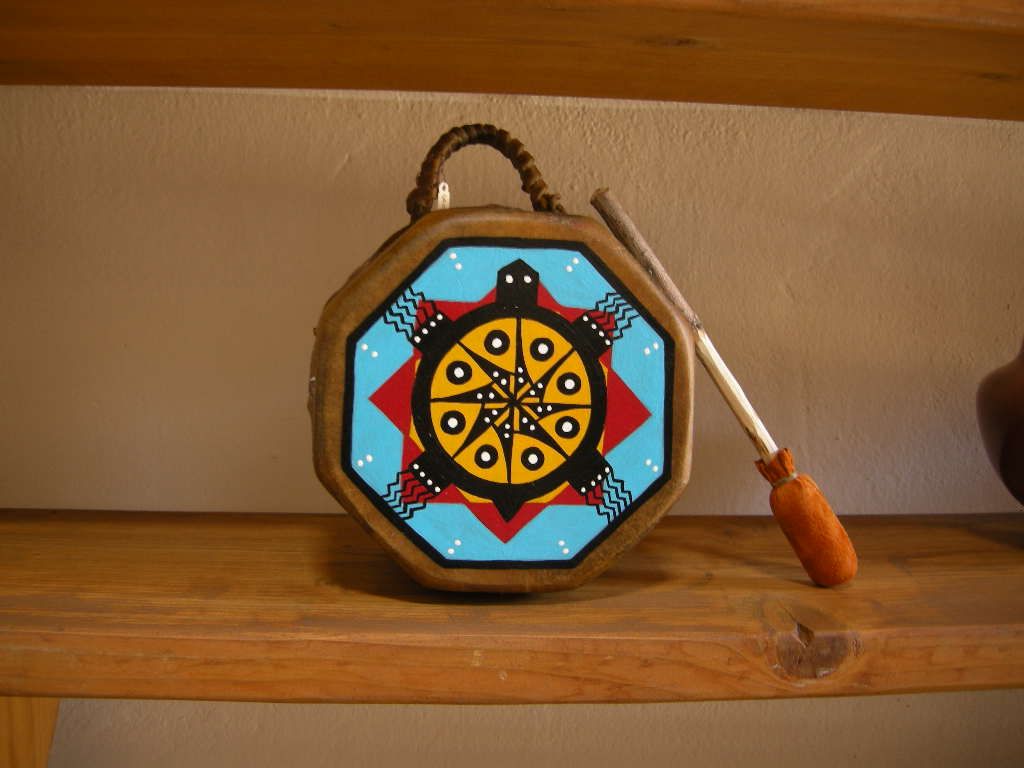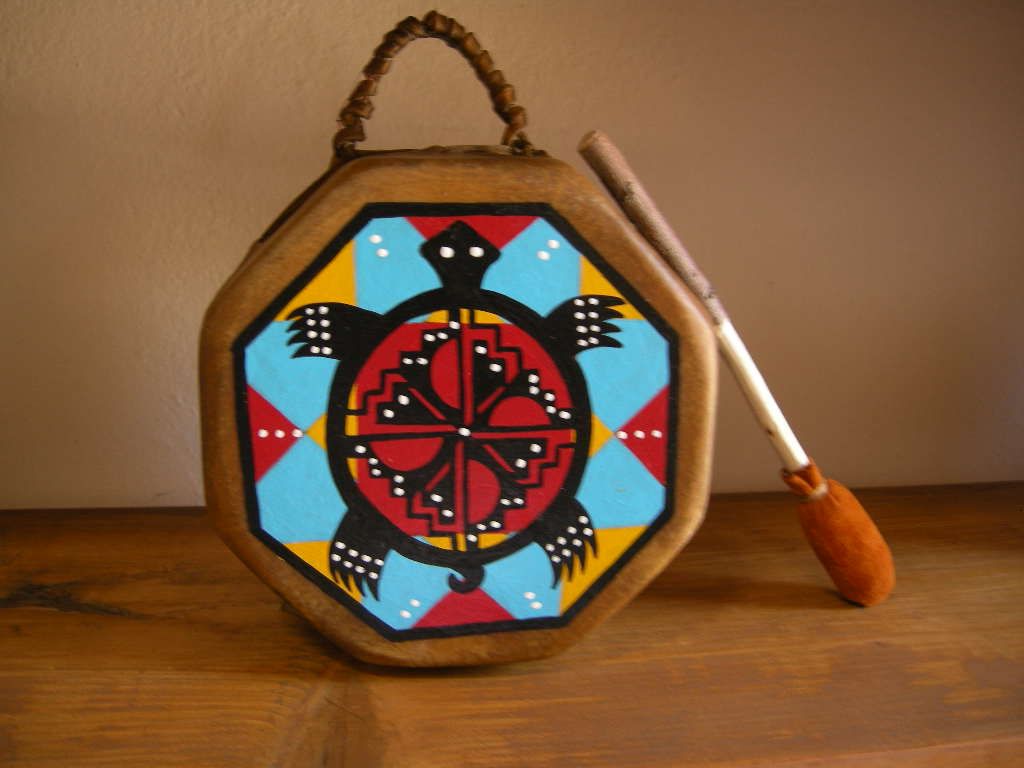 By Elk Good Water; Taos Pueblo. $125 each + s/h/i.
We also carry a variety of standard-sized hand drums for traditional use. My favorite is this one, with the Sacred White Buffalo placed at the Four Directions.


By Elk Good Water; Taos Pueblo. $375 + s/h/i.
FETISHES
Our stock of fetishes is a bit on the low side, but we still have a few. These are some of my favorites.
First is by one of our master sculptors, who works mostly in varieties of alabaster. Occasionally he'll do a small sculpture or a miniature fetish, like this furry beaver of pink alabaster, with a criss-cross tail and inlaid turquoise eyes.

Ned Archuleta; Taos Pueblo. $125 + s/h/i.
This is one from Wings's private collection, unsigned, but clearly Zuni and believed, based on specific detail, to be by Jeff Eriacho, known for his bears. This one, of dark green serpentine, carries a fish in his mouth, another frequent characteristic of Jeff's work.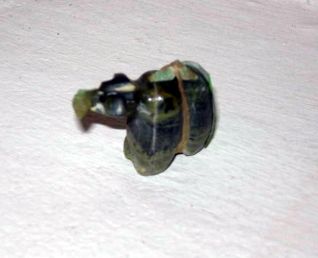 $70 + s/h/i.
This is another one from his private collection, of his favorite animal, the horse, rendered here in ricolite, a fossilized form of banded serpentine. Also unsigned, but again, based on specific stylistic traits, it's believed to be by Lavies and Daisy Natewa of Zuni Pueblo.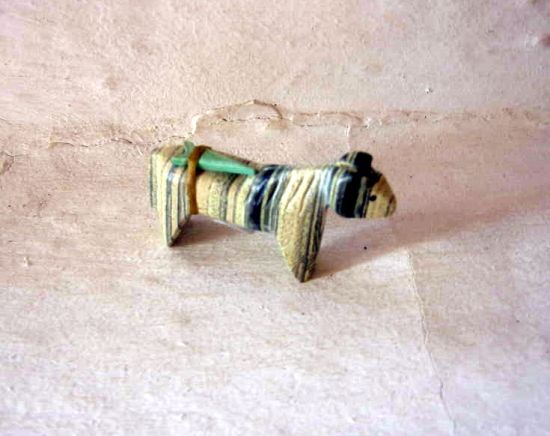 $135 + s/h/i.
JEWELRY
We do carry some Indian jewelry by other Native artists: old pieces from private collections, pieces pawned by and traded with other Indian artists, and some new items from specialists in media other than his own, such as beadwork.
The feather jewelry necklaces below are by Jeremy Gomez, nephew to his late cousin and close friend Emerson, who was himself a master carver. These pieces are rendered in orange alabaster, and the necklaces feature painstaking turquoise chip inlay down the shaft.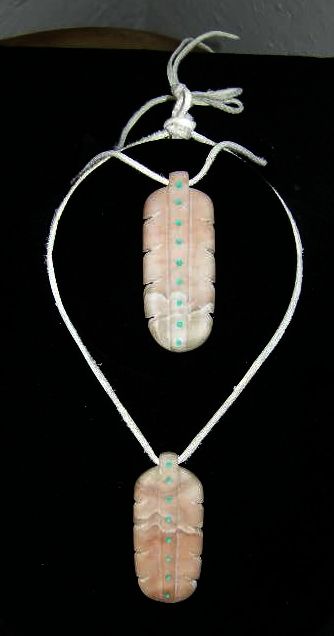 Longer necklace: $195 + s/h/i. Shorter necklace: $185 + s/h/i.
We also carry a wide variety of inlay and chip-inlay earrings by Priscilla Aguilar of Kewa Pueblo (known in recent centuries as Santo Domingo Pueblo; a few years ago, the people of Kewa reclaimed their name). This is only a sample; we have several other in various stones. These were originally $235 a pair, but are on sale for the holidays.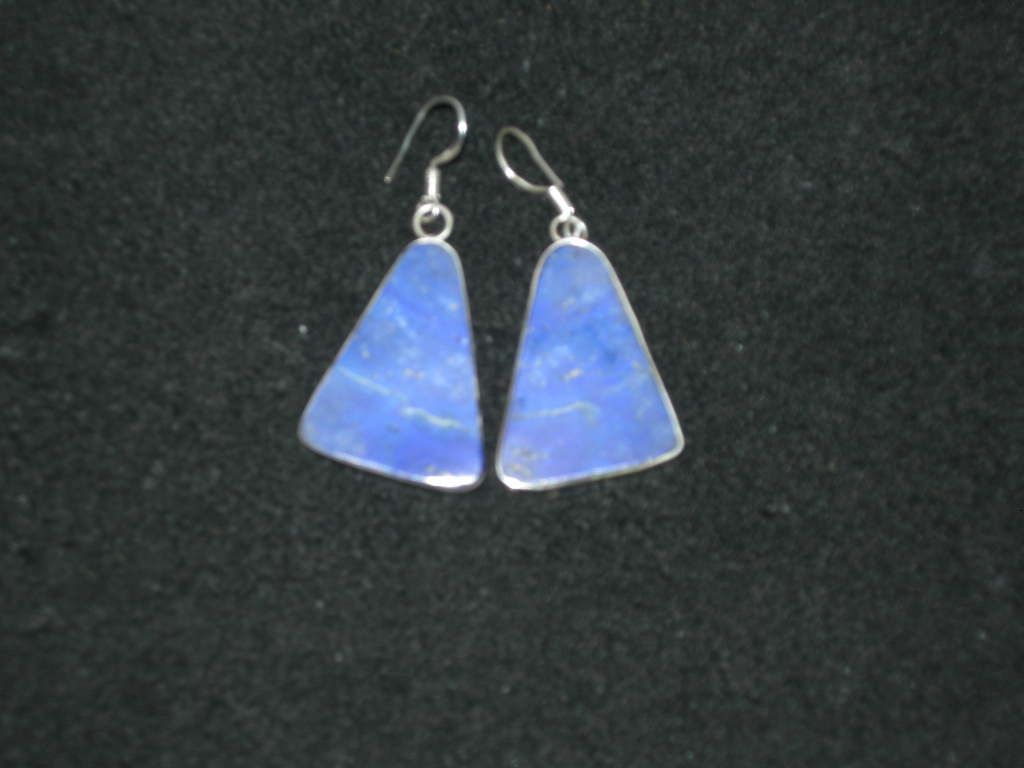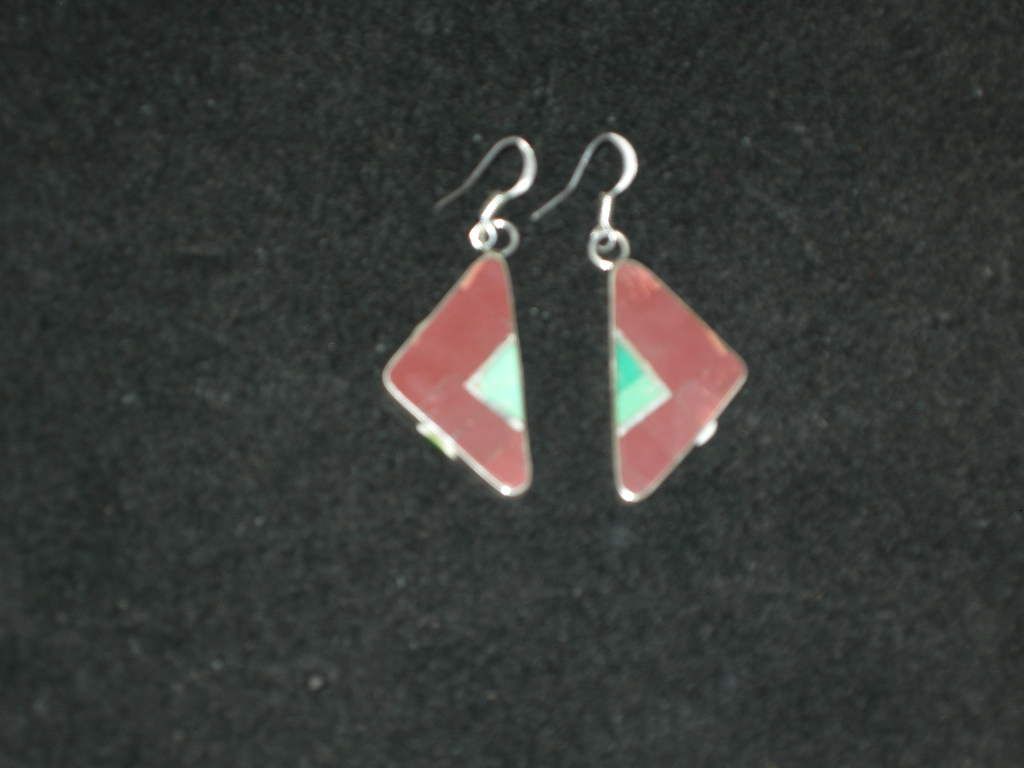 Shown, left to right: sterling silver and lapis; sterling silver and blue turquoise; sterling silver and pipestone; sterling silver, pipestone, and green turquoise. Each on sale at $110 a pair, + s/h/i.
KATSINAM
All of our katsinam (kachinas) are by Josh Aragon, who learned to carve them the traditional Hopi way, of cottonwood root, from his relatives at Hopi. Each is hand-painted in traditional patterns, but in ways that are unusually expressive and unique to Josh's work.
Do you know someone who needs to be whipped into shape, gotten back on track for the new year? Maybe Aya (The Runner) can do the trick. Normally, he carries a yucca whip for the purpose, but this version is a bit gentler, preferring an eagle feather.


By Josh Aragon; Hopi and Laguna Pueblos. $175 + s/h/i (requires special handling; extra shipping charges apply).
This is one of Josh's newer ones. Morning Singer is not uncommon; carvings showing him emerging from the kiva are, however. This motif is one of Josh's specialties, as is his attention to detail that can't be replicated by someone who didn't grow up living the culture: Note the early dawn skyscape on the Singer's blanket, complete with clouds and Morning Star.

By Josh Aragon; Hopi and Laguna Pueblos. $525 + s/h/i (requires special handling; extra shipping charges apply).
Another of his newer ones is this version of the Longhair. Josh uses natural, plant-based pigments to make his paints, and those appear here. Again, note the attention to traditional detail in the third photo: the pueblo village on the back of the 's blanket.
By Josh Aragon; Hopi and Laguna Pueblos. $525 + s/h/i (requires special handling; extra shipping charges apply).
POTTERY
This is only a small sample of our traditional micaceous pottery.
First up, a small seed pot by Albert Martinez of Taos Pueblo, used for storage and planting (and yes, it can be used).

$65 + s/h/i.
This turtle flask is an old piece, and one with sentimental value: It was made by Wings's late sister Cynthia.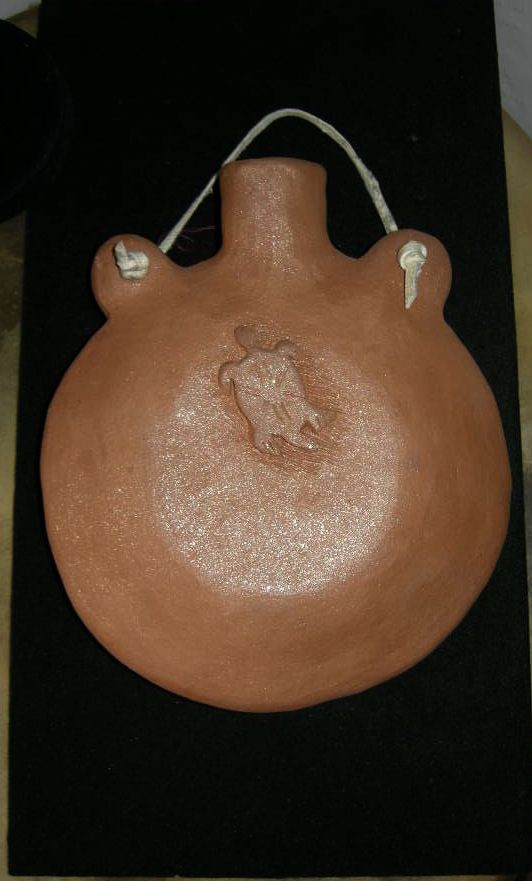 $250 + s/h/i (requires special handling; extra shipping charges apply).
Finally, our last piece by internationally-renowned potter Angie Yazzie, Taos Pueblo/Diné. She does work that, metaphorically speaking, is paper-thin, and absolutely incredible. This one is her revival of an ancient Four Sacred Directions tradition, but it's been here for a long time now, and it's time for it to find its home, so it's been marked down by more than 50%.

$275 + s/h/i (requires special handling; extra shipping charges apply).
SCULPTURE
This is, again, only a small selection of what's available; these are some of the smaller pieces, with more modest prices.
This one is a dual Spirit Being, Buffalo and Eagle, by the late Emerson Gomez, of local Pilar slate and alabaster.


$255 + s/h/i.
"BearHawk," another example of a dual Spirit Being (here, Bear and human) is by Ned Archuleta, carved of alabaster and mounted on a wooden base.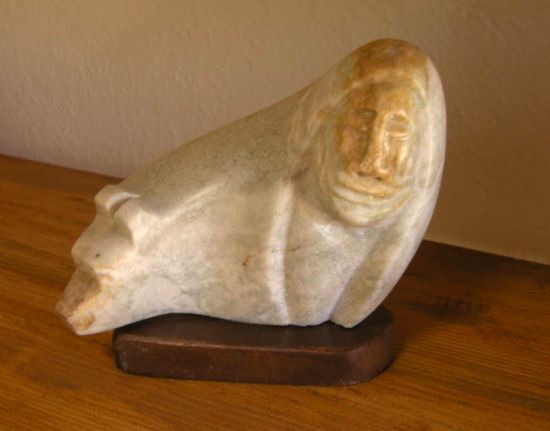 $225 + s/h/i.
This one, by Paul Dancebow, is done in a very traditional style: an elder and singer, wrapped in a blanket, carved of cedar and mounted on an alabaster base.

$225 + s/h/i.
WALL ART
This is only a very small sampling of some of our smaller wall art pieces.
For those who want something seasonal, Winter Buffalo: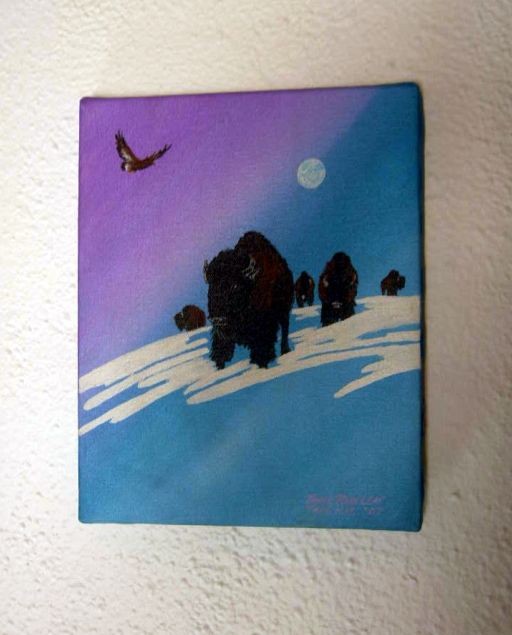 By Frank Rain Leaf; Taos Pueblo. Acrylic on stretched canvas; unframed. $225 + s/h/i.
For the Old West traditionalist, She Cost Me Seven Horses: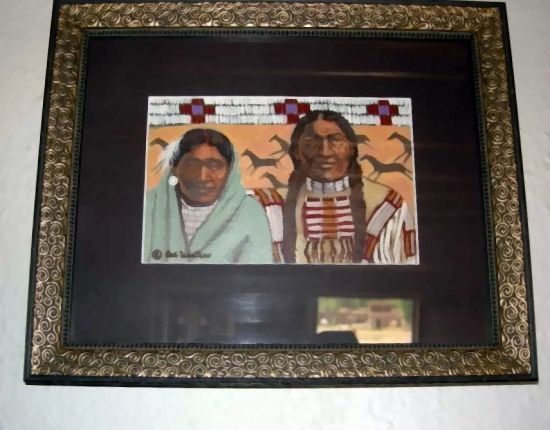 By Carl Winters; Standing Rock Lakota (Sioux). Acrylic; matted and framed. $145 + s/h/i.
For the hippie in your life, Chief Jo's [sic] Vision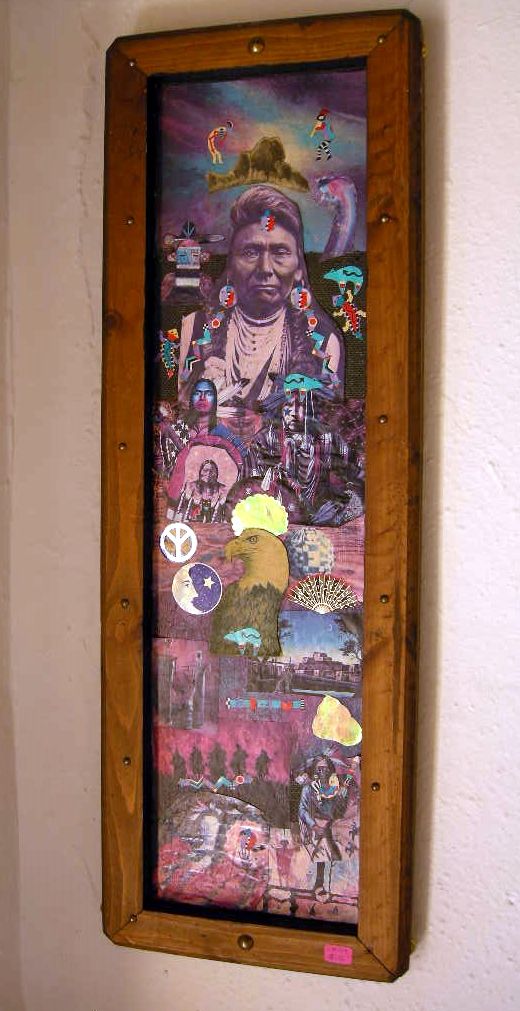 By Preston Bellringer; Yakama/Assiniboine. Collage; no glass; wooden frame. $125 + s/h/i.

Again, these are only samples. Much more is available at our Web site, and in inventory that isn't posted, so if you're looking for something specific, be sure to leave a comment or message me. We'll be reopening the gallery after the new year, here on the land, and Wings will be building new inventory. If you want something specific that isn't needed for the holidays, he'll be happy to create it for you.

To all our clients, friends, and loved ones here, chi miigwech and ta'a, and happy holidays to you and yours.