Weather and climate have affected human health for thousands of years. Man made climate change is now altering climate patterns. There will be many problems that will result from more frequent severe storms, drought, fire, coastal flooding, sea water entering water tables and a increase in disease and reintroduction of disease, (such as Dengue Fever which was eradicated from the Florida Keys, but has now resurfaced in the keys as well as Miami Dade and Broward counties).
Climate Diseases such as West Nile virus, Cholera and Lyme disease are spreading rapidly to Europe and North America due to an increased temperature range where mice, mosquitoes and ticks can thrive.
Heat exposure has a range of health effects, from mild heat rashes to deadly heat stroke. Heat exposure can also aggravate several chronic diseases, including cardiovascular and respiratory disease.

Over a longer time period, increased temperatures have other effects ranging from drought to ecosystem changes that can affect health. Droughts can result in shortages of clean water and may concentrate contaminants that negatively affect the chemistry of surface waters in some areas. Drought may also strain agricultural productivity and could result in increased food prices and food shortages, worsening strain on those affected by hunger and food insecurity in the U.S. and elsewhere. Ecosystem changes include migration of the vectors (organisms that do not cause disease but transmit infection by carrying pathogens from one host to another) and animal hosts that cause certain diseases prevalent in the U.S., such as Lyme disease and Hantavirus. The dynamics of disease migration are complex and temperature is just one factor affecting the distribution of these diseases
The direct effects of extreme weather events include drowning from floods, injuries from floods, and structural collapse. Indirect effects outnumber the direct effects and likely will be more costly. Potential indirect effects include aggravation of chronic diseases due to interruptions in health care service, significant mental health concerns both from interrupted care and geographic displacement, and socioeconomic disruption resulting from population displacement and infrastructure loss.
Climate change is a complex phenomenon and a range of unanticipated ecological effects may result. Many of these ecosystem effects could have indirect health effects. Increased concentrations of ground-level carbon dioxide and longer growing seasons could result in higher pollen production, worsening allergic and respiratory disease. Increased carbon dioxide concentrations in sea water may cause oceans to grow more acidic and is likely to contribute to adverse ecosystem changes in the world's tropical oceans. This would have potentially dramatic implications for fisheries and the food supply in certain regions of the world. Major regional ecosystem stresses may result in mass population movement and conflict, with significant health effects.
According to the
Climate Institute:
Extreme events--floods, storms, droughts, and uncontained fires--can be devastating for health. Floods spread bacteria, viruses, and chemical contaminants, foster the growth of fungi, and contribute to the breeding of insects. Prolonged droughts interrupted by heavy rains, favor population explosions of both insects and rodents. Extreme weather events have been accompanied by new appearances of harmful algal blooms in Asia and North America, and--in Latin America and Asia by outbreaks of malaria and various water-borne diseases, such as typhoid, hepatitis A, bacillary dysentery, and cholera.
Various germs, insects and parasites may find the coming years a time to live longer and prosper. Rising temperatures are changing environments and removing some of their natural impediments.
For example, in the SW USA the soil carries a fungus named Coccidioides. In dry months the wind stirs up dust which can be breathed in by humans, dogs, cats as well as other animals. According the CDC, reported cases of this disease have increased tenfold from 1998 to 2011. Once inhaled the fungus can cause Valley Fever. Most people infected do not show symptoms. But for those who do, it can mean blindness, skin abscesses, lung failure and even death. People in the Pacific NW? The CDC, reported three cases of Coccidioides in eastern Washington state in 2012. It appears that this fungus is beginning to expand it's territory.
In the North East, mosquitos will become more then a nuisance spreading disease such as West Nile Virus. Although, these insects can be controlled with pesticide, these blood suckers are developing resistance to these chemicals. Soon many places could be out of effective weapons.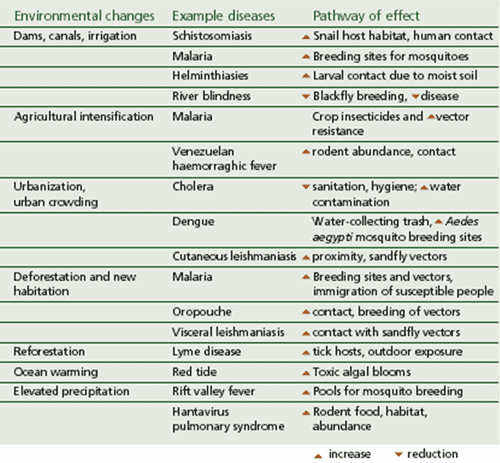 The Weather Channel reports on 9 diseases spreading due to climate change.
Valley Fever

This potentially lethal condition caused concern in California when the number of cases spiked during 2010 and 2011. Valley fever infections have been on the rise, likely because of warming climates and drought causing dust storms, according to the California Department of Health.

Dry soil and wind can transport spores that spread the virus. Hotter and drier climates are expected to increase the amount of dusting carrying the disease.

"It's very dependent on the ecosystem and temperature," said Dr. Ostrosky. "There's definitely concern for other states, too. We used to think of it as geographically limited, but now we might see it in places we haven't seen it before."

Educating physicians and patients on valley fever and other diseases could help prepare states for the harmful effects of climate change.

"A primary care physician in Nevada will immediately recognize valley fever, but in another state they won't," explained Ostrosky. "We need to do a lot of educating on how to recognize these infections, because in particular places people might not be used to seeing them."

Valley fever can cause flu-like symptoms, and in a small percentage of cases can cause blindness, skin abscesses, lung failure and even death.
West Nile Virus

A shift to a warmer climate means many summer problems will last even longer, and that goes beyond just trying to keep cool.

Longer summers mean longer mosquito seasons, and those bloodsuckers don't only bring itchy bites.

Perhaps the most notable mosquito-borne disease, West Nile Virus, has already experienced a boom in annual cases. The summer of 2012 was the worst West Nile season on record, according to the U.S. Centers for Disease Control and Prevention.

In addition, using current climate change models, disease ecologists predict that West Nile seasons will be longer in many locations, mostly in the north, according to a study published earlier this year in the Proceedings of the National Academy of Sciences.
Dengue Fever

In 2009, dengue fever, a mosquito-borne disease, returned to the United States for the first time since 1934. The painful, although rarely fatal, disease resurfaced once again in Florida in August of 2013.

Longer, warmer mosquito seasons have been blamed for the comeback of this disease to the United States. In the tropics and sub-tropics, dengue fever tends to spike during warm seasons, according to the CDC.

"When weather conditions permit new vectors to establish themselves, you can be sure that it is much easier for a vector-borne pathogen to establish itself in the area where its vector now resides," said Dr. Marty.

Symptoms of dengue fever include severe headaches and pains.
Malaria

With the rising rates of dengue fever and West Nile virus, an increase in malaria cases shouldn't come as much of a surprise. The mosquito-borne disease infected 1,925 people in 2011, the highest number since 1971, according to the CDC.

Many of these cases were linked to Africa, where the disease thrives in warmer temperatures. A warmer America could increase the number of malaria cases.

"Malaria correlates with average temperatures," explained Dr. Ostrosky. "We have tracking data that shows changing the temperature changes malaria rates."
Lyme Disease

Mosquitos aren't the only insects enjoying a warmer planet. Longer stretches of warm weather means tick season will continue to grow.

Ticks carry several diseases, and those diseases are expected to increase with the expansion of their geographic range. One of the more common tick-borne diseases, Lyme disease, is even expected to reach countries with colder climates, like Canada, according to a study published in the International Journal for Parasitology.
Rocky Mountain Spotted Fever

Another tick-borne disease, Rocky Mountain spotted fever, saw cases more than triple from 2000 to 2007, according to research published in The American Journal of Tropical Medicine and Hygiene.

Despite the name, this fever occurs all over North and South America. The disease can be prevented by avoiding tick-infested areas and is treatable with the drug Doxycycline. However, the disease can kill if not treated quickly, according to the CDC.
Other Tick-Borne Diseases

The International Journal for Parasitology lists two other tick-borne diseases that could see a spike in cases because of changes related to our climate: anaplasmosis and human babesiosis. These diseases have similar symptoms as Lyme disease including fever, headache and chills.

Like other tick-borne diseases, anaplasmosis can be treated with Doxycycline. Fortunately other treatments exist for babesiosis, because Doxycycline will not eliminate the infection, according to a study published in the journal Clinical Infectious Diseases.
Diarrheal Disease
The risk of diarrheal disease from food poisoning increases in higher temperatures. Foodborne illnesses outbreaks generally peak in the summer because warm weather, raw produce and outdoor cooking increase the risk of diseases like salmonella.

Warmer temperatures have been linked to increases in food poisoning in the U.K. and other countries, according to a review published in the journal Lancet.
Naegleria Fowleri

Even though Naegleria fowleri recently killed two children, infections caused by the brain-eating amoeba continue to be very rare. However, climate change could increase the prevalence of these deadly bacteria.

The amoeba lives in warm water and typically infects people swimming or diving in freshwater lakes and rivers. Longer summers and warmer temperatures could provide the amoeba with more warm water to infect, and increase the risk of people trying to beat the heat.

The CDC continues to investigate the potential link between climate change and the spreading amoeba.
The wealthy countries should bear the brunt of this climate change enhanced disease phenomena well enough though it will be very expensive to do so and who knows how many resources will be available due to possible socio-economic collapse. The poor nations, as usual will suffer the most from disease as well as the other major impacts of climate change.