I am not an economist and certainly not a philosopher. I am an entrepreneur. Since 1981 I have founded or co-founded several companies in the computer industry. Between startups I have brought foreign companies to the US or American companies to foreign markets. I am currently involved in several startups hoping to get one funded.
One thing that all my activities had and have in common is that my primary motivation has been to bring to the market a product or service that benefits the customers or solves a problem. Certainly I always expect to be able to make a living, but getting rich has never been my main motivation.
Everything I have done has been possible within a capitalistic system. I would have not been able to accomplish anything within a system that did not reward innovation and risk taking.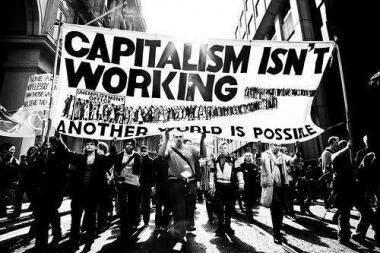 On the other hand, however much I support the idea of entrepreneurship within capitalism, I have come to believe that the dominant capitalism system we now live within is not the capitalist system that we need. The current system seems nefarious. Greedy and sociopathic Wall Street capitalism will destroy America and the world if it continues to gain power. Occupy Wall Street got me thinking and I thank the movement for that.
So what alternatives do we have?
I propose that we need to reform our capitalistic system towards something that can be called; "Progressive Capitalism".
More below the orange croissant.
Capitalism and democracy can work together but democracy has to prevail. Our current trend towards oligarchy must stop. Greedy Wall Street capitalism, empowered by Citizens United, will destroy democracy as we knew it. Our ranking in The Economist Democracy Index will continue to decrease. Our political system is diseased.
Communism and fascism are the hellish extremes of socialism and capitalism.
As a pragmatist I believe that socialism and capitalism both offer benefits. Some things work better under a democratic government administration and some work better under private enterprise. Prisons and the military should not be in private hands and yet both seem to be going in this direction. The computer industry can benefit from government actions but it should remain in private hands. The pace of innovation inherent cannot be managed under government administration. The food supply chain works better under a capitalistic system controlled by a democratic government and not under uncontrolled capitalism. If you have any doubts watch Food Inc. on Netflix as I did recently. The best possible healthcare system, as demonstrated by those countries that have a single payer, is a combination of a government run insurance and and privately held provider system. The entertainment industry should not be owned by the government. Education, as healthcare, is a basic human right and the government must insure that all have access. The construction industry should be in private hands, but the transportation system should be guided or implemented by the government. We can discuss whether there should be private highways or airports but trains, car manufacturers and airlines seem to work better in private hands most of the time. It's clear now that the repeal of the government control of banking under Glass-Steagall brought the Ponzi scheme that caused the 2008 debacle. So, many aspects of the private financial industry must be controlled by the government. Let's call it a mixed economy. Again, as a pragmatist I believe that what works works and I am open minded.
The current dysfunctional capitalism got started with the Reagan administration that IMO brought to power those who support the ideology of Ayn Rand assisted by the advent of the Chicago School, Austrian economics and similar schools of thought. I confess that 20 years ago I became mesmerized by this ideology that I now find as dystopian and dangerous as Marxism.
So, what else is there other than the current capitalist system?
In my research around "progressive" capitalism I have come across some interesting new ideas and frameworks that can function together.
In early 2009, Australian Prime Minister Kevin Rudd called for a new economic approach that he termed "social capitalism" which includes "a system of open markets, unambiguously regulated by an activist state, and one in which the state intervenes to reduce the greater inequalities that competitive markets will inevitably generate."[3]
The scholarly roots of social capitalism seem to be in Kees van Kersbergen's landmark study of European economies, entitled Social Capitalism: A Study of Christian Democracy and the Welfare State.[4] Van Kersbergen identifies social capitalism as the "common kernel" of the European welfare state and situates social capitalism as a "middle way" between socialist collectivism and neo-liberal individualism.[5]
There is a
movement
behind Social Capitalism.
The concept of TBL demands that a company's responsibility lies with stakeholders rather than shareholders. In this case, "stakeholders" refers to anyone who is influenced, either directly or indirectly, by the actions of the firm. According to the stakeholder theory, the business entity should be used as a vehicle for coordinating stakeholder interests, instead of maximizing shareholder (owner) profit.
A partial manifestation of this "triple bottom line" can be found in
eco-capitalism
;
Eco-capitalism is the view that capital exists in nature as "natural capital" (ecosystems that have ecological yield) on which all wealth depends, and therefore, market-based government policy instruments (such as cap and trade systems) should be used to resolve environmental problems.
These last two schools of thought seem to reinforce my decision to form a "
benefit corporation
" for one of my current startups (one of the first 1000 in California);
Benefit Corporations are a new class of corporation that 1) creates a material positive impact on society and the environment; 2) expands fiduciary duty to require consideration of non-financial interests when making decisions; and 3) reports on its overall social and environmental performance using recognized third party standards.
Practice what you preach. So shareholders will not be able to sue the Board of Directors for not putting the
profit motive
at the top. This new startup will also require the formation of what may be the first ever "information cooperative". (More about this in a future diary and please correct me if I am wrong and another such cooperative already exists.)
A right wing friend of mine alerted me to "conscious capitalism";

Some may think this is some "new age" look at business. It is not. Here is an interesting fact from the book. Many will know of Adam Smith's Wealth of Nations, but how many know of his earlier book? My guess would be not many of us. His earlier book was entitled The Theory of Moral Sentiments. "In his earlier book, he outlined an ethics based on our ability to empathize with others and to care about their opinions." (page 16)

By combining Adam Smith's two works we gain a complementary relationship between ethics and economics. Simply stated, it isn't all about self-interest. Mutual interest provides a check-and-balance to our economic approach.
My right wing friend also alerted me to the latest development in crowdsourcing;
SEC votes to "unleash wisdom of crowds," approves crowdfunding rule

Commissioners at the Securities and Exchange Commission voted unanimously Wednesday to go forward with a proposal that will let small businesses raise money on the internet from mom-and-pop investors without having to go through cumbersome SEC procedures to register securities.

In an open meeting webcast on Wednesday morning, the five Commissioners each described the proposal (embedded below) and then voted to approve it, which will launch a public comment period that will lead to the final rule going into effect.
Wall Street must be fretting this SEC decision.
A neighbor and friend who recently passed away taught me about Basic Income Guarantee;

In 1969, a Presidential Commission recommended, 22-0, that the United States adopt a guaranteed annual income, with no mandatory work requirements, for all citizens in need. The report was buried and forgotten, even though the National Council of Churches, by a vote of 107-1, agreed. So did the Kerner Commission, the California Democratic Council, the Republican Ripon Society, and the 1972 Democratic Party platform.

Fast forward 50 years and the concept of a guaranteed income -- or Basic Income Guarantee -- is not discussed much anymore. But it remains, as the late economist Milton Friedman always maintained, the most practical and sensible way to end poverty in America and provide economic security to all Americans.
IMO this idea should be tried in Detroit. BIG has support on the right and the left and there is a
movement
behind it too. (
RIP Allan
)
I don't have all the answers and the reason I wrote this diary is to get ideas and information from my fellow Kossacks. But based on all of the above I am convinced that we can implement a more progressive form of capitalism. The name "progressive capitalism" came to mind. When I Googled it I found at least two others who used it before;
David Sainsbury in his book Progressive Capitalism published only on Kindle;

'David Sainsbury's thoughtful manifesto for a Progressive capitalism draws on his experience in both business and government to offer an alternative political economy to that of the dominant, and dominating, neo-liberalism of recent decades.' Joseph Stiglitz, Nobel Prize-winning economist 'Essential reading for anyone who wants to understand the new model of capitalism evolving from the global financial crisis. An inspiration for politicians and business leaders who need to reinvent the mixed economy for the twenty-first century.'
I guess I need to get a Kindle.
And in DailyKos itself, Player published a diary last year warning about the need for progressive capitalism.
The domains ProgressiveCapitalism .com .net .org are taken but not used. I'm already trying to acquire one (worst case a similar one).
I believe it may be useful to start a group in DailKos so here is the link;
The logo we can change. Any suggestions?