At least that's what a writer at Alternet thinks, among others ...

The tax that could save America from Wall Street
The financial transaction tax is simple, fair, widely supported by the public and long overdue
by Lynn Stuart Parramore, AlterNet; Salon.com -- Oct 18, 2013

It's a simple tweak that would reign in an out-of-control financial sector, stimulate jobs, generate billions of revenue, and possibly prevent another heart-wrenching crisis. Nobel Prize-winning economists like Joseph Stiglitz and Paul Krugman want it. Billionaires like Warren Buffett and Bill Gates want it. Polls show the majority of Americans want it. Even the Pope wants it.

We're talking about a financial transaction tax (FTT) -- a tiny tax of, say, less than half a percent: maybe 3 cents per $100 -- on Wall Street trading. It's simple, more than fair, widely supported by the public, and long overdue.
[...]
OK, you got my attention. What is a financial transaction tax (FTT)?
And how does it encourage Wall Street to invest in the long-term, instead of simply profiting from the market's short-term volatility, with thousands of trades per day?

Financial transaction tax -- wikipedia.org

A financial transaction tax is a levy placed on a specific type of monetary transaction for a particular purpose. The concept has been most commonly associated with the financial sector; it is not usually considered to include consumption taxes paid by consumers.[1]

A transaction tax is not a levy on financial institutions per se; rather, it is charged only on the specific transactions that are designated as taxable. So if an institution never carries out the taxable transaction, then it will never be subject to the transaction tax.[2] Furthermore, if an institution carries out only one such transaction, then it will only be taxed for that one transaction. As such, this tax is neither a financial activities tax, nor a "bank tax",[3] for example. This clarification is important in discussions about using a financial transaction tax as a tool to selectively discourage excessive speculation without discouraging any other activity (as John Maynard Keynes originally envisioned it in 1936).[4]
[...]

As that writer at Alternet summarized the observations from Forbes, sometimes even financial markets need some 'checks and balances' -- for the sake of us all, in the wider overall American economy ...
[...]
As Jeremy Scott of Forbes put it: "What is important is that the financial sector, which bears a disproportionate share of the blame for the deep recession that is still affecting employment and growth, share in the costs of insuring against future bailouts and be forced to restructure itself to better insulate the rest of the economy from excessive risk."
Too bad for us average Americans relying on Main Street, that
lack of growth
and chronic under-employment
affects us much more
, than those who "transact" their economic growth, on a market full of "excessive risks."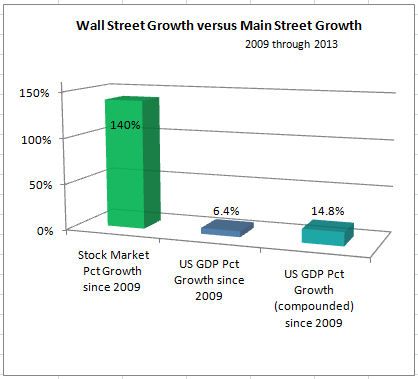 Too bad for us average Americans, when Wall Street's "excessive speculation" goes unchecked, and eventually goes bad -- guess who ultimately picks up their tab?
We'd be wise to constantly remind them of this, and this little Bailout call TARP. We'd be wise now to realize that a serious FTT would have likely sidestepped that whole sad chapter in American lackluster economic growth, and the recent ongoing stunning lack there of.




---
The proposed bill
Let Wall Street Pay for the Restoration of Main Street Bill
is officially contained in the United States House of Representatives bill entitled
H.R. 4191
:
[... Its ] projected annual revenue is $150 billion per year, half of which would go towards deficit reduction and half of which would go towards job promotion activities.[3]
Sounds only fair, eh?