According to Bill Meierling, the new PR chief at the American Legislative Exchange Council, the spirit of glasnost is in the air over at ALEC HQ.

"We all acknowledge there were challenges in our past, but challenge oftentimes gives you the opportunity to be introspective and see what you can do differently, what you can do better, how you can better serve your constituents and your community," said Bill Meierling........ Certainly, not all the secrecy is being lifted. As a nonprofit organization, ALEC is not required by federal law to disclose its members, and it continues not to do so, in part because of fears of harassment, the group says. "Tons of organizations don't talk about their members for fear of political intimidation," Meierling said.
The problem, you see, as that ALEC members are a persecuted minority, much like
the NAACP in 1950s Alabama.
Never mind that by any reasonable definition, ALEC's legislative members are public figures. Never mind that defending the integrity of the democratic process is quite arguably the definition of a "compelling state interest."
Actually, strike all that. If Meierling wants to talk about the past, explain this. How is it that ALEC is owning up to its secretive "past," when the group published full task force membership lists and the text of all model legislation until 1995?
ALEC Used to Be More Transparent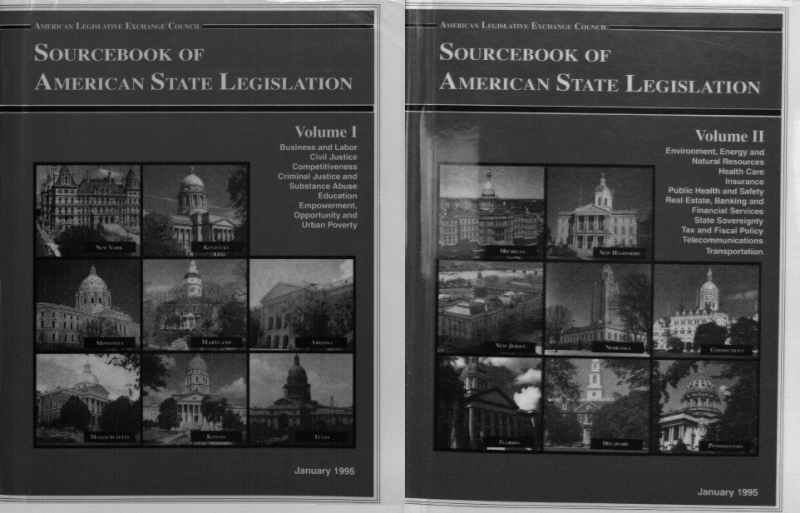 Cover ALEC 1995 Sourcebook
Between 1979 and 1995, ALEC produced a series of "Legislative Sourcebooks." In these Sourcebooks, ALEC published their all their model legislation and the membership of all their task forces. In order to save space, I've posted a copy of the listing for the "State Sovereignty" task force below.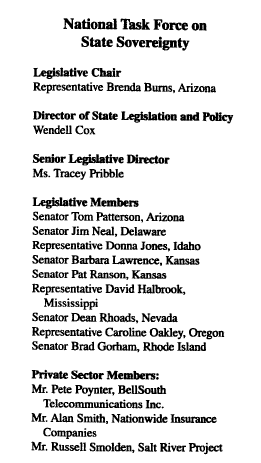 Again, how exactly is ALEC owning up to its secretive past, if it's less transparent now than it was twenty years ago?
ALEC's Class of 1995
These Sourcebooks are rare, but they do exist. A number of state libraries have copies, most likely due to donation from legislative members. I got my hands on copies of both volumes several years ago. Since then, I've been putting together a spreadsheet about ALEC's class of 1995. The idea was to try to determine the partisan makeup of the group then, and to figure out where these 1995 members have ended up now. There are a number of limitations. All the information I have was collected from internet searches. I know that this means that there will be gaps, but that's something I lacked the resources to avoid. Nonetheless, it's revealing, and documents leaked this year allow some comparison.
Getting started, something like 1/5th of ALEC members in 1995 were Democrats.
And these Democratic members came from a number of states. Below, the more red the state, the higher the proportion of ALEC members who were Democrats in 1995.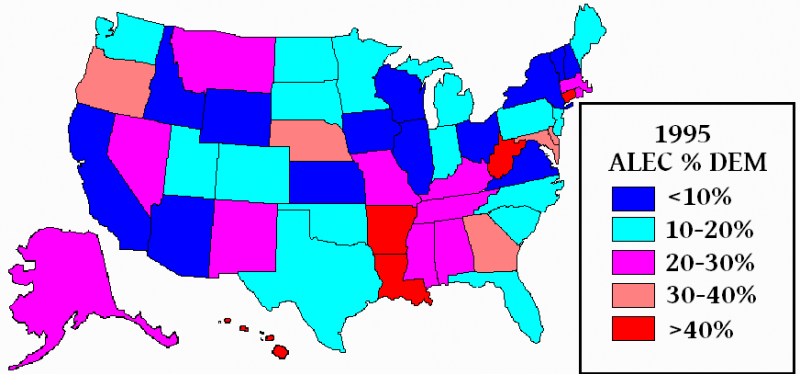 ALEC had, and probably has, influence in states where state politics has been dominated by democrats. West Virginia. Louisiana, and Arkansas stick out like sore thumbs showing that a lot of southern Democrats were ALEC members. But.... Massachusetts, Connecticut, Delaware, Hawaii, and Oregon show that this wasn't only a Southern problem.
Back in 1995, ALEC had 1121 members in state legislatures. After the Tea Party wave in 2011 elections, ALEC membership had nearly doubled to 2200 members. To give some context, this means that in 1995 about 17% of state legislators belonged to ALEC. The numbers leaked for 2013, show that membership declined just over 1800 members, or 25% of state legislators.
Because the membership figures leaked in 2013 don't actually name names, we don't know what the present partisan makeup of ALEC's public members is. But, we can get an interesting take on where ALEC has gained influence since 1995. And, where it has lost it.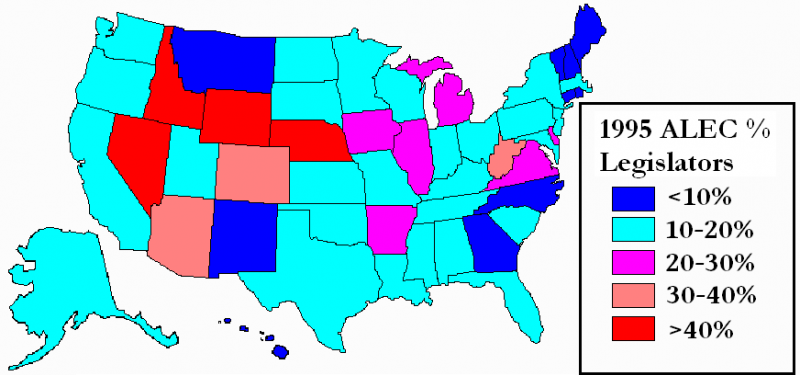 In the 1990s, ALEC was strongest in the West. But, it had members in a number of states.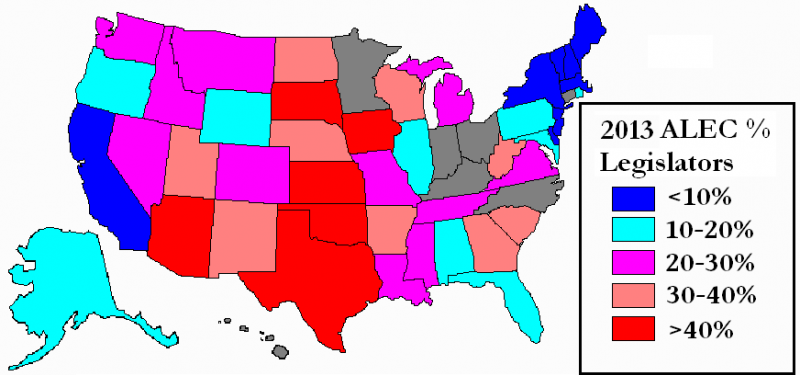 A number of states are grayed out here, because I can't read the 2013 numbers. But.... the trend is clear. ALEC lost influence in the Northeast, and West Coast, while picking it up in the South and Southwest.
The trend is even clearer when you look at the change in total membership between 1995 and 2013. Nationally membership increased 61% between 1995 and 2013. With the exception of Washington, Wisconsin, and Iowa no state outside the Mountain West and deep South saw an increase on this magnitude. (A note about Iowa and South Dakota. In both states all legislators are members of ALEC, because the state automatically pays their membership fees.) The image ALEC promotes of itself as a neutral, nationwide organization starts to fall apart when you have actual numbers to look at. We don't have the numbers on 2013 partisan makeup, but it it's clear the states in which membership has increased that the organization has probably grown even more partisan than it was in 1995. Moreover, when you have the numbers by states, it's clear ALEC is increasingly a Southern organization, mired in the politics of states rights and nullification.
No less than three ALEC bills aim to rewrite the US Constitution in order to codify nullification, aiming to:
1. Permit "repeal of any federal law or regulation by a vote of two thirds of the state legislatures."
2. "nullify federal laws and regulations in such cases as the states deem that the federal government has exceeded the limits of its authority;"
3. Prohibit "the federal government from imposing regulations and mandates upon the States."
The Takeaway
ALEC is less transparent now than it was in 1995, despite its protests that it is opening up. ALEC's transformation into a group increasingly dependent on membership from the South, and its adoption of what can only be called neo-confederate model legislation promoting nullification, are at odds with the public image the group has promoted of itself as a neutral organization with a diverse, nation-wide membership. Why is ALEC less transparent now than in 1995?
At one level it's a matter of technology. Before the internet, password protected websites and cloud storage didn't exist. Which meant that ALEC's communication with its members was via physical mail subject to state disclosure laws. State disclosure laws have fallen behind the advance in technology, allowing the group to operate without fear of disclosure.
But, at another level, ALEC's lack of transparency isn't about technology. Technology is amoral, but the agenda that ALEC is pushing is immoral. The lack of disclosure permitted by technology means that until recently ALEC's legislative and corporate members didn't have to worry about the public knowing what the hell they were up to, let alone who they were. The leak of ALEC's model legislation in 2011 let the cat out of the bag on model legislation. ALEC's 2013 decision to open its previously closed model legislation database only put their website model legislation that was already available to the public.
If ALEC wants to prove to the public that it's transparent, it should disclose the full membership of its task forces, as it did until 1995. At the very least, Mr. Meierling should stop talking about how ALEC is owning up to its secretive past until the group is willing the be at least as transparent as it was in the past.