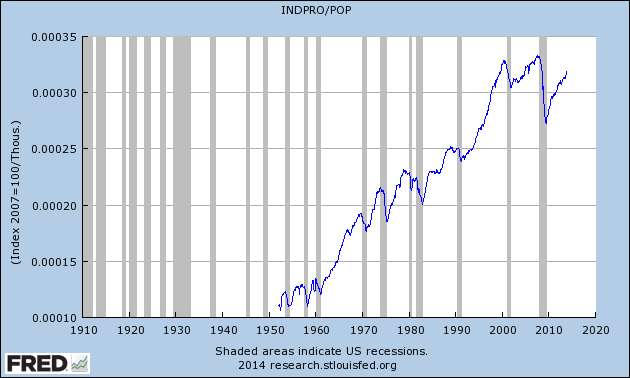 BTW don't tell me we are a services economy because you have to have high quality affordable education, health care or security to be a services economy.
Nor do recent gains in per capita industrial production (see my last blog for definition) necessarily indicate the trend for 2014 because 2013 was the year of fracking and its eerily similar financial equivalent - quantitative easing.

U.S. oil production exceeded 7 million barrels a day for the first time since March 1993 as improved drilling techniques boosted exploration across the country and reinforced a shift toward energy independence.
Fracking is likely a
short term solution
.
Hughes has predicted that production will peak in 2017 and fall to 2012 levels within two years.
Though by 2017 America may be using
less oil
.
As impressive (and potentially environmentally hazardous) as fracking is on the production side of INDPRO, so too is QE (and potentially morally hazardous as it pays off banks for somewhat criminal loans) on the consumption side (or at least for Americans owning real estate and stocks anyway)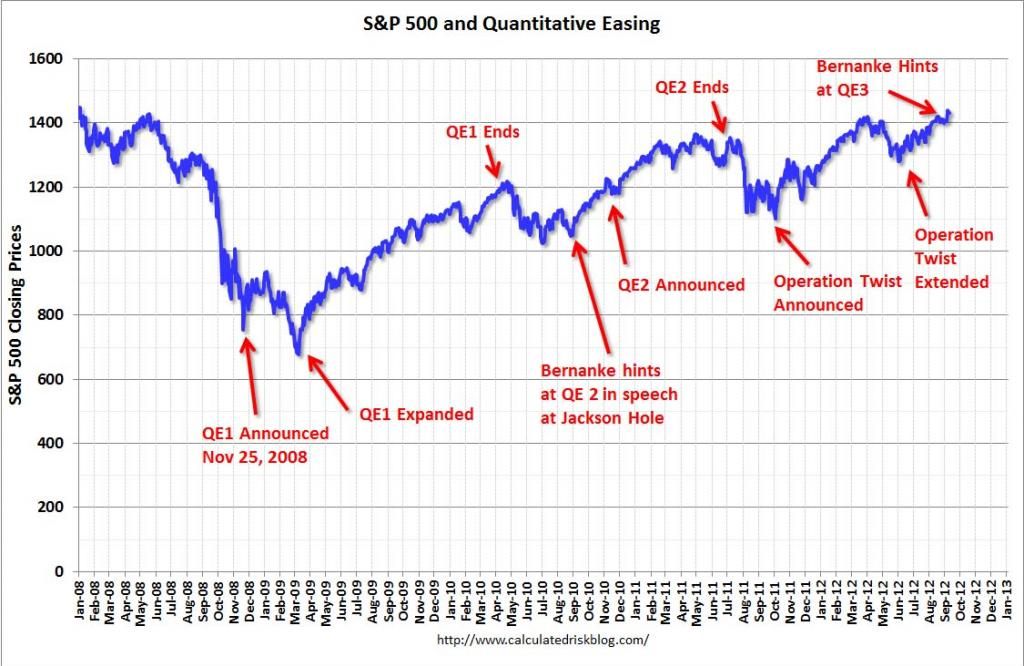 But it is equally recognized that QE can't continue forever
According to NASDAQ.com, this is effectively a stimulus program that allows the Federal Reserve to relieve $40 billion per month of commercial housing market debt risk. Because of its open-ended nature, QE3 has earned the popular nickname of "QE-Infinity." On 12 December 2012, the FOMC announced an increase in the amount of open-ended purchases from $40 billion to $85 billion per month.

On 19 June 2013, Ben Bernanke announced a "tapering" of some of the Fed's QE policies contingent upon continued positive economic data. Specifically, he said that the Fed could scale back its bond purchases from $85 billion to $65 billion a month during the upcoming September 2013 policy meeting. He also suggested that the bond buying program could wrap up by mid-2014. While Bernanke did not announce an interest rate hike, he suggested that if inflation follows a 2% target rate and unemployment decreases to 6.5%, the Fed would likely start raising rates. The stock markets dropped approximately 4.3% over the three trading days following Bernanke's announcement, with the Dow Jones dropping 659 points between 19 and 24 June, closing at 14,660 at the end of the day on 24 June. On 18 September 2013, the Fed decided to hold off on scaling back its bond-buying program.
For both oil and financials the long term has to be to stop using unsustainable resources like petroleum and loans to workers with
declining wages
.