---
Early Diary
Way back in 2009 I had only written two short diaries. Response was tepid, and the comments, common at the time, were about the lack of content. At the time Eddie C was writing a series called "Got a Happy Story" which featured diaries of a positive nature, to balance some of the site's negativity at the time. I had met Eddie and liked him immediately, so when he suggested I write one for the series I accepted the invitation. I was nervous at first but I worked on that diary for a long time, taking photos to augment those I already had and attempting to polish my prose.
I previewed the diary time after time until it appeared exactly as I wished it to appear. Finally the date and time arrived for my big moment on Daily Kos. With trembling fingers I hit "Publish" and …..nothing. I scrolled back and in the middle was some obscure error message that meant nothing to me but I understood that some problem was thereabouts. I tried various modifications to no avail, mentally visualizing Eddie's disappointment in my failure. Suddenly I hit the right combination and it published, only a few minutes late and to my great relief.
It turned out to be a pretty good diary and was well received in the comments. One of the last comments was from a Daily Kos icon I was so in awe of (still am) named Meteor Blades, in which he said "Nice diary". OMG pass the smelling salts. What a thrill.
It was perhaps the panic and helplessness I felt when that diary previewed but didn't publish that caused a diary-writing hiatus for a while. Now, as some of you know, you can hardly shut me up. And since that time I never again experienced the disconnect between preview and publish, a glitch which has been corrected.
The diary is about my homestead with photos of gardening and food preparation. In a sense it is a compendium of many of my KTK diaries so some of it is familiar to the regulars but in case it would be be of interest to anyone it is linked here.
Here's a few photos from the diary that I particularly like: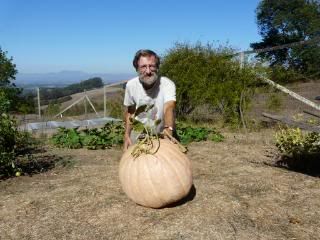 My pumpkin from last year provided seeds...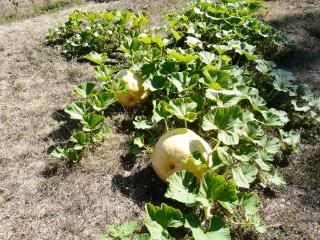 for this year's giants to come.

Farm boss Louie checks the Prius.

Deer eating our landscaping (Lilac bushes).
And finally, in honor of Eddie C...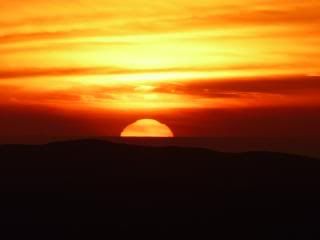 A Pacific ocean sunset.
What has been your diary writing experience? Have you written any? Has an entire diary draft disappeared as happened to me (and even J&H)?
I'm still recovering from cold/flu/whatever so forgive me if I fade early.
Kitchen Table Kibitzing is a community series for those who wish to share part of the evening around a virtual kitchen table with kossacks who are caring and supportive of one another. So bring your stories, jokes, photos, funny pics, music, and interesting videos, as well as links—including quotations—to diaries, news stories, and books that you think this community would appreciate.

Readers may notice that most who post diaries and comments in this series already know one another to some degree, but newcomers should not feel excluded. We welcome guests at our kitchen table, and hope to make some new friends as well.