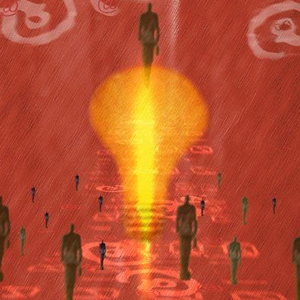 Commentary: African American Scientists and Inventors
by Black Kos Editor, Sephius1


Stephon Alexander was born on the southern coast of Trinidad and Tobago and moved to the Bronx in New York when he was eight. His interest in physics started four years later when his father brought home a used computer. In his quest to learn how it worked, he "discovered the words 'Quantum Mechanics.' Although I was mystified by the equations," he says, "I got hooked."
Quantum mechanics is now a part of Alexander's daily life as an assistant professor of physics, astronomy, and astrophysics at Penn State University. His research explores the interface between fundamental physics and cosmology, and in particular addresses questions about the early universe. He plays the saxophone, and his passion for improvisational Jazz influences his work.
(con't.)
Dr. Stephon Alexander asks big questions. How did the space and time that govern our universe come into being? Intrigued at an early age by quantum theory, Einstein's theory of relativity, and string theory, he now works to unify them in his search for a theory of quantum gravity.
"There's a world of phenomena and theories that do very well in making cell phones work," he explains. "But at the same time, other evidence we are calling 'dark matter' is still absolutely mysterious. My discoveries come through calculations as I tease nature into revealing her secrets."
Alexander has long personal experience confronting the unknown. At age eight his family moved from Trinidad to the Bronx in New York City. "My childhood was full of surprises," he remembers. "I learned that you can't always hold on to things; it taught me the idea of embracing the unknown. Our culture tells us to try and control situations. Instead, I've always coped with unexpected events by making up theories about why they may be happening."
After earning a Ph.D. in theoretical physics from Brown University, Alexander completed postdoctoral work at Imperial College in London and the Stanford Linear Accelerator Center. He is now an assistant professor in the Penn State Physics Department.
During a typical day, Alexander and colleagues perform mathematical gymnastics, filling blackboards with diagrams and equations. "That interaction as we deal with a completely open slate is my favorite part," he says. "Highlights come in those moments when I've had a crazy intuitive idea ... explored all kinds of calculations and subtleties ... and then after months of work found that my hunch was absolutely correct. Those moments rarely happen, but when they do, it's amazing."
As Alexander explains, the process is intense. "You can get stuck at any stage and then it's impossible to sleep or think about anything else. For me, playing and composing music can help my mind relax, the way a muscle would relax, and allow me to think more freely."
Alexander notes many parallels between his passions for the tenor saxophone and physics. "Exploring a physics problem is like jazz improvisation—understanding the basic rules and themes lets you take off in spontaneous new directions. Music allows me to understand physics on a simpler, yet deeper level."....Read More
~~~~~~~~~~~~~~~~~~~~~~~~~~~~~~~~~~~~~~~~~~~~~~~~~~~
News by dopper0189, Black Kos Managing Editor
~~~~~~~~~~~~~~~~~~~~~~~~~~~~~~~~~~~~~~~~~~~~~~~~~~~


~~~~~~~~~~~~~~~~~~~~~~~~~~~~~~~~~~~~~~~~~~~~~~~~~~~
The Obama administration wants to end the apparent disparities in how students of different races are punished for violating school rules. More than half of students in school-related arrests or referred to law enforcement were Hispanic or black. The Grio: White House wants to crack down on school discipline discrimination.
~~~~~~~~~~~~~~~~~~~~~~~~~~~~~~~~~~~~~~~~~~~~~~~~~~~
"In short, racial discrimination in school discipline is a real problem," according to a letter sent to schools.
Civil rights advocates have long said that a "school-to-prison" pipeline relates to overly zealous school discipline policies targeting black and Hispanic students that bring them out of school and into the court system.
The recommendations being issued Wednesday encourage schools to ensure that all personnel are trained in classroom management, conflict resolution and approaches to de-escalate classroom disruptions.
The American Civil Liberties Union called the recommendations "ground-breaking."
In U.S. schools, black students without disabilities were more than three times as likely as whites to be expelled or suspended, according to government civil rights data collection from 2011-2012. Although black students made up 15 percent of students in the data collection, they made up more than a third of students suspended once, 44 percent of those suspended more than once and more than a third of students expelled.
Attorney General Eric Holder said the problem often relates to well intentioned "zero-tolerance" policies that include swift punishment for offenses such as truancy, smoking or carrying a weapon.


~~~~~~~~~~~~~~~~~~~~~~~~~~~~~~~~~~~~~~~~~~~~~~~~~~~

~~~~~~~~~~~~~~~~~~~~~~~~~~~~~~~~~~~~~~~~~~~~~~~~~~~
Technology, democratic aspirations and economic growth have created new spaces for young African artists to thrive. African Artists, Lifted by the Promises of Democracy and the Web.
~~~~~~~~~~~~~~~~~~~~~~~~~~~~~~~~~~~~~~~~~~~~~~~~~~~
An auction in Nairobi of modern and contemporary art from across East Africa in November attracted large crowds and buyers for works like woodcut plate of a cow with a barcode by the young Kenyan artist Peterson Kamwathi. Workers are busy converting a former library in this city's downtown into a contemporary art museum expected to open this year.
Significant restrictions on the news media and civil society remain in many countries, but the confluence of greater freedom of expression over all with the Internet's potential — as shepherd, teacher and evangelist — means artists from Africa can reach and attract new audiences. Just a Band performed at TedGlobal last year and has appeared at the South by Southwest festival in Austin, Tex. Google declared the band a "connected" African success story.
Hundreds of people packed a warehouse downtown on a recent Friday night. Behind the turntables was Just a Band's Daniel Muli. The third member of the group, Mbithi Masya, curated a video installation playing on the back wall that included his own work and that of Ms. Mutu.
The chic, young crowd came out to see the award-winning Nigerian novelist Chimamanda Ngozi Adichie present her latest book alongside the Kenyan writer Yvonne Adhiambo Owuor. Ms. Owuor's "Dust," which made its debut that night, is a searing work about the killing of a young Kenyan, largely set amid the violence that followed the 2007 election but stretching back to the Mau-Mau revolt against the British.
"There's something really thrilling about the questions Kenyans ask themselves through their work," said Ellah Allfrey, a Zimbabwean-born editor and book critic based in London who came to Nairobi for the event. "It's not just about celebrating the past and emulating what's happening elsewhere."
Ms. Owuor said it was particularly exciting to publish her first novel as Kenya was celebrating its 50th anniversary of independence. "Things are always in flux, always in convergence, always something new," Ms. Owuor said, citing the new visual and conceptual art. She called Just a Band "very Nairobi," and said, "They are the pulse in so many ways."


~~~~~~~~~~~~~~~~~~~~~~~~~~~~~~~~~~~~~~~~~~~~~~~~~~~


~~~~~~~~~~~~~~~~~~~~~~~~~~~~~~~~~~~~~~~~~~~~~~~~~~~
Music has always had great power as a medium to protest for change. New York Times: In Guyana, Feeling Stifled After Needling Government in Song.
~~~~~~~~~~~~~~~~~~~~~~~~~~~~~~~~~~~~~~~~~~~~~~~~~~~
Dressed in a bright yellow hat, garish green shirt and oversize red tie, De Professor danced onstage, his waist-length dreadlocks following behind while he sang of government wrongdoing.
.
"With all de corruption dat taking place, we is de ones they blame," the song, "God Nah Sleep," went. "While dem a thief, thief, thief, we just sit down like if we lame," he continued, complaining of public inaction in the face of widespread graft.
The performance was so well received that it delivered the 43-year-old singer, whose real name is Lester Charles, a victory early this year in the annual calypso competition in Guyana, a tiny country on the shoulder of South America.
De Professor performing "God Nah Sleep" at this year's calypso competition in Guyana.
But the song so angered the government minister for transport and hydraulics, Robeson Benn, that he stormed into the state radio station's offices soon after and, according to numerous accounts, demanded that it be banned, along with an array of other competition-winning calypsos.
A conflict has since surfaced between the government and calypsonians, who accuse it of repressing their often politically charged music by keeping it off the airwaves. The dispute has piggybacked on decades-old ethnic tensions between descendants of African slaves and those of indentured Indian servants, two groups that have battled for power for half a century in this Caribbean nation of 740,000 people.


By National Communications Network
De Professor performing "God Nah Sleep" at this year's calypso competition in Guyana.


~~~~~~~~~~~~~~~~~~~~~~~~~~~~~~~~~~~~~~~~~~~~~~~~~~~
In the small community of Rio dos Macacos, in the north-eastern Brazilian state of Bahia, a tall, leafy jack tree stands as a living reminder of history. BBC: Brazilian former slave community fights for land.
~~~~~~~~~~~~~~~~~~~~~~~~~~~~~~~~~~~~~~~~~~~~~~~~~~~
Quilombos were mainly formed by runaway slaves who went to live in hiding, surviving as best as they could by working the land. Many families have left the area, but those still there are determined to stay.
But in Rio dos Macacos, an hour's drive from the state capital, Salvador, the story is different. Ms Silva says their ancestors were brought from Africa to work as slaves in the area's sugarcane fields up to 200 years ago.
But even after slavery was abolished, elders say their ancestors had few rights. For a long time, they continued to work the sugarcane fields not for pay, but in return for food and housing.
It was only after the local farms went into decline, that the quilombolas - as quilombo residents are known - were allowed to harvest some of the fields and keep the proceeds for themselves. But no land was ever formally given to them - an omission which is at the root of at their current problems.
Rio dos Macacos has become one of the most emblematic cases of the battle of quilombolas for land, with the community embroiled in a lengthy and tense dispute with the navy.


Rio dos Macacos residents live in simple houses and cook outdoors


~~~~~~~~~~~~~~~~~~~~~~~~~~~~~~~~~~~~~~~~~~~~~~~~~~~

~~~~~~~~~~~~~~~~~~~~~~~~~~~~~~~~~~~~~~~~~~~~~~~~~~~
Four of television's brightest female stars — Mindy Kaling, Amy Poehler, Allison Williams and Zooey Deschanel — were chosen to individually cover Elle's February issue, but only one got the up-close, cropped treatment. Can you guess which one? Jezebel: Mindy Kaling's Elle Cover Looks Different Than the Others.
~~~~~~~~~~~~~~~~~~~~~~~~~~~~~~~~~~~~~~~~~~~~~~~~~~~
If your answer was "probably the woman who's on the record saying she's a size 8, not a size zero, and also happens to be the lone woman of color," then congratulations! You get a cookie...which is unfortunately flavored with bitterness and institutionalized inequality.
Maybe the fact that Mindy Kaling was shot in closeup while the other women were shot in Elle's typical 3/4 fashion is just a coincidence. Kaling's photo is practically oozing with glamour so it's not like we can accuse the magazine of publishing a bad or unflattering shot of her. That said, this isn't the first time that Elle has depicted women who are larger than your average cover model in ways that obscure their bodies from view. They recently came under fire for a cover featuring Melissa McCarthy hidden by a coat and another of Gabourey Sidibe in tight closeup. (It turned out in McCarthy's case that she had chosen the coat herself, so who knows — as far as we know, Kaling is all about her torso on up and is thrilled with the cover.)
Website Fashionista also makes this interesting point:

It's perhaps worth noting that Kaling, the only woman of color to get her own cover, is also the only cover image rendered in black and white.
~~~~~~~~~~~~~~~~~~~~~~~~~~~~~~~~~~~~~~~~~~~~~~~~~~~
Welcome to the Black Kos Community Front Porch!
Pull up a chair and sit down a while and enjoy the company.