Rusty Blackbird Spring Migration Survey Blitz
Rusty Blackbirds are in very serious trouble. As shown by monitoring programs like the Christmas Bird Count, the Breeding Bird Survey, and regular everyday bird counts by birders all across their range, their numbers have been drastically declining for several decades. The counts consistently point to a staggering loss of 85-95% since the 1960s. Some estimates go as high as 99%. Ponder those numbers for a moment, even taken at the lower value of 85, it's a shocking statistic.
Because of that alarming information, in 2005, the International Rusty Blackbird Working Group was formed to collaborate on research projects in order to better inform conservation efforts. From 2009-2011 they conducted the Rusty Blackbird Winter Blitz project in which they gathered much data from birders within the winter range of these birds. A great deal of information was gained through that three year study and is being put to use today to help this species but little is known about their migrations to and from those wintering areas. This year is the first of a three year study in which they are coordinating the spring migration of Rustys all across their range in order to better understand movement patterns and habitat hotspots. Their goal is to track Rusty Blackbirds from their wintering grounds in the southeastern United States throughout their entire migratory journey into the northeastern United States, Canada, and Alaska.
And they need my help to do that, and yours, and yours, and yours, oh, and yours too. If you're interested in helping, carefully step over the birds nest and find out how.
The project has four key objectives :

1. Determine important migratory stopover sites (and characteristics of those sites) for Rusty Blackbirds traveling back to their breeding grounds;

2. Assess the consistency of numbers at different stopover locations and the consistency of timing of stopover occurrence; this will be achieved by repeating the Blitz for three consecutive years;

3. Leverage the Blitz process and communications to strengthen relationships with state, federal and private conservation organizations and personnel. This will include collecting data to inform State Wildlife Action Plans, Joint Venture implementation strategies, and other conservation efforts with the ultimate goal of promoting Rusty Blackbird conservation;

4. Use the Blitz to better engage the birding community and create increased awareness and engagement regarding Rusty Blackbirds and their conservation.
It's common knowledge that birds of many species are declining across their ranges today but I'll confess right here and now that I haven't paid enough attention to Rusty blackbirds over the years and had no idea that they were in this kind of trouble. I just stumbled onto the fact by accident and even then I almost shrugged it off. But after thinking about it for awhile I realized that with a life long love affair with birds under my belt, I had no excuse not to take this opportunity to possibly help these birds.
And even, if like me, you wouldn't put them very high on your list of favorite birds, it's probably important to remember that there are many other species of birds and animals that are also in one kind of trouble or another today, and knowledge gained from this study may very well prove useful to some of them as well, possibly for a species that IS high on your list. It's also important to remember that all things in nature are interconnected and when one species is effected, there will almost certainly be an undetermined impact on other species as well. So I sincerely hope that those of you that live in an area that Rusty Blackbirds travel through will stop and take a second look at that next flock of blackbirds that you see, and that you'll then take the time to report any Rusty's that you spot. Aldo Leopold said "For one species to mourn the death of another is a new thing under the sun." Let's do what we can to help ensure that mourning the loss of these birds isn't part of our future.
If you do decide to help with this very worthwhile project here's a link to the organizations web site which has more links that explain what they're doing, links that will aid you with identifying their songs and physical characteristics, likely habitats for you to search in, and what you need to do if you want to participate. It will cost you a few minutes to read through it,and then a few more minutes if/when you submit any sightings later on, but if enough people are willing to spend those few minutes it just might make a difference, and as an added bonus we might all just learn something along the way!
Rusty Blackbirds aren't backyard birds for everyone here and some of you may never lay eyes on one even during migration. You folks way out west in particular may never see one but then again, stranger things have happened, ranges are prone to change, especially these days, and strays can show up far from their normal territory, so everyone should keep their eyes open, just in case. Here's a map showing where they are normally seen during the year.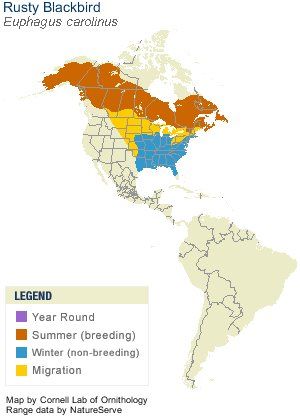 This link will take you to a list of the states, provinces, or territorys that Rustys' are likely to be seen and the dates/time frame to watch for them.
Data Entry Instructions
You'll enter your data via ebird. I know that many of you here are already familiar with ebird but for those who aren't here's a link to their Quick Start Guide which will show you just how to enter your data. You will have to register with ebird before submitting data but it's painless and they won't load you down with emails afterwards. And as a bonus to helping with this project I'm pretty sure most of you will find it to be a very useful and interesting site for your normal birding activities. It was through them that I was able to see my first and only Snowy owl when it was reported to be hanging out within driving distance of me.
RBSMB added this bit to the data entry info.
On the second data entry page, select Other- Rusty Blackbird Spring Migration Blitz under "Observation Type". Note that this option will only be available during the Blitz dates! Please enter your observations any time you searched for Rusty Blackbirds; information about where you did and did not find these birds is critical.
I realize these rather drab looking little birds don't bring out the oohhs and ahhhs of say a Peregrine falcon but they are nevertheless a part of the whole system and have a role to play in it all. Who knows what consequences the loss of them might bring. This is our chance to just maybe make a difference. It's up to us, we can shrug it off as I was first tempted to do or we can do our part and repay a bit of the debt we owe
all
the birds for the joy they bring to our lives.
If anyone has any questions about this I'll do my best to answer them.
I'd love to hear of any sightings so please mention them in a comment in one of The Daily Buckets. Pics are optional but I'd love to see em if you've got em.
Thanks,
I should add that Iding these can be a bit of a challenge, especially in the spring when Common Grackles, Brewers, and Rusty Blackbirds all look similar to one another. So use care in identifying them if you aren't an experienced birder (or even if you are). Bad data is worse than no data at all so it's very important to know exactly which species you're looking at. Cornell Lab of Ornithology's site is a great place to start if you aren't sure you can tell them apart.
Here are some other good sites that pertain to Rustys.
http://www.natureinstruct.org/...
http://identify.whatbird.com/...
So, after you've checked out the links and registered with ebird, don't forget to come back and share what's happening right now in your own neighborhood and please give us some idea of where that is.
Thanks!