The promoters of injustice over at the Republican Party honor Martin Luther King, Jr.'s commitment to justice:


Today, we reflect on the memory of a great man, Dr. Martin Luther King, Jr.
http://t.co/...
http://t.co/...
— @Reince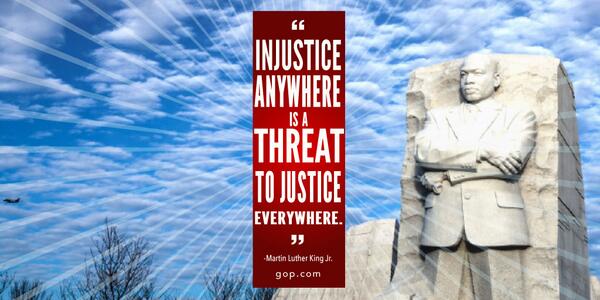 This is, mind you, the party that has repeatedly sought to suppress voting across the country, opposes marriage equality, opposes immigration reform, and opposes the union rights for which King was fighting at the time he was assassinated.
When MLK was killed in Memphis, he was helping public employees who wanted to bargain as a union.
— @jakemcintyre
But of course Republicans don't want to actually
do
anything to further King's legacy, they just want to brag about the few pieces of his agenda they've come to support. Desegregated lunch counters? Republicans say yes! Voting rights? They're gonna have to
get back to you
on that.