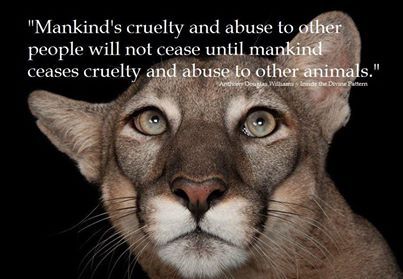 I'm a firm believer that how we treat animals is related to how we treat people. Those that would decrease lunch money for school children most likely couldn't care less about how pets are treated. Those who would limit access to medical care are probably the same folks who ignore the deaths of the 800 pets who are killed every HOUR in this country because we don't have adequate protections for them.
The use of gas chambers and heart sticks to kill unwanted pets are horrific practices that cause the animals needless suffering. Please consider writing to the communities that use these methods of execution and voicing your objections. If you live in one of the areas that still gasses animals or kills them with heart sticks, you can directly impact the lives of pets by helping to eliminate the use of these practices.
More........
Know the facts.
A further tragedy is that the 10,000 pets that were killed today, will be followed by another 10,000 that will be killed tomorrow, and the day after that, and so on until we stand up and act to protect the animals.
This is a picture of a dog being forced into a crate, after which this dog and the others will be placed in a gassing chamber. The top will then be closed, and the dogs will be gassed to death, a terrible end which leaves them gasping in agony and crying like children for the last moments of their lives.
We must stop this practice.The above picture is sorry enough. If you can stomach it, here is a video of the actual gassing. Advance warning: it is graphic and very, very sad.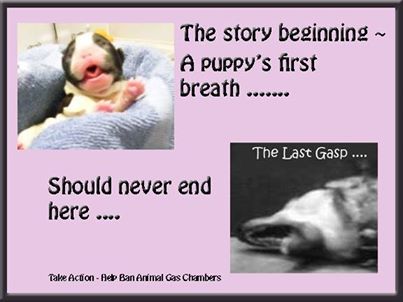 This is the proper way to deal with gassing chambers.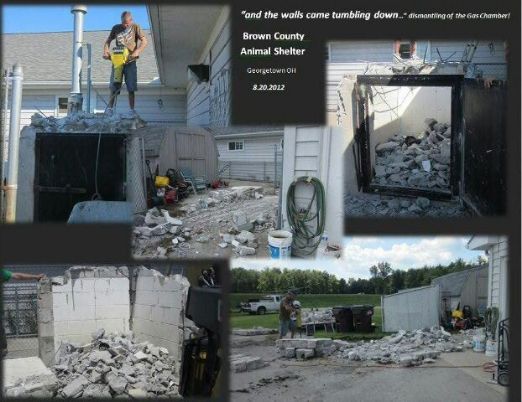 See how your state stacks up on gassing chambers. If your state still has them, or hasn't outlawed them, you can help ban them.
It can take up to 45 minutes for animals to die in a gassing chamber.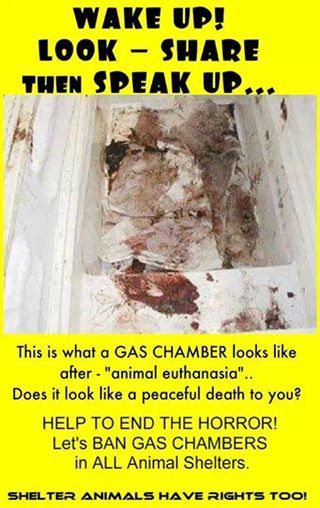 A low-cost spay and neuter program and a serious commitment to animal adoption rather than euthanization is neither expensive to implement, nor particularly difficult to administer. But it does require recognition and understanding of the basic problem.
Animals have few rights in our country. We have laws on the books to prevent cruelty to animals, yet we permit cruel practices like gassing and heart sticks. If you are not aware of what a heart stick is, the name alone should give you an indication of how horrible this practice actually is.
Here's an excerpt from a discussion of heart sticks at a particular SPCA.

It hurts if it's not done right.

A poison-filled syringe is jabbed through an animal's chest wall. The needle punctures layers of nerves on the way to the heart. If the syringe pulsates, it is in the heart.

If not, the animal gets another sharp stab. Once on target, a press of the plunger injects "blue juice" (sodium pentobarbital) into the heart of an unadoptable animal.

The dead animal is thrown into a garbage barrel with others and put in the freezer. Later, cast-off cats and discarded dogs are taken to the dump.

This is how the heart stick procedure works when a trained veterinarian technician euthanizes an anesthetized animal.

At the Pennsylvania Society for the Prevention of Cruelty to Animals in Philadelphia, the procedure is sometimes done, according to former employees, with two horrific differences.

They say the animals are awake.

And they say the people injecting the blue juice are not properly trained.
If we want to live in a humane society, we need to be humane in how we treat both people and animals.
Heart sticking in Michigan: here
FaceBook page to help ban gas chambers: here
Yahoo discussion of heart sticks: link
A Canadian initiative to eliminate gassing chambers: link
I know animals have feelings. Consider the undying loyalty of the dog in the following video.
I wish people were as loyal to and considerate of their pets as they are to us.
In order to bring more awareness to how unwanted pets are treated, it is going to take a grassroots effort to educate the public about the cruelty being done to animals in shelters across America. With education and better communication, we can engage the public, and that is needed to change shelter practices in a more humane way.