DK Quilt Guild: A place for quilters to gather, share ideas, projects, and to make the world a better place, one quilt at a time. Join us and share your thoughts, projects, questions, and tips. Quilters here are at many different levels of skill. Beginners and non-quilters are welcome, too!
Quilts we delivered to the Palo Alto VA Hospital in 2013 -- see a photo gallery of our visit here.


Hi everybody! We're here to organize a community gift of quilts and other comfort items to the Detroit VA Hospital to be delivered July 16, 2014 at noon -- one day before NN14 kicks off. This year, we are focusing on the facility's nursing home which has 65 beds. So the goal is 65 quilts, a mix of wheelchair size and lap throws.
Here is a photo gallery of the quilts we made last year -- as you can see, people did all sorts of different things, some simple, some complex, all wonderful. We'd like to have that kind of mix again this year so there are no dictates other than these:

No references to politics or religion in your work -- the VA vigorously protects its patients from any kind of proselytization.

Pre-wash your fabric to make sure it won't bleed. If you want to go the extra mile, use a mordant like Retayne to set any loose dye.

Use polyester batting if possible so your quilt won't shrink in the hospital laundry.
Follow me below the orange squiggle....
About sizes... A wheelchair quilt should be about 36" x 60" -- it's a narrower quilt so that it does not get caught in the mechanism and is long enough to cover the legs but not so long that it might drag. This is a great size for a quick project. You won't need to piece a backing for one thing.
A lap quilt should be at least 48" x 60" but could be larger if you like. We generally like ours to be about 50" x 60" but if you have an unfinished top from a class you took and you'd like to finish it for this project -- and it just happens to be twin size, no worries. We'll take it! Or if you have a design you want to try and its going to come out wider and longer, don't agonize -- make it the way that seems right.
It is okay if you tie your quilt rather than quilting it.
You can use charms or strips rather than blocks.
Got orphan blocks lying around? This project is a great way to use them!
This doesn't have to be really fancy, just heartfelt. Let your own creativity be your guide!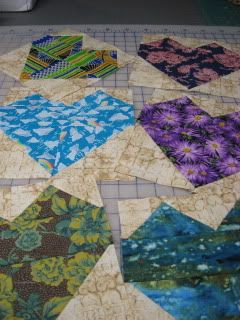 How to make a patchwork heart block
Who is in?
So far, the following people have pledged quilts. Please let me know if you would like to be added to the list.
Sara R: 2 quilts
winglion: 2 quilts
Beadlady: 3 quilts
Pam from Calif: 1 quilt
Winifred3: 2 quilts
Ninepatch: 1 quilt
SilverWillow: 2 quilts
leu2500: 1 quilt
FloridaSNMOM: 1 quilt
madmommy: 1 quilt
Bridget: 1 quilt
NEPatriot: 1 quilt
Wood Dragon: 2 quilts
jlms qkw: 1 quilt
politik: 1 quilt
Elizaveta: 1 quilt
vtgal: 1 quilt
ERRN: 2 quilts
RUNNING TOTAL: 26 quilts, only 39 to go!
TOPIC OF DISCUSSION -- Labels! Ninepatch has kindly offered to make a uniform label to be attached to any quilt that is a part of this project. What shall it say?
This is a great time to help the VA
JaxDem sent me this article from her local paper about volunteer service to the VA. February is the month of a National Salute to the VA -- and we are just getting started!
In addition to our quilts, there will be other parts to our gift.
Joanbrooker has kindly pledged to buy the teddy bears this year, one for every bed in the nursing home.
State of confusion is again going to make handmade cards to accompany our gifts! Her cards are so full of spirit and gentle humor -- this will be great.
The Readers and Book Lovers group at DK has expressed an interest in organizing a book drive for the hospital. Limelight will be leading that effort.
Broths and winifred3 have graciously agreed to lead the effort of organizing knitted or crocheted hats and scarves.
PEOPLE WHO HAVE EXPRESSED INTEREST IN KNITTING FOR THE PROJECT:
jlms qkw
broths
winifred3
Elizaveta
Fineena
Perhaps another area of DK will take on a drive to collect phone cards for the patients. These are also needed and greatly appreciated by the VA.
Because there are different areas of Daily Kos that may participate for the July 16 gift to the VA in Detroit, I started a new group, DK VA Hospital Support Project, as a place to collaborate. It would be lovely for this to become an annual tradition for there is bound to be a VA Hospital near any city where Netroots Nation might be held in future. I've invited all who have pledged quilts and will happily send an invite to anyone who wants one. Be sure to "follow" the group so as not to miss any diaries!
The floor is open for discussion of quilts and other aspects of the VA hospital project -- as well as your own on-going quilt projects for any purpose! Please show and tell!
Would you like to write a future DK Quilt Guild diary? Please join in! Please volunteer within the comments. Thanks

The schedule:

02/02 -- trkingmomoe~Sampler Quilt Along
02/09 -- trkingmomoe~Sampler Quilt Along
02/16 -- wininfred3
02/23 -- Sara R
03/02 -- trkingmomoe~Sampler Quilt Along
03/09 -- trkingmomoe~Sampler Quilt Along
03/16 -- OPEN
03/23 -- trkingmomoe~Sampler Quilt Along
03/30 -- OPEN
04/06 -- OPEN