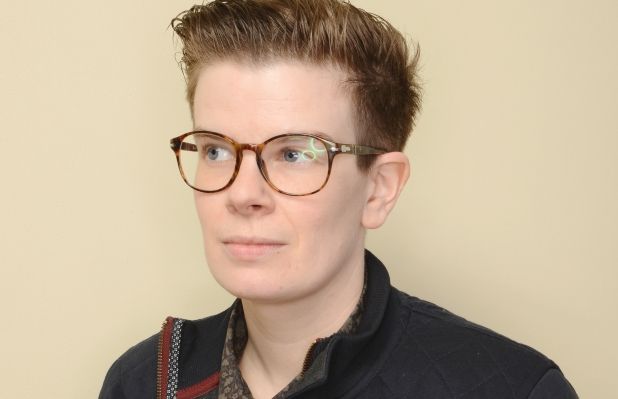 One of the documentaries that showed at the just-concluded Sundance Film Festival was My Prairie Home about the life and music of transman Rae Spoon.

I sure wish I was a man,
I would never go to church again.
My prairie home fits like a Sunday dress.

--Rae Spoon, Sunday Dress
Rae prefers people use the pronouns "they" and "them." They say that the people at Sundance have been very accepting of their choice of pronoun.

There haven't been any grammar discussions yet.

--Spoon

The film garner a spot as one of the the programmer's top five picks and got Spoon a slot in the festival's ASCAP Cafe.

There was a lot of embracing. For a long time, it felt like there wasn't really room for me in the mainstream, so this all feels pretty good.

--Spoon
Spoon was raised in a devout evangelistic home in the Canadian prairie of Alberta. They have described their father as an abusive tyrant. Rae found their escape through their folk music.
The film was directed by Chelsea McMullan and funded by the National Film Board of Canada. It is streaming free for Canadian residents.
The prairie landscapes of Canada, the long bus trips, the run-down bars, diners and hotel rooms all combine to form a responsive backdrop for a difficult story of childhood pain, and eventually the sense of realizing what it is you've been looking for, even in a place that's "very fundamentalist Christian," as Spoon described it.

--David Self Newlin, The Salt Lake Tribune
The whole time we were filming the documentary, I was trying to capture this sense that I got from being with Rae all the time, the way people react to Rae in the prairies that really varies, and also the impact that music has on the people in the prairies, and the relationship and tension between those two things.

--Chelsea McMullan
The documentary includes a series of music videos.
I think we need to start talking about some of these issues around gender, and maybe adding singing and dancing would make it more fun.

--McMullan
Spoon wrote a set of
very personal songs for the film's soundtrack
.
I don't think I will ever go back to being less personal in my music.

--Spoon
Rae also wrote a book of memoirs as part of the process of making the documentary. They are collaborating with Vancouver writer Ivan Coyote on a new work called
Gender Failure
, which will begin appearing at The Surrey Arts Centre Feb 7-8.
The transgender presentation was something of an oddity, I think, at the beginning. But I don't have media asking me what is transgender anymore. Attitudes are changing, and with the passing of (Bill C-279) prohibiting discrimination based on gender identity last year, I feel pretty good.

I am the way I am because I grew up in Alberta . . . and I think the artists who move back to Alberta are the toughest creative people you will find because they are weathering the storm.

I am proud of being transgender. This is not a choice. And I am going to do what I am going to do. And when kids come up to me after shows and tell me that I've helped them in some way . . . I think that's a pretty nice byproduct of just being myself and making the music I want to make.

--Spoon