National News

State of the Union: Obama calls for action, with or without Congress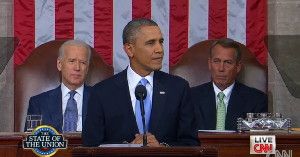 By Tom Cohen. Chelsea J. Carter and Leigh Ann Caldwell, CNN

Washington (CNN) -- The year of action. That's what 2014 is all about for President Barack Obama, and it was the underlying theme of Tuesday night's State of the Union address.

"Let's make this a year of action," Obama said. "That's what most Americans want -- for all of us in this chamber to focus on their lives, their hopes, their aspirations."

It's an optimistic goal for a President with a 43% approval rating entering his sixth year in office and facing a determined opposition otherwise known as the House of Representatives.

Speaking from the lectern inside the House chamber for his fifth State of the Union address, Obama outlined his goals and priorities that included economic opportunity, energy and education.


Food Stamp Cuts, Cold Weather Put Extra Strain On Food Pantries
by Eliza Barclay

Scrounging to feed yourself and your family can be brutal. But add the bone-chilling cold to it and it's a whole other level of misery.

Unfortunately, many American families are suffering from the double whammy this week as a deep freeze descends on most of the nation.

Anti-hunger organizations say the unusually low temperatures are sending heating bills through the roof, cutting into the food budgets of many families struggling to get by. That means food pantries are bracing for more hungry people from their communities coming through the door in the weeks to come.

"By next week, I expect we'll see record levels of people coming into our member agencies," Ken Kupchick, director of marketing and development for the River Valley Regional Food Bank in Fort Smith, Ark., tells The Salt.


55 Bodies Are Exhumed At Reform School Site In Florida
by Bill Chappell

Researchers say they have exhumed the remains of 55 people at Florida's Dozier School for Boys, a notorious reform school that closed in 2011. The total found by University of South Florida researchers represents 24 more bodies than official records say should be there.

"They also found remains under a road, under a tree and spread throughout surrounding forest," reports . "Only 13 were found in the area marked as a cemetery with pipe crosses, which is on a forgotten corner of campus."

For years, the Dozier School has inspired stories of horror and sadness, told by the men who were sent there as children and by the relatives who sometimes never saw their son or brother alive after they arrived at Dozier.

Around 300 men have spoken out about their experiences at the reform school in the small panhandle town of Mariana in the 1950s and 1960s. And they said they were certain that some of their schoolmates had died as a result of the treatment they received.


Morrie Turner 1923-2014: Drawing Gentle Lessons In Tolerance
NPR.org

Before Jesse Jackson debuted his vision of the Rainbow Coalition as a multiracial organization devoted to racial and economic equality, Morrie Turner envisioned Rainbow Power—and he gave it to America in the digestible form of a regular cartoon panel called Wee Pals. In it, his multiracial group of young friends discussed racism, sexism, classism and a bunch of other social problems with deft humor and juvenile frankness. Turner was the nation's first black nationally syndicated cartoonist.

Morrie Turner died on Saturday in Sacramento, Calif. of natural causes. He was 90 years old, and had drawn a daily strip that gently enlightened America on race for almost half a century.

Ink in his blood

Born Morris Nolton Turner, Morrie Turner grew up drawing cartoons as a kid in his Oakland, Calif. hometown. He was the youngest of four; his mother was a nurse and his father one of the famous Pullman porters. After graduating from a local high school, he entered the Army Air Force, as a mechanic with the 477th Bombardment Group of the Tuskegee Airmen during World War II. While there, Turner drew a regular comic strip for Stars and Stripes, the military daily.

International News

Mexico launches anti-kidnapping squad after abductions soar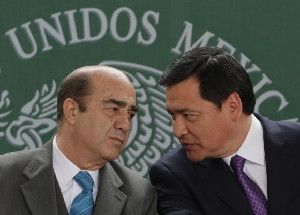 Reuters

(Reuters) - Mexico's government on Tuesday created an anti-kidnapping agency after abductions soared 20 percent last year despite President Enrique Pena Nieto's vow to reduce the crime.

The new department will answer to the country's interior ministry, where Pena Nieto has centered his anti-crime programs after his predecessor relied on police and the military.

Government data showed that reported kidnapping jumped to 1,695 cases last year compared with 1,407 in 2012 in an embarrassment for Pena Nieto, who said he would shift the government's focus from hunting drug lords to reducing kidnappings and extortion.

Since taking office in December 2012, Pena Nieto has sought to draw public attention to his efforts to reform the economy and away from grisly violence that has killed more than 80,000 people since his predecessor, Felipe Calderon, launched a military offensive against drug cartels seven years ago.


Wal-Mart China to Step Up Vendor Checks After Donkey-Meat Recall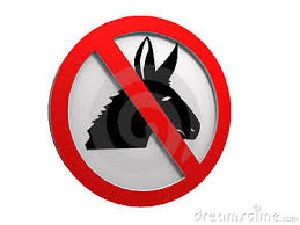 By Natasha Khan

Wal-Mart Stores Inc. (WMT) said it will step up inspections on suppliers in China after state-owned broadcaster CCTV said the retailer uses unlicensed suppliers and fox DNA was found in meat it sold as donkey.

The company will increase checks to ensure vendors have all necessary permits including government inspection reports and business licenses before a product goes on sale, it said in a Chinese statement on PR Newswire today. The Bentonville, Arkansas-based retailer also said it will examine labels to ensure product claims such as "organic" are accurate.

The inspections expand on Wal-Mart's pledge to improve food safety after incidents including the sale of sesame oil and squid with hazardous levels of chemicals found in 2012 and the mislabeling of regular pork as organic a year earlier. The world's largest retailer said Jan. 3 that it will conduct DNA tests of meat sold in China after recalling donkey products from a local supplier that authorities said contained fox DNA.


Mexico's gay rights movement gaining ground
Despite a shift in public opinion, gay couples remain unable to marry throughout most of the country.
Duncan Tucker

Guadalajara, Mexico - As the countdown to New Year's Day reached its climax in Guadalajara's trendy Barezzito nightclub, many of the well-dressed local couples shared a celebratory kiss. But the euphoria did not last long for two young men who partook in a modest display of affection.

"We kissed a couple of times and the security guards told us that it wasn't a gay bar and that we had to leave," Pedro Siordia Mora, a 23-year-old psychology graduate, told Al Jazeera.

"They called the police on us and the police showed up with machine guns," added his boyfriend, Michael Grendell, a 29-year-old English teacher from New York.

Intolerance of sexual diversity remains common across much of Mexico and Latin America, a strongly Catholic region where macho attitudes prevail. Yet the region has seen rapid change in recent years. Democratisation, an increased respect for human rights, the onset of globalisation and the growth of social media have all facilitated the expansion of lesbian, gay, bisexual, transgender and queer (LGBTQ) rights across the region.


Man of the Year not enough? Francis now SuperPope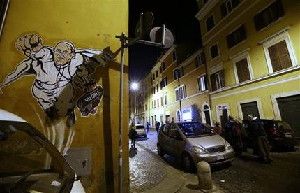 AP

VATICAN CITY (AP) -- It wasn't enough that Pope Francis was named Time magazine's "Person of the Year" or that he fronted this week's Rolling Stone magazine. Now there's SuperPope graffiti sprouting up around the Vatican.

The white caped crusader appeared Tuesday on a wall just off Borgo Pio, a tiny cobble-stoned street near St. Peter's Square. In typical superhero fashion, Francis' right fist is thrust in the air, leading him in flight, while his left clutches his black satchel. "Valores," or values in Spanish, is written across it.

The artist is identified only as Maupal.