I post a weekly diary of historical notes, arts & science items, foreign news (often receiving little notice in the US) and whimsical pieces from the outside world that I often feature in "Cheers & Jeers". For example .....
OK, you've been warned - here is this week's tomfoolery material that I posted.
ART NOTES - 90 photographs by the New York Photo League, in an exhibition entitled Bearing Witness are at the Mint Museum in Charlotte, North Carolina through June 29th.
CHEERS to see that in Britain, many more women are becoming professional beer brewers - apparently coming full-circle (as Jane Austen brewed for her family in the 18th Century).
HAIL and FAREWELL to the Academy Award-winning actor Maximilian Schell - whose family fled from his native Austria to Switzerland when the Nazis annexed Austria when he was seven years old - who has died in Innsbruck at age 83.
FRIDAY's CHILD is Depot the Cat - who has lived at a Home Depot store in South Carolina the past thirteen years ... and after the store was looking to remove the cat (after some alarms were tripped) an organized effort has led the store to decide that "she can remain in her home as long as she likes".
SIXTY YEARS AGO to commemorate the death of his fellow Welshman Dylan Thomas, Richard Burton starred in what many think is the best radio play ever written, Under Milk Wood - which was not made into a film until 1972.
LAST DECADE a former German leftist from the 60's/70's named Joschka Fischer became head of the Green Party and - for a time - Germany's foreign minister. As an older man, he resembled more a professor of chemistry.
But then photos surfaced of him battling policemen in the street - and so this satire magazine imagined him as, perhaps, the new James Bond. This caption reads, (I believe?) "'Jockel' Fischer fights all-comers".
Today, he's a senior adviser at a consulting firm led by Madeleine Albright - the former Secretary of State.
CHEERS to the new cabinet of the Chilean President-elect Michelle Bachelet - which includes record numbers of both women and political independents - as she regains the office she once held.
ALSO LAST DECADE on a "Judge-Judy"-like show in Germany, a woman named Regina Zindler had a complaint about a neighbor's bush damaging her mesh wire fence (Maschendrahtzaun). It became famous due to her rural accent that - to many Germans - sounds very annoying. A TV satirist named Stefan Raab used it on his show ... and then went a step further.
He put together a country music song - with nearly all lyrics in English - named "Mesh Wire Fence" ... but instead of using that in English, he sampled the woman's voice saying Maschendrahtzaun as a lampoon. And the song hit #1 in Germany (with Ms. Zindler getting some royalties out of it).
BRAIN TEASER - try this Quiz of the Week's News from the BBC.
IF YOU ARE NOT A FOOTBALL FAN .... you can still partake of some Super Bowl action today. Animal Planet will be showing Puppy Bowl X beginning at 3 PM Eastern. And not to be outdone, the Hallmark Channel will feature the first-ever Kitten Bowl beginning at 12 noon Eastern.
SEPARATED at BIRTH - British singer Sophie Ellis-Bextor as well as Academy Award winner Angelina Jolie.
......and finally, for a song of the week ............... someone whose name you may not recognize .... but whose tunes you will ... is the songwriter Doc Pomus - who went from being a blues singer in the 1940's - on crutches - to a Brill Building legend, with so many classic tunes (several written for Elvis Presley) that Rolling Stone wrote after his death in 1991, "As one of music's most gifted and prolific songwriters, Doc Pomus helped invent rock 'n' roll". Some of his 1,000 songs have been performed by a wide range of musicians, and it's no wonder his influence is present today.
Born in 1925 (as Jerome Felder) in Brooklyn, he contracted polio at age six. At age fifteen, he heard a Big Joe Turner record ... and became a blues, R&B fan for life. At age eighteen, he made his singing debut in a Greenwich Village club and for the next ten years made a career out of it. He adapted the name Doc Pomus in part to shield his nighttime activities from his parents ("Doc" was a nod to blues singer Doctor Clayton, while "Pomus" simply seemed to roll nicely off the tongue) and partly since he felt a blues singer with the name Jerry Felder ... well, just didn't make it. But it mattered little to top-flight musicians such as guitarist Mickey Baker and saxophonist King Curtis.
He eventually recorded a single called Heartlessly that the DJ of note Alan Freed played ... but the record company discovered that the singer was not black but instead, "a 30-something, disabled Jewish guy on crutches" and did not release the record. That (along with starting a family) convinced Doc that he needed to earn a living another way.
His first break from songwriting came from teaming up with the legendary Lieber/Stoller team to write the Coasters song Young Blood - and that first $1,500 royalty check set him on a new career path. Atlantic Records hired Pomus as a staff lyricist, and he quickly wrote the single Lonely Avenue that became a hit for Ray Charles.
In the early 50's, a sixteen-year old pianist named Mort Shuman began dating Doc Pomus' younger cousin, and the two fell into a friendship (despite a fifteen year age difference). Six years later, they formed a partnership that lasted for the next seven years ... with songs that will be recounted a bit later. One reason they clicked was that Pomus was from an older, R&B generation ... while Shuman was more of the emerging rock and roll generation ... which they blended seamlessly into a contemporary sound.
They hit the big time with Elvis Presley, although he passed on their first composition for him (Turn Me Loose, which became the first hit for the teen idol Fabian). Elvis did record over a dozen of their songs, including "Suspicion", "Little Sister" and Viva Las Vegas - which especially loomed large in his later career.
During the 60's, Doc Pomus became a friend both to those breaking into the music business (as he was grateful for the help he had received) and to aging veterans. Among those was his first hero Big Joe Turner, plus Dr. John, as well as helping a young Lou Reed in the early 1960's (who memorialized Pomus on his Magic & Loss album). In addition, the diminutive jazz singer Little Jimmy Scott - with a contralto voice one might mistake for a female's - was one of Doc's favorites, whom he pitched to several record companies ... and it was Scott who sang at Doc Pomus' funeral. One legacy of Doc is the Doc Pomus and Founders Fund Financial Assistance Grant Program - offering emergency assistance to any Rhythm & Blues artist who charted between 1940 and 1979.
In the mid-60's, Mort Shuman left for Paris, where he delved into other aspects of the entertainment world. For a few years, Doc Pomus laid low - especially after a bad fall left him (largely) wheelchair-bound - but emerging from time-to-time ... as the musical director for Bette Midler, writing for films and helping the Blues Brothers get started.
From the mid-70's on, Doc Pomus spent the last fifteen years of his life at a frenetic songwriting pace, as he became confined to a wheelchair (at first) and later as his health declined (in a hospital bed). He began writing songs with Dr. John, Ken Hirsch and Willie DeVille, for as he put it, "people stumbling around in the night out there, uncertain or not always so certain of exactly where they fit in and where they were headed". He also wrote for films such as "Dick Tracy" and John Waters' "Cry Baby".
Doc Pomus died in March, 1991 from lung cancer at the age of sixty-five (interestingly, his old composer partner Mort Shuman died later that year). He went down swinging - writing material in his hospital bed saying, "I was never one of those happy cripples who stumbled around smiling and shiny-eyed, trying to get the world to cluck its tongue and shake its head sadly in my direction. They'd never look at me and say, 'What a wonderful, courageous fellow.'"
Tributes poured in; from Mike Stoller who called him "The archangel of rhythm and blues" to Atlantic co-founder Jerry Wexler who said, "If the music industry had a heart ... it would be Doc Pomus."
And those songs ... in addition to those already mentioned, he wrote the lyrics for The Drifters/Jay and the Americans ("This Magic Moment"), Andy Williams ("Can't Get Used to Losing You"), Dion and the Belmonts ("Teenager in Love"), Bobby Darin ("Plain Jane"), Ben E. King ("Ecstasy, "Youngboy Blues") ... and his songs have been recorded by Bob Dylan, Brian Wilson, Irma Thomas, John Hiatt, Shawn Covin, Aaron Neville, The Band and Los Lobos. Possibly his most personal tune was one that The Drifters had a #1 hit with in 1960 .... as Save the Last Dance for Me allowed that Doc was fine with his wife dancing with others at a function (due to his infirmity) but that she ...... well, as the song title says.
Doc Pomus was posthumously inducted into the Rock & Roll Hall of Fame, the Songwriters Hall of Fame (along with Mort Shuman) and was the first white person to be given the Rhythm & Blues Foundation's Pioneer Award - and the only one since.
There is a 2007 biography of him, a 2007 tribute album of note, and the character that John Goodman plays in the current film Inside Llewyn Davis is believed to be partly based upon the life of Doc Pomus.
Finally, there is a 2012 documentary entitled AKA Doc Pomus that tells his story. And since his songs he wrote the lyrics to have reached the Top Forty in every decade since the 1950's ... wotta story it is.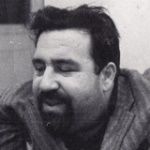 What song to choose? One of my favorite songs by Doc Pomus was one he co-wrote with Dr. John entitled There Must Be a Better World Somewhere - although it was B.B. King who popularized the tune on his 1981 Grammy-winning album of the same name. Accordingly ..... why not feature a version of this song performed by both those two musical giants? And below you can hear it.
Sometimes I wonder
Just what am I fighting for?
I win some battles
But I always lose the war
I keep right on stumbling
In this no-man's land out here
But I know
There must be a better world somewhere

Everyone I know
Only loves themselves
Every woman I love
Seems to love somebody else
And every woman
Got a license to break my heart
And every love, it's over
Before it gets a chance to start

If it ain't dead
Maybe in the year after
Instead of tears
I'll learn all about laughter
But meanwhile I'm stuck out here
It just ain't fair, but I know
There must be a better world somewhere