In December 2008, I first saw Mushu. He began a habit of coming up the back steps like he lived here... and eventually (after being fed a few times) would make his presence known by jumping up on the rail post and peering into the window. Here he is in a photo I took in January 2009. By then, Pootie #1 recognized him from all his repeated visits, and he's examining him from inside and through the window glass.


He was a friendly cat, and at the time, I figured he lived nearby and was just looking for a handout. By February, he stopped coming by.
Then, in September of that year, he showed up at the front stoop, looking skinny.
He clearly knew and remembered me.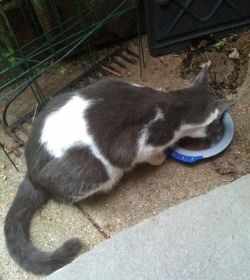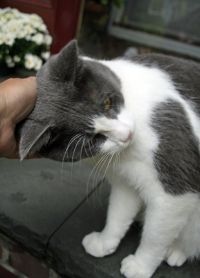 I let him into the front porch at night to eat
and sleep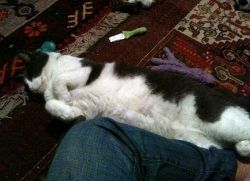 and play.
I knew he belonged here when I found that Kitten had managed to sneak into the front porch where I had kept Mushu separate from the others and they were curled up sleeping together.

He was a pootie that went from wandering outside, wondering where to sleep each night...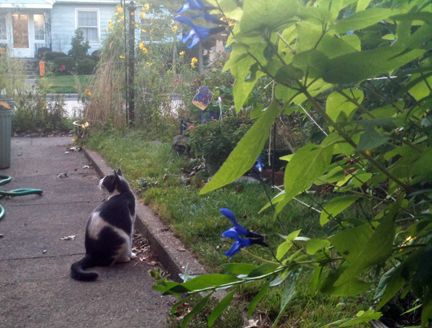 To sleeping comfortably with his new found brothers...

...and later wrestling with a little brother...

He used to climb up trees and telephone poles, and now he stands on tables to peer out windows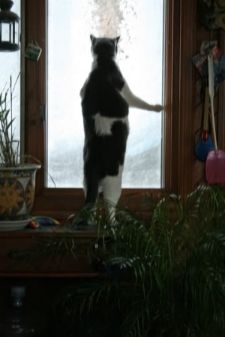 And while he will gaze outside and chatter in frustration at the birds at the feeder...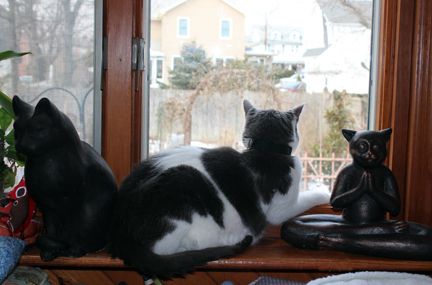 He's fully ensconced in the luxuries of indoor living.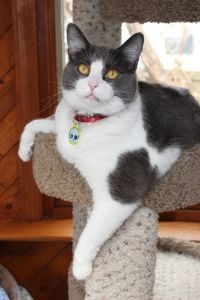 There's another cat outside that I've been feeding about a year before Mushu showed up. He first showed up with his brother.


The brown tabby disappeared, but his scrappy feral brother still came by. And it was he who I realized was keeping Mushu away from the back stoop, and thus why Mushu started showing up at the front stoop.


While remaining fairly wild, he knew me, and we exchanged blinkies on a regular basis


Blackie has been stopping by since 2007, and has eluded being captured. Over the years, he has gotten scrapes and cuts from fights, and his chest is more peppered with little white hairs. A few weeks ago, he showed up limping badly, and he's been showing up less frequently for meals. When he does come by, he eats voraciously.

There have been two snow storms... and I haven't seen him for over a week. I'm worried.

I look at Mushu and pet and kiss him as he tries to fit his huge self on my lap, a stray who was fortunate to find a new home inside. And I think of the feral Blackie, who calls my yard his home.

I've been keeping a regular eye out for the wild eighth member in my pack, hoping to find him sitting on the back stoop or resting in the chair, waiting for me to bring him a meal. I've been sweeping the stoop to clear it of snow and shoveled a path up the driveway to the backyard. I look for prints in the snow.



Curled up tight and sleeping on a cold day with Pootie #1 keeping watch. January 9, 2014.
hug your babies today. It's cold outside and snowy. And it makes me think of all the critters we love who were born wild, but still choose humans to share their lives.