---
Six Word Memoirs
Many of you will remember the popularity of Six Word Memoirs which derived from an on-line magazine founded in 2006, called Smith Magazine. The concept was to write a story in only six words. This stemmed from a challenge given to Earnest Hemingway who responded with: "For sale: baby shoes, never worn." The challenge then from Smith Magazine was to write one's life story in just six words. It subsequently became a "thing" on the internet with many opportunities to create such a six word autobiography. I do remember a diary about these on Daily Kos; I even remember my own attempt. I used the search function to attempt to locate it but was unsuccessful; not a search expert.
There are thousands of these memoirs on the internet. I'll list a few as examples.
Long days, short nights: working Mom.
We met. We loved. He left.
sad childhood. addiction. recovery. happy now
Former model, current Reverend, always dancing.
'Independent woman, strong believer, big dreamer.''
Sad beginning, middle struggled, happy end.
wake up, dance, eat, sleep, repeat
It might be amusing to try a few of our own. I liked my own effort
Great family,shoots pool,grows tomatoes,
which almost sums it up, but I realized it was missing a lot. So I consulted with this young woman who worked out a new formula.

Translation: 6+2=8 Thus it is permissible (only on KTK) to use 8 words. And that allows me the revision:
Great family,shoots pool,grows tomatoes,Daily Kos. Whether 6 or 8, you may wish to try one.
Yesterday on a rainy afternoon Mrs. side pocket mused "Wouldn't it be nice to have some scones and coffee?" I sprung into action and within 30 minutes had fresh scones on the counter. I've made them from time to time so it was easy. I use the recipe from
Joy of Cooking and the link there has good instructions. Mine looked like this: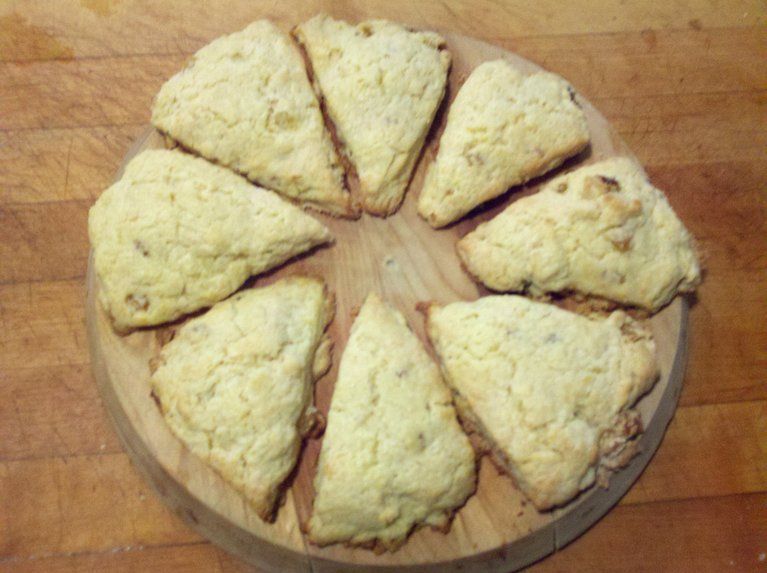 Hope you all are staying warm and dry.
| | | |
| --- | --- | --- |
| | Kitchen Table Kibitzing is a community series for those who wish to share part of the evening around a virtual kitchen table with kossacks who are caring and supportive of one another. So bring your stories, jokes, photos, funny pics, music, and interesting videos, as well as links—including quotations—to diaries, news stories, and books that you think this community would appreciate. Readers may notice that most who post diaries and comments in this series already know one another to some degree, but newcomers should not feel excluded. We welcome guests at our kitchen table, and hope to make some new friends as well. | |