Alan Cullison And James Marsonm of the Wall Street Journal write Fiery Street Battles Mark Deadliest Day for Ukraine Protests. Violence erupted today in the Kiev, when police stormed the barricades of protesters and activists who had set up encampments for several months. Battles are continuing through the night and widespread uncontrolled fires are spreading through the city.

At least 18 people were killed, and the number of injured climbed into the hundreds as police advanced toward Kiev's Independence Square, the heart of the protest movement, with the flash and thud of concussion grenades. As fighting progressed, so did the weaponry; many of the injured arrived at makeshift hospitals with gunshot wounds.

"Extremists from the opposition have crossed the limit—people have been killed on the streets of the capital of Ukraine," a statement signed by the head of Ukraine's security service and interior ministry said. It added that the government would use "all legal means" at its disposal in response. ...

The death toll has climbed to 18 so far. Protests began last year when President Viktor Yanukovych's reversed course and pivoted toward Moscow. The conflict seems to be based on western provinces, which are pro-Europe, and eastern provinces who favor policies leaning in Moscow's direction.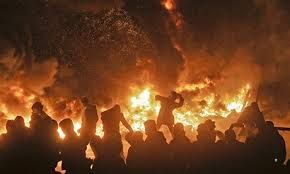 Foreigners have been encouraged to leave the city, or be prepared to stay indoors for several days. Authorities have shut down the subway, and other transport in and of the city.
Vice President Biden has urged Yanukovych to exercise restraint.

One of the opposition's leaders, the boxer-turned-politician Vitali Klitschko, spoke to supporters on the square: "We will not leave here. This is an island of freedom. We will defend it," Reuters reported. He later arrived at Mr. Yanukovich's office for talks, but he and another opposition leader, former economy minister Arseniy Yatsenyuk, were still waiting to see the president an hour later, Reuters quoted Mr. Klitschko's spokeswoman as saying.
Protesters have asked the west for help, however, help from the west is not likely to come because Russian President Putin has made it clear that it considers the former Soviet Republic to be "it's territory."