A daily series, Connect! Unite! Act! seeks to create face-to-face networks in each congressional district. Groups regularly socialize but also get out the vote, support candidates and engage in other local political actions that help our progressive movement grow and exert influence on the powers-that-be. Visit us every morning at 7:30 A.M. Pacific Time to see how you can get involved. The comment thread is fun and light-hearted, but we're serious about moving the progressive political agenda forward.
Do You Like Your Doctor?
I did. I liked my primary care doctor a lot but couldn't keep him.
I didn't lose him because of Obamacare or death panels or creeping socialism but rather because he left the country with his doctor wife and future-doctor kids to go work for U.S. Embassies around the world for the next four years. He had this notion that his kids might do well growing up in other countries and learning about other cultures. You can see why I liked him; besides which he was an excellent, young, fit, up-to-date doctor who knew how to make things happen for paradise50 when we needed it most.
Wednesday I saw my new primary care doctor, a fellow from Scotland who runs a well-regarded medical group. I just needed to get my thyroid meds refilled and had already run my own labs for him. I figured on a brief get-to-know-you greeting, a glance at the test results and a new prescription, taking 10 minutes at most. This wasn't the lengthier full (and free!) physical you're now entitled to under Obamacare.
So, let me pose this question to you right now: What do you really care about in a doctor? Is it their expertise, their manner, their advice? My views about it have changed. The things I used to care about (a compassionate bedside manner, openness to things outside the evidence-based standard medical model, the ability to carefully listen and empathize) have been replaced by one ruthless imperative: My doctor has to have clout in this medical community. He or she has to be known and respected and up-to-date. When he takes one look at your symptom he doesn't waste anyone's time; he orders the biopsy or gets on the phone to that specialist and gets you in this week, thank you, not 2 months from now.
So Dr. Scots* walks into the exam room where I attempt to greet him by letting him know I've been referring people to his practice for years, a blatant move to ingratiate myself. This sentence, however, doesn't leave my mouth for the first 3 minutes. Within 5 minutes I realize I am in the presence of voluble greatness; I have finally met a man who talks even more than paradise50 (is this is Scottish thing?). It doesn't take long for me to substitute non-verbal responses over spoken ones whenever possible, like waving my FitBit at him when he asks, "Do you exercise? Walk? Bike? Swim?" or, a few times, just letting him just answer his own (correct) medical assumptions about me.

During our 20 minute consult, while he threw out the occasional question, he told me about:

* The history of his practice and the medical group he founded
* His family history in Scotland including his family's role in crucial battles (there are battle pictures and historical timelines posted all over the walls)
* The workings of the medical group's computerized system where I can access my medical records online, view lab results, make appointments and email any questions
* Why his dermatology PA is every bit as good as any dermatologist and doesn't need to go to medical school for 8 years
* His thoughts on Covered California and how he set his lawyers on them to find out what their reimbursement rates are ("It took them 2 weeks-- TWO WEEKS!-- to get back to us and it turns out they pay 3% higher than regular Blue Cross! Why didn't they just say so!")
* The back story of Scotland getting their independence from England after 300 years including commentary on the euro and high-speed rail
* The state of the medical system in Scotland, including what it was like when his American wife lived in Scotland and worked in another doctor's office and how the patients were all worried they'd called America by mistake when she answered the phone and how the dour (pronounced do-er) Scots didn't know what to make of this perky American woman
* The problems with Single Payer systems in Europe
* Why there's a local shortage of new doctors because they want to be employees and don't want to start a practice, ("they're not willing to take the risk!")
* Why only one medical group in town can afford to accept MediCal
* How Covered California hasn't been compliant with reimbursement schedules ("14 days for a clean medical claim!") and will have to pay him fines and penalties
* Why I'm not eligible for an Irish passport
* What free services I'm entitled to under Covered California
* Why the English also think Scotland getting their independence is a good thing and,
* Um, there was more, mostly about the Scots.
It was a freakin' whirlwind of information, opinions, history and sheer exuberant verbiage.
During this animated verbal torrent he wedged in a few pertinent questions, electronically transmitted my prescription to my pharmacy, entered me into their group portal, booked me an appointment with the dermatology PA, and listened to my lungs and heart, all the while talking over my brief-as-possible replies. He very clearly prides himself on knowing how to navigate the current medical system, which is exactly what you want in a modern primary care doctor. He has no obvious political take on the ACA (his only politics seem to center around despising the English)-- but takes the pragmatic view that it's a mixture of good and bad and he and his lawyers will hold insurance companies accountable for their end. He is NOT a listener and seemed pleased that I didn't appear as if I would be one to have "too many problems."
Ten, twenty, thirty years ago I would have despised him.
I liked him very much.
He knows how the entire digital medical world works and is happy to bring you in on it, is willing to smack down Covered California itself if need be, and carries on with so much energy he can tell a new patient about the past 300 years' history of Scotland while taking a medical history. I'm unlikely to complete a sentence around him unless I'm in actual agony, in which case we'll see. If some gawd-awful thing comes up he'll make the system work for me.
How about you? What was the best or worst doctor you ever had?

Latest Updates on Kossack Regional Meet-Up News Can Be Found Below the Orange Group Hug.
Let's Build Communities!

Our team is here to provide support and guidance to new and existing volunteer leaders of each regional and state group, helping them with recruiting, organizing and executing social and action events.
We invite you to join in this effort to build our community. There are many ways to pitch in.
If there isn't a group to join near you, please start one.

Instructions on HOW TO FORM A NEW DAILY KOS GROUP

List of All Existing Meatspace Groups




---


THINK GLOBALLY, ACT LOCALLY

by Dave in Northridge ♥ for Los Angeles Kossacks
About 20 Kossacks showed up by the time everyone arrived with two new Kossacks (since mid-November) and five people attending their first meet-up. L.A. is making progress!
Here's one photo:
L-R: gmats, Roman Smith, recoveringConservative, Brecht, Shockwave, Chiwere, Moody Loner, susans, Dave in Northridge, Floja Roja, joemarkowitz, 714Day & Gay CA Democrat
Next event will be the LAKossacks rolling out the red carpet for out-of-towner Shanikka on March 15th for lunch! Venue will be announced soon.
Please visit Dave in Northridge's diary for many MORE photos plus food pr0n! Enjoy! You can join Los Angeles Kossacks by sending a Kosmail to Dave in Northridge.


by roberb7 ♥ for Mexican Kossacks
roberb7, who is the organizer of the newly formed Daily Kos Group Mexican Kossacks, provides a well-written recap of the recent Democrats Abroad event in Puerto Vallarta. Tom Hayden, a member of the California State Assembly for 18 years, was the guest speaker.
Please visit roberb7's diary for his excellent photos and a nicely detailed summary of the event. Enjoy! You can join Mexican Kossacks by sending a Kosmail to roberb7.

by GreyHawk ♥ for BOSTON KOSSACKS
While GreyHawk had many Kossacks sign up to attend his lunch and museum event, some had to cancel at the last minute because of a large snow storm rolling in. Four intrepid souls managed to attend: GreyHawk, HawkWife, Knockbally and deltadoc. I've always said that even two Kossacks is a meet-up and a very worthwhile one.
GreyHawk and his attendees pulled together a terrific re-cap diary with each person's written perspective and all the photos each Kossacks took of the snow and food pr0n. It's a fun diary and a great example of one way to document these meatspace events.
There's only one photo of some of the Kossacks who attended. So I'm going to post one of mine I took of GreyHawk and HawkWife when I met them in Providence at NN12.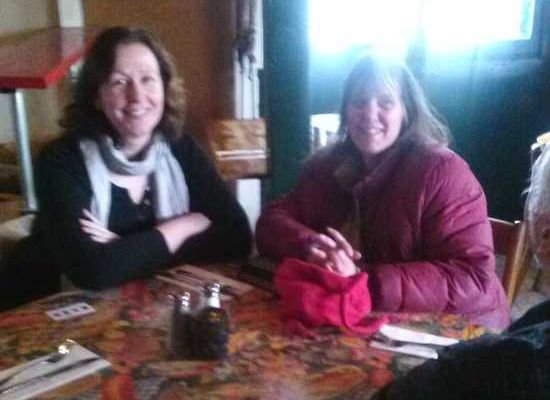 Left Photo: knockbally and HawkWife - Right Photo: GreyHawk, HawkWife & ember
Please visit GreyHawk's diary for many MORE photos plus food pr0n! Enjoy! You can join BOSTON KOSSACKS by sending a Kosmail to GreyHawk.

by EagleOfFreedom ♥ for Seattle and Puget Sound Kossacks
I'm so impressed with the Seattle Kossacks, right now. EagleOfFreedom offered to take up the reins of collecting local Kossacks for camaraderie and action. In a very short time he started the group, communicated with me, set the event and got almost a dozen folks to join the ranks in person. Kudos!
So, you Seattle Kossacks, you've got a group now and John Crapper has offered to be an admin of the group. How swell is that?
SEATTLE KOSSACKS! Look for each other in the comments and gather together, invite one another and let's see more folk show up at the next event. AND the next action event.
To quote one of the attendees:
Once again Kossacks prove they are for real.
L-R: N in Seattle, Regina in a Sears Kit House, bleeding blue, doingbusinessas
L-R: ?, John Crapper, EagleOfFreedom, mlharges
All photos courtesy of mlharges
Please visit EagleOfFreedom's diary for MORE photos! Enjoy! You can join Seattle and Puget Sound Kossacks by sending a Kosmail to EagleOfFreedom.

SFKossacks Welcome Matching Mole and bwren
with a Birding Event Plus Dinner
by navajo ♥ for SFKossacks
Last Sunday, matching mole, who flew in from the East Coast, and bwren, who flew in from Seattle, were picked up and chaffeured by the founder of Dawn Chorus, lineatus. She drove them to meet with other SFKossacks and Central Valley Kossacks to do some bird watching in the Grizzly Island Wildlife Area on San Francisco Bay. I'll leave the telling of that story up to lineatus in her Sunday morning series.
I'll be covering the dinner we had that evening to welcome our out-of-towners.
Please visit navajo's diary for descriptions of above photos and access to MORE photos! Enjoy! You can join SFKossacks by sending a Kosmail to navajo.

Event Organizers!
Please contact wink at the Daily Kos internet radio station netrootsradio.com to schedule some airtime to broadcast your event on The After Show with Wink & Justice.

Tuesday, February 25th

Kansas-Missouri Kossacks Attend State Rally at the Capital

Equality Kansas, the ACLU of Kansas, Americans United for Separation of Church and State, and MAINstream Coalition are hosting an Equality Rally

TIME: 1:00-4:30 PM Rally 5:00 PM Kossack Dinner
Kosmail: tmservo433
LOCATION: Kansas State Capitol
300 SW 10th Ave • Topeka

ORGANIZER: Send tmservo433 a kosmail to attend. He needs some fellow Kossacks to perform some easy tasks. Please see his diary link below to see if you can help.

RSVPs:
1. tmservo433
2. RazzBari3
3. Bluebarnstormer
4. Kangaroo

Maybees:

Latest diary: Kos-Meetup & Rally at the Kansas Capital, February 25


Saturday, March 15th

Sacramento/Central Valley Kossacks Demonstrate at "Don't Frack California"

TIME: 1:00 PM
LOCATION: California State Capitol
1315 10th St. • Sacramento

RSVPs:
1. Anthony Page aka SecondComing
2.
3.

Maybees:

Latest diary: The California Frack Wars: Episode 3 Revenge Of The Greed

Quick re-mention of March 15 statewide "Don't Frack California" demonstrations

Saturday, April 5th

Seattle & Puget Sound Kossacks Meet-up

TIME: Noon - 3:00 PM
LOCATION: Pyramid Alehouse, Brewery & Restaurant
1201 First Avenue South • Seattle

ORGANIZER: Send EagleOfFreedom a kosmail to attend.

RSVPs:
1. EagleOfFreedom
2. Reetz
3.
4.
5.

Maybees:

Latest diary: Seattle & Puget Sound Kossacks Arrive




Saturday, May 3rd

DKos Asheville Kossacks Meet-up

TIME: 1:00 PM
LOCATION: The Bywater
796 Riverside Dr. • Asheville

ORGANIZER: Send randallt a kosmail to attend.

RSVPs:
1. randallt
2. davehouck
3. Joieau
4. Gordon20024
5. SteelerGrrl
6. SteelerGuy
7. GulfGal 98
8. Otteray Scribe
9. flwrightman
10. people power granny

Maybees:
Audri
Mr Audri


Latest diary: [Waiting for linked diary]

navajo maintains the above event list. Kosmail her if you have any diaries
about your event or if you have changes or additions.

EVERYONE is welcome, tell us what you're working on,
share your show and tell, vent, whatever you want.
This is an open thread. Nothing is off topic.