Nevermind, that the ongoing record-setting of extreme temperature datapoints, seem to be telling us another story ... you know, when you look at the WHOLE Globe:

'Polar vortex' or not, last month among the WARMEST Januaries EVER RECORDED
by Rik Myslewski, theregister.co.uk -- 22nd February 2014
[...]
How warm? It depends upon whose analysis you prefer. The National Oceanic and Atmospheric Agency (NOAA) says that first month of 2014 was the fourth warmest January in the past 135 years, while the Goddard Institute for Space Studies (GISS) ranks it number three.
[...]

[...] The overall trend towards increasing oceanic and atmosphere heat loading has prompted some to assert proof that climate change is causing severe weather events; others point to snow and ice blanketing their communities as evidence against global warming at all.

The cold weather in the northeast US, for example, prompted ridicule of climate science by such noted atmospheric experts as Donald Trump, Rush Limbaugh, and senators James Inhofe (R-OK) and Ted Cruz (R-TX).
[...]
Well, Mr Switzerland is having none of it. He is still unconvinced. Indeed he seems to be declaring himself the final arbiter of all things,
"scientifically debatable"
...
The hammer has spoken.

Charles Krauthammer: The myth of global warming's 'settled science'
by Charles Krauthammer, azstarnet.com/ap -- Feb 21, 2014

I repeat: I'm not a global warming believer. I'm not a global warming denier. I've long believed that it cannot be good for humanity to be spewing tons of carbon dioxide into the atmosphere. I also believe that those scientists who pretend to know exactly what this will cause in 20, 30 or 50 years are white-coated propagandists.

"The debate is settled," asserted propagandist in chief Barack Obama in his latest State of the Union address. "Climate change is a fact." Really? There is nothing more anti-scientific than the very idea that science is settled, static, impervious to challenge. Take a non-climate example. It was long assumed that mammograms help reduce breast cancer deaths. This fact was so settled that Obamacare requires every insurance plan to offer mammograms (for free, no less).

Now we learn from a massive randomized study -- 90,000 women followed for 25 years -- that mammograms may have no effect on breast cancer deaths. Indeed, one out of five of those diagnosed by mammogram receives unnecessary radiation, chemo or surgery.

So much for settledness. [...]
It's "settled" then
, the Political hacks are
now smarter
than the Scientists. Whatever the Pundits say goes. Scientists guys you might as well pack up your test-tubes and thermometers -- The Brain-trust of
Non-denial Denailsts
have decided, THEY are the only reasonable ones in the room, with the only
opinions
"statements of fact" that deserve to be heard.
And believed, by the fact-deprived public.
Nevermind those ongoing Temperature-Extremes charts, to the contrary (3rd Warmest January EVER). They don't really exist anymore, since the Krauthammer just squashed them ... (in dozens and dozens of syndicated declarations ...)



I almost threw a nerf-shoe at my TVeee, when CNN's Dana Bash asked Senator Cruz:

"Do you think Climate Change is real?"
-- like Dr Suess' Nemesis is suddenly some sort of authority on Climate Science or something!
Come on, why don't you ask him about cold fusion and string theory too, while you're at it ...
Here is what our newest "Media Authority on Climate," had to say ...

Cruz: Global warming not supported by data
Texas senator spoke to CNN in exclusive interview (with Video)
by Dana Bash and Deirdre Walsh, CNN -- Feb 20, 2014

BEAUMONT, Texas (CNN) - [...]

The last 15 years, there has been no recorded warming. Contrary to all the theories that -- that they are expounding, there should have been warming over the last 15 years. It hasn't happened," said Cruz.
[...]

When pressed about the fact that the arctic is melting, and whether that helps prove climate change is real, Cruz dismissed it.
[...]

I am always troubled by a theory that fits every perfect situation. You know, back in the '70s -- I remember the '70s, we were told there was global cooling. And everyone was told global cooling was a really big problem. And then that faded. And then we were told by Al Gore and others there was global warming and that was going to be a big problem. And then it morphed. It wasn't global warming anymore, it became climate change. And the problem with climate change is there's never been a day in the history of the world in which the climate is not changing," said Cruz.
[...]

"It is ironic that he sees a greater threat from your SUV in your driveway than he does from the nation of Iran, with their radical Islamic jihad and -- and their stated desire to obliterate, to annihilate Israel. He sees a greater threat from your SUV than he does to Iranian nuclear weapons," Cruz said of Kerry.
[...]
It would seem the new age arbiters of scientific fact -- have been stoking their engines of uncertainty, based on their out-of-context conclusions, that they are drawing from a newly released Scientific Temperature study.
Well, the normally staid Weather Channel, has decided to step up and weigh-in on the study -- warning the Climate Change Skeptics not to read too much of their Anti-science rhetoric into it ...

Global Warming 'Pause' Isn't What Climate Change Skeptics Say It Is
by Terrell Johnson, weather.com/news -- Jan 13, 2014

Scientists who study climate change and skeptics of human-caused global warming can agree on at least this: Global temperatures haven't risen nearly as much this century as model projections say they should have.

At least, that's the way it looks today. But according to a recently published study in the scientific journal Earth's Future, the greenhouse gas-fueled heating of the planet hasn't stopped at all during the global warming pause or "hiatus" widely touted in recent years.

"Global warming is continuing, it just gets manifested in different ways," says Dr. Kevin Trenberth, a scientist with the National Center for Atmospheric Research who co-authored the study with NCAR's Dr. John Fasullo.

[...]

1) Global averages hide a LOT of variation.

Most of the surface temperature slowdown has occurred only within a narrow band of time during the year, and only in certain parts of the world.

As this graph shows, the period from December through February has seen the sharpest slowdown, thanks in part to some big outbreaks of cold, wintry weather over the past few years in North America and Europe:


[...]
So long-run averages,
tend to average out
the extremes.
Maybe if the Brain-Trust of Cruz and Krauthammer could equate these Climate Change averages, into something they might already understand -- like the S&P 500 Index averages -- then they might get it.
It's not the week to week, month to month, or even year to year price changes that matter -- but the overall "trend" of that "averaged out dataset" that matters -- over the investment horizon long-run.
Is the S&P 500 average trend "going up" over the long haul?

Once they get that -- the Brain-Trust should ask, if the global temperature trends were just 'a basket of individual data points', like the S&P 500:
Is the Global Temperature Average "going up" over the long haul?
And what sort of future investment tweaks, we should be making now, to adjust to this global-composite overall temperature gauge?
The Reality of Climate Change has an insidious way of catching up with us. Just sit back and wait for the next Extreme Weather Event emergency -- the frequency of such economic disruptive events are INCREASING, not decreasing, despite however much they may get "averaged out" in the larger global datapoint wash.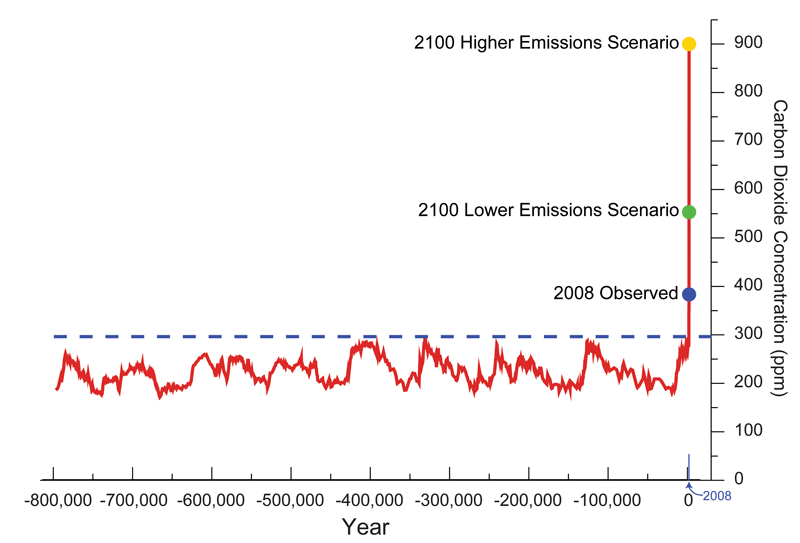 www.mnn.com
Mythical declarations, notwithstanding. On the long-haul horizon.